20 Books set in London You need to read now
A few years ago, as a family, we decided we wanted to go on a big trip overseas. We all agreed we wanted to go to London! And, being the book nerd that I am, I immediately went out and found several books set in London to help prepare for our trip!
When looking for books to read, I looked for children's books set in London for my kids to read and found some Romance books and Mysteries set in London for me. I did, of course, find a plethora of other choices too, so here's what I recommend you read if you are either heading for London or just want to feel like you've had a London getaway!
London is such a beautiful city and has so much to offer. But, our favorite (well, one of our favorite) things we did in London was the Warner Brothers Harry Potter Tour.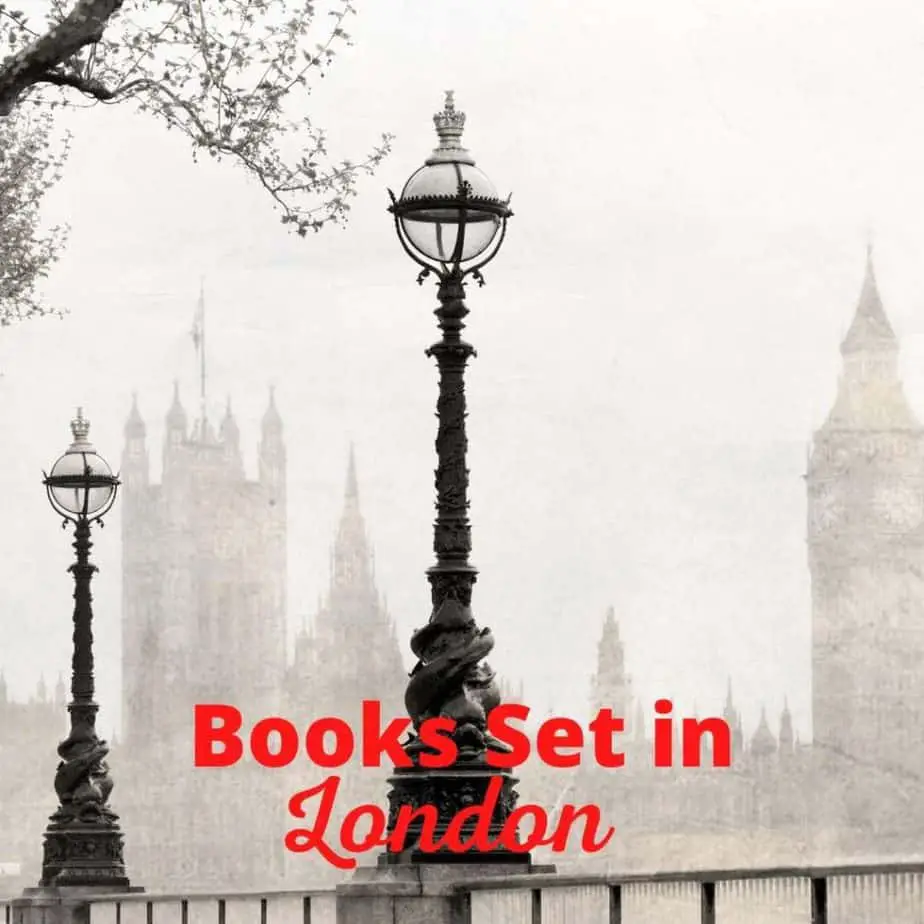 Related Posts
Books Set in London
Whether you're actually heading to London, or are just an armchair traveler, these books will transport you! So, pull out your Kindle, and get ready to read some books set in London.
My favorite books set in London
If you don't know about the Harry Potter series, where have you been for the past 20 years? These are some of my favorite books set in London.
Harry, living with his muggle family, discovers he's a wizard then get to head off to wizarding school. But, before the year is out, he'll have to face off with the evil wizard who put the scar on his forehead 10 years earlier!
This series is a favorite with my whole family!
The Shopaholic series is a fun & witty rom-com series. If you enjoy romantic comedies, you'll enjoy this series. These romance novels set in London are favorites to many of us.
Becky Bloomwood has a fabulous flat in London's trendiest neighborhood, a troupe of glamorous socialite friends, and a closet brimming with the season's must-haves. The only trouble is, she can't actually afford it—not any of it. Her job writing at Successful Saving magazine not only bores her to tears, it doesn't pay much at all. And lately Becky's been chased by dismal letters from the bank—letters with large red sums she can't bear to read. She tries cutting back. But none of her efforts succeeds. Her only consolation is to buy herself something . . . just a little something.
Finally, a story arises that Becky actually cares about, and her front-page article catalyzes a chain of events that will transform her life—and the lives of those around her—forever.

Travel around the World one book at a time! Join the Challenge HERE
This was always my mom's favorite book. And, because she had it sitting around on one of my visits home, I wound up reading it too.
It's a beautiful story of a life well-lived, family, and connections that matter! I'm feeling the need to read this again. So it may wind up on my bedside table soon!
At the end of a long and useful life, Penelope Keeling's prized possession is The Shell Seekers, painted by her father, and symbolizing her unconventional life, from bohemian childhood to wartime romance. When her grown children learn their grandfather's work is now worth a fortune, each has an idea as to what Penelope should do. But as she recalls the passions, tragedies, and secrets of her life, she knows there is only one answer…and it lies in her heart.
Sense & Sensibility is my favorite of Jane Austen's books. I know it's supposed to be Pride & Prejudice, but I much prefer the Dashwood sisters. And while this whole book isn't set in London, parts of the story are in London.
This is the story of the Dashwood sisters, Elinor and Marianne, as they come of age. They have an older, stingy half-brother, John, and a younger sister, Margaret.
The novel follows the three Dashwood sisters as they must move with their widowed mother from the estate on which they grew up, Norland Park. Because Norland is passed down to John, the product of Mr. Dashwood's first marriage, and his young son, the four Dashwood women need to look for a new home.
They have the opportunity to rent a modest home, Barton Cottage, on the property of a distant relative, Sir John Middleton. There they experience love, romance, and heartbreak.
If you, like me, are a Jane Austen fan, you can read more articles here:
12 Sense & Sensibility Retellings
6 Fabulous Multicultural Pride & Prejudice Retellings
7 Delightful Pride & Prejudice Retellings

Travel around the World one book at a time! Join the Challenge HERE
Classic novels set in London
Pip, a young orphan living with his sister and her husband in the marshes of Kent, sits in a cemetery one evening looking at his parents' tombstones. Suddenly, an escaped convict springs up from behind a tombstone, grabs Pip, and orders him to bring him food and a file for his leg irons. Pip obeys, but the fearsome convict is soon captured anyway. The convict protects Pip by claiming to have stolen the items himself.
You may have seen the series on Netflix, but now it's time to read the book! A favorite book set in London for many an amateur sleuth!
This book of short stories is set in Victorian London. Conan Doyle brings to life a Victorian England of horse-drawn cabs, fogs, and the famous lodgings at 221 B Baker Street, where for more than forty years Sherlock Holmes earned his undisputed reputation as the greatest fictional detective of all time.
One of the more popular novels set in London, have you read it yet? If not, head to your local library and grab a copy!
The story is of the orphan Oliver Twist, who starts his life in a workhouse and is then apprenticed with an undertaker. He escapes from there and travels to London where he meets the Artful Dodger, a member of a gang of juvenile pickpockets, which is led by the elderly criminal Fagin.

Travel around the World one book at a time! Join the Challenge HERE
Romance books set in London
You've probably seen the movie, but now it's time to read the book. Set in London, one of the more popular romance novels out there.
Caught between the joys of Singleton fun, and the fear of dying alone and being found three weeks later half-eaten by an Alsatian; tortured by Smug Married friends asking, "How's your love life?" with lascivious, yet patronizing leers, Bridget resolves to: reduce the circumference of each thigh by 1.5 inches, visit the gym three times a week not just to buy a sandwich, form a functional relationship with a responsible adult and learn to program the VCR.
You might not have heard of this fun romance novel. But, if you enjoy romance, you'll enjoy this book set in London, by way of New York.
Angela Clark has fallen in love with America – and it's starting to love her back. But, throw one expired visa into the mix, and things quickly take a turn for the worse.
She might love her life as a Brit in New York, but now she has no choice but to return to London. Not only does she leave behind her gorgeous boyfriend Alex – she must also face unfinished business back on home turf.
There's the ex-boyfriend – who she moved to New York to get away from.
Then there's her best friend, with her perfect new baby.
And there's her mum.
Now, there's another wedding in the offing – and everyone remembers how well the last one went . . .
A hot and spicy romance book set in London!
After a trip home to bury his father, US photographer in London Caleb Landry finds himself stranded in a Soho bar full of boozy women brooding his way through his least favorite night of the year.
But when college art teacher Rosie Smith tries out the cheesiest pick-up line ever on him, Cal becomes captivated by this good girl with a filthy mind – especially when he discovers she has a V-Day allergy of her own. So he dares her to one smokin' hot Valentine's night hook-up with no questions asked, satisfaction guaranteed…
But when Valentine's Night turns into the morning after, suddenly Rosie's asking questions she shouldn't, and putting Cal in danger of breaking his number one rule.

Travel around the World one book at a time! Join the Challenge HERE
Children's books set in London
A childhood favorite! This Paddington bear book is set in London.
From Big Ben to Portobello Road, discover London through the eyes of Paddington, the extraordinary bear from Peru.
Another childhood favorite, but this Madeline book is set in London.
Pepito has moved to England. To help celebrate his birthday, Miss Clavel and the girls pay him a visit. When his mother won't let Pepito keep one of his birthday presents–a horse–Madeline is more than willing to help out.

It's hard to think of Mary Poppins and not think of Julie Andrews and Dick Van Dyke. But, like a lot of great movies, Mary Poppins was a book first! Join in on the fun with your kids. This is definitely a favorite of our children's books set in London.
From the moment Mary Poppins arrives at Number Seventeen Cherry-Tree Lane, everyday life at the Banks house is forever changed. It all starts when Mary Poppins is blown by the east wind onto the doorstep of the Banks house.
She becomes a most unusual nanny to Jane, Michael, and the twins. Who else but Mary Poppins can slide up banisters, pull an entire armchair out of an empty carpetbag, and make a dose of medicine taste like delicious lime-juice cordial? A day with Mary Poppins is a day of magic and make-believe come to life!
I read this book before we headed over to London, and really enjoyed it! It will take you all around London and is a fun way to "see" the city! This is one of the Middle-Grade books set in London is a great mystery your kids will enjoy!
Ted and Kat watched their cousin Salim board the London Eye, but after half an hour it landed and everyone trooped off—except Salim. Where could he have gone? How on earth could he have disappeared into thin air?
Ted and his older sister, Kat, become sleuthing partners since the police are having no luck. Despite their prickly relationship, they overcome their differences to follow a trail of clues across London in a desperate bid to find their cousin. And ultimately it comes down to Ted, whose brain works in its own very unique way, to find the key to the mystery.
This is a solid YA series. If you've got a teen/tween who might like a zombie type series, these books set in London will be a favorite.
My son read these before we went to London and really enjoyed them! It was fun that he was familiar with several sites around the city just from reading the series.
In the wake of a devastating disease, everyone sixteen and older is either dead or a decomposing, brainless creature with a ravenous appetite for flesh. Teens have barricaded themselves in buildings throughout London and venture outside only when they need to scavenge for food. The group of kids living a Waitrose supermarket is beginning to run out of options. When a mysterious traveler arrives and offers them a safe haven at Buckingham Palace, they begin a harrowing journey across London. But their fight is far from over-the threat from within the palace is as real as the one outside it.

Travel around the World one book at a time! Join the Challenge HERE
Other books set in London
If you like historical fiction, then this book set in London and France is one you'll enjoy!
Two women ― a female spy recruited to the real-life Alice Network in France during World War I and an unconventional American socialite searching for her cousin in 1947 ― are brought together in a mesmerizing story of courage and redemption.
A fascinating book set in London that will keep you turning the pages!
1956. When Ivy Jenkins falls pregnant she is sent in disgrace to St Margaret's, a dark, brooding house for unmarried mothers. Her baby is adopted against her will. Ivy will never leave.
Present-day. Samantha Harper is a journalist desperate for a break. When she stumbles on a letter from the past, the contents shock and move her. The letter is from a young mother, begging to be rescued from St Margaret's. Before it is too late.
Sam is pulled into the tragic story and discovers a spate of unexplained deaths surrounding the woman and her child. With St Margaret's set for demolition, Sam has only hours to piece together a sixty-year-old mystery before the truth, which lies disturbingly close to home, is lost forever…
Read her letter. Remember her story…
This book is set in London of the 1660s and of the early twenty-first century, The Weight of Ink is the interwoven tale of two women of remarkable intellect: Ester Velasquez, an emigrant from Amsterdam who is permitted to scribe for a blind rabbi, just before the plague hits the city; and Helen Watt, an ailing historian with a love of Jewish history.
When Helen is summoned by a former student to view a cache of newly discovered seventeenth-century Jewish documents, she enlists the help of Aaron Levy, an American graduate student as impatient as he is charming, and embarks on one last project: to determine the identity of the documents' scribe, the elusive "Aleph."
Electrifying and ambitious, The Weight of Ink is about women separated by centuries—and the choices and sacrifices they must make in order to reconcile the life of the heart and mind.
Neil Gaiman has come interesting favorites. In this book, set in London, Richard Mayhew is a young businessman with a good heart whose life is changed forever when he stops to help a bleeding girl—an act of kindness that plunges him into a world he never dreamed existed.
Slipping through the cracks of reality, Richard lands in Neverwhere—a London of shadows and darkness, monsters and saints, murderers and angels that exists entirely in a subterranean labyrinth.
Neverwhere is home to Door, the mysterious girl Richard helped in the London Above. Here in Neverwhere, Door is a powerful noblewoman who has vowed to find the evil agent of her family's slaughter and thwart the destruction of this strange underworld kingdom. If Richard is ever to return to his former life and home, he must join Lady Door's quest to save her world—and may well die trying.
A couple of these books set in London are about reporters. This one is potentially darker and more of a suspense novel.
A dark tale of greed, corruption, and unquenchable ambition, House of Cards reveals that no matter the country, politics, intrigue and passion reign in the corridors of power.
Francis Urquhart has his hand on every secret in politics-and is willing to betray them all to become prime minister.
Mattie Storin is a tenacious young reporter who has a knack for finding the real stories hidden behind the spin. When she stumbles upon a scandalous web of intrigue and financial corruption at the very highest levels, she vows to reveal the truth. But to do so she must battle her own demons and risk everything, even her life.
Novels set in London
So, as you can see, there are so many wonderful choices to read if you either want to feel like you've gotten away or if you happen to be heading across the pond! There are so many interesting, adventurous, mysterious, and fun books set in London, you will surely find at least one to take you away!
Obviously, this list is not exhaustive – not even close! So, if you have a favorite book set in London, leave a note in the comments! I'd love to expand my list.
Other Articles you Might Enjoy
Greenwich Village London ~ 5 Reasons You'll Want to Visit
11 Books Set in Paris You'll Love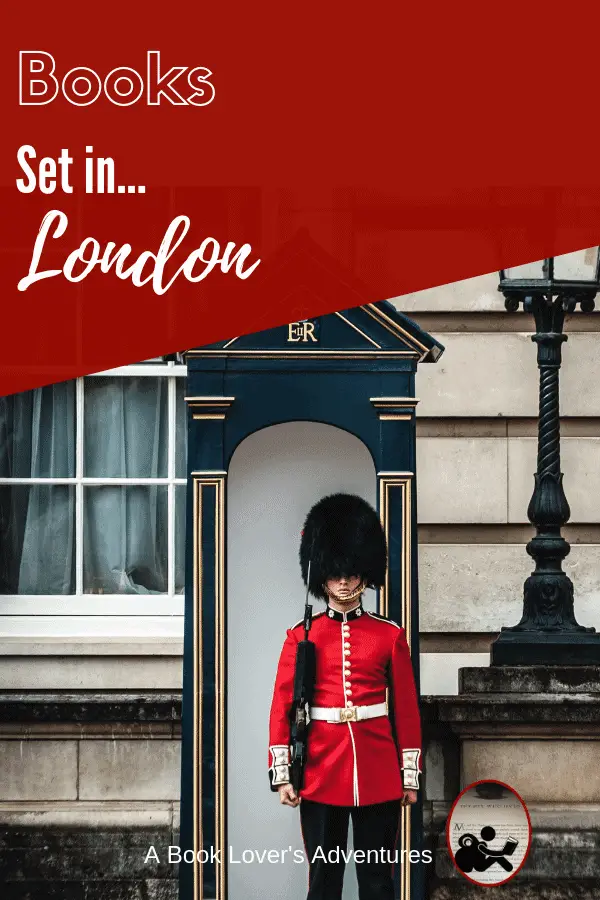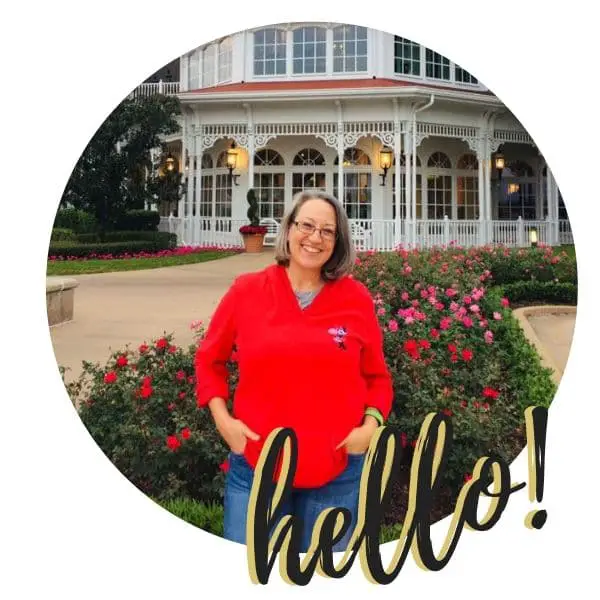 Becki is the author and founder of A Book Lover's Adventures. She has a degree in elementary education, has worked and volunteered in libraries for years, and spent several years in the travel industry. All of this has led to a love of books and travel. Becki loves to share her love by finding literary escapes to share!