Savannah Walking Tour – 8 best bookish stops to see
Savannah is a favorite city in the south for a lot of reasons! They have an outstanding St. Patty's Day parade and celebration, the waterfront area is fantastic to wander around, there are a lot of interesting historic homes, museums and memorials, there are plenty of ghosts and ghost stories for all, and Savannah is a fabulous city for book lovers! So, I wanted to share with you my Book Lover's Walking Tour Savannah edition! You'll see why Savannah is a great city for bookworms!
If you're taking this Savannah walking tour, without stops it will take about an hour. With stops, this tour will probably take a half-day.
We'll start our Savannah walking tour at the Mercer Williams House Museum.
Related Posts

Stop 1 – Mercer Williams House Museum, 429 Bull St.
The Mercer-Williams House is famous, of course, from the book Midnight in the Garden of Good and Evil by John Berendt. The scandalous murder from the early 1980s left its mark on the city. Still unknown whether it was murder or self-defense… But, even prior to all of that (and since), the Mercer Williams House was and is known for its architecture and the beautiful restoration job Jim Williams did.
You can tour the Mercer-Williams House, the cost is $12.50 for adults and $8.00 for students. The tour is for the house and the history of the beautiful home. It is not about the scandal, and tourists are encouraged to NOT ask questions about it. Suggested time: 1-2 hours
You can also hear a bit about the history of this home on any of the riding tours. Any bookish Savannah Walking Tour would be incomplete without a visit to the Mercer-Williams House.
Stop 2 – E Shaver Booksellers, 326 Bull St.
After your tour of the Mercer Williams House, our Savannah walking tour heads down Bull Street to E. Shaver Booksellers. This was a favorite spot of mine while we were in Savannah! It is a lovely bookstore and there is a tea shop inside too. So, plan on spending some time wandering around and having a cup of tea while you're there.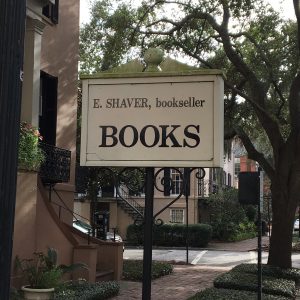 Stop 3 – Flannery O'Connor Childhood Home, 207 E. Charlton St.
After a lovely visit to E Shaver Booksellers, our Savannah walking tour heads over to Charlton Street and we'll visit Flannery O'Connor Childhood Home.
Author Flannery O'Connor was born in Savannah in 1925. Her childhood home is now a museum and hosts different events throughout the year. You can get tickets to tour the home. Tickets are $8 for adults and the suggested time is 30 minutes.
O'Connor was accepted into the Iowa Writer's Workshop at the University of Iowa in the mid-40s. This is when she really started her writing career and becoming known. O'Connor wrote novels, short stories, and essays. Perhaps some of her best-known works are:
and Wise Blood.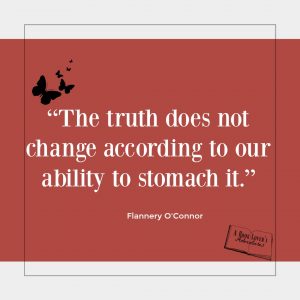 Stop 4 -Colonial Park Cemetery
The next stop along our Savannah Walking Tour is at the Colonial Park Cemetery. Rumor has it that the bones of pirates from the 1700s are buried here, but around here, it's hard to tell which stories are true! I remember years ago, I saw a skull and crossbones on one of the walls in the cemetery. Not sure if that was one of the pirates or not?! One story that is true, however, is the story of Button Gwinnett.
Button Gwinnett, is not "literary" in the traditional sense, but he was a very important one in the history of our country. Gwinnett was one of three Georgia representatives to the Continental Congress in 1776 and was one of the original signers of the Declaration of Independence.
Gwinnett was killed in a duel in 1777 after a failed invasion of Florida, and he is buried in Savannah's Colonial Park Cemetery. So while he didn't make a significant contribution to our country legislatively, he is remembered around Savannah because he is buried there! And, because of his early death, his signature (as one of the original signers) is very valuable and sought after!
So, just in case you've never heard of Button Gwinnett, here's a fun video from Lin Manuel Miranda and Stephen Colbert
Stop 5 – The Pirate House, 20 E Broad St
At his point in our Savannah Walking Tour, it might be a good time for lunch or maybe just an afternoon drink. Either way, our next stop will fit the bill nicely!
The Pirate House was originally part of a botanical garden, it was the Herb House. Then, in the mid-1700, the citizens of Savannah decided they didn't need a botanical garden anymore and the land was sold off. At that point, the Herb House was turned into an Inn and Tavern that catered to the seamen that came into Savannah's bustling seaport.
In 1948 the building and land were acquired by the Savannah Gas Company. The current owners' wife took an interest in the history of the building and turned it into the Pirate House Restaurant that it is today.
There are several mentions of the Savannah tavern (currently the Pirate House) in Treasure Island by Robert Louis Stevenson. Rumor has it that there are tunnels underneath the restaurant that lead to the harbor area. They were used for smuggling alcohol in and people out! There are many stories of patrons that drank too much and woke up on ships heading to far off destinations.
While in Savannah, you'll definitely want to book a meal at the Pirate House!
They serve southern food (their pecan-crusted chicken is delicious!!) and lots of swash-buckling charm. If you talk to the hostess, you can get a Pirate House tour by a pirate and learn at least some of the secrets!
Stop 6 – Books on Bay  224 W Bay St
After a great meal at the Pirate House, you'll be ready to get some more walking in! So, to continue our Savannah Walking Tour, we'll head down to the waterfront and wander down Bay Street.
On Bay Street is where you'll find our next stop – Book on Bay! This is another fabulous book store you'll want to pop into. You'll go up an alley to a back street and up some stairs to find the entrance. But, it's worth the hunt!
You'll find lots of vintage books, especially series! Take some time to wander around and see all the books you grew up reading. It's a lot of fun!!
Stop 7 – Jepsen Center for the Arts, 207 W. York St
After on walking down Bay Street, our Savannah Walking Tour is going to head away from the hustle and bustle near the river and head inland. Next, we're heading to the Jepsen Center for the Arts.
The Jepsen Center is a fun and interesting place to visit! And, you'll be happy to hear this is a great art museum to bring children because there are a lot of interactive displays to entertain and educate them.
On a literary note, the Statue of the Bird Girl from the book Midnight in the Garden of Good and Evil by John Berendt can be found in the Jepsen Center for the Arts. The statue was sculpted by Sylvia Shaw Judson in 1936. It was named "Little Wendy" by the family that paid for it and it stood for decades in Bonaventure Cemetery. When a picture of the statue graced the cover of the book, the public took notice. Because so many fans came to Bonaventure to visit the statue (and some people began chipping away at it for souvenirs), the statue had to be moved into a museum.
Stop 8 – Savannah History Museum, 303 Martin Luther King Jr Blvd
After the Jepsen Center, our last stop on our Savannah Walking Tour is the Savannah History Museum.  This is a fantastic museum for history buffs! This museum walks you through Savannah's history through both the Revolutionary War and the Civil War.
Also tucked away in this museum is the famous bench that opened up the Forrest Gump movie, with Tom Hanks as Forrest Gump sitting on the bench with his box of chocolates waiting for a bus. The bench, which was actually a prop for the movie, was set in Chippewa Square in Savannah for the filming, then moved to the museum afterward.  Chippewa Square and its benches are still a popular spot for photographs with tourists.
Forrest Gump, as with many great movies, started as a book. Written by Winston Groom, the book was made into a movie starring Tom Hanks in 1994.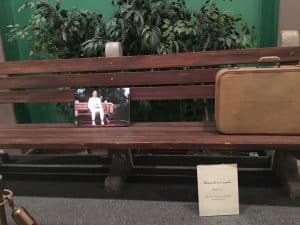 Here's your Google Map, all ready for your Savannah Walking Tour!
Off the beaten track, but worth your time:
Bonaventure Cemetery
Bonaventure Cemetery has already been mentioned a couple of times, and although it's a little off the beaten track, it's worth a visit. Unfortunately, Bonaventure can't be part of your Savannah Walking Tour, but it's an easy enough drive out there.
Here are a few of the noteworthy tombs at Bonaventure:
Johnny Mercer (1909-1976) Johnny Mercer has a long list of accolades including 19 Academy Award Nominations, 4 Oscars, over 1,500 written songs, and the founder of Capitol Records. But, he had deep roots in Savannah. He had claims to a Revolutionary War General, a merchant seaman for the Union in the Civil War and a Confederate General in his family. It was one of his relatives that was the Mercer in the Mercer-Williams House!
Conrad Aiken (1889-1973)  Conrad Aiken was an American poet, critic, writer, and Pulitzer Prize winner was also born in Savannah. He lived on Oglethorpe Ave. at the beginning of his life and the end of his life.  There is also a connection to Midnight in the Garden of Good and Evil with Aiken. Two of the characters, Mary Harty and John Berendt were sipping martinis at Aiken's bench-shaped tombstone in Bonaventure.
With Savannah's history in the Revolutionary and Civil Wars, it will come as no surprise that there are so many soldiers buried here!
This is a large cemetery and is well-kept and beautiful to walk around.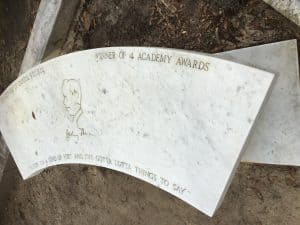 Also worth a mention
The Savannah Book Festival is definitely worth your time if you can visit Savannah in February. With over 40 authors attending the festival, you will certainly find some old favorites and plenty of new authors to read. Opportunities to meet so many authors at one time don't come along often!
Walking Tour of Savannah
As you can see, there are a lot of great literary connections in Savannah. Our walking tour of Savannah hit most of them! But, as I'm sure you can see, there are so many other things to see in Savannah too.
So, along with visiting author homes and museums, visiting the Pirate House and wandering through a couple of fantastic bookstores, make sure you take time to check out some of the other incredible restaurants and museums around the city.
If you would like to get a FREE Printable Walking Tour Guide of Savannah to take with you, JUST CLICK HERE or on the image!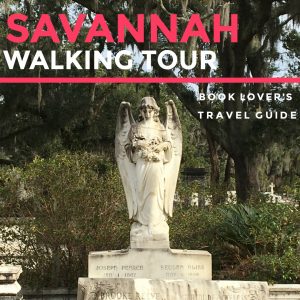 Other Articles You Might Enjoy
A Book Lover in Indianapolis ~ What You Need to Know
A Book Lover in Iowa City ~ What You Need to Know
Laura Ingalls Wilder Museum, Books and much more to Love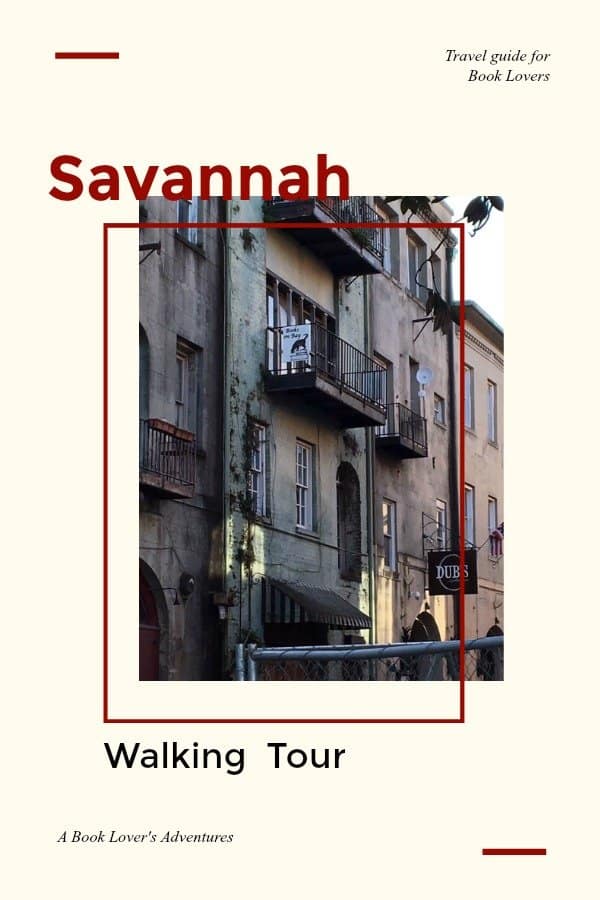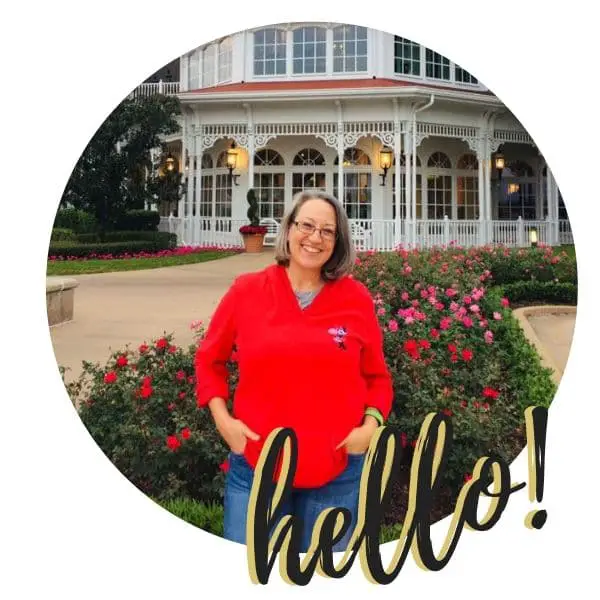 Becki is the author and founder of A Book Lover's Adventures. She has a degree in elementary education, has worked and volunteered in libraries for years, and spent several years in the travel industry. All of this has led to a love of books and travel. Becki loves to share her love by finding literary escapes to share!