24 Books Set in Florida That will make you want to Visit!
Woohoo!!  You're headed off on your Florida Vacation!!
Florida is one of the most popular vacation destinations in the world!  We get over 118 million visitors annually! That's a lot of people!!  
So, it makes sense, if you're planning to come to Florida, then come with a plan!  One of my favorite things to do before heading out on vacation is to read a book (or books) that are set in the location I'm visiting.  
So, living in Central Florida, I never really thought about books for a Florida vacation, because, well, I live here!  But, I've been reading some, over the past year or so and have come up with a list of Books Set in Florida.
Don't really want to read the whole article? No problem! Take a listen to my podcast that highlights several of these books set in Florida.
Why Read Before You Go
Reading is always a good idea!


Reading to and with your kids is such an important time!  And, sharing your love of reading with your kids is one of the most important things you can pass along to them!  We need to raise children who become adults who love reading. Reading helps kids with their attention span and to be able to entertain themselves for a longer stretch of time.  Video games and television shows seem to rob our kids of any kind of an attention span, so reading helps balance that out!

Familiarize yourself with the area!


One of the things I love about reading books set in the area we're traveling to is that it helps me familiarize myself with the area.  You can get a feel for the locals, the temperature, the food and sometimes even get ideas of where to visit.

 Build your books into your vacation!


When we went to London, we had all read different books set in London.  So, it was fun to talk about the places we had read about and put them into our tour.  One of the books my son read had a local grocery store in it, so we knew before going where we wanted to grab our groceries.  It was fun!
Road Trip to Florida
One of the more popular ways to get to Florida from almost anywhere in the U.S., is to road trip. We have so many cars on the road in Florida, it's pretty evident that almost everyone (from everywhere) makes the road trip to Florida!
And, when you have children, it's financially easier to drive down and have your own vehicle! 
Here are a couple of road trip articles that will make your road trip to Florida a little easier!
Books set in Orlando (theme parks)
Orlando is probably the most popular destination in Florida since we have all the theme parks here. So, as a subset of my books set in Florida,  I have a whole list of books set in Orlando for the whole family! 
Books for Kids
This book is probably appropriate for any age range! If one of your kids (or you, for that matter) love Disney and are interested in knowing more, this is the perfect book for that!
Celebrate movie history and the world of Disney, from the animations and live-action movies to the magical Disney parks and attractions, with The Disney Book.
Go behind-the-scenes of Disney's best-loved animated movies and find out how they were made, follow Disney's entire history using the timeline, and marvel at beautiful concept art and story sketches.
Perfect for Disney fans who want to know everything about the magical Disney world, The Disney Book delves into their incredible archives and lets readers explore classic Disney animated and live-action movies, wonder at fascinating Disney collectibles and even see original story sketches from Disney films.
The ideal gift for Disney fans and animation and movie buffs, The Disney Book also includes 3 original movie frames from Disney Pixar's Brave.
From Ariel to Zurg, this jacketed hardcover guide features fun facts, tricky trivia, and cool quotes about over 150 Disney heroes (and villains!). Readers will also learn about the stars of the latest Disney and Disney*Pixar films, like Wreck-It Ralph, Frozen, The Good Dinosaur, and more! Plus the book jacket reverses to reveal a poster!
A fun way to get to know all the DisneyPixar characters before your vacation!
Including fan-favorite Read-Along storybooks, Cinderella, The Little Mermaid, and Beauty and the Beast, this paperback bind-up includes 3 magical stories, word-for-word narration, character voices, and sound effects for each tale!
This would be a great book for the road trip to Florida! Three favorite stories read to your princess! An easy way to keep your kids entertained!
Over at Universal Studios, you can meet Scooby and the gang! So, let them read up on some of their favorite Scooby adventures. There are a plethora of Scooby books, so make sure you check them all out!

With the new Star Wars area opened at Disney, these fun books will be a good fit for your early chapter book readers!
Books Set in Orlando for Older Kids (10+)
I've got both Disney books & Universal books listed here for older kids/young adults. These are fun to read and it's a lot of fun to see what you've read about when you go to the theme parks!
Oh, and if you happen to be going to Disney World, you'll want to read this first – 15 Disney World Mistakes NOT to Make! This will save you some time and money!
These Disney books are great!  It takes you behind the scenes at Disney and offers a glimpse into the Disney that usually only employees get to see.  This series would definitely create a lot of opportunities for a scavenger hunt around the Disney parks!
Harry Potter series(fantasy) (Universal Studios)
Even though the Harry Potter books aren't set in Orlando, you'll feel like you're at Hogwarts if you go to Universal Studios! Between Hogsmeade, Hogwarts, the Hogwarts Express, and Diagon Alley, it's everything a Harry Potter fan could want! They've done such a great job building this park.  There are so many little hidden gems throughout the area. You'll love it!
Listening to this on the drive down is a fun way to pass the time!  And, depending on how long your road trip is, you might get through a couple of the audiobooks!
When the Disney World character actors go on strike, teens are hired as replacements. Ella is assigned the role of Cinderella simply because the shoes fit. And every afternoon at three o'clock she gets married to Prince Charming. A perfect dream come true, except Ella doesn't believe in dreams anymore. Meanwhile, Luke is one of the fur characters (Dale, the chipmunk), and his girlfriend, Cassie, plays his counterpart, Chip. Cassie is perfect in every way, so why does Luke want to be with Cinderella? Then Luke and Ella are brought together during a scavenger hunt, and as they uncover the Magic Kingdom's hidden treasures, they discover an undeniable magic between them. Perhaps dreams really can come true after all?
Adult Books set in Orlando
It's not enough that the perky redhead has been in his way from Dallas to Orlando, but now a hotel suite mix-up has David White sharing a living room with her, her mother and her niece. How's a man supposed to conduct business at the convenience store convention and still have time to prep for a job interview with WOTs-New-Now's president? Somehow wanting to jump ship from his dead-end job has him jumping through hoops for her instead.
Jules is a young man barely a century old. He's lived long enough to see the cure for death and the end of scarcity, to learn ten languages and compose three symphonies…and to realize his boyhood dream of taking up residence in Disney World.
Disney World! The greatest artistic achievement of the long-ago twentieth century. Now in the care of a network of volunteer "ad-hocs" who keep the classic attractions running as they always have enhanced with only the smallest high-tech touches.
Now, though, it seems the "ad hocs" are under attack. A new group has taken over the Hall of the Presidents and is replacing its venerable audio-animatronics with new, immersive direct-to-brain interfaces that give guests the illusion of being Washington, Lincoln, and all the others. For Jules, this is an attack on the artistic purity of Disney World itself.
Worse: it appears this new group has had Jules killed. This upsets him. (It's only his fourth death and revival, after all.) Now it's war: war for the soul of the Magic Kingdom, a war of ever-shifting reputations, technical wizardry, and entirely unpredictable outcomes.
Bursting with cutting-edge speculation and human insight, Cory Doctorow's Down and Out in the Magic Kingdom is a coming-of-age romantic comedy and a kick-butt cybernetic tour de force.
Other Books set in Florida
Paper Towns by John Green (realistic fiction)
When Margo Roth Spiegelman beckons Quentin Jacobsen in the middle of the night—dressed like a ninja and plotting an ingenious campaign of revenge—he follows her. Margo's always planned extravagantly, and, until now, she's always planned solo.
After a lifetime of loving Margo from afar, things are finally looking up for Q . . . until day breaks and she has vanished. Always an enigma, Margo has now become a mystery. But there are clues. And they're for Q.
This book is set in Christmas, Florida, which is just outside Orlando. You can read my article about Christmas, FL here.

Jeff Ashton was part of the prosecution team in the Florida homicide trial of Casey Anthony, the single mother accused of murdering her little girl, Caylee. The most sensational courtroom drama since the infamous O.J. Simpson affair, the Casey Anthony trial had people coast-to-coast riveted. In his stunning true-crime masterwork, Imperfect Justice, Ashton gives a fascinating and impassioned insider's account of the investigation, the trial, and the acquittal that shocked the nation, and makes a powerful case as to why allowing Anthony to walk free was a devastating travesty of justice.
This book is set in West Palm Beach, Florida about a not-altogether-blameless flight attendant on the run from her vicious gun-running sometime employer who sees her as a troublesome loose end.
This book was adapted for the big screen in Jackie Brown, which was directed by Quentin Tarantino and starred Pam Grier, Robert DeNiro, and Samuel L Jackson!
This is a new favorite of mine! If you enjoy romantic suspense, then this book set in the Florida wilds is definitely one you should check out!
If you dare venture beyond the high rises of Miami and the razzle-dazzle of Disney, you'll find yourself in Florida's untamed wilderness. Step into thousands of acres of forests, lakes and rivers-a paradise for hunters and fishermen. But paradise has a dark side…
Former Fish & Wildlife Officer Charlotte "Charlee" Tanner still carries the guilt of a tragic drowning accident that occurred on her watch. She hoped moving back home to the wilds of central Florida would provide a safe haven-until she learns the death was no accident, and she's the intended target.
Tough and decisive, Lieutenant Hunter Boudreau loves his new job as a law enforcement officer with the Florida Fish & Wildlife Conservation Commission. Charlee is his best friend, so when she comes under fire, he's not letting her out of his sight until the killer is caught. But Charlee won't sit by and let anyone else die for her.
As danger closes in and Charlee and Hunter's attraction threatens to consume them, Charlee has to decide if she can trust Hunter. And to save Charlee, Hunter will have to trust her, too.
We never know what will happen next in Florida. We know only that, any minute now, something will. Every few months, Dave Barry gets a call from some media person wanting to know, "What the hell is wrong with Florida?" Somehow, the state's acquired an image as a subtropical festival of stupid, and as a loyal Floridian, Dave begs to differ.
Join him as he goes in hunt of the legendary Skunk Ape; hobnobs with the mermaids of Weeki Wachee Springs; and visits Cassadaga, the psychic capital of the world, to have his dog's aura read (apparently, she's "very spiritual"). Hitch a ride for the non-stop thrills of alligator-wrestling ("the gators display the same fighting spirit as a Barcalounger"), the hair-raising spectacle of a clothing-optional bar in Key West, and the manly manliness of the Machine Gun Experience in Miami.
Books Set in Miami
Carl Hiaasen is pretty my synonymous with books set in Florida, especially South Florida! So, if you want books set in Miami or anywhere south, you'll want to check out Carl Hiaasen. And, if you enjoy his style, you'll be thrilled that he has quite a few books.
The first sign of trouble is a Shriner's fez washed up on a Miami beach. The next is a suitcase containing the almost-legless body of the local chamber of commerce president found floating in a canal…
The locals are desperate to keep the murders under wraps and the tourist money flowing. But it will take a reporter-turned–private eye to make sense of a caper that mixes football players, politicians, and one very hungry crocodile.
Another classic book set in Florida is Florida roadkill by Dorsey.
Sunshine State trivia buff Serge A. Storms loves eliminating jerks and pests. His drug-addled partner Coleman loves cartoons. Hot stripper Sharon Rhodes loves cocaine, especially when purchased with rich dead men's money.
On the other hand, there's Sean and David, who love fishing and are kind to animals — and who are about to cross paths with a suitcase filled with $5 million in stolen insurance money. Serge wants the suitcase. Sharon wants the suitcase. Coleman wants more drugs . . . and the suitcase. In the meantime, there's murder by gun, Space Shuttle, Barbie doll, and Levi's 501s.
In other words, welcome to Tim Dorsey's Florida — where nobody gets out unscathed and untanned!
Against a vivid South Florida background, Susanna Daniel's Stiltsville offers a gripping, bittersweet portrait of a marriage—and a romance—that deepens over the course of three decades.
15 Views of Miami is a literary portrait of the Magic City told in fifteen loosely linked stories by fifteen Miami authors. Sprawling from Hialeah to Homestead, from Wynwood to Stiltsville, these stories cover a range of cultures, languages and lives, reflecting the diversity and drama of a large and often misunderstood city. Contributors include John Dufresne, Lynne Barrett, Jennine Capó Crucet, Patricia Engel, and many more award-winning authors.
Books Set in the Florida Keys
If you're looking for a little romance from your books set in the Florida Keys, then you'll want to check out Love's Rescue!
When her mother dies, Elizabeth Benjamin heads home to Key West, determined to transform herself into the perfect Southern belle her parents always wished her to be. But nothing goes according to plan. Her crippled brother resents her, the servants do not obey her, and Rourke O'Malley, the dashing man she vowed to forget, refuses to relinquish his hold on her heart. Worst of all, it becomes painfully obvious that her father is not the upright man he appears to be.
As family secrets come to light, Elizabeth is faced with a difficult choice: to do her duty and abandon her dreams, or to leave her life of privilege behind to chase the man her father sees as little better than a pirate.
If you prefer your books more on the adventurous side, you'll enjoy this romp through the Keys and Caribbean. This is the first book in a series, so there's plenty of adventure to be had in these books set in the Florida Keys!
The Road to Key West is an adventurous/humorous sojourn that cavorts its way through the 1970s Caribbean, from Key West and the Bahamas to Cuba and Central America.
In August of 1971, Kansas Stamps and Will Bell set out to become nothing more than commercial divers in the Florida Keys, but adventure, or misadventure, seems to dog them at every turn. They encounter a parade of bizarre characters, from part-time pirates and heartless larcenists to Voodoo bokors, a wacky Jamaican soothsayer, and a handful of drug smugglers.
Adding even more flavor to this Caribbean brew is a complicated romance, a lost Spanish treasure, and an antediluvian artifact created by a distant congregation who truly understood the term, "pyramid power." So pour yourself a margarita and slide into the '70s for a while, as you follow Kansas and Will through this cocktail of madcap adventures – on The Road To Key West!
Andrew Yancy-late of the Miami Police and soon-to-be-late of the Monroe County sheriff's office-has a human arm in his freezer. There's a logical explanation for that, but not for how and why it parted from its shadowy owner.
Yancy thinks the boating-accident/shark-luncheon explanation is full of holes, and if he can prove murder, the sheriff might rescue him from his grisly Health Inspector gig (it's not called the roach patrol for nothing).
But first, Yancy must negotiate an obstacle course of wildly unpredictable events with a crew of even more wildly unpredictable characters, including his just-ex lover, a hot-blooded fugitive from Kansas; the twitchy widow of the frozen arm; two avariciously optimistic real-estate speculators; the Bahamian voodoo witch known as the Dragon Queen, whose suitors are blinded unto death by her peculiar charms; Yancy's new true love, a kinky coroner; and the eponymous bad monkey-who just may be one of Carl Hiaasen's greatest characters.

While King is typically known for his horror books, this one takes a different path. A beautifully written book set in the Florida Keys.
A terrible construction site accident takes Edgar Freemantle's right arm and scrambles his memory and his mind, leaving him with little but rage as he begins the ordeal of rehabilitation. A marriage that produced two lovely daughters suddenly ends, and Edgar begins to wish he hadn't survived the injuries that could have killed him. He wants out.
His psychologist, Dr. Kamen, suggests a "geographic cure," a new life distant from the Twin Cities and the building business Edgar grew from scratch. And Kamen suggests something else. Edgar leaves Minnesota for a rented house on Duma Key, a stunningly beautiful, eerily undeveloped splinter of the Florida coast. The sun setting into the Gulf of Mexico and the tidal rattling of shells on the beach call out to him, and Edgar draws.
A visit from Ilse, the daughter he dotes on, starts his movement out of solitude. He meets a kindred spirit in Wireman, a man reluctant to reveal his own wounds, and then Elizabeth Eastlake, a sick old woman whose roots are tangled deep in Duma Key.
Now Edgar paints, sometimes feverishly, his exploding talent both a wonder and a weapon. Many of his paintings have a power that cannot be controlled. When Elizabeth's past unfolds and the ghosts of her childhood begin to appear, the damage of which they are capable is truly devastating.
Although he prefers magazine work, freelance photographer Alex Rutledge won't turn down an occasional crime scene shoot for the City of Key West Police Department.
But when a string of murders takes his viewfinder into strangely familiar territory, Alex's mellow island lifestyle shatters. One after another, someone is killing women who have intimately crossed Alex Rutledge's path. Maybe it's a coincidence. Maybe it's a conspiracy. Or maybe he's crazy. But the connection marks Alex as the prime suspect in a case so hot it's drawn in the county sheriff, the FBI, and the Bureau of Alcohol, Tobacco, and Firearms.
In a desperate race to save his name and his life, Alex dives into a one-man search for the dark, sweltering truth beneath a case that's pounding toward a meltdown, in The Mango Opera by Tom Corcoran.
Wrapping up Books set in Florida
Regardless of where you're visiting in the Sunshine State, you are bound to find a book set in Florida for your area! Whether you're going to the theme parks in Orlando, further south to Miami or the Keys, or anywhere in between, there are lots of great books set in Florida for you to choose from.
A couple of favorites, anything by Connie Mann, Carl Hiaasen, and of course, Dave Barry! Hopefully, you'll find something you enjoy. If you have any books set in Florida that are favorites that I haven't mentioned, please leave them in the comments and I'll be sure to add them!
Oh, and in case you didn't know, audiobooks are great too!  And, if you're taking a road trip to Florida, you can listen to some of these books on your way down 🙂
Other Articles You Might Like
22 Books to Help Kids Prepare for Epcot's World Showcase
Travel Intentionally – Where Do You Want to Go?
7 Fantastic Books set in Savannah You'll Want to Read
Road Trip -10 Helpful Tips to Make You Happy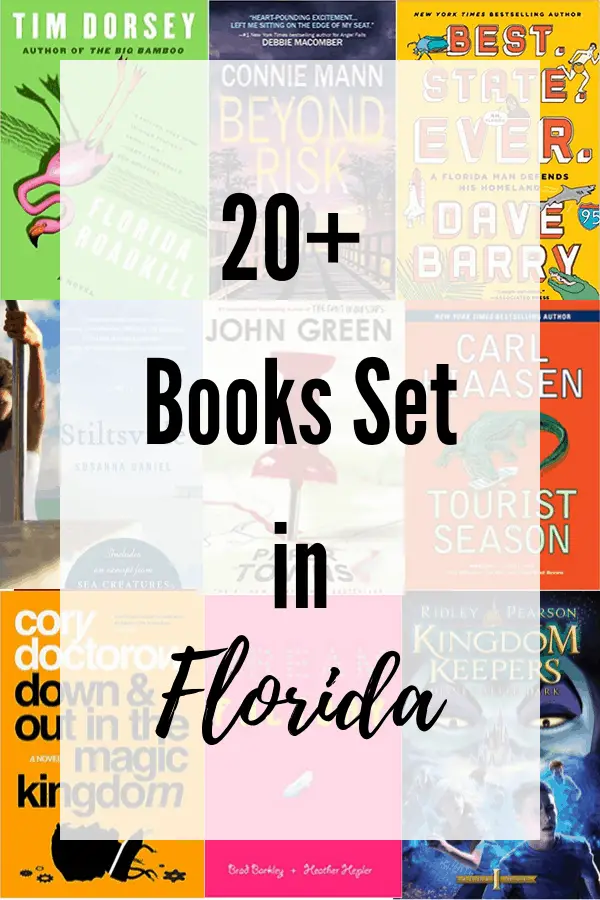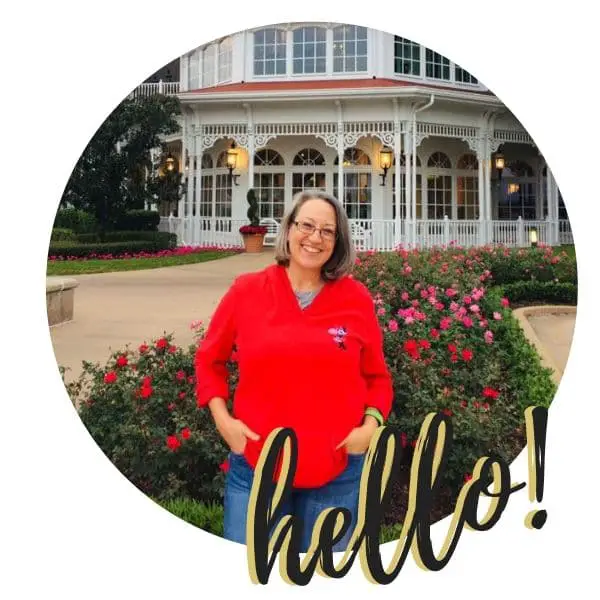 Becki is the author and founder of A Book Lover's Adventures. She has a degree in elementary education, has worked and volunteered in libraries for years, and spent several years in the travel industry. All of this has led to a love of books and travel. Becki loves to share her love by finding literary escapes to share!