Seville to Cadiz Day Trip | 9 Best Things to do in Cadiz
If you are spending any time in the Andalusia area of Spain, you will want to check out a Seville to Cadiz day trip!  It's an easy excursion from Seville to Cadiz, so it makes an easy and interesting day trip!
We chose to do a Seville to Cadiz day trip because Cadiz is the oldest fishing port in Europe!  Dating back to 1100 BC and the Phoenicians, Cadiz makes for an interesting Day Trip for history buffs.  And, since it is surrounded by water, Cadiz is also great for anyone who wants a beautiful waterfront to relax on!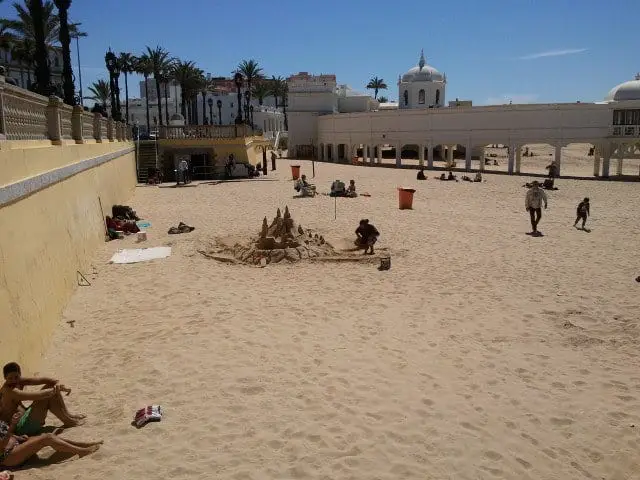 Going from Seville to Cadiz
The train makes a Seville to Cadiz day trip very easy! The train from Seville to Cadiz runs several times a day and is about a 2-hour trip each way.  And, once you get to Cadiz it is easy to walk around the city!
Things to do in Cadiz
1. Parque Genoves
Address: Avda. Doctor Gómez Ulla, s / n
Cost: FREE
This is a beautiful public garden overlooking the ocean with exotic trees and plants brought in from all around the world.  You can catch a concert here during the summer months.
Address: Plaza de Mina, s/n.
Hours: 9am – 9pm (different hours on Sundays, and closed on Mondays)
Cost: Approx. $1.65/pp
One of our favorite things to do in Cadiz was the Museo de Cadiz. And, if you do a day trip from Seville to Cadiz, you should definitely put this on your list of things to do.
The museum is where we spent quite a bit of our time during our day trip to Cadiz!  It is housed in what once was a Franciscan convent.  With the rich history of Cadiz, it is not surprising that they have an equally rich collection in the museum!
Some of the highlights include the male and female Phoenician sarcophagi from the 5th Century BC, a collection of rare Phoenician jewelry and some Roman statues. There is also a fine arts section to the museum that houses some beautiful works from 17th Century Spanish artists.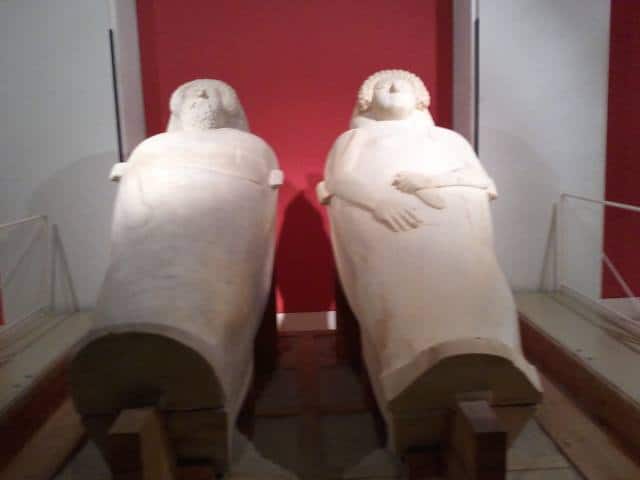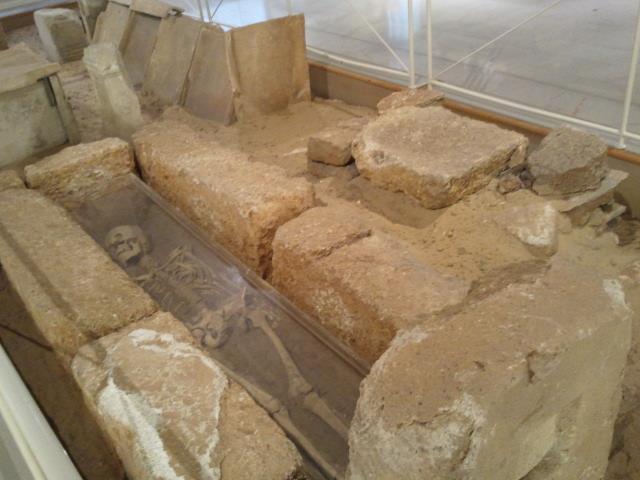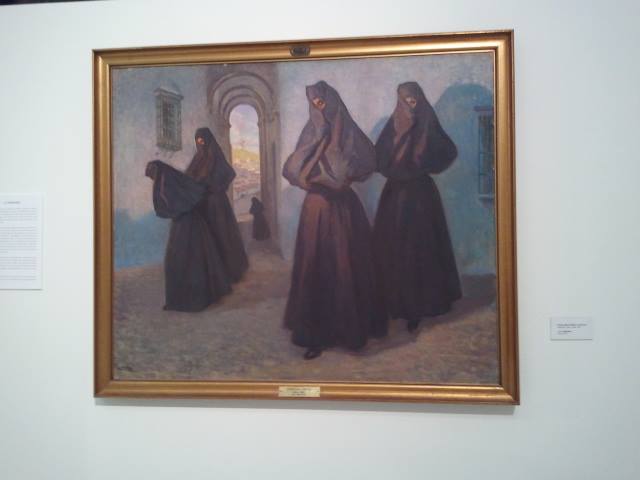 Address: Paseo Playa de La Caleta – Antonio Burgos s/n
Cost: FREE
Another of our favorite things to do in Cadiz was wandering around the Castillo de Santa Catalina.
Built in 1598, the Castillo de Santa Catalina served as the main citadel for this port city.  You can walk out to the ruins, but there really isn't much to see other than a magnificent view (which I thought was worth it)!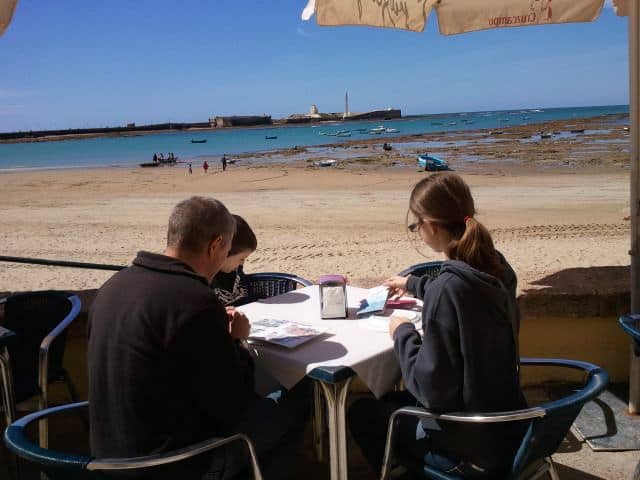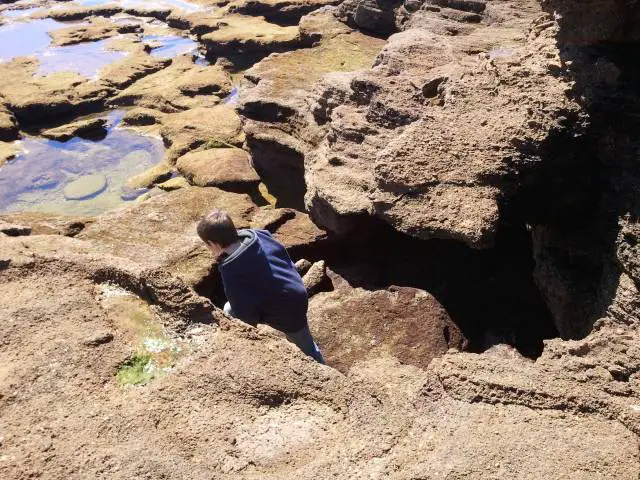 4. Gadir Archaeological Site
Address: Calle San Miguel, 15
Cost: FREE
An interesting look into history! With nearly 3,000 years of history, visitors can discover the first traders who lived in Cadiz, Andalusia. The different periods of habitation on the site are reflected in the layout of the streets, homes and tools dating to the 9th century BC, which can be seen on the tour.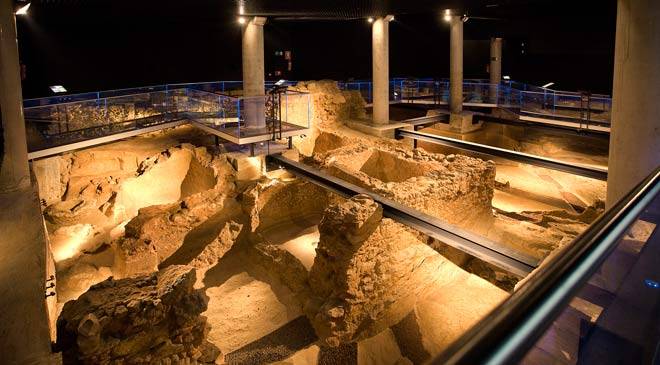 5. Puerta de Tierra
Address: Plaza de la Constitución, s / n
Cost: FREE
Reopened in 2013, the Puerta de Tierra is another historical site to visit in Cadiz. You can see architecture from the 16th century.
In addition to visiting designated areas such as the central dome, the tower and the upper promenade, the Puerta de Tierra also hosts the offices of the Workshop Lithographic Museum and Puppet Museum.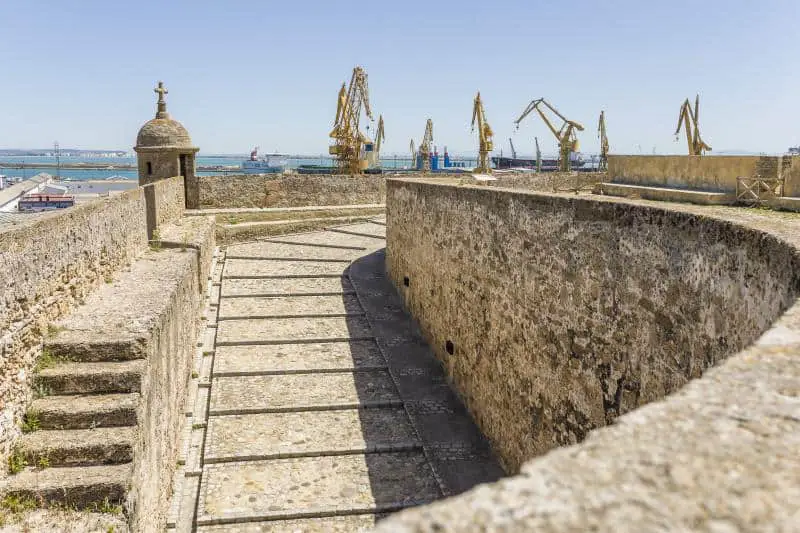 6. Cádiz Cathedral
Address: Cathedral Square, s / n.
Cost: Approx. $4.50-7.00USD/pp
This beautiful cathedral dates back to the 17th Century. There is a lot to see here. If you enjoy wandering around churches, you'll want to stop in here. Along with the chapel, there is a wonderful clock tower and a crypt you'll want to check out.
As when visiting any church, make sure you dress appropriately and follow the rules of no eating and no talking on your phone. They still have services in this church, so if your visit coincides with a Sunday service, it would be interesting to sit in on that.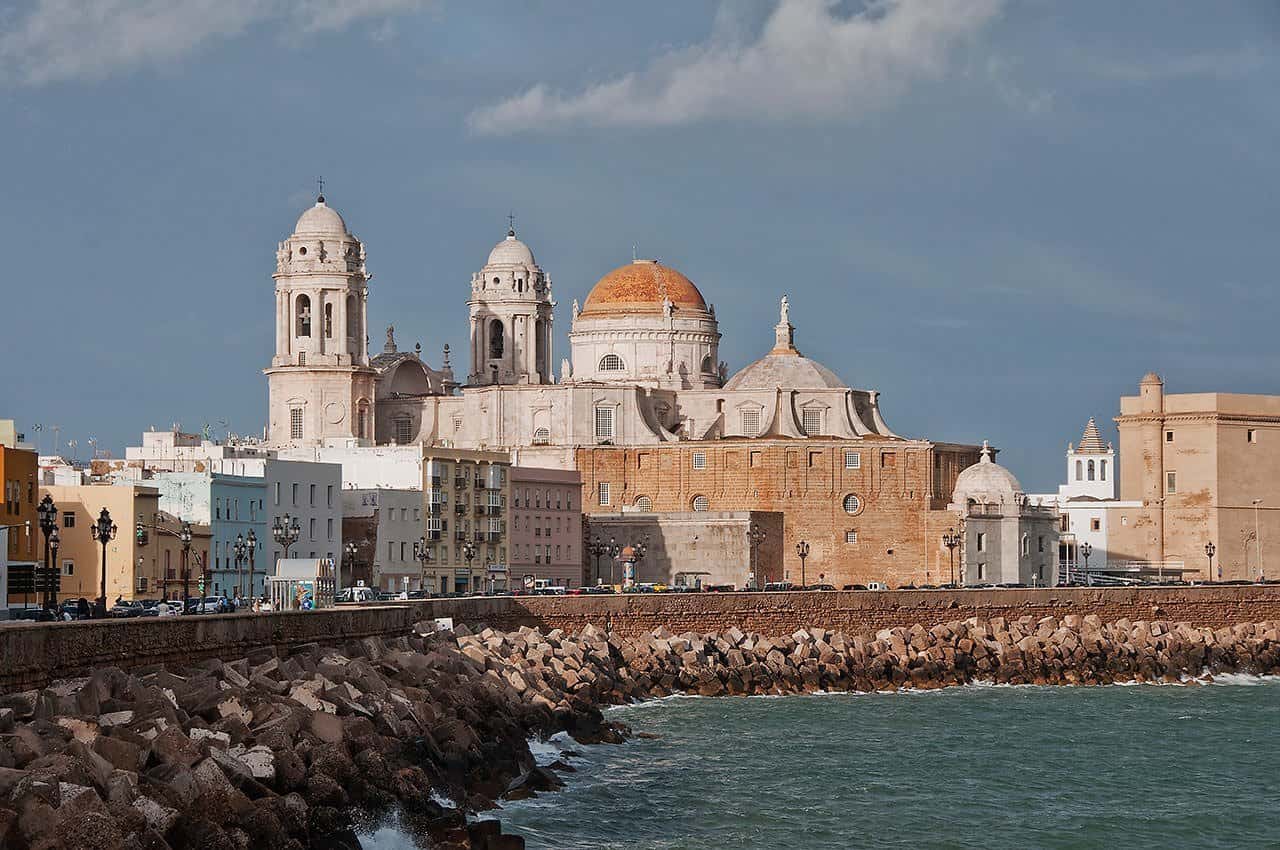 7.
Plaza de San Juan de Dios
Address: Plaza de San Juan de Dios, s / n
Cost: FREE
Plaza San Juan de Dios is the Major medieval square in Cádiz. It has been the administrative and commercial centre of the city since the 16th century. Until Central Market opened, this housed the fixed stalls for the market.
The location is wonderful. It is open to the harbor and near old town, so easy to get to in your wanderings.
8.
The Roman Theater
Address: Calle Mesón, 11, 13, 
Cost: FREE
The Roman Theater of Cadiz was built in the 1st century by Lucio Cornelio Balbo el Menor, a friend and adviser to Julius Caesar. It was discovered in 1980 and excavations have uncovered parts of the stands and well as the orchestra and gallery.
It is thought to be the second largest on the Iberian Peninsula, with a calculated capacity of about 10,000 spectators!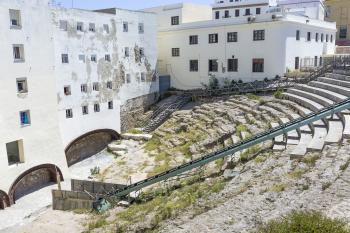 9.
The Tavira Tower
Address: Calle Marqués del Real Tesoro, 10
Cost: $5.00-$7.00USD/pp
If you are not afraid of heights, you will want to visit the Torre Tavira and enjoy the best views of Cádiz.  Step back in time, to the 18th century, when thanks to trade with the West Indies, Cadiz was at its most magnificent.
When you climb to one of the 129 watchtowers, the Tavira Tower, or the highest point in the old part of the town and experience the Camera Obscura, you get a 360-view of Cadiz. Definitely a view like no other!
Where to Eat in Cadiz
During your Seville to Cadiz day trip, you will want to take the time to have a meal. As you can imagine, the seafood is fresh and delicious! And, there are so many wonderful restaurants in the area. We chose one right on the coast. We ate outside and loved the view!
During our day trip to Cadiz, this is where we ate.  The location was perfect, right on the seaside promenade overlooking the ocean and the Castillo de Santa Catalina.  The food was unique and delicious!
"Meeting point for locals and tourists where you can enjoy different ambiances according to the season and day time: breakfast with views and classical music; snacks and meals in a vibrant atmosphere; coffee, cakes, and cocktails at a chill-out sunset; dinner and tapas in a relaxing atmosphere. Enjoy the large terrace nearly all year round, and the warm interior on cold Winter days, with a fireplace and blankets for those who prefer enjoying outdoor."
A little further down the coast lies El Faro de Cadiz.  This looks like a great place to get traditional Spanish tapas.
"The lighthouse of Cadiz is located in the beautiful neighborhood of La Viña, my father Gonzalo Cordoba began with a small bar decorated as a seafood tavern, nets and fishing tools along with benches and wooden tables was all the decoration. To him, a multitudinous clientele came in search of the famous fried fishery that daily took the fishermen of the near beach of the caleta.
His restlessness and eagerness to overcome led him to transform the place by expanding it and providing it with modern facilities.
Now, retired, his spirit of service and dedication to others is part of our principle to continue gastronomically lighting Cadiz and I am proud to continue with this work."
Over by the Museum, Ultramar & nos is an option.  It's a bit pricey, but it sounds like it's a good experience!
"Ultramar & nos, with a very original gastronomic proposal, halfway between the new, the fusion and the stews of all the life in charge of the cooks Pancho Jiménez and Manolo Valencia, it becomes one of the premises of fashion in Cadiz, hardly four months after its inauguration."
Day Trip From Seville to Cadiz
All in all, we found Cadiz to be a beautiful and interesting town to visit. And, since it's such an easy day trip from Seville to Cadiz, it is definitely worth your time to check out!
Being an ancient fishing port, it was a very different view of Spain than we'd had in Madrid or Seville.  We visited on a Sunday, so not everything was open to us.  But, we still enjoyed what was available and found it to be a very worthwhile Day Trip!  If you have the day available, I highly recommend taking the short trip over to Cadiz!
Other Articles You Might Enjoy
10 Things You'll Love About Seville
Greenwich Village London ~ 5 Reasons You'll Want to Visit
Sharing is Caring!  So, please share this article with your friends on Social Media!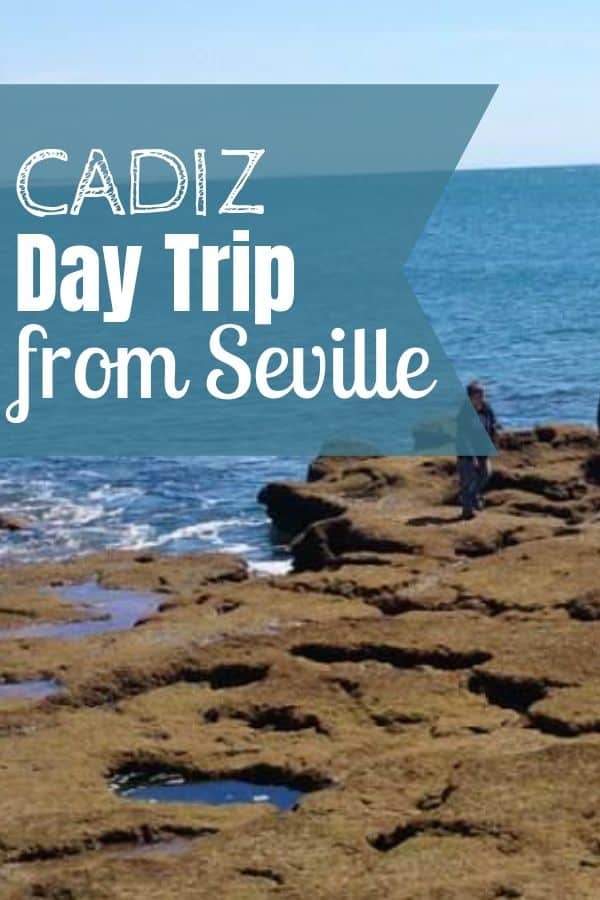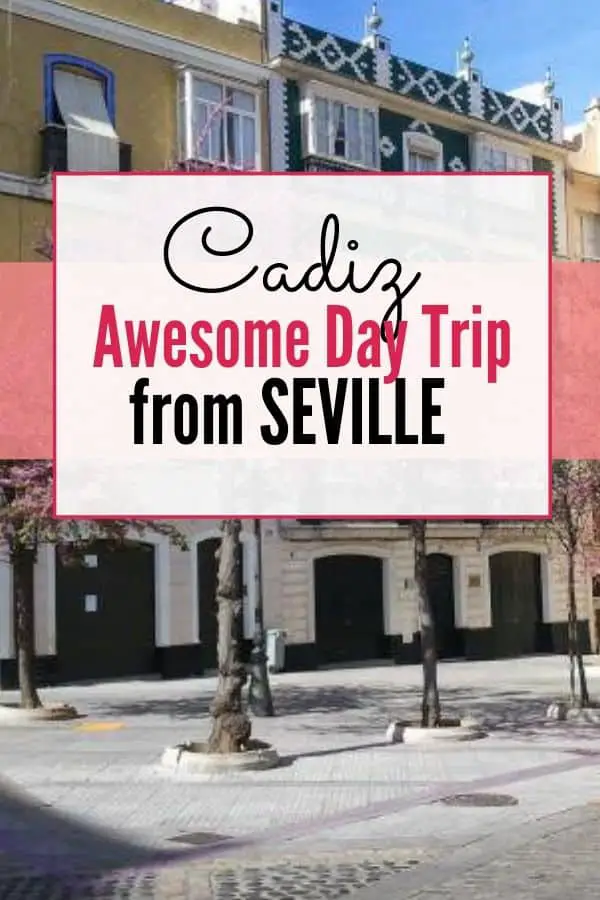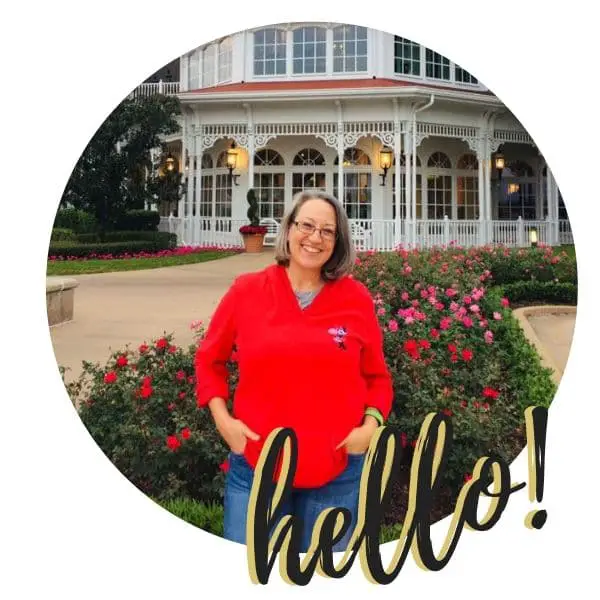 Becki is the author and founder of A Book Lover's Adventures. She has a degree in elementary education, has worked and volunteered in libraries for years, and spent several years in the travel industry. All of this has led to a love of books and travel. Becki loves to share her love by finding literary escapes to share!