Road Trip Checklist for the best family vacation
Are you a fan of jumping in the car and hitting the road for a family road trip? We have been doing family road trips for the past 20 years. And, I'd have to say, we've gotten a lot better at it over the years! So, I've included a FREE printable Family Road Trip Checklist for you!
We used to be able to just jump in the car and go. But, then kids came along and all the accouterments that go with kids had to come along too! You can check out my article about traveling with teens here.
Being the checklist kind of girl that I am, I realized it was time for a checklist to keep me sane when we go on road trips!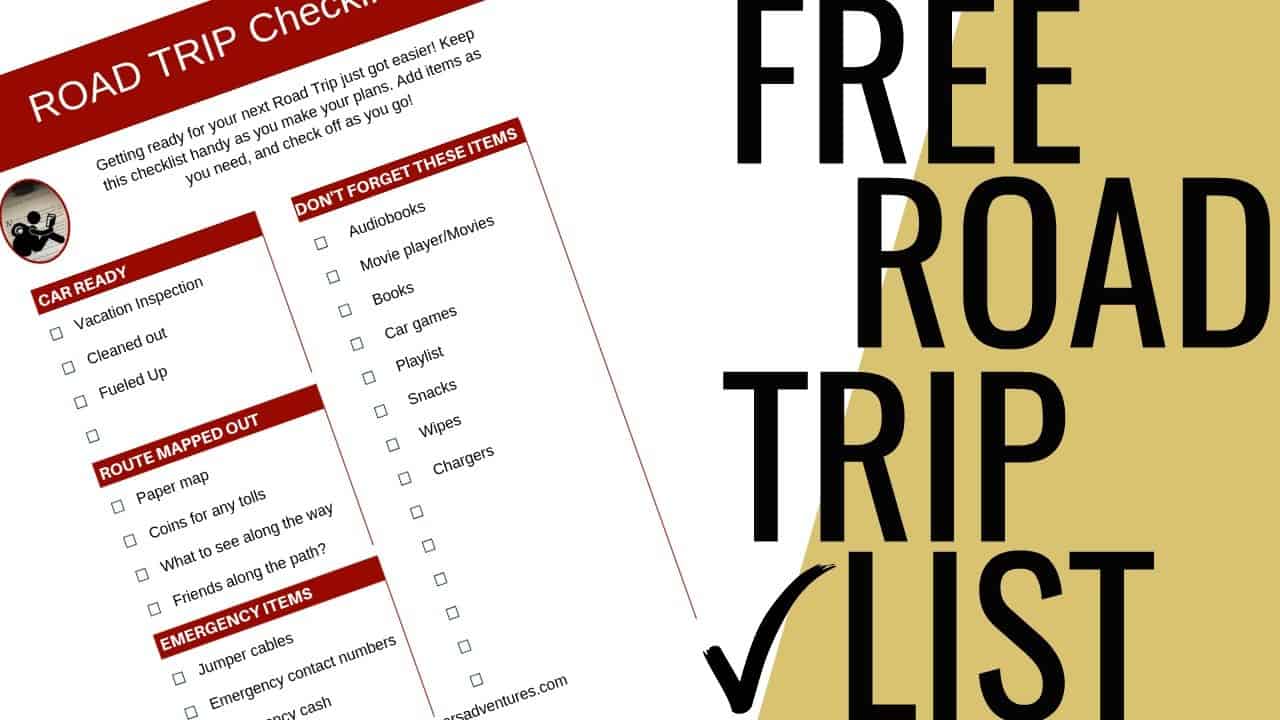 Family Road Trip Checklist
While this road trip checklist may not have everything you need on it, it is a good essentials checklist that will get you started and off on the right foot!
Car – Road Trip Ready
Keeping you and your family safe is important. And, the first step in doing that is making sure your car is road trip ready! If it's not, you might want to consider renting a car for your vacation.
Mechanical – Have your car put through a vacation inspection. If you're like me, you're probably asking What should I check on my car before a road trip?  Well, this short article from Consumer Report tells what items should be looked at. They will check all the fluids, cables, wipers, etc. If you need an oil change or tune-up, get it done before you go.
Fueled up – Go ahead and start your trip with a full tank of gas!
Cleaned out – Clean out all unnecessary items and trash. Give the car a good wash and vacuum. It'll feel good to start out all clean!
Tires checked – Make sure you have the tires checked. You'll want to have them check both for wear and pressure. If you are going somewhere that the temperature is very different, let them know so they can make sure your tires are ready!
Where to?
Whether your road trip is just a day or two, or a week or two, you'll want to make sure you know where you are going!
Paper vs. app to map – While I completely appreciate the ease of Google Maps, it is always a good idea to have a paper map of your route on hand. We have found several times that either our phone died and we didn't have access to the app or we didn't have service. Don't get stuck and not know how to get where you want to go!
Toll money – Check to see if your route has any toll roads you'll need money for along the way. You might be able to get a prepaid sticker and save some money on the tolls.
Stops along the way – Check to see if there are any fun stops along the way. You might miss seeing the largest ball of rubber bands if you don't check! Check out Road Trippers Route Planner to help you find some hidden gems along the way!
Friends along the way – Of course, one of the best things about a road trip is that you can stop and visit friends and family along the way! Check out who is along your route and if they are available ahead of time. Then make sure you have their contact info, just in case plans change or are delayed!
Entertainment
Depending on how long your trip is, plan the entertainment accordingly!
Audiobooks – I love listening to books while on a road trip! So far my favorites to listen to have been the Harry Potter series. The narrator does such a great job. If you haven't read the series, this would be a fun way to get to know the series!
Movies – Prior to iPads, we discovered portable movie players. These brought many hours of joy on our road trips (for our kids and us)!
Books – I find that I enjoy reading books on a long car trip. I can't read the whole time, but I do enjoy bringing a good book to settle in with!
Road Trip Car games – I grew up road tripping and we didn't have movie players, iPads or audiobooks! Back in the day, we had car games!! Usually, they were nothing complicated, like finding all the states in license plates. Or the alphabet game, where you had to find a word that begins with each letter of the alphabet in order. Here's a list from BuzzFeed of 19 fun Road Trip games if you want to go "old school."
Playlist – Everyone has their own preference when it comes to music, so make a fun and lively playlist that includes everyone's favorites and maybe even some new road trip songs. Or, maybe have everyone make their own playlist and work your way through each one.
Snacks – Food is always important in our family. So we tend to take our road trip snacks pretty seriously. But, my tips here are to try to have a few healthy snacks (apple slices, carrot sticks) and maybe a candy treat. But, whatever you bring, try to avoid messy snacks!! Keep your car clean as long as possible!!
Emergency Items
I would be remiss if my road trip checklist didn't include items in case of an emergency!
Snack & water – While you always hope that you aren't stranded on the side of the road, but you will want to be prepared just in case. Make sure you have water and snacks for everyone, just in case you get stuck for a few hours. There is nothing more miserable than waiting for help when you're hungry and thirsty! Protein bars or granola bars are great emergency foods to keep in the car.
Cash – It is always a good idea to have an emergency stash of cash for any trip. You never know what might come up where you will need it!
Contact numbers – Keep a list of emergency contact numbers in the car. In the unlikely event that something happens, you will want your rescuers to know who to get a hold of.
Jumper cables – This is an easy one! While you shouldn't have any battery issues since you had the vacation inspection done on your car, but this is an easy fix if you do wind up with a dead battery. They aren't expensive, they don't take up a lot of space, and it could save you a couple of hours of waiting for a tow truck!
Blankets – If you are traveling where it will be cold, make sure you have sufficient blankets or coats to keep everyone warm if you were stuck on the side of the road.
Miscellaneous
ID/Insurance/Tag – Of course you'll have these items. You can't drive anywhere without them! But, always a good reminder.
Chargers for everything – Make sure you have chargers for any of the electronics you're bringing! Phones, movie players, iPads, etc.
Road Trip Fun
Heading out on a road trip is always a lot of fun! Check my 10 Tips for Great Road Trip here for more great tips and ideas, and print off this  FREE Road Trip Checklist here! With a little planning and a great checklist, you and your family will have a great road trip! Have fun and stay safe during your travels!
Other Articles You Might Enjoy
What Things to Pack for a Trip & What Mistakes to Avoid!
How to Survive Hurricane Season on Vacation
Road Trip – 10 Helpful Tips to Make You Happy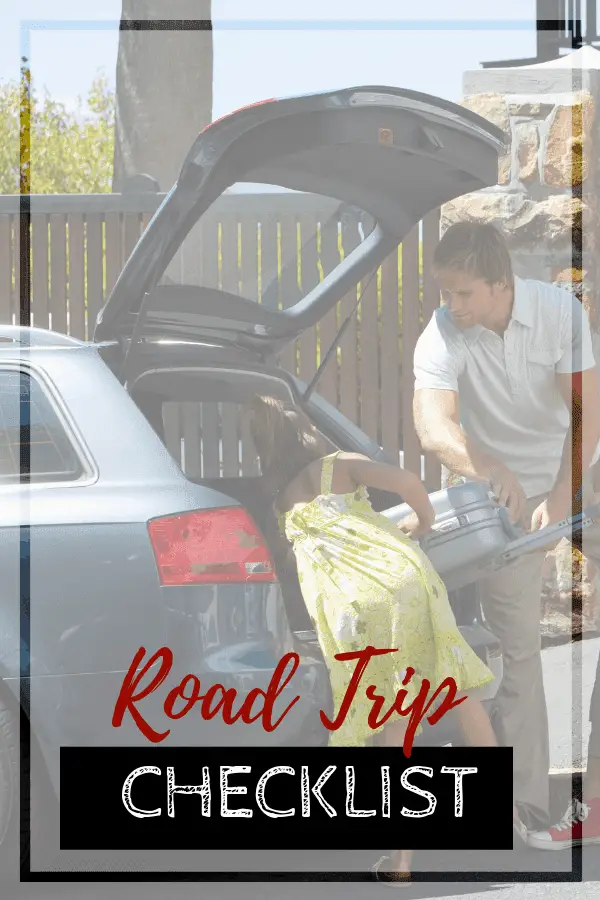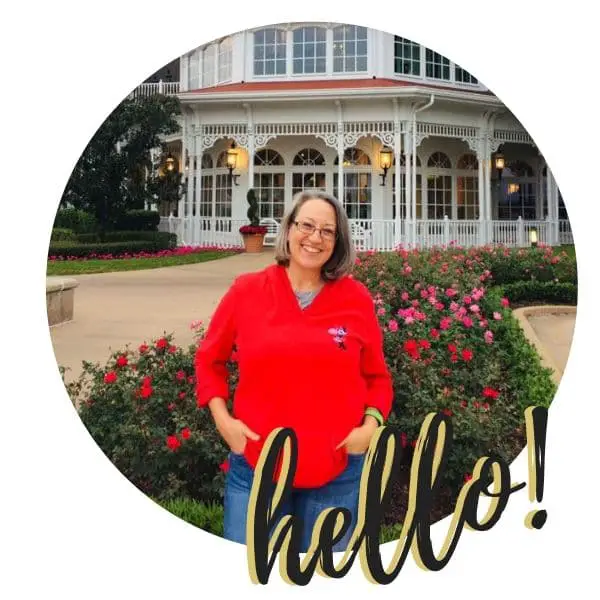 Becki is the author and founder of A Book Lover's Adventures. She has a degree in elementary education, has worked and volunteered in libraries for years, and spent several years in the travel industry. All of this has led to a love of books and travel. Becki loves to share her love by finding literary escapes to share!