Greenwich Village London | 5 Amazing Reasons You Need to Visit
Have you ever been to Greenwich?  Nope, not Greenwich, Connecticut!  And no, not Greenwich Village in New York.  But, Greenwich Village London.  As in Greenwich Mean Time?!
Greenwich Village London might not be on your radar yet as somewhere to go when you visit London, but it should be!
So, just which part of London is Greenwich in? Located on the South-east side of London, Greenwich is connected to other areas in and around London through the docks and also through the Metro system.  
An easy and very enjoyable way to get to Greenwich from London is by boat.   And, while the trip does take about an hour, it's a beautiful trip so you won't mind the time!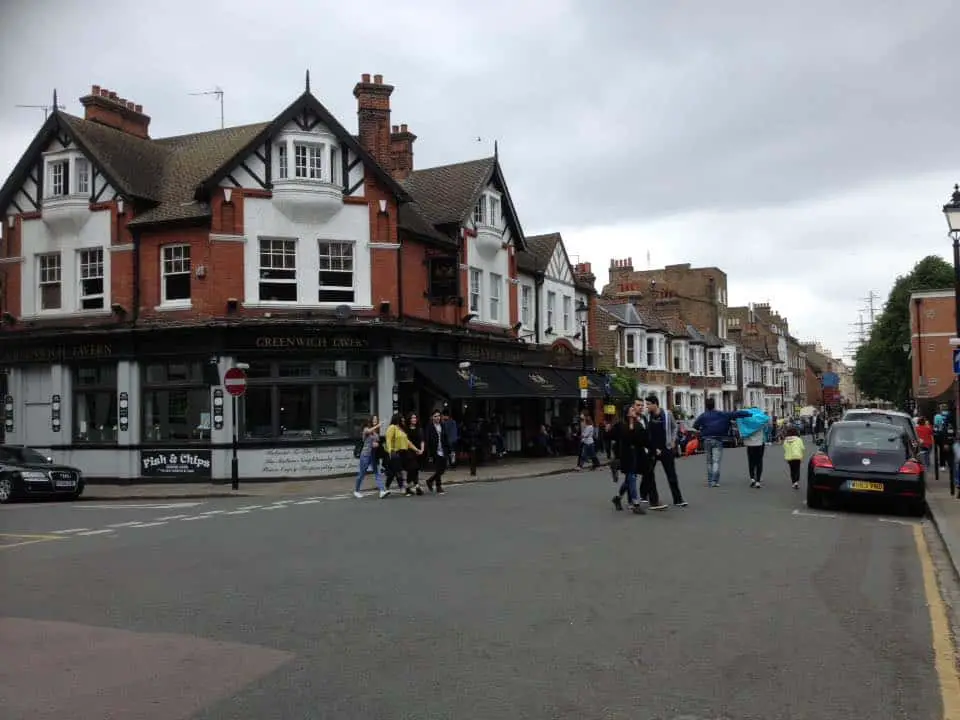 Top reasons we loved Greenwich Village London
Whether you go by boat or by rail, London Greenwich Village is easily accessible!  We were fortunate enough to be staying right in Greenwich Village during our visit to London.  
There are many reasons that you'll want to visit Greenwich Village in England!
If you happen to be a fan of maritime history ~ Greenwich Village is the place for you!
Or, if you love beautiful gardens ~ Greenwich is the place for you!
If you enjoy good food and a vibrant market ~ Greenwich Village London is definitely the place for you!
Or maybe, if you want to see a lovely English village ~ yep, Greenwich is it!
And, finally, if you want a family-friendly village to stay or visit ~ well, you know…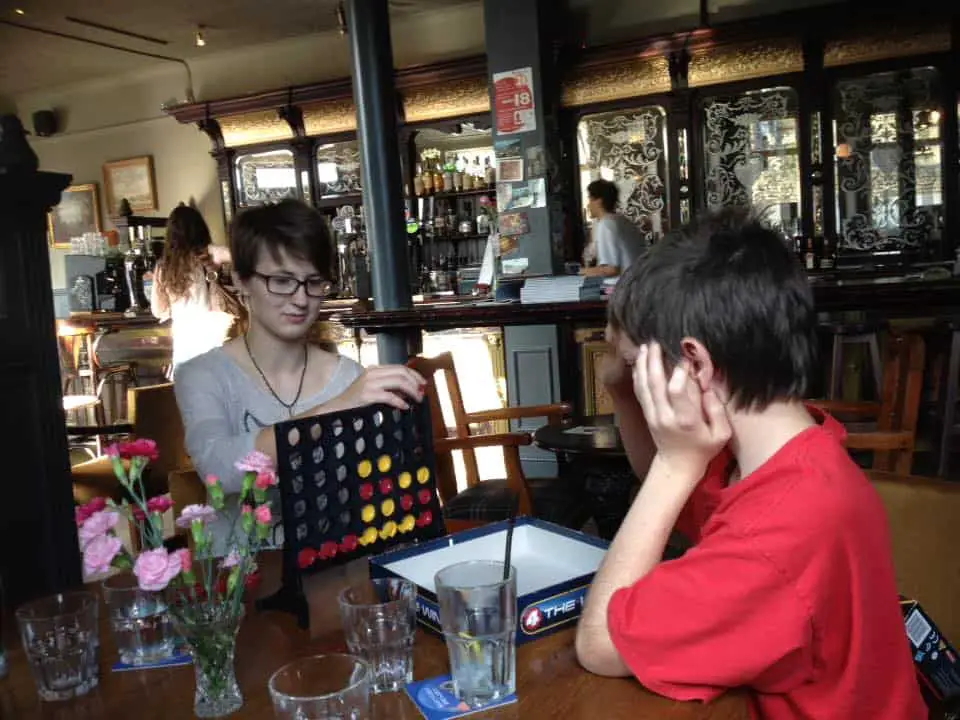 We kind of happened upon Greenwich Village London accidentally.  It was not on our radar, and we, quite frankly, had no plans to visit the area.  But, about 30 minutes before we left for the airport to catch our flight out, I received an email saying that our Airbnb apartment had been canceled!  I thought it was a joke ~ but, no!  Unfortunately, it was real.  
The customer service at Airbnb, who by the way was extremely nice and helpful, actually found the apartment for us.  It was on the complete opposite side of London than our original apartment, but it was a nicer apartment.  All that to say, we found ourselves staying in Greenwich Village London!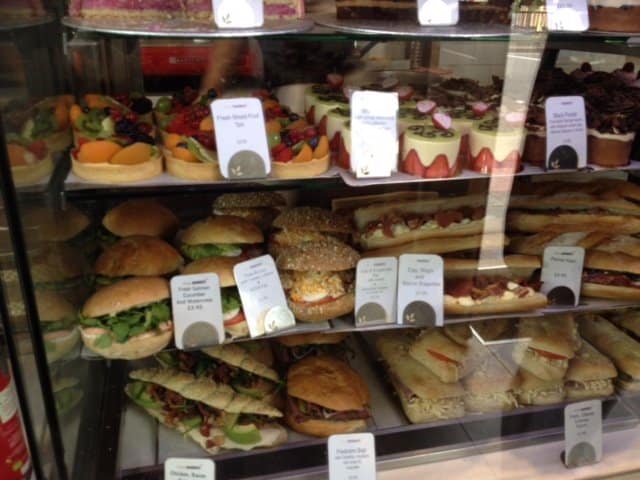 Things to do in Greenwich London
1. Greenwich Park
Cost: Free
The apartment we were staying in was about a block or so from Greenwich Park.  And, we had to go through the park to get to the town area and the tube station.  So, every day at least twice, we found ourselves walking through Greenwich Park!  
Greenwich Park was absolutely beautiful.  We were there in June and the flowers were just gorgeous.  There was a big hill going down into town that was fun to go down (and not so fun on the long walk home).  
We found this park to be a very well used space, which I loved.  There were folks walking to work, folks walking their dog(s), there was an exercise boot camp that met there a few times during the week we were there.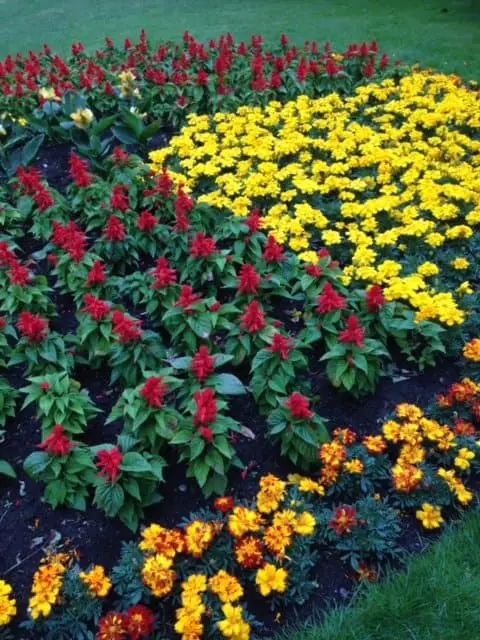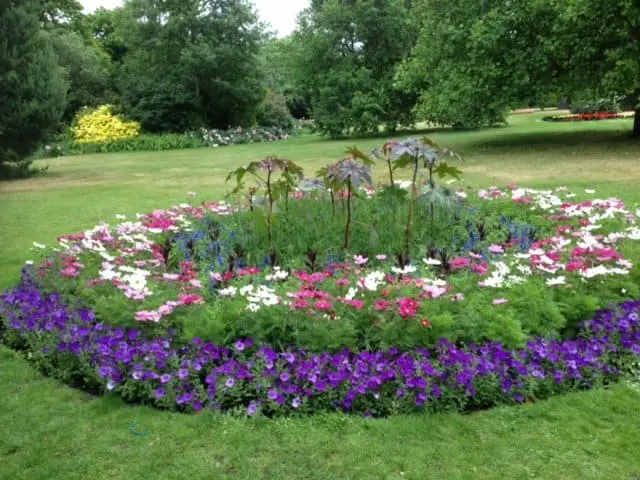 2. The Royal Observatory Greenwich
Cost: Range $18-30 USD (higher price if you want a package including Cutty Sark)
Address: Greenwich Park
In the middle of Greenwich Park, we found the Royal Observatory.
The Royal Observatory Greenwich is the home of world time.  You've heard of Greenwich Mean Time, right?  This is the spot.  Time here is 0:00, and everywhere else in the world is based on this spot!  
So, Florida, where I live is – 6 hours GMT, meaning we are 6 hours behind Greenwich mean time (or GMT).
This museum is also the home to the Prime Meridian.  This is the exact spot (or line) that divides our planet into the Eastern Hemisphere and the Western Hemisphere.  
So, the Prime Meridian is a line of longitude that is defined as 0 degrees.  Everywhere east and west, spans out from this one area.  Pretty cool!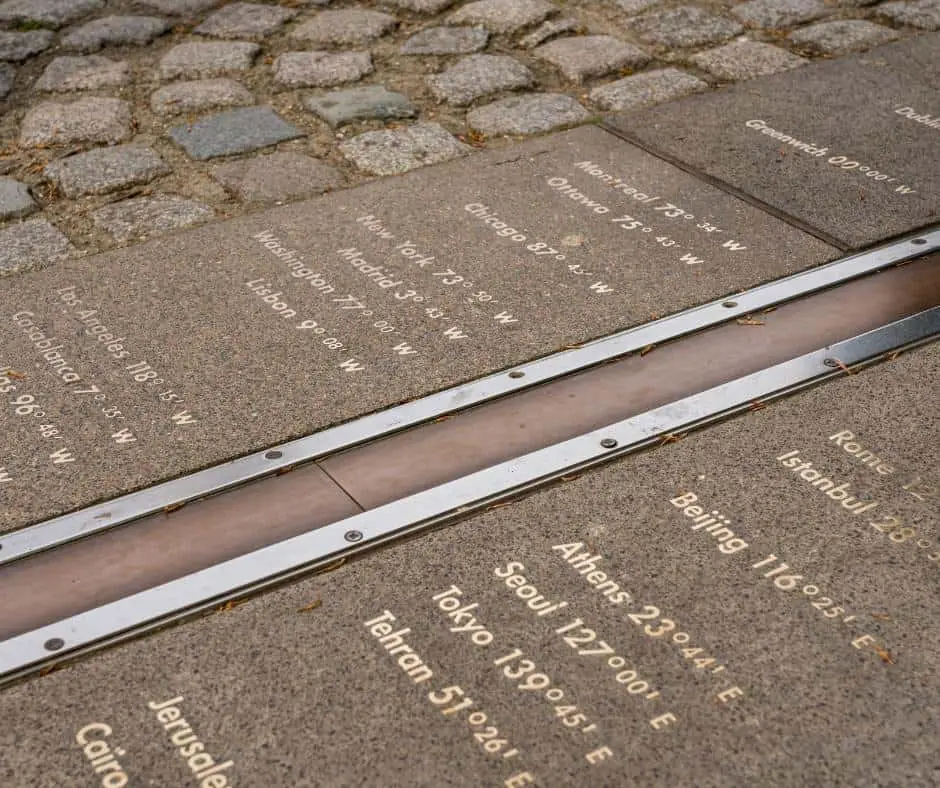 There is a great tour you can go on, which I highly recommend.  And, there is a really interesting museum that you can walk through at your own pace.
Travel Tip:  If you're traveling with young kids, bring a ball and some snacks.  After spending some time at the Observatory, go out and enjoy the park and let them run off some of their energy!
3. National Maritime Museum
Cost: Free
Address: Romney Rd, Greenwich
At the bottom of Greenwich Park is the Maritime Museum and the Queen's House.
The Maritime Museum " is the largest museum of its kind in the world, filled with stories of exploration and human endeavour."(1)  This museum tells the fascinating story of Britain's nautical history.  One of the best things ~ the museum is FREE!  Throughout the year they host special lectures, musical events and more, so check out their calendar before heading over.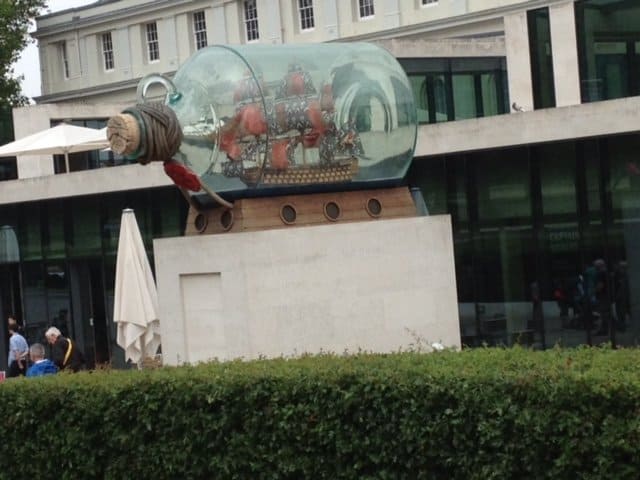 Travel Tip:  The Maritime Museum is busiest from 12:00 – 3:00pm.  So plan your visit for first thing in the morning, or later in the afternoon.  You'll be able to avoid the biggest crowds!
4. The Queen's House
Cost: Free
Address: Romney Rd, Greenwich
Another interesting stop just outside Greenwich Park is the Queen's House.  You may be confused because this obviously isn't Buckingham Palace!  
This palace was built back in the 1600's for Anne of Denmark (James I's wife).  Unfortunately, Anne died before the construction was completed.  So, the construction of the palace was actually finished by a later royal.  
The palace just reopened to the public in July of 2016, so we unfortunately just missed it!
"The Queen's House is now home to a collection of great artworks, including paintings by William Hodges, George Stubbs, Hans Holbein, William Hogarth and Thomas Gainsborough.
There's also a large collection of work by Dutch maritime artists the Van de Veldes, who had a studio here for 20 years, starting in the 1670s." (2)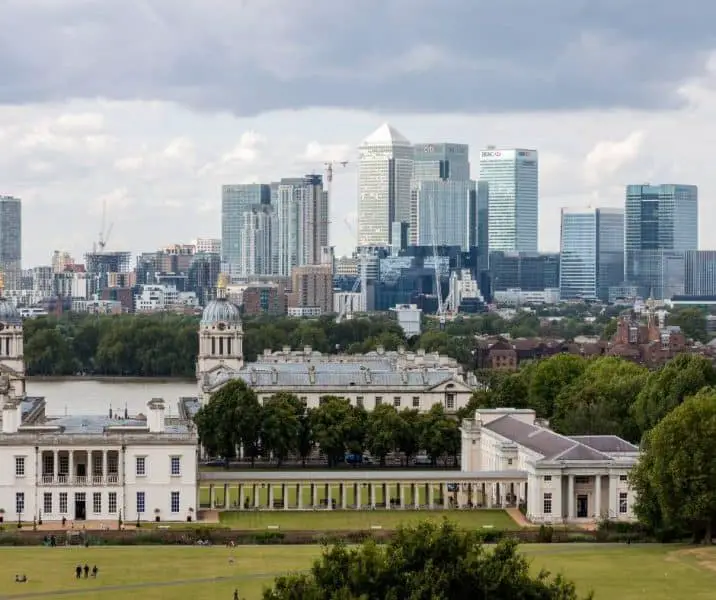 Travel Tip:  If you're looking to get married in England, you can actually rent out the Queen's House for your event!  How cool would that be!!
5. Cutty Sark
Cost: $17 – $30 USD (you can buy a Day Trip Package to include more)
Address:
You may be wondering why Greenwich Village London is popular? Or maybe, what is Greenwich Village known for? Well, the Cutty Sark is easily the most popular site visited in Greenwich Village England.  Set in the middle of a busy square, it's hard to miss this stunning ship!  This historic tea clipper was re-opened in 2012 after extensive restoration.  And, it's fascinating to wander around it.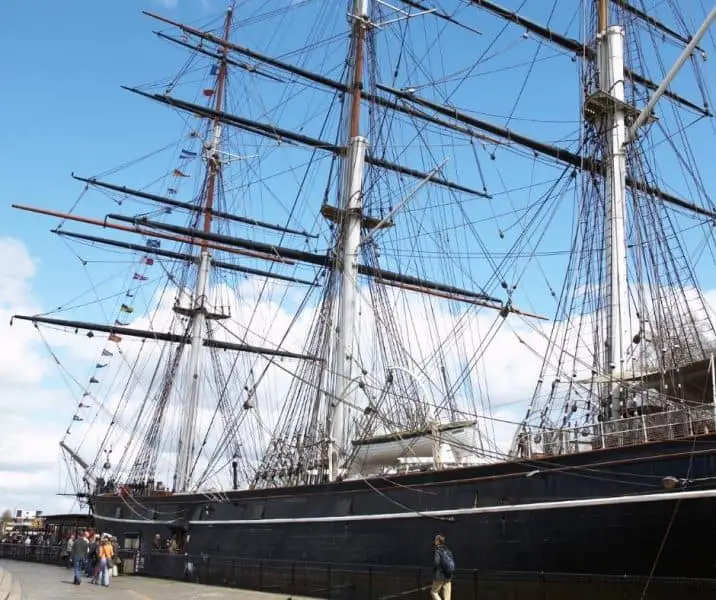 Travel Tip:  The Cutty Sark is kid-friendly!  It is very interactive so your little ones will have a great time exploring it!
6. Greenwich Market
Cost: Free
Address: 5B Greenwich Market
Open 7 days a week, the Greenwich Market is a fun place to wander around. You can find food, clothing, jewelry, antiques, crafts, and so much more. Because there is so much there, if you're limited on time, it might be wise to visit their website first and go in with a plan.
The Christmas Market is something to see. So, if you happen to be in the area during the holiday season, this will be one of the things you'll want to do in Greenwich.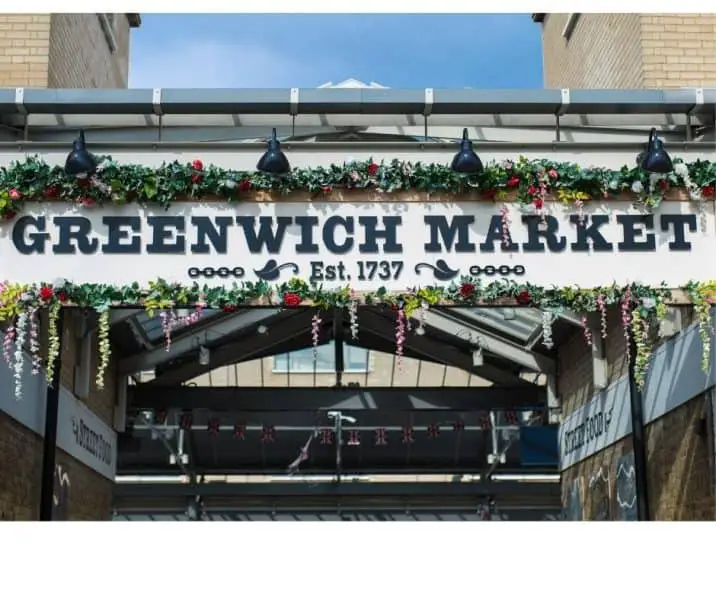 7. Greenwich Foot Tunnel
Cost: Free
Address: next to Cutty Sark
One of the cooler things to do in Greenwich London is to walk (or bike) through the Greenwich Foot Tunnel. You can enter right by the Cutty Sark. You'll go under the River Thames and come out on the Isle of Dogs in the Island Gardens.
While the tunnel is old, it's been around since 1902, you don't need to worry because it was recently refurbished. So it's perfectly safe to walk through.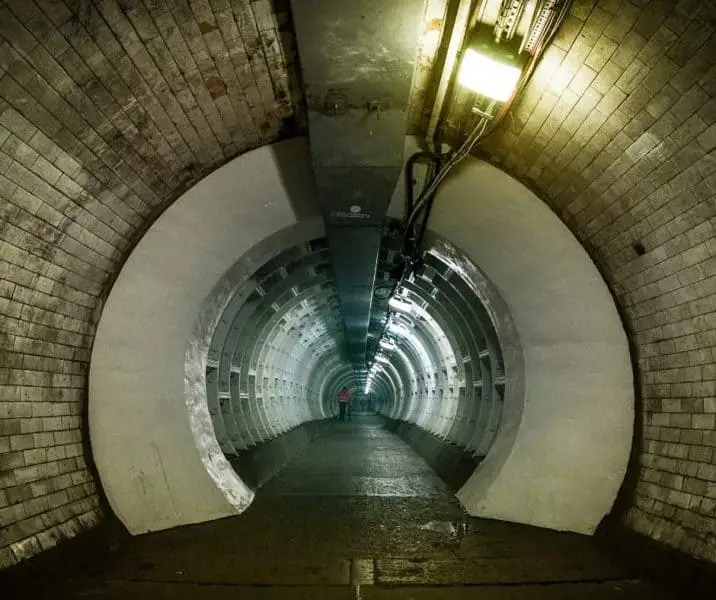 8. Old Royal Navy College
Cost: from free to 12BP
Address: King William Walk
The Old Royal Navy College is a UNESCO Heritage Site. Housing 500 years of England's maritime history. The crown jewel of the college is The Painted Hall, so make sure you include that in your time here.
A fun thing to do at the Old Royal Navy College is to go on the Movie Tour. You'll be surprised at all the movies that have had pieces filmed here. Movies including one of the Thor movies, a Cary Grant movie, The Crown, and so many more.
9. Emirates Air Line Cable Car
Cost: Free to $9 (use your Oyster Card)
Address: North Greenwich side Emirates Cable Car Terminal, Edmund Halley Way
This cable car will take you across the River Thames giving you a stunning view of London. You go from the northern part of the Greenwich peninsula to the Royal Docks.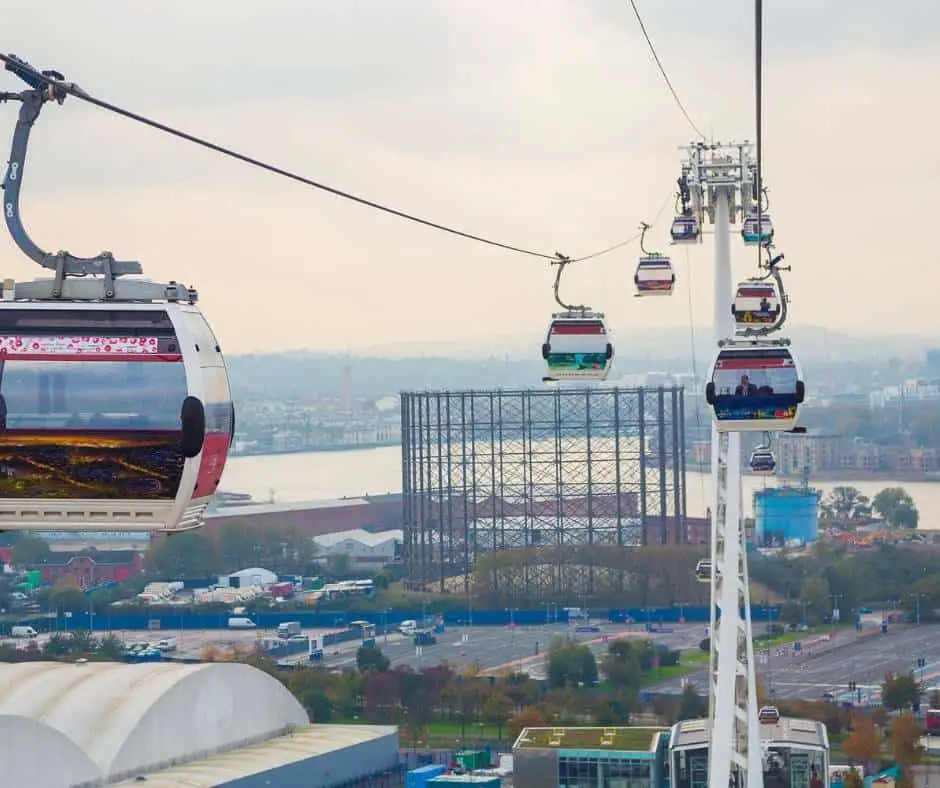 10. Eltham Palace and Gardens
Cost: prices range from about $18-$30
Address: Court Yard, London
While this medieval palace dates back several hundreds of year and it was once a Tudor Royal residence, you'll be astonished by the Art Deco feel to it.
The mansion has a huge make over by eccentric millionaires Stephen and Virginia Courtauld. They transformed this palace into an extravagant ultra-modern 1930s design.
And if you come visit in late September or October, you'll want to go on the Ghost Tour!
11. Fan Museum
Cost: $3-$5
Address: 12 Crooms Hill, Greenwich
One of the more unique things to do in Greenwich London is to visit the Fan Museum. Check out there multiple collections of cool and interesting fans from throughout history!
12. Ranger House
Cost: $6-$26 (for a family)
Address: Chesterfield Walk, Blackheath
Built in 1723, this house later became the residence of the Rangers of Greenwich Park. Then became home to both aristocrats and royals until 1902.
But, what brings visitors there today is the incredible art collection on display. The Ranger House holds one of the greatest private art collections in Europe. Collected by a diamond magnate, you will see works from medieval, Renaissance, and early modern works. There are several masterpieces that you should check out.
15. The 02 (Millennium Dome)
Cost:
Address: Greenwich Peninsula
Built to celebrate a new millennium, The Dome was opened on January 1, 2000 and closed on December 31, 2000. Originally it housed an exhibition and was expected to welcome millions of visitors.
While the project was deemed a failure by many, the building was later sold and the exhibit sold off piece by piece. Currently, the building is known as The O2 and is an event facility.
Eating in Greenwich Village London
So, have I convinced you yet?  If not, here's a couple of parting shots to make you reconsider!  The Food!  We had some great food while we were there.  Some of it was traditional English, like these fish and chips.  But, we found some fantastic sushi and some incredible creme brulee in Greenwich!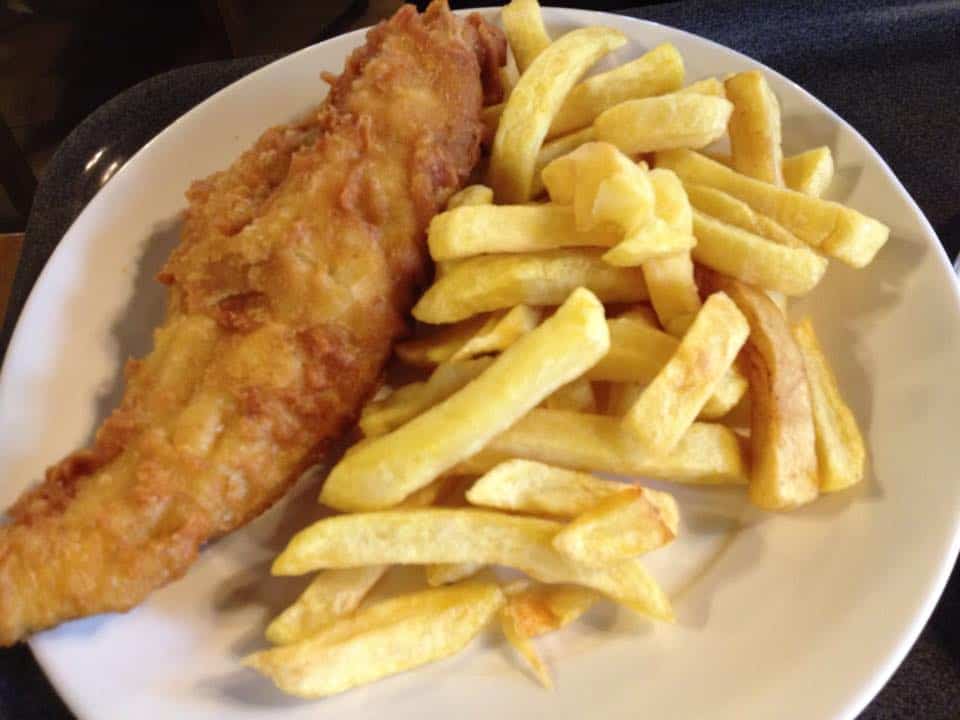 Hopefully, if you're heading over to London anytime soon, you'll consider hanging a right and heading to Greenwich!  Whether you take the boat over or the tube, it's easy to get there and easy to get around.  I think you can easily find something for pretty much everyone!
So, make some plans to Visit Greenwich Village London!
Some Other Articles You Might Enjoy
10 Favorite Things You'll Love About Seville
Road Trip Tips ~ 10 Helpful Tips to Make it Better
Remember, sharing is caring!  
So, please share this article with your friends on Social Media!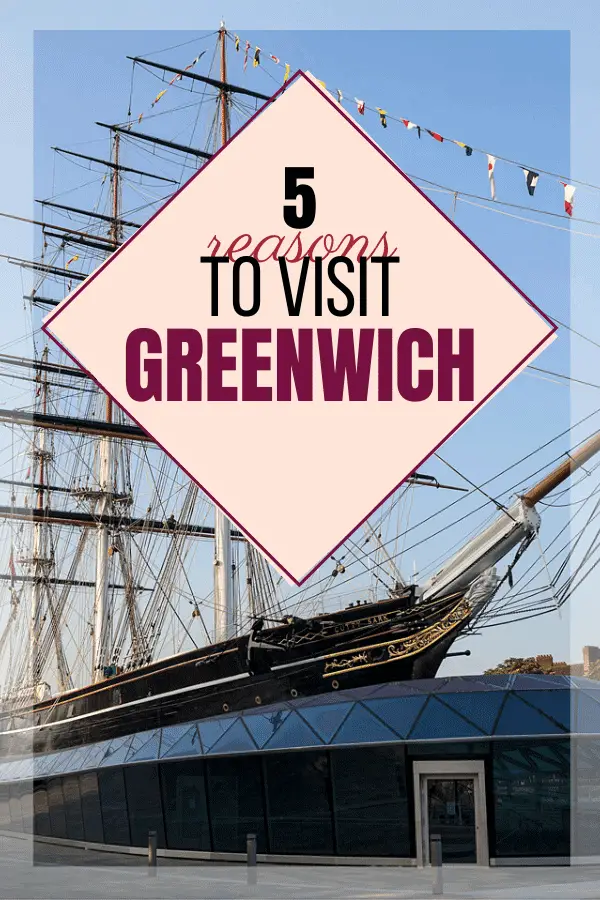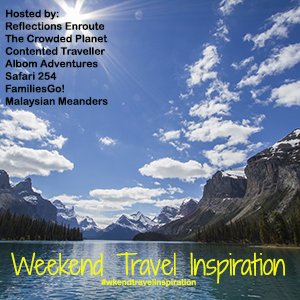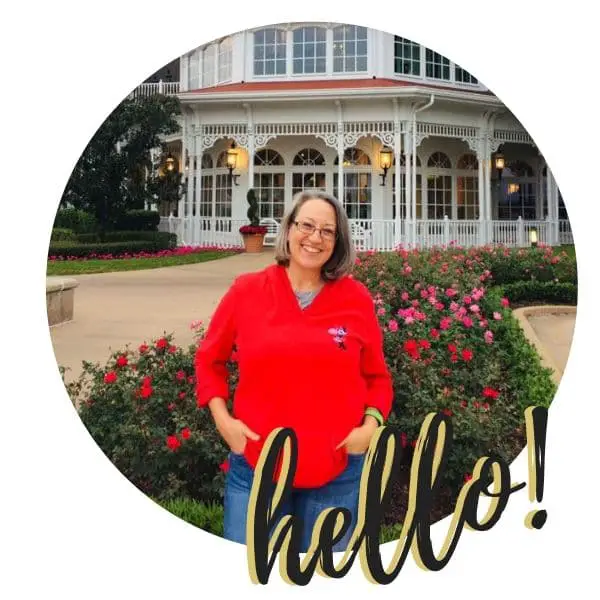 Becki is the author and founder of A Book Lover's Adventures. She has a degree in elementary education, has worked and volunteered in libraries for years, and spent several years in the travel industry. All of this has led to a love of books and travel. Becki loves to share her love by finding literary escapes to share!