Feature Author Violet Howe
I am so excited to be one of the Featured Bloggers at the Coastal Magic Convention 2022. Today I want to introduce you to one of the Featured Authors, Violet Howe, who will also be at the Coastal Magic Convention.
Coastal Magic is a casual reader weekend, right on Daytona Beach, "the world's most famous beach".  We'd love for you to join us for interesting discussions, fun meet & greets with your favorite authors and lots of ways to interact with fellow book lovers and storytellers!
If you would like to register for the Coastal Magic Convention or learn more about it, you can find that information here.
Over the next few months, I will be introducing you to some of the Featured Authors that you have the opportunity to meet if you come to the Convention in Daytona Beach in February 2022.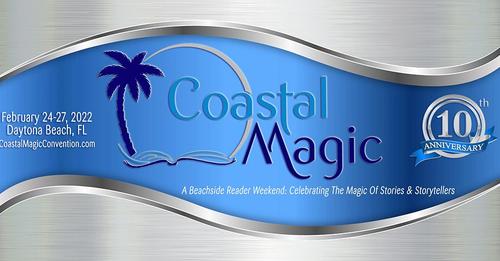 Related Posts
The Coastal Magic Convention 2022 is Back
Melonie Johnson – Featured Author at Coastal Magic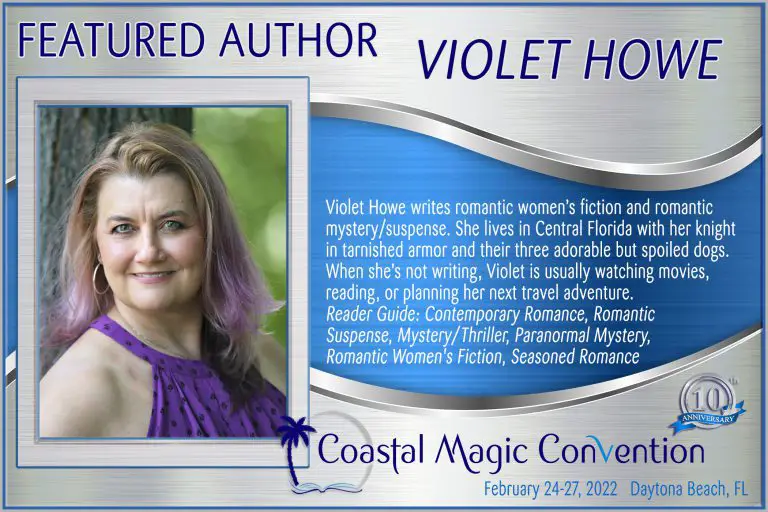 Feature Author Violet Howe
Today I'd like to introduce you to Featured AuthorViolet Howe. Violet is the author of Romantic Suspense, Romantic Mystery, and Romantic Women's Fiction.
Author Interview with Violet Howe
Becki: How did you get into writing?

Violet Howe:
I have always done writing. I mean, I have a diary from third grade. I think my goals that year were to stop my sister from smoking, get a tan, and write a novel. I'm pretty sure I only achieved the tan that year, lol.
I always wanted to be a writer, and throughout my different jobs, I always did writing. Whether in the job or freelance. And I always thought I'd get to x point and then I'd be a full-time writer.
In 2012 my husband said I should just quit my teaching job and go full-time with writing so I could really give it a good try. So, I quit my job in 2012 and I published Diary of a Single Wedding Planner in 2015. This became the first in my four-part Tales Behind the Veils series.
Becki: How do you choose your settings for your books?
Violet Howe:
With the exception of the Christmas series, all of my books take place in Florida. The Wedding Planner series takes place in Orlando. That's where I live, so I know it very well.
And the Cedar Creek Families, Cedar Creek Mysteries, and Cedar Creek Suspense take place in the fictional town of Cedar Creek which is loosely based on Clermont, Florida. I lived in Clermont for several years. It has since grown, but Cedar Creek is based loosely on the town that I remember it to be.
The Christmas series takes place in Cedar Mountain which is in Idaho. This series is unique in that the series is written by several different authors. We have the same setting and same characters, but each story tells the same story from a different perspective.
Becki: I notice that you love to travel. Where is your favorite place you've traveled to?
Violet Howe:
Oh, I love Australia. It's always going to be one of my top favorite spots. And, I love, love Scotland. I never thought I'd find a place as beautiful as Australia and I fell in love with Scotland.
Paris is my favorite city. And Italy is the only place I've been to that I really want to live. I'd love to live in Tuscany. Maybe for a month or maybe a year. But, I'd love to be in Tuscany for a length of time.
I loved Costa Rica so much that in my last Christmas book I had the couple take a trip there right before Christmas. A lot of their experiences in the book are from my trip there a few years ago. It was fun to revisit that trip.
Books by Violet Howe
These are some of Feature Author Violet Howe's books. Whether suspense, mystery, or comedy, you'll notice that all of Violet's books have a bit of romance in them. After all, love is what makes the world go 'round.
The Cedar Creek series
The residents of the small town of Cedar Creek are so happy you're here! This quaint community is home to a collection of recurring characters who interact from book to book. All books in the Cedar Creek Collection feature stories of love, laughter, family, and friendships, but depending on which series within the collection you choose, you'll also find the added elements of suspense or mystery (and maybe a ghost or two). So come stay awhile…meet the families and prepare to fall in love!
Summary:
Sloane Reid has never believed in ghosts, even though she made a career out of playing a ghost slayer on film.
When the studio tells her at twenty-nine she's too old to be a scream queen, Sloane retreats to her aunt's remote Florida cabin to figure out what comes next.
Her trip is anything but relaxing when she encounters Chelsea, a young girl who died near the cabin thirteen years ago.
Chelsea is desperate for Sloane's help to reveal the truth that haunts her, but Sloane can't solve the mystery alone. She needs to ask for help from local deputy Tristan Rogers, which means she'll have to convince him she's not crazy. Or a criminal.
As Sloane and Tristan unlock the secrets of the past, the stakes grow higher for them both, and soon Sloane finds it may be her own life that needs saving.
CLICK HERE TO LEARN MORE ABOUT THE CEDAR CREEK SERIES
Tales Behind the Veils series
Because a lot happens between Once upon a time & Happily ever after!
Summary:
This lighthearted chick lit trilogy follows the diary entries of wedding planner Tyler Warren as she searches for her own modern-day Prince Charming. The funny and poignant tale is seen through her unique perspective as a wedding planner, whose business is love and whose clients range from sentimental to downright crazy. It features Diary of a Single Wedding Planner, Diary of a Wedding Planner in Love, and Diary of an Engaged Wedding Planner.
CLICK HERE TO LEARN MORE ABOUT THE TALES BEHIND THE VEILS SERIES
Soul Sisters at Cedar Mountain Lodge series
Random circumstances brought them together. Love made them a family.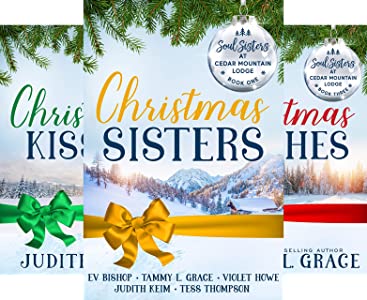 Summary:
Random circumstances brought them together. Love made them family.
When a terrible accident takes Madeline Kirby's husband and only child, the school guidance counselor is sure she can't go on. Left behind with nothing but her work and an empty heart, she vows to survive Christmas by reaching out to comfort someone else who knows similar pain.
Fostering four motherless children for the holidays is supposed to be temporary, but as Maddie tends to defend Stevie, distrustful Jo, delicate Alissa, and frightened little Hailey, the ache in her own heart slowly becomes bearable. And before the season of giving comes to an end, it becomes clear that life is intended for them to find each other.
CLICK HERE TO LEARN MORE ABOUT THE CEDAR LODGE SERIES
About the Author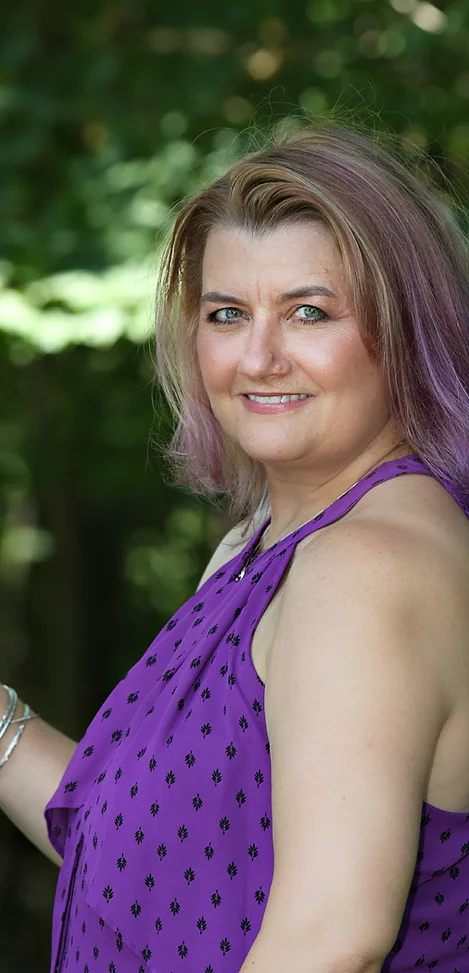 Keep in touch with Violet Howe
Website – https://www.violethowe.com/
Instagram – @violethowe
Keep in touch with ME as well
I'd love to keep in touch with you as well. Just sign up below and I'll send you my 2022 Read Around the World Reading List.
Other Articles You Might Enjoy
26 Books set in another country you'll absolutely want to read
24 Books Set in Florida That will make you want to Visit!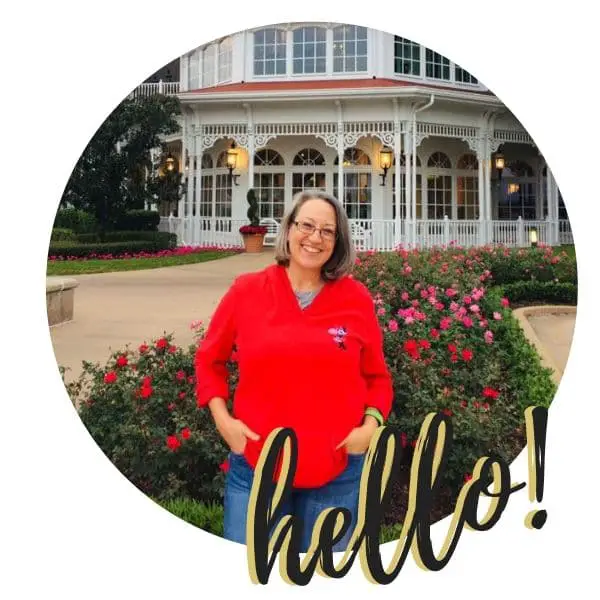 Becki is the author and founder of A Book Lover's Adventures. She has a degree in elementary education, has worked and volunteered in libraries for years, and spent several years in the travel industry. All of this has led to a love of books and travel. Becki loves to share her love by finding literary escapes to share!