70+ Brilliant Reading Quotes to Inspire Your Reading Goals
I love quotes! Especially reading quotes!! To me, reading quotes can be inspirational, humorous and very satisfying. I find when reading, I like to underline quotes and phrases that speak to me. I really like this quote from Daniel Pennac.
"Reader's Bill of Rights

The right to not read
The right to skip pages
The right to not finish
The right to reread
The right to read anything
The right to escapism
The right to read anywhere
The right to browse
The right to read out loud
The right to not defend your tastes"

― Daniel Pennac
Why is reading is important?
You may wonder why is reading important? Here are three of my favorite inspirational reading quotes that speak directly to why reading is important!
"Today a reader, tomorrow a leader." – Margaret Fuller

"Show me a family of readers, and I will show you the people who move the world." – Napoléon Bonaparte

"There are many little ways to enlarge your world.  Love of books is the best of all." – Jacqueline Kennedy
I found this graphic on RaymondGeddes.com and it stresses the importance of reading. There are so many consequences for children who grow into adulthood that aren't readers. The level of income you can make is impacted by your ability to read. For children, growing up in a home that values reading greatly impacts their future! So, if you have young children, give them a fighting chance in this world and read with them while they are young!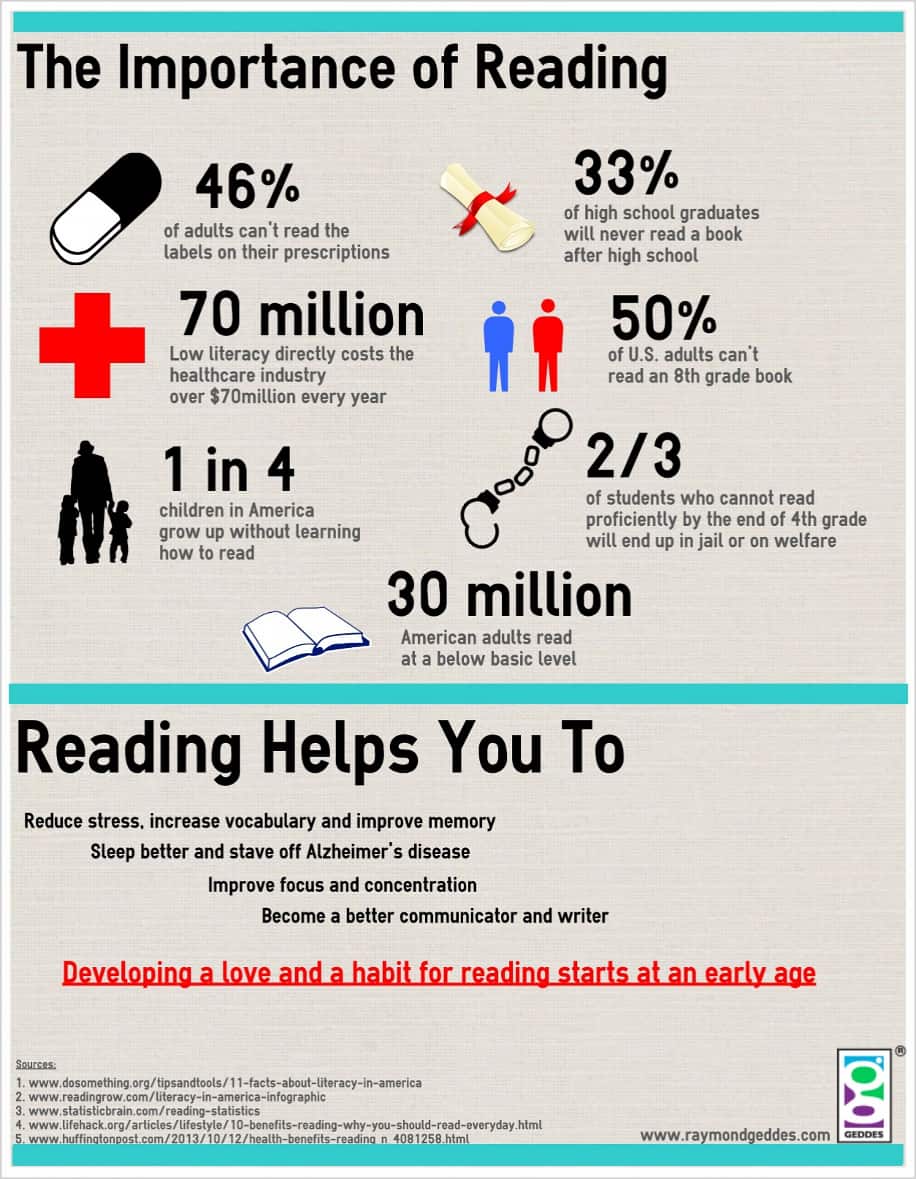 What are the benefits of reading?
As you can see in the graphic above, there are many benefits to reading. From reducing stress to sleeping better. From being a better communicator to having a higher salary. The benefits to reading, even just a few minutes a day are worth the time invested!
One quick and easy way to fit reading into your schedule is to read 15-20 minutes before bedtime. Not only is reading a better way to end your day, but you will complete around 12 books throughout the year. And, we can typically fit 15-20 minutes into our busy lives. Especially right before going to sleep!
How do you define reading?
There has been a lot of discussion in the reading community as to how you define reading?. First off, let's see what our friend Webster has to say.
To read or peruse written or printed matter.
There is always some controversy as to whether listening to audiobooks is counted as "reading" or not. For me though, I would include listening to books (written or printed matter) as reading. Personally, I don't think it matters so much how you get the material in you as long as you get it in you. Whether you read a printed book or listen to an audiobook, you still come away with the story in you.
Who said the more you read the more you know?
One of the more popular reading quotes out there is this one:
"The more that you read, the more things you will know. The more that you learn, the more places you'll go." – Dr. Seuss
Just by the language used, you could probably tell that this reading quote is from Dr. Seuss! But again, it speaks to the importance of reading, especially for children.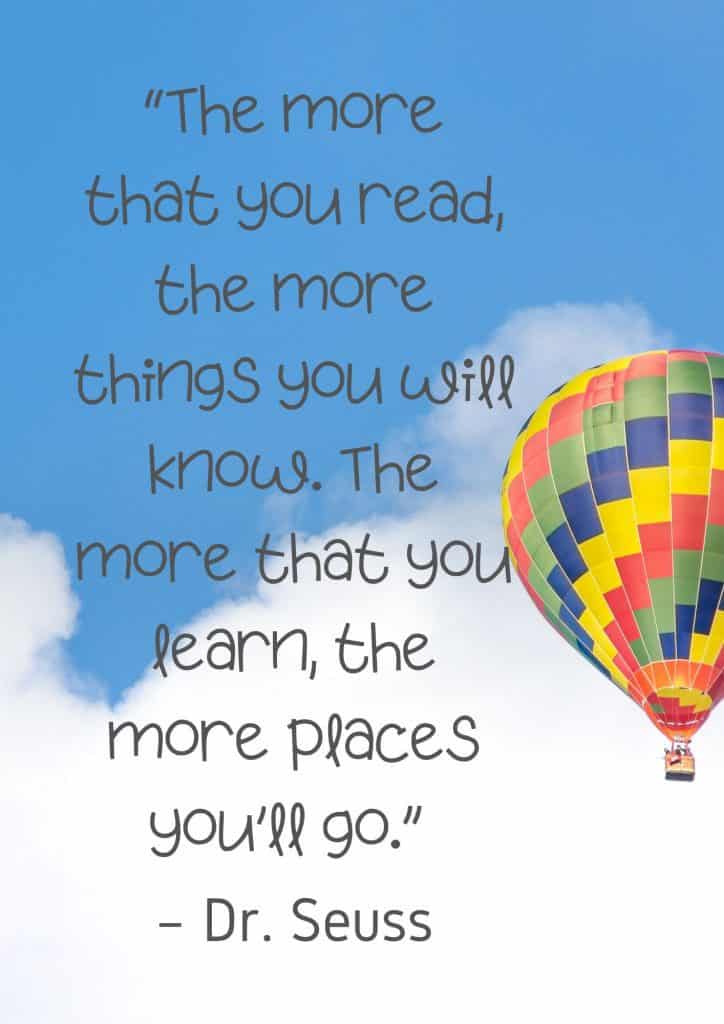 Best Reading Quotes 
Here are some of the best reading quotes I could find. From a variety of authors, celebrities and other notables, you will surely find some that resonate with you! 
"One glance at a book and you hear the voice of another person, perhaps someone dead for 1,000 years. To read is to voyage through time." – Carl Sagan

"Many people, myself among them, feel better at the mere sight of a book." – Jane Smiley

"I can't imagine a man really enjoying a book and reading it only once." – C.S. Lewis

"You know you've read a good book when you turn the last page and feel a little as if you have lost a friend." – Paul Sweeney

"Fill your house with stacks of books, in all the crannies and all the nooks." – Dr. Seuss

"Rainy days should be spent at home with a cup of tea and a good book." – Bill Watterson

"Despite the enormous quantity of books, how few people read! And if one reads profitably, one would realize how much stupid stuff the vulgar herd is content to swallow every day." – Voltaire

"If you don't like to read, you haven't found the right book." – J.K. Rowling

"I declare after all there is no enjoyment like reading! How much sooner one tires of anything than of a book! — When I have a house of my own, I shall be miserable if I have not an excellent library." – Jane Austen

"For my whole life, my favorite activity was reading. It's not the most social pastime." – Audrey Hepburn

"Reading for me, is spending time with a friend." – Gary Paulsen

"The unread story is not a story; it is little black marks on wood pulp. The reader, reading it, makes it live: a live thing, a story." —Ursula K. Le Guin

"Reading is a discount ticket to everywhere." —Mary Schmich

"Reading makes immigrants of us all. It takes us away from home, but more important, it finds homes for us everywhere." —Jean Rhys

"Books are a uniquely portable magic." – Stephen King

"A reader lives a thousand lives before he dies, said Jojen. The man who never reads lives only one." – George R.R. Martin

"Each book was a world unto itself, and in it I took refuge." – Alberto Manguel

"Books and doors are the same thing. You open them, and you go through into another world." – Jeanette Winterson

"Books are both our luxuries and our daily bread." – Henry Stevens

"There are worse crimes than burning books. One of them is not reading them." – Joseph Brodsky

"Once you have read a book you care about, some part of it is always with you." – Louis L'Amour

"Some books are so familiar that reading them is like being home again." – Louisa May Alcott

"I think books are like people, in the sense that they'll turn up in your life when you most need them." – Emma Thompson

"Reading is a gift. It's something you can do almost anytime and anywhere. It can be a tremendous way to learn, relax, and even escape." – Richard Carlson

"When you lose yourself in a book the hours grow wings and fly." – Chloe Thurlow

"This week I've been reading a lot and doing little work. That's the way things ought to be. That's surely the road to success." – Anne Frank

"If you don't see the book you want on the shelf, write it." – Beverly Cleary​

 

"A room without books is like a body without a soul." – Cicero

 

"No two persons ever read the same book." –  Edmund Wilson
"You can never get a cup of tea large enough or a book long enough to suit me." –  C.S. Lewis
Inspirational Reading Quotes 
If you are in need of inspiration, you'll want to check out this list of inspirational reading quotes. I like to look at these if I get in a reading slump or and trying to finish up my reading goal for the year!
"In the end, we'll all become stories." –  Margaret Atwood​​
"Maybe this is why we read, and why in moments of darkness we return to books: to find words for what we already know." –  Alberto Manguel

"My alma mater was books, a good library…. I could spend the rest of my life reading, just satisfying my curiosity." – Malcolm X

"Once you learn to read, you will be forever free." – Frederick Douglas

"A book is a gift you can open again and again." – Garrison Keillor

"If you are going to get anywhere in life you have to read a lot of books." – Roald Dahl

"Books break the shackles of time – proof that humans can work magic." – Carl Sagan

"The reading of all good books is like a conversation with the finest minds of past centuries." —Rene Descartes

"Reading is to the mind what exercise is to the body." —Joseph Addison

"A book is a dream you hold in your hands." —Neil Gaiman

"Until I feared I would lose it, I never loved to read. One does not love breathing." —Harper Lee

"Books are the plane, and the train, and the road. They are the destination and the journey. They are home." —Anna Quindlen

"That's the thing about books. They let you travel without moving your feet." –  Jhumpa Lahiri

"Keep reading. It's one of the most marvelous adventures that anyone can have." – Lloyd Alexander

"I owe everything I am and everything I will ever be to books." – Gary Paulsen

"Not all readers are leaders, but all leaders are readers." – Harry Truman
Funny Reading Quotes (1,800/28)
Who doesn't enjoy a funny quote! These are some of my favorite funny reading quotes. Let me know which ones you enjoy!
"Literature is the most agreeable way of ignoring life." – Fernando Pessoa

"It's not that I don't like people. It's just that when I'm in the company of others – even my nearest and dearest – there always comes a moment when I'd rather be reading a book." – Maureen Corrigan

"Always read something that will make you look good if you die in the middle of it." – P.J. O'Rourke

"Luckily, I always travel with a book, just in case I have to wait on line for Santa, or some such inconvenience." – David Levithan

"I always read. You know how sharks have to keep swimming or they die? I'm like that. If I stop reading, I die." – Patrick Rothfuss

"Outside of a dog, a book is a man's best friend. Inside of a dog, it's too dark to read." – Groucho Marx

"I took a speed-reading course and read War and Peace in twenty minutes. It involves Russia." – Woody Allen

"Reading is an intelligent way of not having to think." – Walter Moers

"Ahhh. Bed, book, kitten, sandwich. All one needed in life, really." – Jacqueline Kelly

"Reading one book is like eating one potato chip." – Diane Duane

"Take a good book to bed with you – books do not snore." – Thea Dorn

"A well-read woman is a dangerous creature." – Lisa Kleypas

"My life is a reading list." – John Irving

"Never put off till tomorrow the book you can read today." – Holbrook Jackson
Reading Quotes for Children
Whether you need inspiration for reading to and with your kids or inspiration to get your kids reading, check out this list of reading quotes for children!
"There is more treasure in books than in all the pirate's loot on Treasure Island." – Walt Disney

"I have a passion for teaching kids to become readers, to become comfortable with a book, not daunted. Books shouldn't be daunting, they should be funny, exciting and wonderful; and learning to be a reader gives a terrific advantage." – Roald Dahl

"Make it a rule never to give a child a book you would not read yourself." – George Bernard Shaw

"There are many little ways to enlarge your child's world. Love of books is the best of all." – Jacqueline Kennedy Onassis

"Oh, magic hour, when a child first knows she can read printed words!" – Betty Smith

"These books gave Matilda a hopeful and comforting message: You are not alone." – Roald Dahl

"Children are made readers on the laps of their parents." – Emilie Buchwald

"A children's story that can only be enjoyed by children is not a good children's story in the slightest." – C.S. Lewis

"Reading should not be presented to children as a chore, a duty. It should be offered as a gift." —Kate DiCamillo

"The books transported her into new worlds and introduced her to amazing people who lived exciting lives." – Roald Dahl

"Let us remember: One book, one pen, one child, and one teacher can change the world." – Malala Yousafzai
"The only thing you absolutely have to know is the location of the library." –  Albert Einstein

"Keep reading. It's one of the most marvelous adventures anyone can have." –  Lloyd Alexander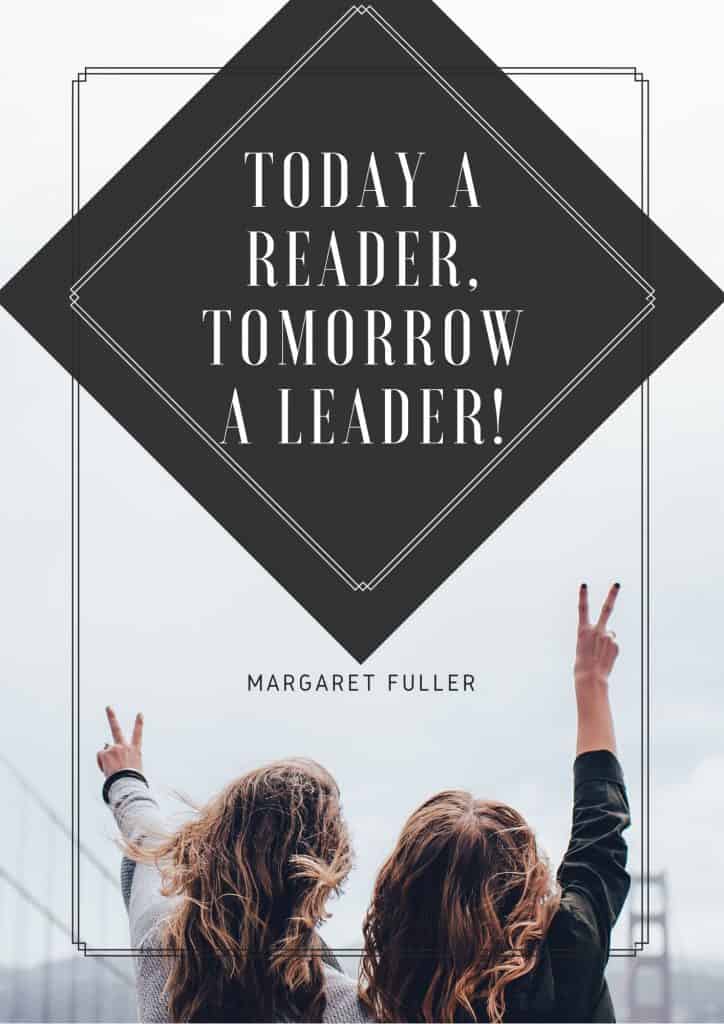 Keep Reading and Finding New Reading Quotes!
So, whether you enjoy inspirational reading quotes, funny reading quotes or reading quotes for children, I have tried to compile a list of the best reading quotes I could find. Obviously, I've probably forgotten or missed several important reading quotes. If I've left out one of your favorite reading quotes, leave me a comment. I'd love to add it in!
Other Articles You Might Enjoy
How to Read More Books & Crush your Reading Goals
Books Being Made Into Movies 2020
Ultimate Reading Challenge | Around the World in 18 books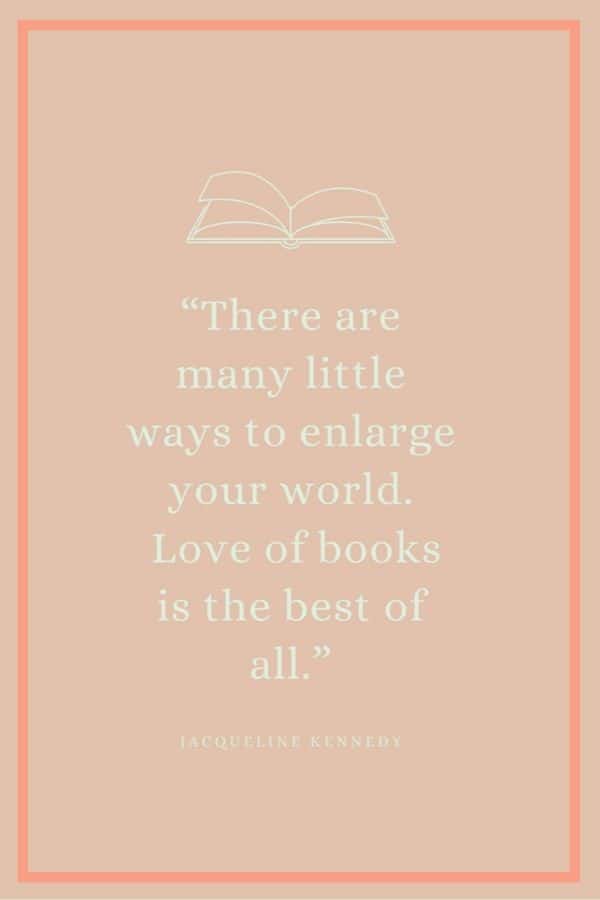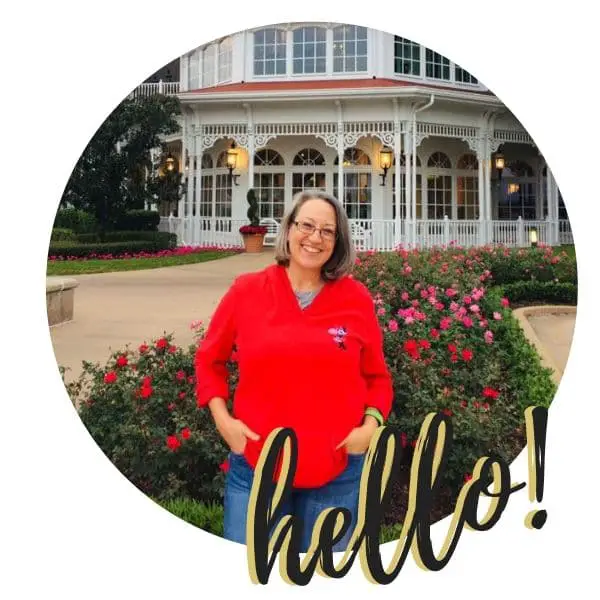 Becki is the author and founder of A Book Lover's Adventures. She has a degree in elementary education, has worked and volunteered in libraries for years, and spent several years in the travel industry. All of this has led to a love of books and travel. Becki loves to share her love by finding literary escapes to share!