How to Make a Harry Potter Ornaments You'll Love
For all my Harry Potter fans, or actually all my book-loving fans, out there! If you're looking for something fun and unique to do, check out these Harry Potter Christmas ornaments.
I found this pattern a few years ago and decided to modify it a bit for DIY Harry Potter ornaments. So now we can make these completely beautiful and unique Harry Potter Christmas ornaments!
My goal is to make one for each of the Hogwarts houses for our Christmas tree this year. Curiously, we have one person from each house in our family!
DIY Harry Potter Ornaments
Ready to jump into making your Harry Potter Christmas Ornaments?   You can make this into any book lover ornament, it doesn't have to be Harry Potter obviously!
Before you jump into creating your Harry Potter Christmas ornament, gather your supplies. I used "antiqued" stock paper and copied pages from a Harry Potter book. 
Here's a supply list to get you going:
Whatever book you want to copy from.
As I mentioned earlier, you can easily make this into any book lover ornament. Just make sure the book that you copy is big enough that the words will be easily legible when copied and put on the ornament.
You will also want to plan carefully which pages you copy for your ornament. Make sure there are phrases or names that make it easily identifiable.

Instructions for Harry Potter Christmas Ornaments
 Use a circle punch (1-1/2″ or so) and punch out your circles.  If using a book, then I would recommend copying the pages you want to use on stock paper (or something a little thicker) and punch from that versus your actual book.
Cut all of your circles in half.  Again, if using a book, you will only be able to use 1/2 of your circles.  You will want the bottom half of your circles, so the writing is going in the correct direction.  Set the other set of circles aside.
 Beginning at the bottom of the ornament, using your hot glue gun, glue one half-circle flat onto the ball.  Then, working your way around the ball in a circle, add a row of half circles around the ball.
Continue all the way up the ornament and carefully finish off as best you can to hide the majority of the ornament.  I also tied a ribbon around the top to cover any gaps.
DIY Better Than Me
Here are a few tips to have your DIY Harry Potter Christmas ornaments (or other book lover ornament) turn out better than mine:
The bottom of mine turned out a little wonky…so when I tried again, I completely glued down the first piece to avoid any gaps.  It seems to have helped!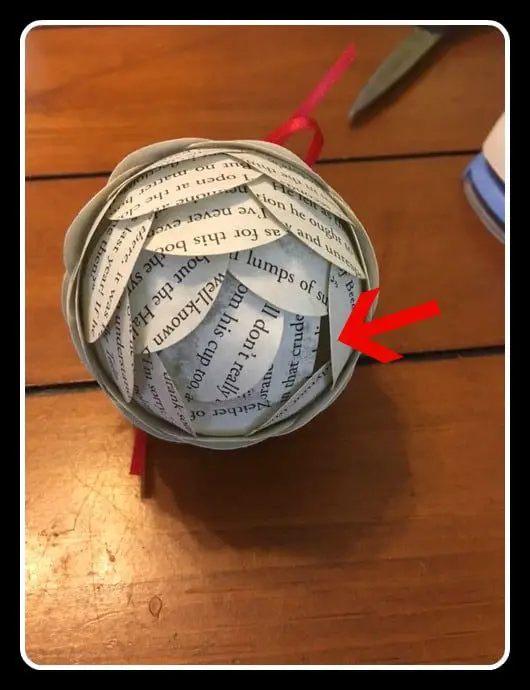 This is the first attempt.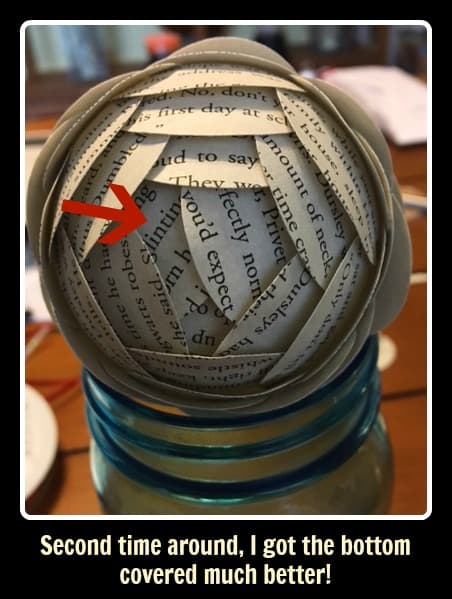 The second attempt came out better!
I copied pages from a Harry Potter book, and I used stock paper instead of regular printer paper.  I didn't use the book pages ~ not only are they not thick enough, but I also didn't want to tear up my Harry Potter books 🙂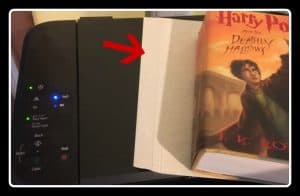 Another tip,  if you are using book pages and you want the words to all go in the same direction – you can only use 1/2 of the circle.  The other half will be upside down!  So, you will need twice as many circles to accomplish this!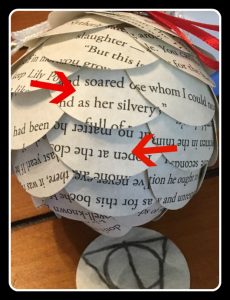 Make sure your words are all in the same direction
This is the final product of my second attempt.  I think this Harry Potter Christmas ornament turned out much better ~ won't this look great on a Christmas tree!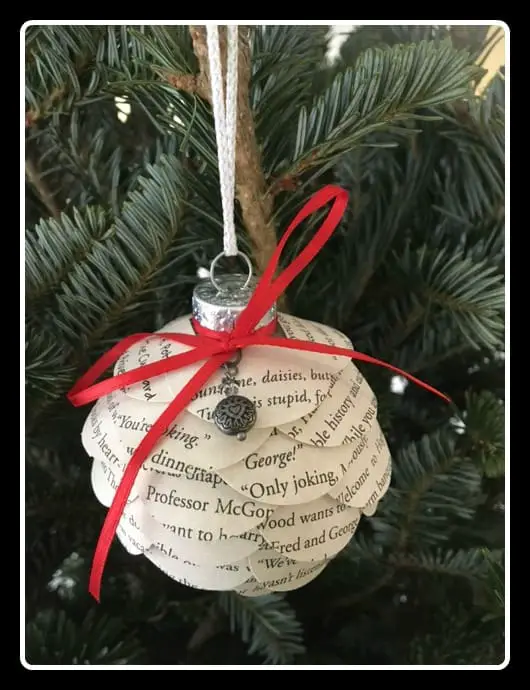 Try Your Own Harry Potter Christmas Ornaments
So, what do you think?  Are you ready to put your crafty hat on and give these Harry Potter Christmas Ornaments a try?!  I'd love to see what you come up with…post a picture in the comments if you try it!  I think I might try this with a Jane Austen book!  Wouldn't that be lovely 🙂
Don't want to try your own?
Love the ornament, but don't have the time, patience or whatever to make your own? No worries! I've got ya covered. Just CLICK HERE to learn how to get your own handmade Harry Potter Christmas Ornament without all the work.
Resource List:
Here's a list of the supplies I used in making this Harry Potter Christmas ornament or any other book lover ornament!
 Skip the Craft Line and get the ornament here!
Don't really want to make your own Harry Potter Christmas Ornament? No problem!!
CLICK HERE to get one already made for you!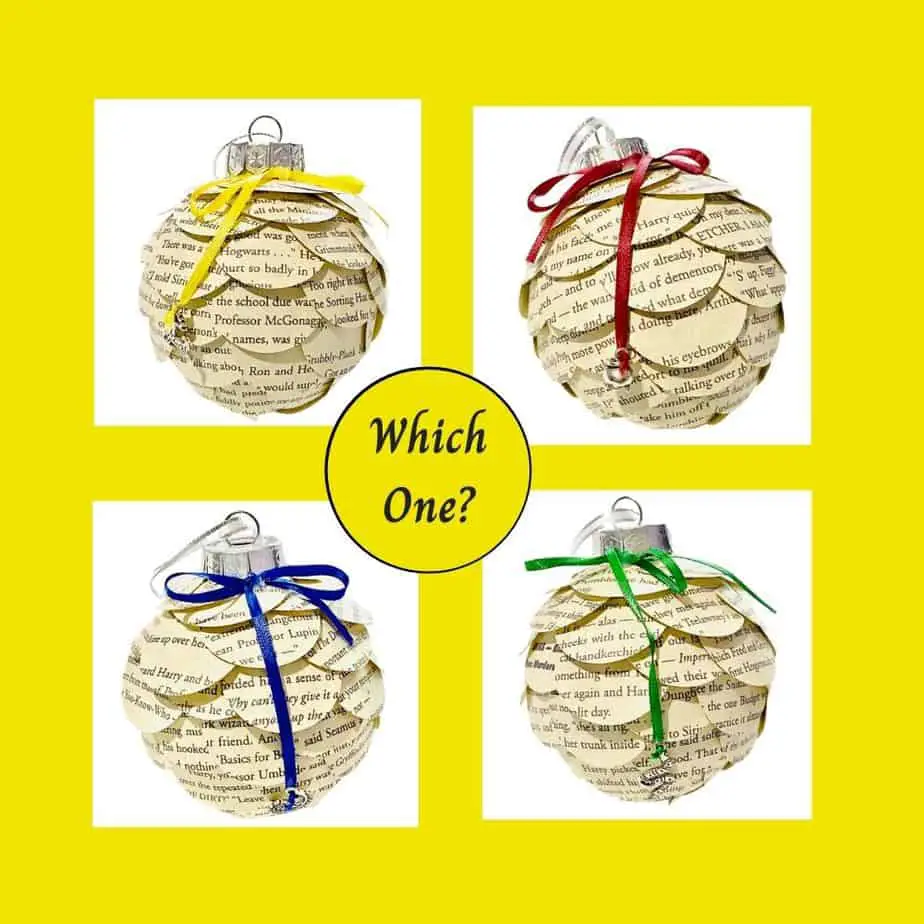 Other Articles You Might Enjoy
10 Picture Perfect Reasons to Visit WB Studio London
Sharing is Caring!  So, please share this post on your Social Media pages!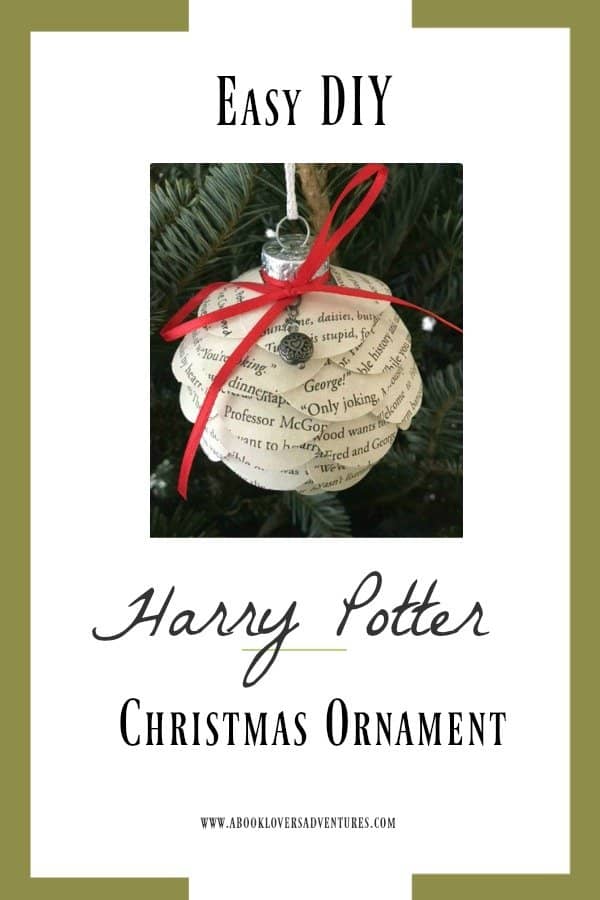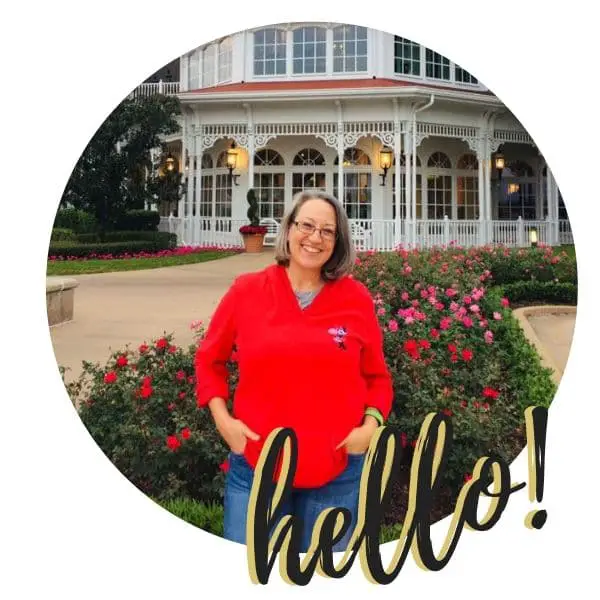 Becki is the author and founder of A Book Lover's Adventures. She has a degree in elementary education, has worked and volunteered in libraries for years, and spent several years in the travel industry. All of this has led to a love of books and travel. Becki loves to share her love by finding literary escapes to share!