10 favorite Harry Potter Cover Art You'll Love
You may know that I'm a Harry Potter fan. If you don't well, let me tell you I definitely am. And so, I'm always excited when I'm able to meet people who love Harry Potter as much (or more) as I do.
Today I'm excited to have Carly from All the Pretty Books as a guest blogger talking about Harry Potter book covers. Harry Potter cover art can feature very different images and different artists. Here are Carly's 10 favorite Harry Potter covers around the world that you'll want to run out and find.
Related Articles
Create a Harry Potter Christmas tree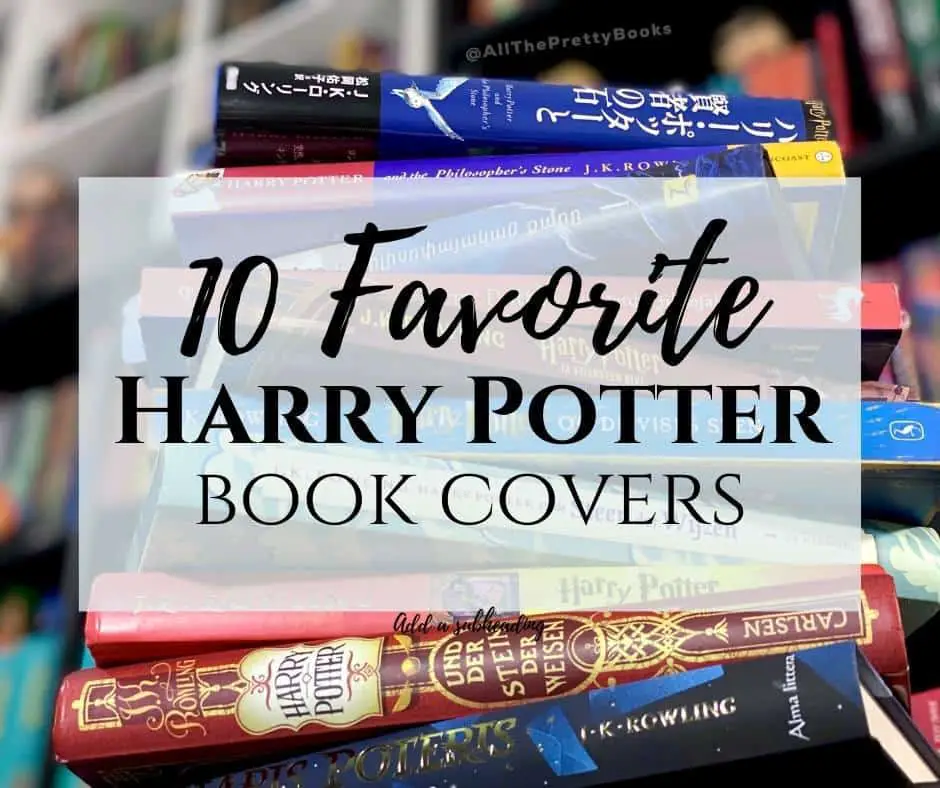 And, if you are working your way through your Harry Potter Bucket List, you can grab any one of these books and check off on your Bucket List! Don't have a Harry Potter Bucket List? No worries, you can grab one here.

The Magic of Harry Potter book Covers
Hi, I'm Carly and I'm a Harry Potter book collector. I have been actively collecting Harry Potter books since 2009 or maybe a bit before. During that time, I have amassed a collection of over 1,000 Harry Potter books.
When I tell many people that, they laugh and ask, "I thought there were only seven," and then I get to explain that yes, there are indeed only seven books in the Harry Potter series, but there are many different editions, translations, and adaptations of these seven Potter books. And so many magical Harry Potter book covers. 
Harry Potter and the Philosopher's Stone was first published in 1997 by Bloomsbury in the United Kingdom. The book launched not only the series but also the career of a young unknown author, J. K. Rowling. The first Potter translation appeared in 1998, the same year the United States was introduced to the Boy Who Lived.
After the publication of the third book, Harry Potter and the Prisoner of Azkaban in 1999, Pottermania was in full swing. Because of how loved Harry is all over the world, Harry Potter and the Philosopher's Stone has been translated into many of the world's languages, including Greenlandic, Faroese, Malayalam, Icelandic, and many, many others. Soon Maori from New Zealand will be added to this long list of Philosopher's Stone translations.
Many translations feature the well-known Harry Potter cover art of Mary GrandPre (the original illustrator of the U.S. books) or those from the original Bloomsbury books, but many do not. Some feature covers from later US or Bloomsbury editions, while other translation publishers choose to provide their own illustrator, their own Harry Potter cover art, adding to the rich and varied artwork that breathes life and magic into these books.
Harry Potter Covers Around the World
While there are so many fabulous Harry Potter covers around the world, I have picked my top ten favorite covers of Harry Potter and the Philosopher's Stone. These are not in any particular order, it's way too hard to pick a favorite.
1. Thai Harry Potter Cover Art
The Thai Potter translations were first published by Nanmee Books and feature the Mary GrandPre art from the U.S. Harry Potter books. In the years since Nanmee first published the Thai Potter translations, other editions have followed, but none have been as well-received as their newly released 20th Anniversary Edition, Illustrated by Apolar.
Within hours of Instagram's Nanmeebooksfan and Apolar.arch sharing previews of the Harry Potter cover art from their upcoming 20th Anniversary translation of Harry Potter and the Philosopher's Stone, Potterheads the world over began excitedly preordering the books.
Additionally, a box set illustrated featuring the Harry Potter book covers by Apolar was also available for preorder. Every Potter book collector I know went wild for these illustrations, each one ordering the box set, ensuring they will experience Apolar's magical creations in full.
Other Potter books publishers the world over took notice of the buzz around the 20th Anniversary Thai books and took action. This past summer, Tammi, the publisher of Finnish Potter translations released the first three books featuring Apolar's cover art; the last four books of the series are due to be released soon.
More recently, Rocco, the Brazilian Portuguese publisher, released an exclusive box set featuring these illustrations. Due to the popularity of Apolar's artwork, I would not be surprised to see more Potter translations featuring these covers coming soon.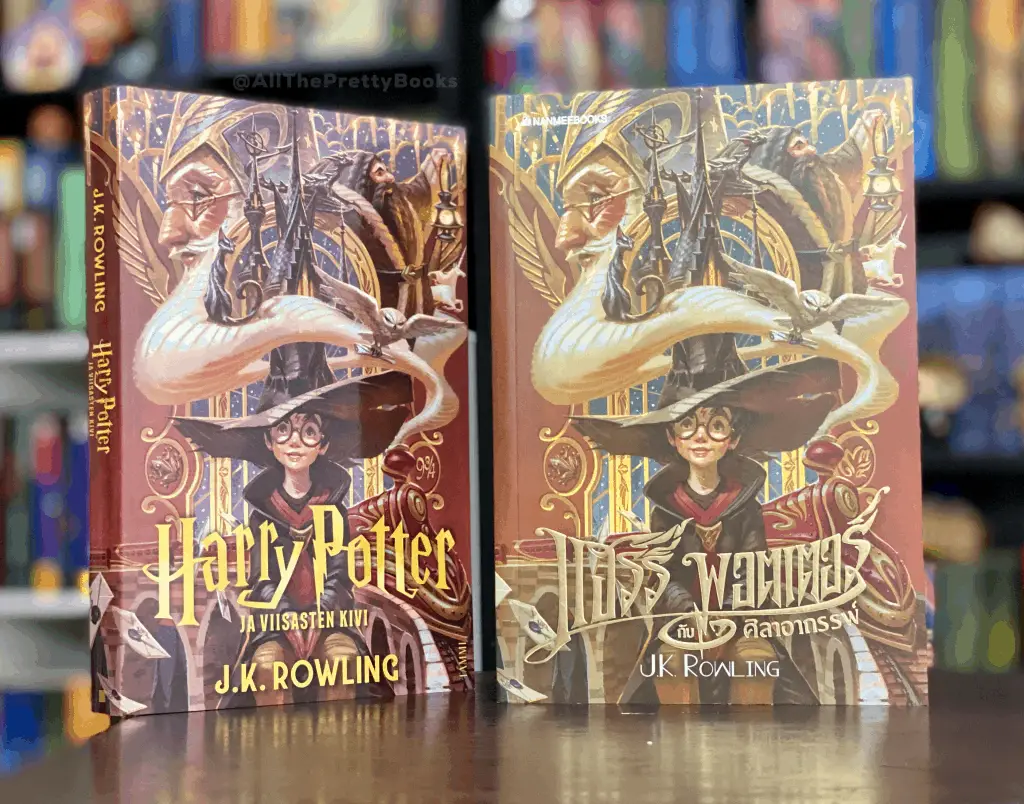 2. Danish Harry Potter cover art
The Danish Harry Potter books, published by Gyldendal, have multiple editions as well and all feature unique covers. The Danish covers, mostly, seem to be more subdued and darker than their typically brighter and vividly colored counterparts from other countries.
But, one edition of the Danish translation stands out, and its pictures do not do it justice. Published in 2012, this cover is unique to this Danish edition. Seeing its picture up on Google during a late-night book hunt, I knew I had to track down a copy for my collection. The book's sprayed black edges really bring out the beautiful blue of the cover as well as the gold foiling.
AMAZON LINK TO A DANISH EDITION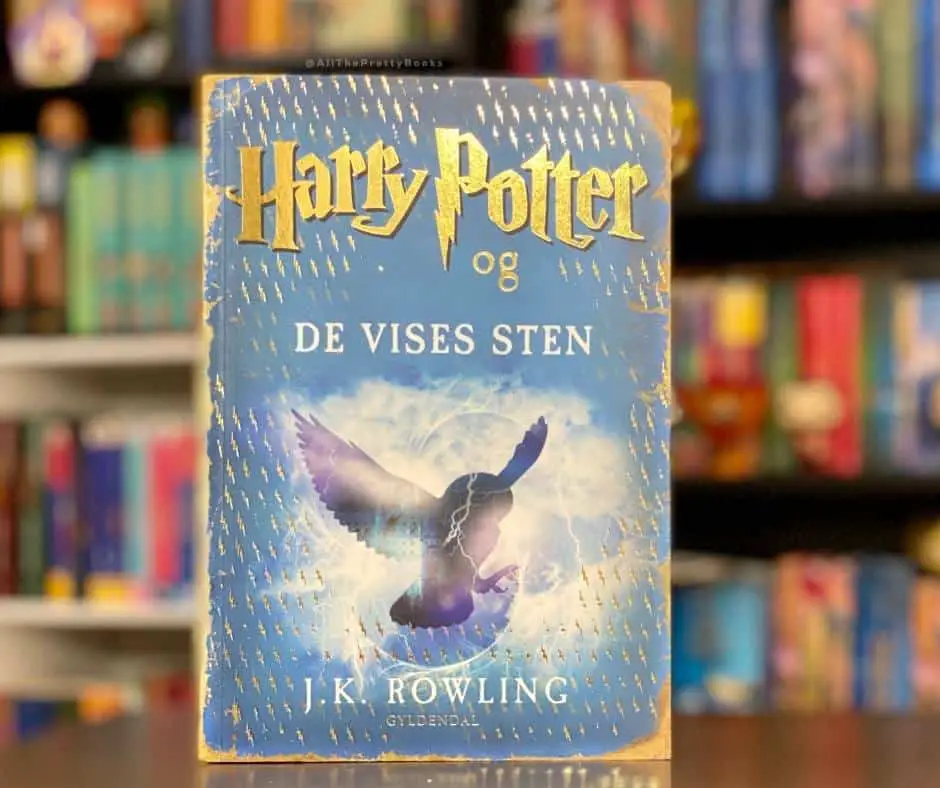 3. Eastern Armenian Harry Potter Cover Art
In 2014, the 15th Anniversary Edition of the Harry Potter books was published by Scholastic in the United States. This edition was illustrated by Kazu Kibuishi, author and illustrator of the Amulet series.
Up until this point, Mary GrandPre had been the only illustrator of the U.S. Potter books. Kazu Kibuishi's illustration of Harry Potter and the Sorcerer's Stone has been a favorite of mine since I first saw it on the shelves of Barnes & Noble, and I wasn't alone. After the release of this U.S. edition, his cover art began appearing on Potter translations, such as Italian, Chinese, the second Russian translation, and Eastern Armenian (pictured below). 
Out of all of the first Potter books bearing Kibuishi's illustrations, my favorite is the Eastern Armenian, published by Zangak in 2016. Between the foil used for the "Harry Potter" title and the shiny finish of the boards, I feel that this translation shows off his artwork the best.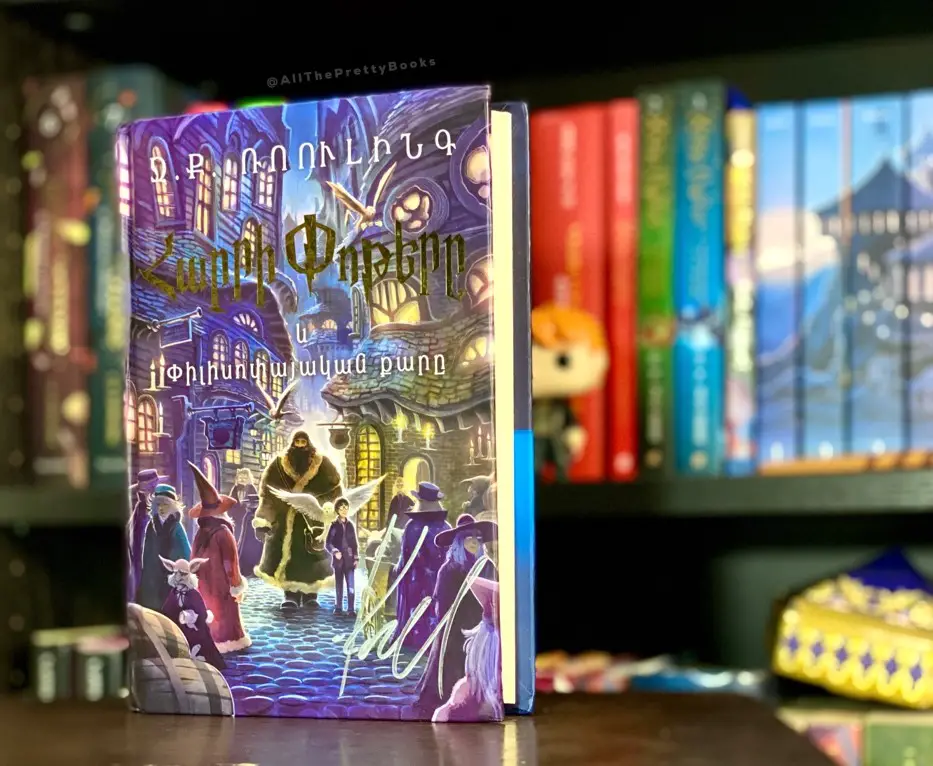 4. Asturian Harry Potter Cover Art
The Asturian translation of Harry Potter and the Philosopher's Stone, published in 2009 by Trabe, was illustrated by Samuel Castro González.
This cover is unique to this translation, of which only 700 copies were produced, making the Asturian translation one of the rarest and highly sought-after translation among collectors.
This cover has long been a favorite of the Harry Potter covers around the world, not only because it's on one of the rarest Potter books made, but also because I really do love the rich colors used and the wonderfully different "Harry Potter" font. González definitely used the first edition Spanish translation, illustrated by Dolores Avendaño, for inspiration, which makes sense given that the Asturian language comes from the Asturias region of Spain.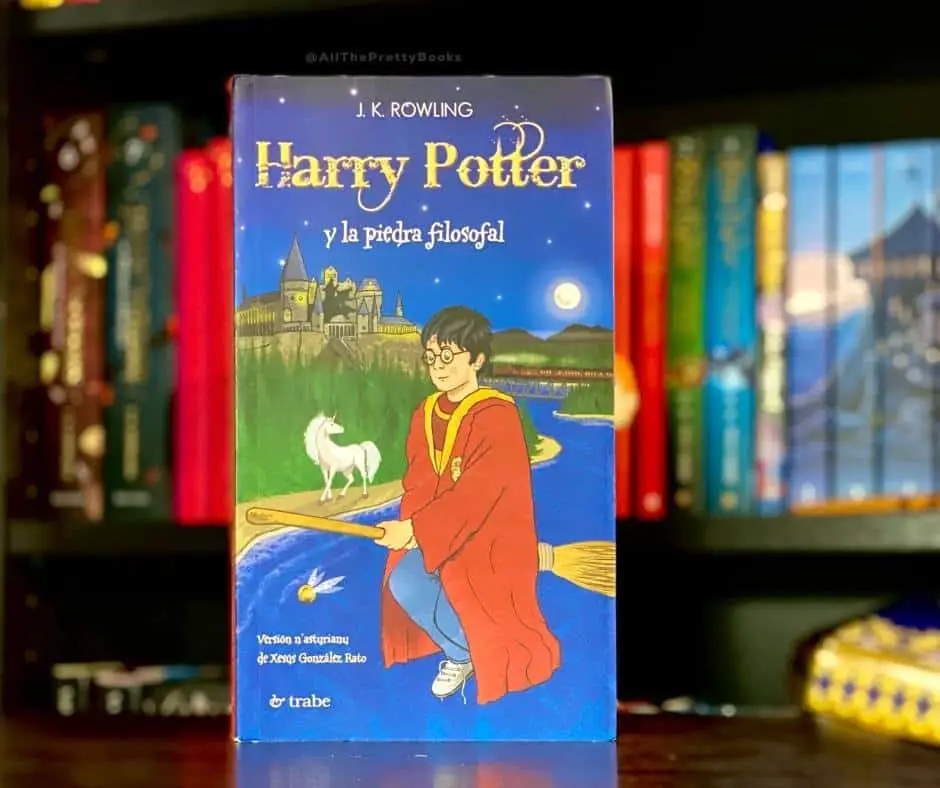 5. Dutch Harry Potter Book Covers
The Dutch Potter translations are known for their unique Harry Potter cover art since they were first published in 1998 by De Harmonie.
In 2011, the publisher issued a new Pocket Edition of the Potter books, featuring the artwork of Dutch artist Erik Kriek. These covers quickly became a favorite throughout the Potter community for their beauty and originality.
In 2018, the Harry Potter Dutch translations turned twenty and De Harmonie issued a beautiful hardcover box set featuring Kriek's cover illustrations in celebration of this event. And like when the Pocket Edition was released, the Potter community went wild for this set.
Between the Pocket Edition and 20th Anniversary Edition, I prefer the 20th Anniversary due to it being a well-made hardcover book, which I feel better shows off Kriek's art better than the smaller Pocket Edition.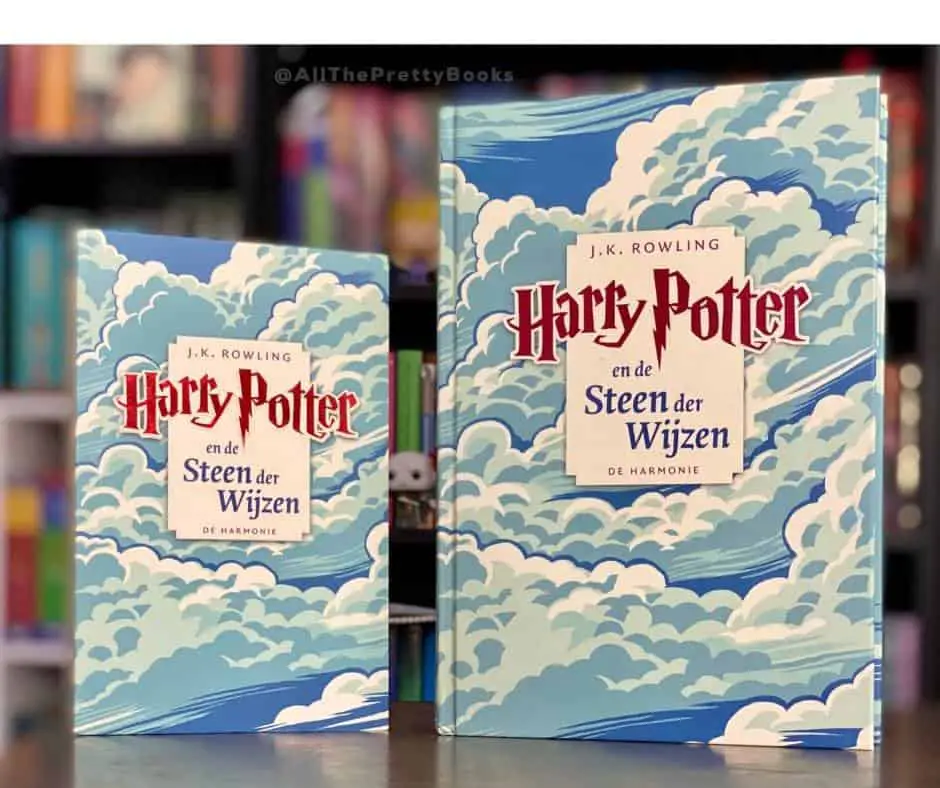 6. German Harry Potter Book Covers
Like the Dutch, the German Potter books are well-known for their original Harry Potter cover art. Since the German translation was first published in 1998 by Carlsen, Harry Potter has been quite popular in Germany, and their unique covers (many of which have been illustrated by Sabina Wilharm), have been quite popular with the Potter community.
Due to Harry's popularity in Germany, there are quite a few different German editions of the Potter books by now, and each one features beautiful and original covers.
While the German Harry Potter book covers are some of my favorites, the 20th Anniversary covers German translation has some of the best covers in my collection. They were illustrated by the Italian artist, Iacopo Bruno, whose depictions of some of our favorite people and moments from the books breathe new life into them.
My Top 10 Harry Potter book covers of Philosopher's Stone list wouldn't be complete without including Bruno's artwork. I also highly recommend checking out the remaining six covers from this set.
AMAZON LINK FOR GERMAN EDITION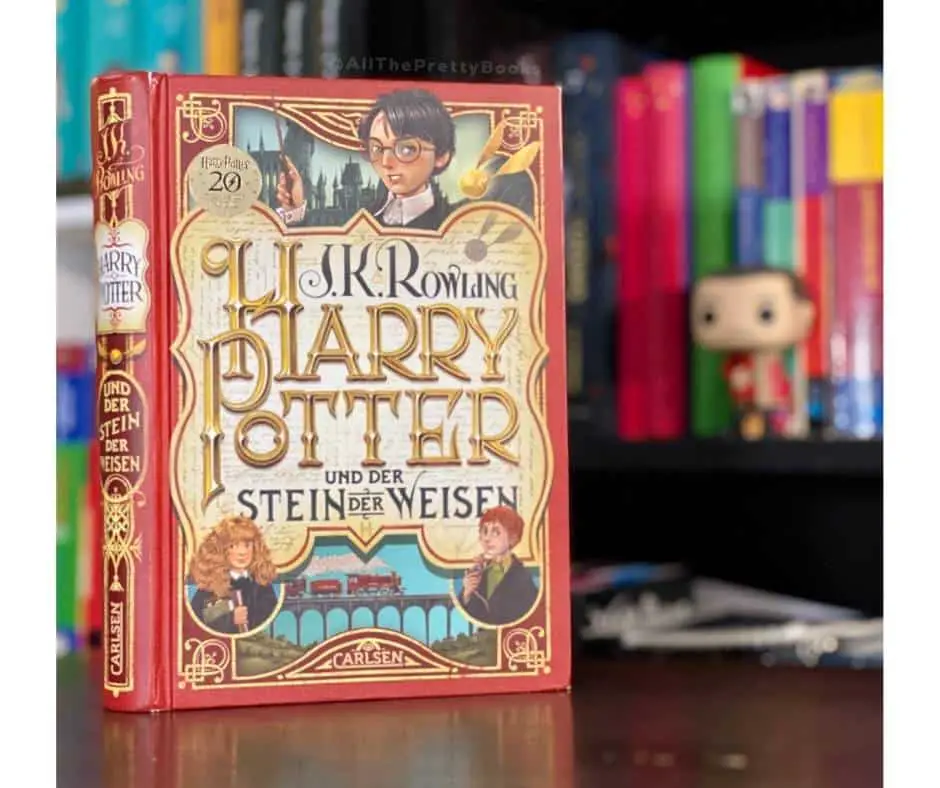 7. UK Original Harry Potter book covers
I feel like no list featuring my favorite covers would be complete without including the original cover from the first book, Harry Potter and the Philosopher's Stone, published by Bloomsbury in 1997. This cover was illustrated by Thomas Taylor, who has since gone on to write and illustrate other books. Interestingly, Taylor only illustrated the first book of the Potter series, with other illustrators finishing up the other six books.
Additionally, the illustration on the backside of the Philosopher's Stone changed. When the book was first released, it featured a young wizard on the back, which is sometimes called "Young Dumbledore". However, this wizard was not modeled after anyone from the Potter books; Taylor used his father for the model of this wizard.
Later on, in this book's print run, Bloomsbury changed the young wizard to Dumbledore. Thomas' Philosopher's Stone cover may be the most well-known Harry Potter book covers and has graced many Potter translations over the past twenty-three years.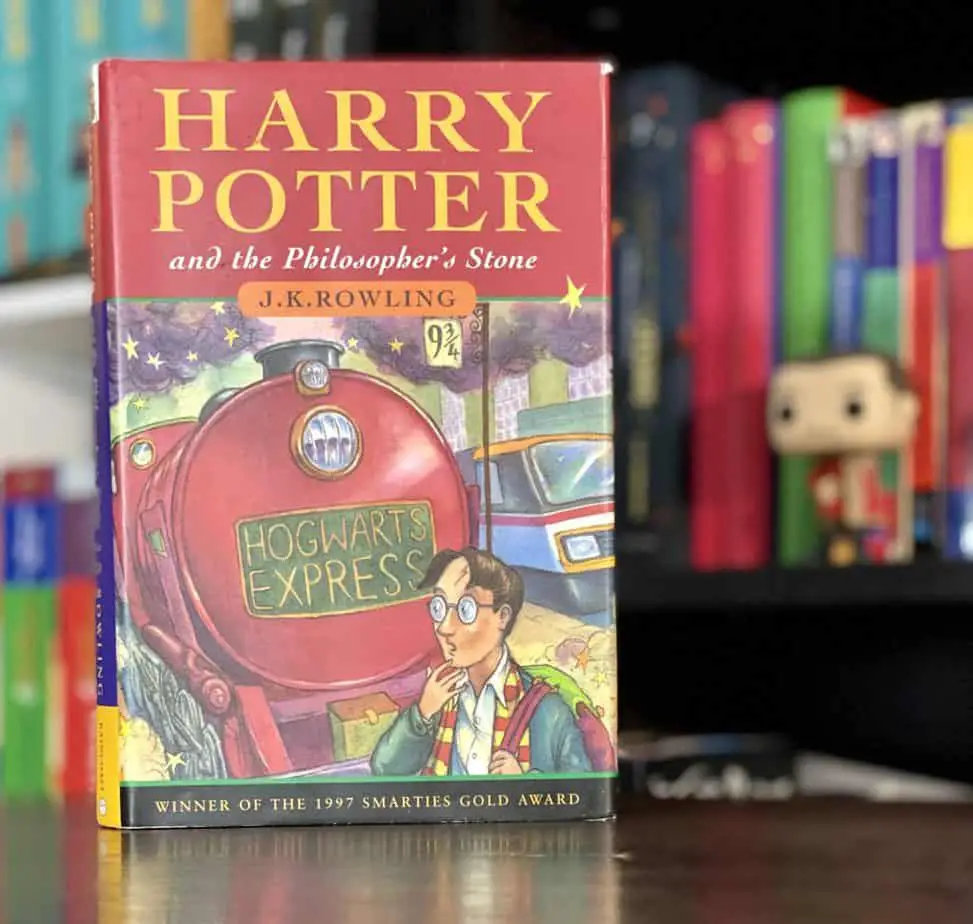 8. Japanese Harry Potter Cover Art
The Japanese translations of Harry Potter are also known for their original covers. Since they were first published in 1999 by Say-zan-sha, the first edition as well as those that have followed have all featured original cover art.
While all of the Japanese Philosopher's Stone covers are all beautiful, the 20th Anniversary cover of Harry Potter and the Philosopher's Stone is one that I had to include on this list.
The cover is wonderfully and similarly different to the first edition of this translation, only to me, the 20th Anniversary edition is the more elegant of the two. And the blue of this cover captivates my imagination.
AMAZON LINK TO A JAPANESE EDITION
9. Norwegian Harry Potter book covers
The Norwegian translation of Harry Potter and the Philosopher's Stone first appeared in 2000 and was published by N. W. Damm & Søn.
This book featured the GrandPre cover from the U.S. first edition, but in 2002 Damm & Søns issued a new edition, now called the Norwegian Fire Editions by Potter book collectors. This edition still has the GrandPre covers in the middle of the front cover but is framed by a thick border of flame colors.
Sadly, only the first two books were published in this edition. Regardless of its apparent lack of popularity with the publishers, this Norwegian edition of Harry Potter and the Philosopher's Stone is considered one to have within the Potter collector community.
This edition of Philosopher's Stone made my list because of how different and eye-catching it is from the other books in my collection. I only wish the remaining five books would have been published in this edition.
AMAZON LINK TO A NORWEGIAN EDITION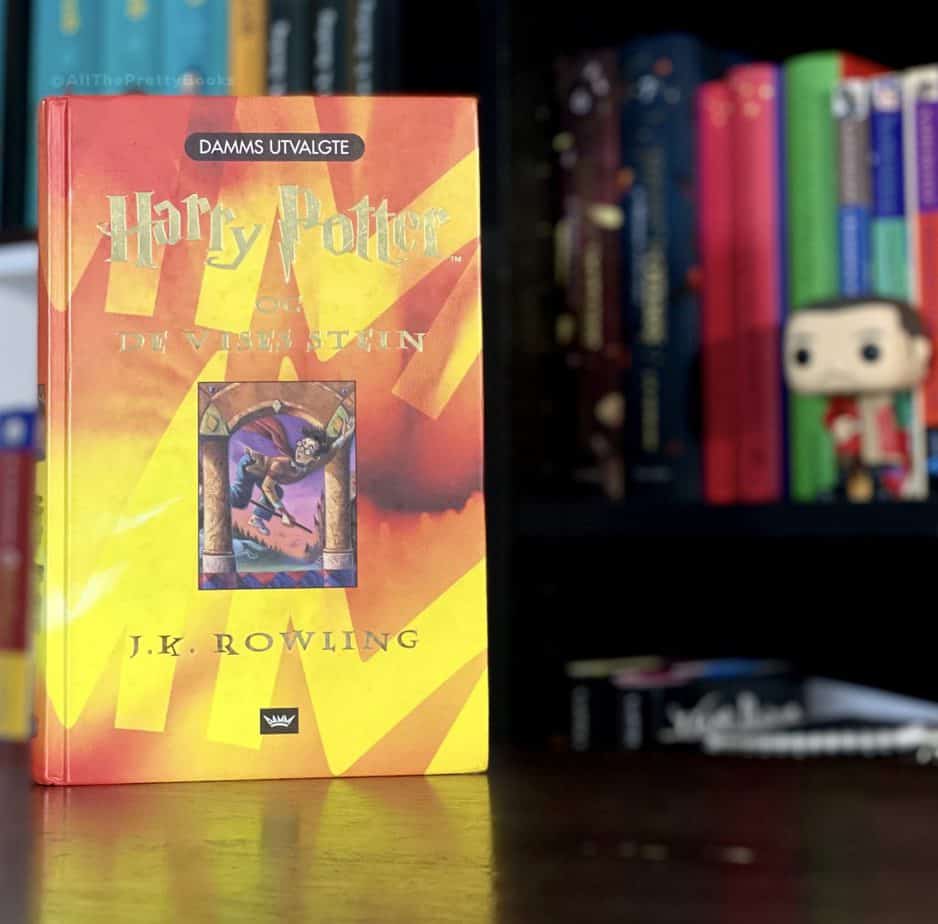 10. Lithuanian Harry Potter Cover Art
The Lithuanian translation of Harry Potter and the Philosopher's Stone was first published in 2000 by Alma Littera. Like many other translations of Harry Potter and the Philosopher's Stone, this translation has the Mary GrandPre first edition U.S. cover.
Up until 2020, at least to my knowledge, there had not been a new edition of this translation issued, that is until the Summer of 2020. Alma Littera issued a beautiful 20th Anniversary set, illustrated by the talented Jekaterina Budryte.
The cover of this edition captivates my imagination, drawing me into the young boy's room, making me want to see what's inside. I also must comment on the use of light and juxtaposition of light and dark colors here – while clearly, I think every book's cover on this list is beautiful, for me this cover is one that produces the strongest emotional response.
I highly recommend checking out the remaining six cover of this set; each book is masterfully and beautifully illustrated.
AMAZON LINK TO A LITHUANIAN EDITION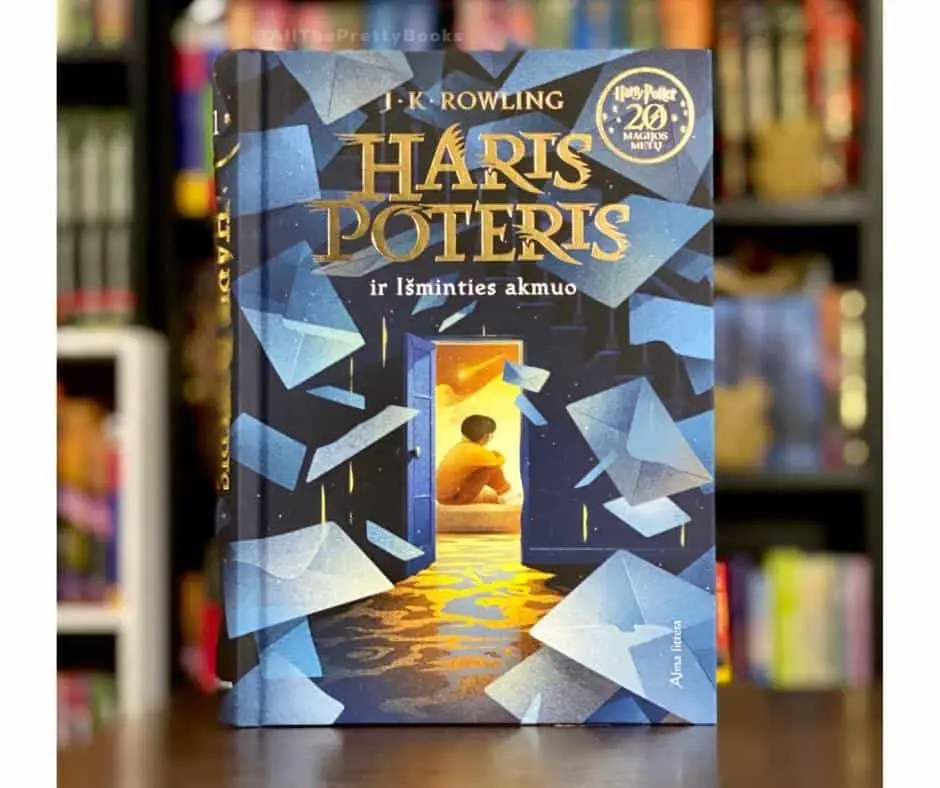 Favorite Covers
While I've reached the end of my Top 10 favorite covers of Harry Potter and the Philosopher's Stone, this list may change as new translations and editions are produced.
If you'd like to follow me and see the many different Potter books within my growing collection, you can find me on
Instagram @AllThePrettyBooks
Youtube All The Pretty Books
Facebook All The Pretty Books
Other Articles You Might Like
Harry Potter Vacation in the US
Have a Magical Harry Potter Feast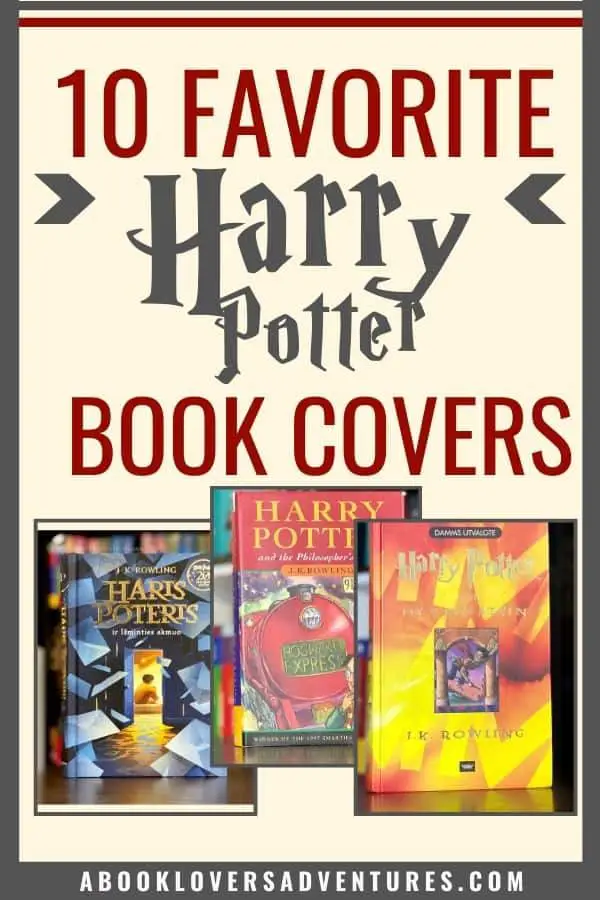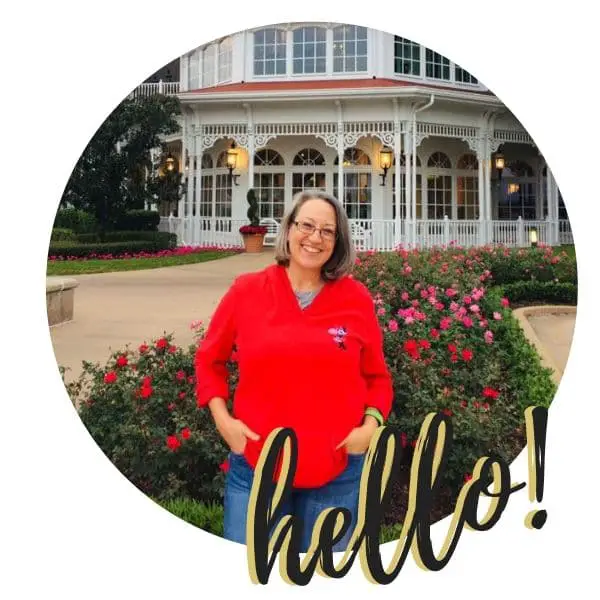 Becki is the author and founder of A Book Lover's Adventures. She has a degree in elementary education, has worked and volunteered in libraries for years, and spent several years in the travel industry. All of this has led to a love of books and travel. Becki loves to share her love by finding literary escapes to share!