Arroyo Grande, CA ~ Fall in Love with the Central Coast
Welcome to my Hometown Tourist Project! We've been to the Central Coast in California a couple of other times already ~ San Luis Obispo and Seaside!  But, today I am pleased to introduce you to Sheila who blogs at Behind Every Day.  Sheila is going to introduce us to her hometown of Arroyo Grande, CA and share her favorite things to do in Arroyo Grande.
Related Posts
Things to do in San Luis Obispo, CA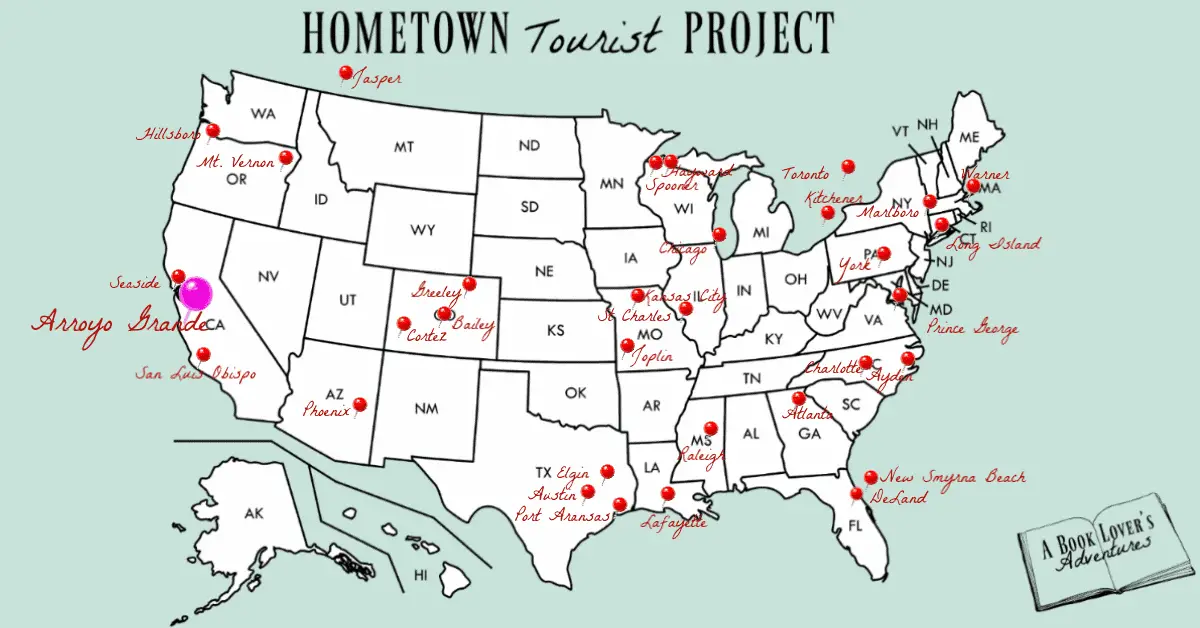 Hometown Tourist Project Week # 33 ~ Arroyo Grande, California
By: Sheila
Right now my family lives in the suburbs of Washington, DC. But once upon a time we lived far, far away in a magical fairy tale land.  Across the country, on the shores of the Pacific Ocean, along the central coast of California, lies a small town called Arroyo Grande CA.  We only lived there for three short years but our time there was so amazing that we refer to it as our pretend life, our fairy tale life where everything was wonderful.
Now we are back in our real life in Virginia.  On our annual road trip this past summer we went back to visit our friends in AG (that's what the locals call it!).  Part of me regrets going back because it makes me remember more clearly how awesome it was and how much we wish we could live there again.  The good memories had become just a general haze of happiness.  Now we are back to actively wishing on a daily basis to be able to return.
When I saw Becki's Hometown Tourist series I knew I wanted to participate but couldn't think of anything to write about our current location.  As soon as we spent a couple days living back in the Central Coast I knew I could write for days about that great place.  I mentioned it to my son and he told me that he even thinks of AG as his hometown even though we lived there for only a few years compared to the other 14 years he had spent living in Virginia.
Why We Love Arroyo Grande CA
So at this point you may be wondering what's so great about it?  After all, we live in DC now – an area full of life, culture, museums, monuments, and a world citizenry.  Which is all true.  And many people might prefer life in the DC area.  But not my family.  Let me tell you why…
Weather
The weather is perfect about 90% of the time in Arroyo Grande CA.  Low humidity, sunshine, and a distinct lack of mosquitoes.  DC is not just a figurative swamp – it's also a literal swamp.  Ick.
Population
Arroyo Grande, California is a small town in a rural area.  There was a horse that lived at the corner, a donkey down the street, and regular wildlife sightings in our yard and all around.  For a girl who loves nature and wide-open spaces and who hates crowds, it's perfect. 
Not only are there fewer people living here, but the people who do live here are very friendly.  The local coffee shop even sells shirts that boast about great everyone is.
Natural beauty
Pacific Ocean. Beaches.  Golden hills (except in spring when they all turn gloriously green).  Need I say more?
Things to do In Arroyo Grande, CA
It's perfect, you say?  Me too!  Now that I've made you want to visit, let me tell what to do while you're there.
1. Food
Our list of places we want to eat is always longer than the number of meals in our visit.  We eat our way around town, breakfast, lunch and dinner every day.
Some favorite breakfast spots in Arroyo Grande CA
Favorite Lunch and Dinner spots in Arroyo Grande CA
sushi from Wow Yanagi
Izakaya Raku another favorite sushi place
McClintocks – if you're in the mood for a great steak
Palo Mesa Pizza – like the name says, PIZZA!
Laguna Grill – a fun sports bar
Rooster Creek Tavern – creative casual dining
Café Andreini – a favorite coffee shop
Doc Burnstein's Ice Cream Lab – fabulous ice cream
2. Fresh fruits and vegetables
They don't call California the salad bowl for nothing.  There is always something growing year-round and you can find fresh fruits and veggies everywhere – at the farmers' markets, at local farm markets, and even on random street corners.  The prices are phenomenal and the freshness can't be beat.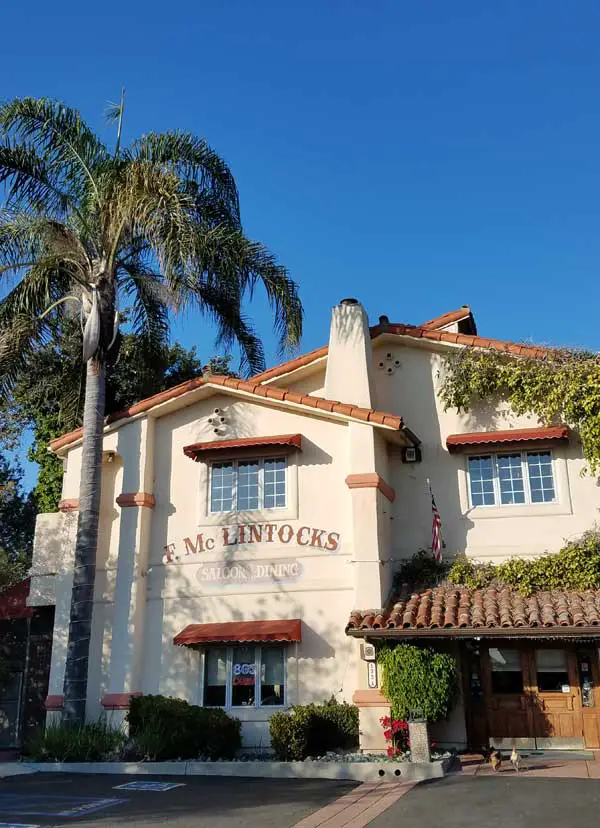 3. Wine-tasting
Wine tasting is a common activity in California for sure. The wine industry continues to grow and there are more than 250 wineries just in San Luis Obispo County alone.  Our favorite is Talley Vineyards but there are so many good choices that you really can't go wrong.
4. Whale watching
The whale watching season is from April to October, though the summer months have a higher chance of whales in the bay.  We sailed twice with Captain Mark of Central Coast Sailing Charters.  Our timing was off so we missed seeing whales but we had an incredible experience anyway.  Captain Mark is very friendly and quite knowledgeable about the history of the area and the ocean wildlife.  Highly recommended if you visit in season!
5. Beach
We always laugh that you can tell who the tourists are because they go to the beach in swimsuits.  The locals are all out there in jackets. The ocean breeze is quite chilly and the water is freezing though that doesn't usually stop my children from swimming for at least a few minutes. 
Even the dog and I like to dip our toes in while enjoying a relaxing walk along the beach.  10,000 steps is no problem when you have a view like this! 
You can drive on the beach but be careful – another fun activity for locals is to see how many novices get stuck in the sand.  I was never brave enough to do it alone but if my husband was driving his Landcruiser, we were all up for the adventure of a sunset drive on the beach, complete with bonfire. 
Many local companies also rent ATVs and other beach/dune-driving gear though that's an activity that we never did ourselves.  Lots of people also like to camp at the beach.  Oh and don't forget about horseback riding on the beach!
One of my favorite parts about the beach –other than in summer when most of the tourists are in town from the valley – there is always plenty of parking available.  I could leave my house, drive through town, and in 20 minutes be parked in the lot and ready to walk on the beach.  That is not something that will happen in other, more populated areas of California.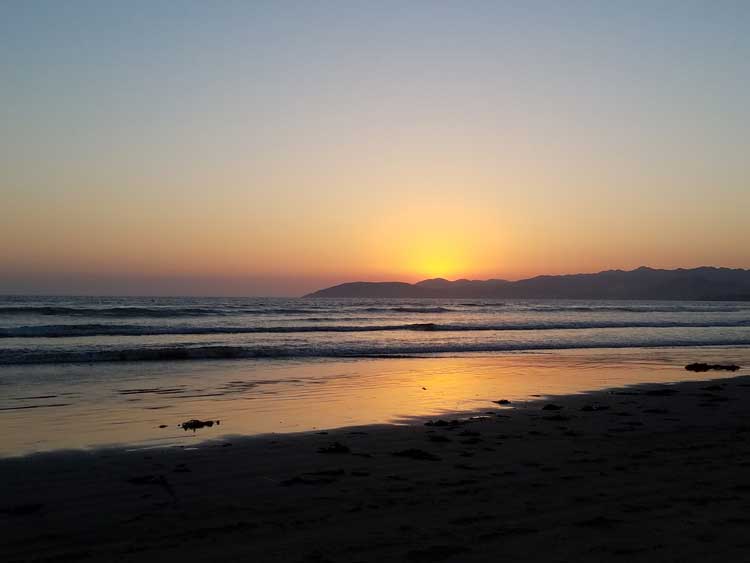 6. Hiking
One of our favorite things to do in Arroyo Grande is hiking. This area is gorgeous.  And remember what I said about perfect weather almost every day of the year?  There are many hiking trails throughout the area, along the beach or inland.  Montana de Oro State Park in Los Osos is a bit of a drive but a place that we like to hike often. 
There is a flat trail along the ocean with access to tidal pools and there are also trails that go up to the tops of the peaks.  California hills are no joke though  -you will definitely get a workout going up!  Other favorite hikes include Madonna Peak in San Luis Obispo, Bob Jones trail in Avila, and Johnson Ranch.  Lots of hiking trails can be found at www.slohike.com.
7. History
Missions – California is known for its Spanish missions. There are 21 missions along the California Historic Mission Trail that closely follows Highway 101.  The closest mission to Arroyo Grande is Mission San Luis Obispo.  Other missions nearby that we have visited are La Purisima and Santa Ines.
Arroyo Grande History – There are 6 museum locations just in Arroyo Grande CA where you can learn all about South San Luis Obispo County history.  Hours are limited though. They are only open on the weekends.  Be sure to check the website before you go.
Dana Adobe – In Nipomo, just south of AG, is the Dana Adobe.  It's a state historic landmark and a great place to learn about the Rancho era history of California.
Oceano Depot – Are you a railroad buff?  Be sure to check out the Oceano Depot.
8. Shopping
Shopping is not a main attraction in Arroyo Grande, CA, but the village is always a nice place to spend a couple hours.  The famous Arroyo Grande roosters can be found in the village park next to the historic swinging bridge.  No one really knows how the roosters first came to live next to Arroyo Grande creek and despite being techinically illegal, they have become important residents of the town. 
The shops are cute. The people are friendly. The roosters are famous.  The food is delicious. Some of our favorite restaurants are in the village (Rooster Creek, Old Village Grill, Café Andreini, and Doc Burnsteins) so you can shop AND eat. After you walk back and forth across the swinging bridge and take pictures of roosters, of course. First things first, after all.
If you prefer the outlet mall shopping experience, be sure to stop by Pismo Beach Premium Outlets.  It's an outdoor mall but that's okay because the weather is almost always perfect!
9. Entertainment
Melodrama – When you drive by The Great American Melodrama building in Grover Beach, it doesn't look like much.  But people were always posting about it on Facebook so one night we finally got around to checking it out.  I regret not going sooner.  So funny!  The cast is talented and the staff are super friendly.  You will not regret a minute spent at the Melodrama.
Clark Center – Arroyo Grande High School is the location of the Clark Center for the Performing Arts.  It was the dream of a family that started in 1974, a dream to replace the barely functional school auditorium with a better facility. 
The Clark Center was finally built in 2002 and has become a cultural center for the community.  I attended my first (and only!) school field trip here to see Fiddler on the Roof.  If you are planning to be in town, check to schedule to see what might be showing!
PCPA in Santa Maria – Another great place to catch a good show is the Pacific Conservatory Theater at Hancock College in Santa Maria. My daughter's Girl Scout troop had an annual outing to watch a show at this theater and I went along every time. Live theater really has no comparison and again, if you are going to be in town, check the schedule to see what show is currently on stage.
So Much to Love About Arroyo Grande, CA
Oh my goodness!  I am way over my allotted word count for this feature and yet I feel like I have barely scratched the surface of all Arroyo Grande, CA has to offer.  But, as you can see, there is so much to do in Arroyo Grande.
Not only that but I am feeling like it might be time to start packing up the house and moving back.  Job?  Who needs one?!  I just want to live in Arroyo Grande again!  Please?  Let's go – I'll meet you there!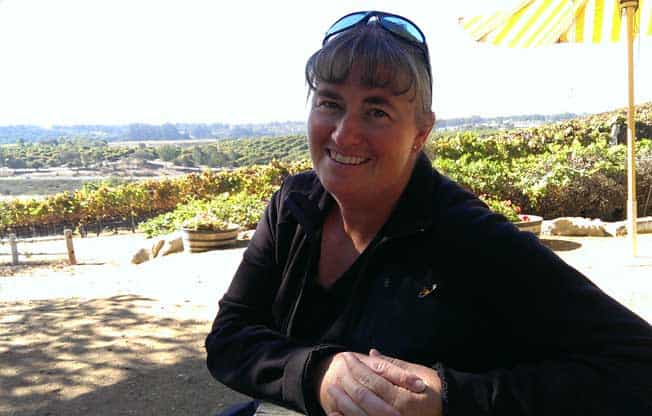 More About Sheila
Sheila lives (just for now – not forever!) in the Washington, DC suburbs of Virginia where she teaches morning pre-k/kindergarten, walks dogs, and drives her kids around.  Technically, two of them are old enough to drive themselves but she cannot get past the terror of giving driving lessons and so remains the primary chauffeur of the family.
When she's not hanging out with 5-year-olds, driving teenagers, walking dogs, folding laundry, or driving across the country in her 13-year-old minivan, she is happily sharing the latest interesting, behind the scenes, oh my goodness you'll never guess what I just learned, things on her blog, Behind Every Day.
As she says, "I have always been fascinated by behind-the-scenes and surprising bits of trivia about how the world works.  I hope to share these tidbits with you, spreading the joy of discovery.  I also enjoy road-tripping with my family and finding interesting stops (World's Largest Ball of Twine, anyone?).  Finally, I am trying to do my part to make the world a better place and would love to encourage similar efforts in others."
Connect & Get Social
Keep in touch with Sheila here on her website or on social media!
Other Articles You Might Enjoy
Hometown Tourist Project series
San Luis Obispo ~ What you Need to Know About this Beautiful Town
Monterey Peninsula ~ Fun Things to do along the Central Coast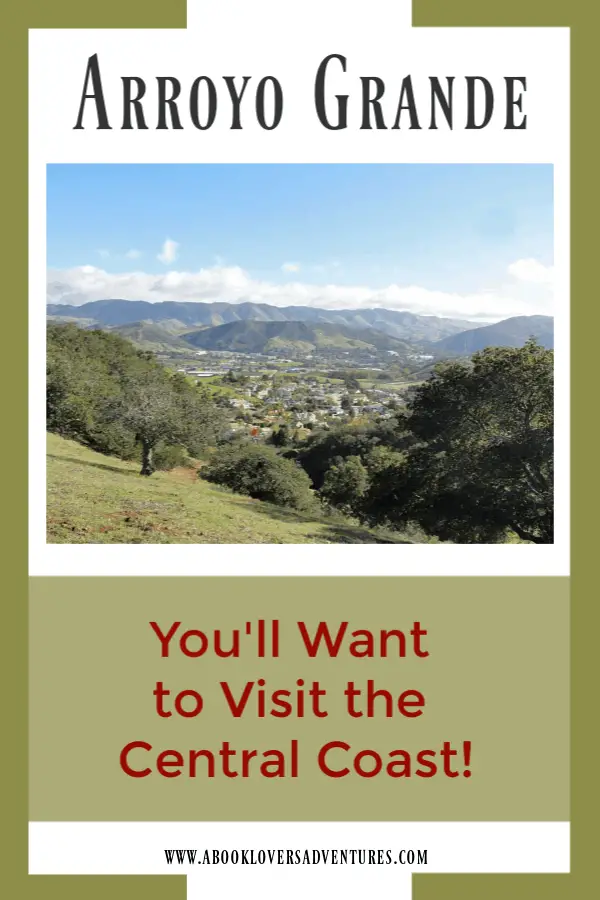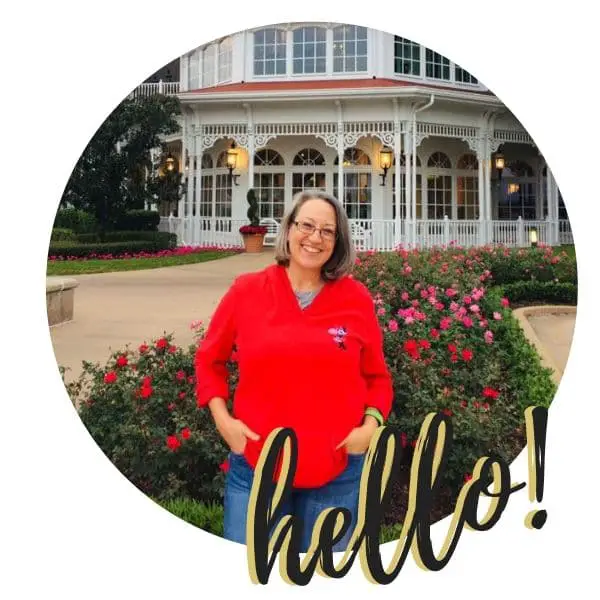 Becki is the author and founder of A Book Lover's Adventures. She has a degree in elementary education, has worked and volunteered in libraries for years, and spent several years in the travel industry. All of this has led to a love of books and travel. Becki loves to share her love by finding literary escapes to share!