16 Awesome Things to do in Perugia | You'll Love it
Welcome to my Hometown Tourist Project!  Each week we will be treated to a new blogger giving us a tour of their hometown.  Throughout 2018 we have gone all around the United States, up into Canada a bit and today we head across the Atlantic to Italy!!  Today I am pleased to introduce you to Katy who blogs at Katy in Umbria. Katy's blog is about exploring Central Italy and some of them off the beaten path spots in her area.  And today Katy is going to introduce us to her hometown and share her favorite things to do in Perugia.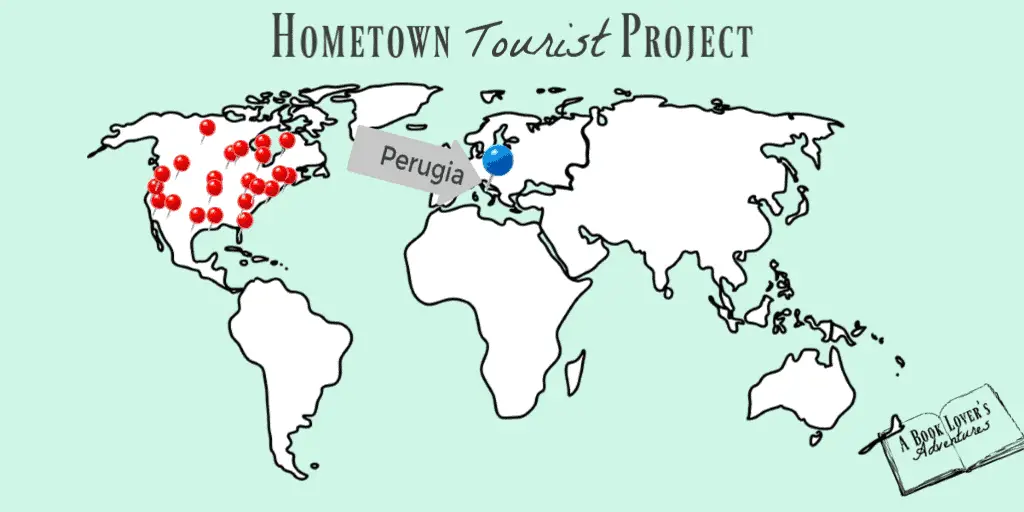 Hometown Tourist Project Week # 37 ~ Perugia, Umbria, Italy
By: Katy
I never imagined that I would call Italy home. Especially since I grew up in Victoria, Canada where I dreamt of living in England. I read Jane Austen, the Bronte sisters, and C.S. Lewis.  I followed my dream and moved to England for college. There I met an Italian and I moved to Perugia, his hometown, in 2014. Since then we have had friends and family come and visit every few months. I love having visitors and coming up with new places to go and things to see. So I'm writing it down on my blog Katy in Umbria.
Perugia is a medieval city famous for chocolate, truffles, and jazz. Perugia, the capital of Umbria Italy has a population of 166,000. Like all of Italy the food is amazing, beauty is all around, and it's layered in history.
The city has two universities giving it a young, vibrant feel. One is the Universita Degli Studi, established in 1308. The second is the Universita per Stranieri (meaning for foreigners) and is world-renowned for studying the Italian language at any time of life.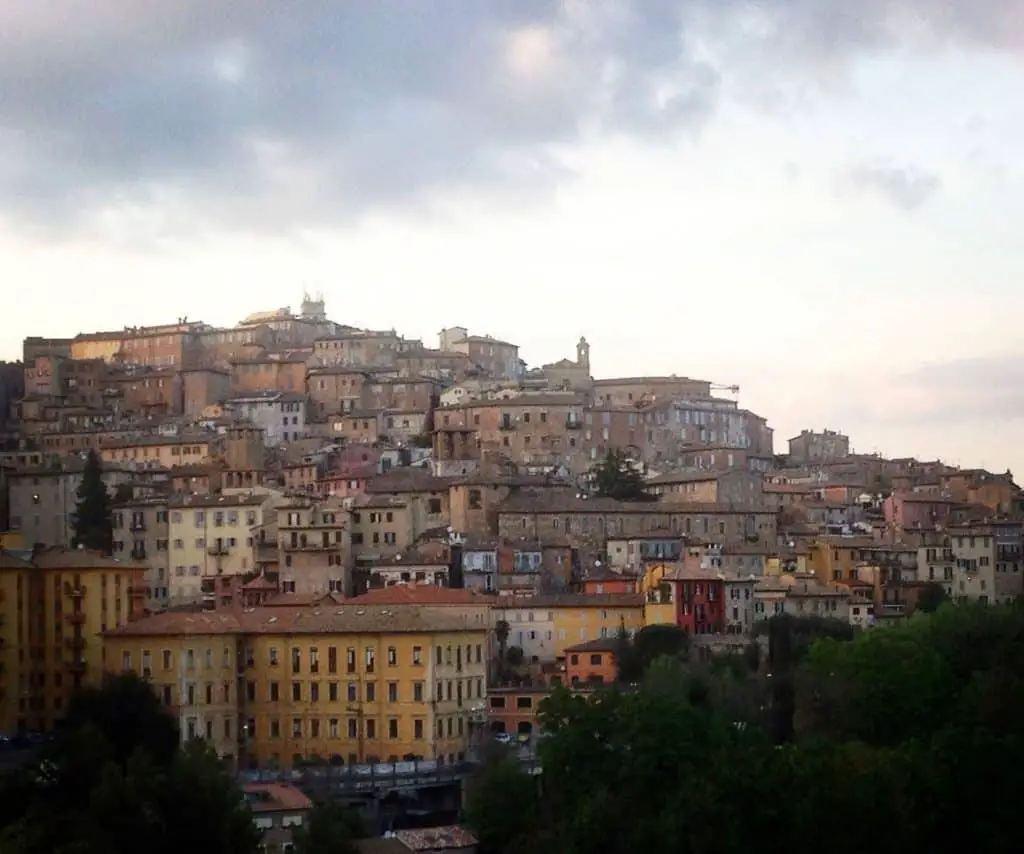 So where is Perugia?
Perfectly situated, Perugia is a hilltop town halfway between Florence and Rome.  2 hours north or 2 hours south either by train or car. There are also buses but they take longer. Perugia is off the major highways and train lines and not a major tourist destination.
Things to do in Perugia Italy
There are so many wonderful things to do in Perugia, I've broken it all down for you here.
Historical things to do in Perugia
People have been settled in what is now Perugia since the time of the Umbrians; before the Trojan war. Later it became an important Etruscan city. The Romans conquered Perugia in 310 BC. A favorite thing to do in Perugia is to visit the walls, gates, and well left from the Etruscans.
Just imagine having pieces of history from 2500 years ago still part of your city. Find the Arco Etrusco/Porta Augusto and visit the Etruscan well. If you're interested in learning more the National Museum of Umbrian Archeology in Perugia houses a large collection of Etruscan and Roman artifacts.
Fast forward to the 12th century and Popes used Perugia as a place to hide when things got too violent in Rome. Underneath Perugia, there is a fortress called Rocca Paolina. Built by Pope Paul III in the 16th century it is now a maze of shops, markets, and art exhibitions.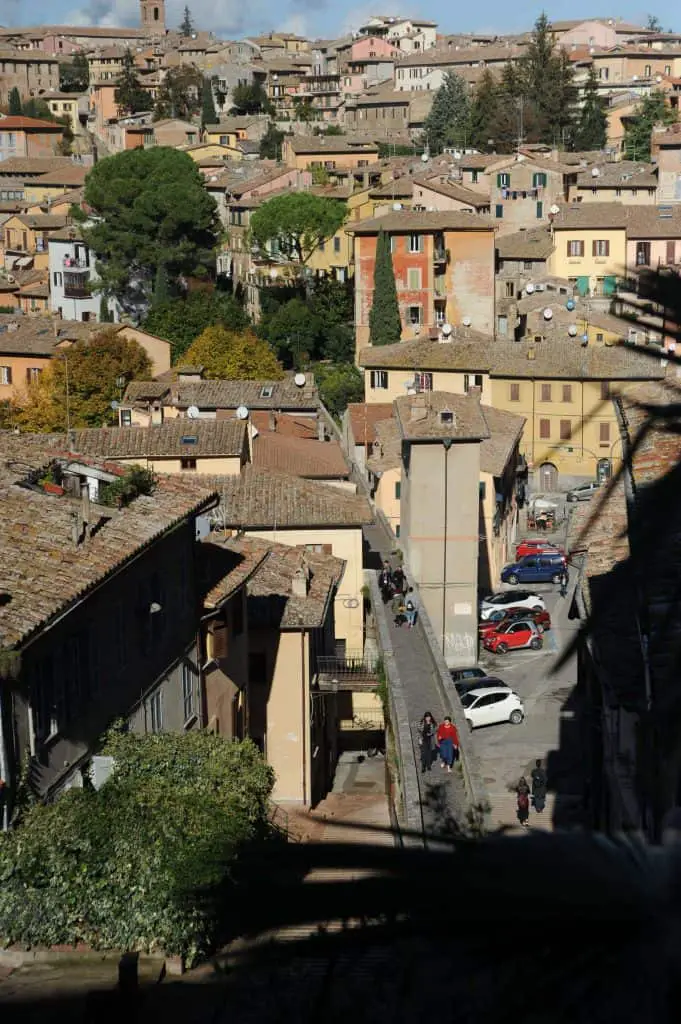 Medieval Aqueducts
One of my favorite things to do in Perugia is walk on top of an aqueduct. It meanders through part of the city as a pedestrian-only road, between people's homes and gardens.
A medieval aqueduct it feeds the Fontana Maggiore. The fountain Maggiore is at the center of the main square, Piazza IV Novembre. Designed by the Pisano father and son team, this beautiful centerpiece was built between 1277-1278. And it cost so much they never finished the cathedral.
Next to the fountain is the Cathedral. Not the most spectacular inside, but my favorite churches include a circular church named Sant'Angelo. It began as a Pagan temple in the 5th to 6th century and has had many additions over the centuries.
The Basilica of Saint Peter was built using Roman marble columns and granite capitals in 969. An example of a Knights of Templar church is the 'San Bevignate'. Built around the 1250s it is worth a look inside.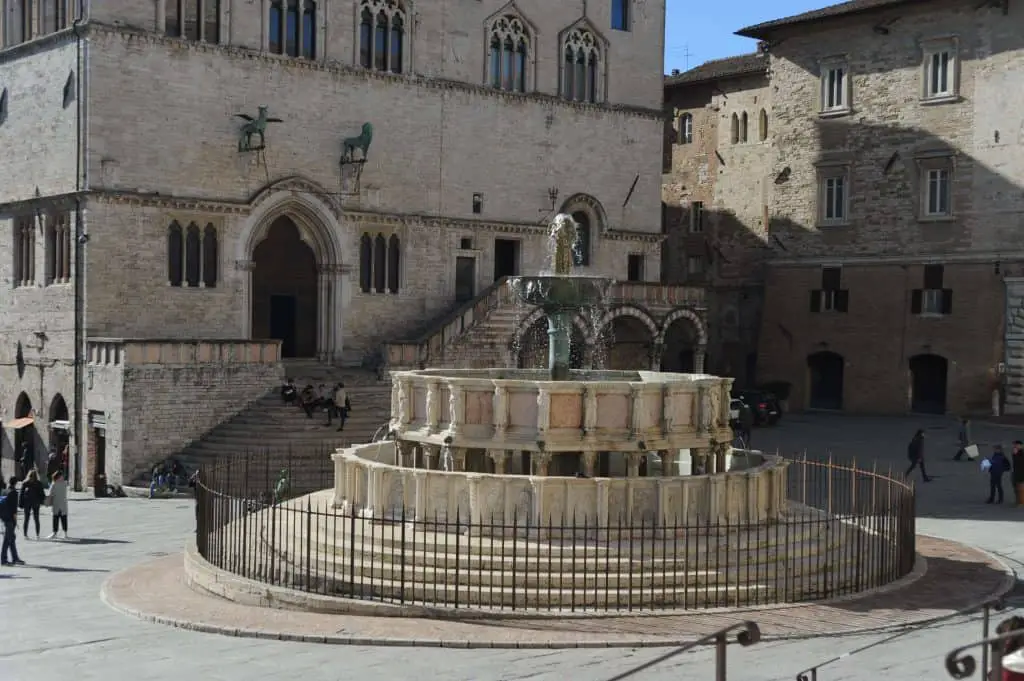 Things for Art Lovers to do in Perugia
There are so many things to do in Perugia for art lovers. Perugia is full of art both inside and out. For something different try these two spots making small production handcrafted items in Perugia.
The Moretti family have been making stained glass windows and painting glass since 1859 in the same workspace. Then head across town for handwoven textiles by the Brozzetti family. For around 7 euros you can tour both the museums and their workshops.
Perugia is most famous for the artist Pietro Vannucci, commonly known as Perugino. Best known for training the High Renaissance painter Raphael, Perugino also worked in Rome for Popes. Check out the art gallery, Galleria Nazionale dell'Umbria, which houses major works by him and many others.
Things for Book Lovers
If getting away to Perugia doesn't fit your schedule or budget, you might want to check out these great books.
Under the Tuscan Sun by Frances Mayes. I haven't read her latest book, Women in Sunlight, but it's on my list. Based in Cortona right on the border with Umbria it is only a 40-minute drive from Perugia.
After Hanibal by Barry Unsworth is a novel which deals with the history of the area.
The Narnia Series by C. S. Lewis. I don't believe C.S. Lewis ever visited Narni, Umbria, but he saw the Latin name, Narnia on a map and used it for his famous children's series.
La Signora dei Baci by Maria Letizia Putti and Roberta Ricca. Published only in Italian, it is the biography of Luisa Spagnoli (1887-1935). Her rags to riches story is of a businesswoman ahead of her time. She built two companies, both still in existence today; Perugina chocolates and the clothing line called Luisa Spagnoli.
Things to do Outdoors
Nature lovers will enjoy all the things to do in Perugia outdoors! I go on hikes daily with our dog in the woods behind our home.
Around Perugia, there are mountains, forests and a lake all great for outdoor adventures. Trails are marked for mountain biking and hiking.
Sign up for a foraging excursion for truffles. There are also porcini mushrooms and wild asparagus in the forests and olive groves all around Perugia. Or visit a cantina for a tour of their vineyard and a wine tasting after!
Events and Festivals
For ten days in July, Perugia comes alive for Umbria Jazz. Not just jazz, there are lots of free outdoor concerts, parades, big names, and late night jam sessions. Something for every music lover. This is a big event for all of Umbria Italy to enjoy!
Eurochocolate is the last week of October. It celebrates all things chocolate. Any time of the year chocolate lovers visiting Perugia should take a tour of the Perugina chocolate factory. *free samples* Their most famous chocolate is the Bacio which Luisa Spagnoli came up within 1922. Dark chocolate filled with a hazelnut chocolate paste and a whole hazelnut, yum!
In April there is the International Journalism Festival.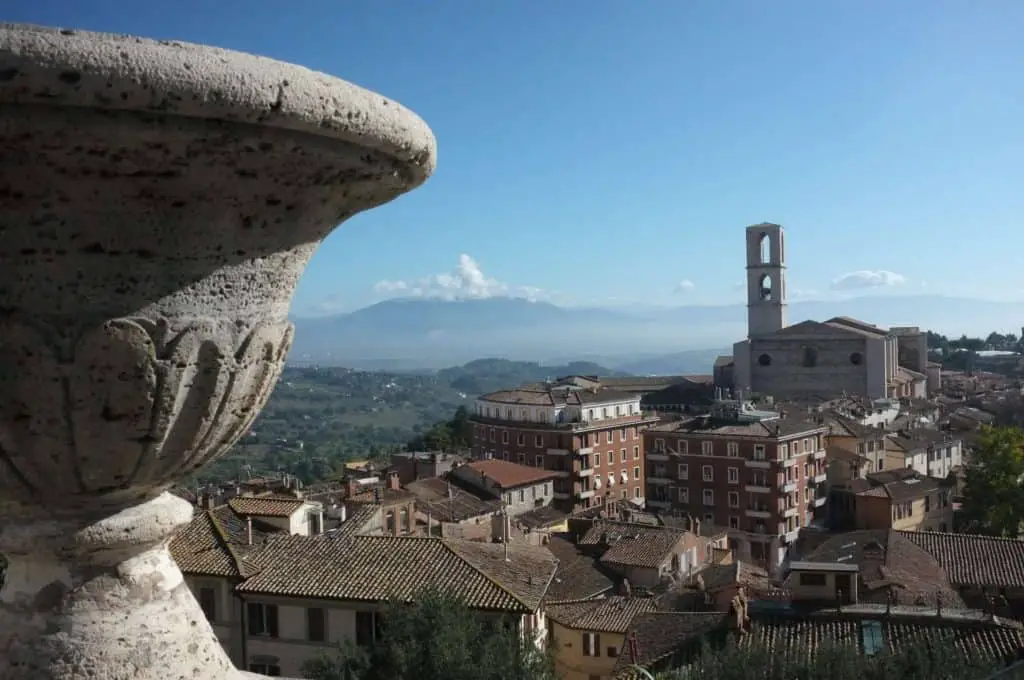 Eating in Perugia
Of course, food is a big deal in Italy. I love that locals eat food in the season it grows, that buying local is common, and that each region celebrates what they do best. For Perugia that would include: truffles (Tartufi in Italian), olive oil, Prosciutto di Norcia (a cured ham), wild boar, lentils, and farro (spelt).
As you walk through town, indulge in the best gelato at Mastro Cianuri. Then, head to Pasticceria Sandri, a classic bar and pastry shop on the main corso. Autumn through to spring try a thick Italian hot chocolate or simply a cafe.
Sometimes I grab a quick lunch and sit in the park, Giardini Carducci, especially if the weather is decent. The view of Assisi is spectacular. Choose between two types of Umbrian sandwiches. "Porchetta" is pork cooked slowly on a spit over a wood fire and stuffed with herbs and the liver. They served it with a fair amount of salt in a crusty bun. A "torta al testo" is a flat bread filled with things like cheese, spinach, sausage, eggplant, ham. Classics include salsicce e spinaci (sausage and spinach) prosciutto crudo e formaggio (cured ham and cheese) or melanzana e formaggio (eggplant and cheese).
And be sure to enjoy a glass of wine, or a crodino if you don't want to drink while watching the sunset at Umbro. For white regional wines try a Grecchetto or Orvieto Classico and for reds a Sangiovese or a Montefalco Rosso.
More than just pizza
Don't just have pizza! There is so much more to Italian food than just pizza! But if you must, then try La Romantica or Mediterranea.
For a proper Italian meal I would suggest these three restaurants:
Dalla Bianca, a rustic restaurant with home cooked Umbrian food.
Altro Mondo is a classy spot with beautiful vaulted ceilings. Ask for their suppli-it isn't on the menu.
Civico 25 is a wine bar with a fun atmosphere and some classic Perugino dishes.
As you can see, there are so many wonderful things to do in Perugia and the Umbria Italy area. So, whether you are into history, art, books or food, you will definitely find something you'll love in Perugia!
I recommend booking two nights in Perugia, a weekend is perfect. Stay in the center so everything is accessible on foot before you head off to see the amazing Assisi or beautiful Cortona.
Get Social with Katy
Want to see more about Katy and her adventures in Umbria Italy? You can find her on these social media outlets:
Other Articles You Might Enjoy
5 Tips For Traveling with Teens