Read Around the World Challenge 2021
I love starting a new year with a new reading challenge! And last year's Read Around the World Challenge went so well, I decided to do it again. But, for 2021 we will have all new countries and all new books as we head around the world in this reading challenge.
I am going to read around the world again in 2021 and would love to have you join me for my Read Around the World Challenge 2021!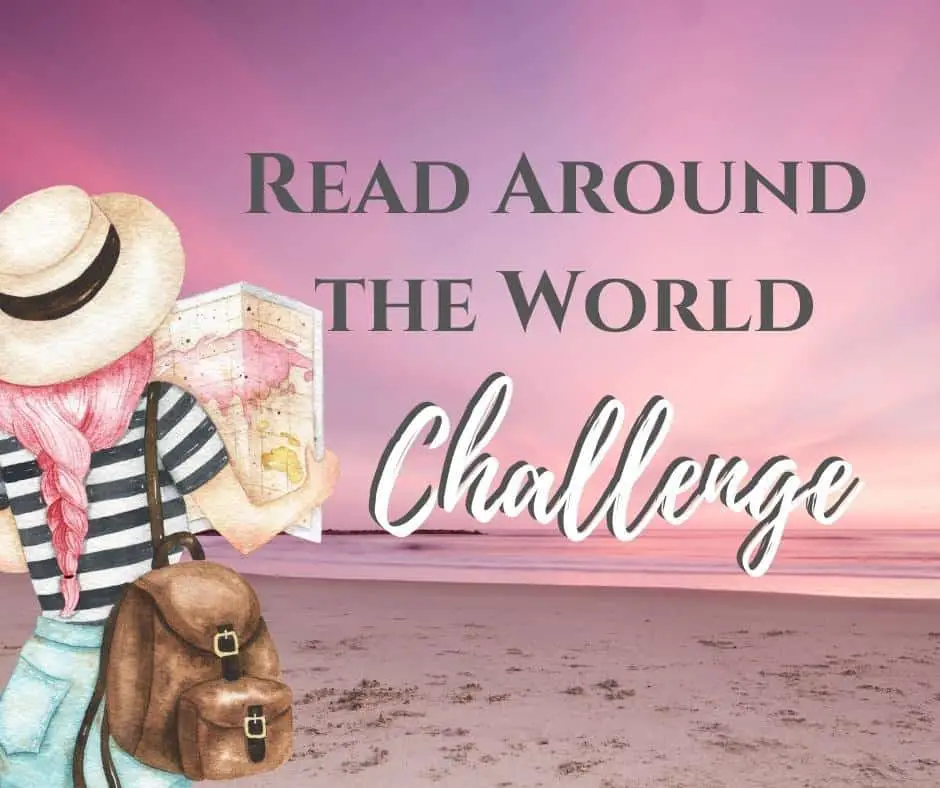 Read Around the World Challenge 2021
With travel being what it is for 2020, and now for 2021, my wanderlust has had to move to books. So, if you'd like to escape with me and travel the world through books come and join my Read Around the World Challenge for 2021.
So, here is my list, in alphabetical order.
Aregentina
Genre: Survival
Summary:
Spirits were high when the Fairchild F-227 took off from Mendoza, Argentina, and headed for Santiago, Chile. On board were forty-five people, including an amateur rugby team from Uruguay and their friends and family. The skies were clear that Friday, October 13, 1972, and at 3:30 p.m., the Fairchild's pilot reported their altitude at 15,000 feet. But one minute later, the Santiago control tower lost all contact with the aircraft. For eight days, Chileans, Uruguayans, and Argentinians searched for it, but snowfall in the Andes had been heavy, and the odds of locating any wreckage were slim.
 
Ten weeks later, a Chilean peasant in a remote valley noticed two haggard men desperately gesticulating to him from across a river. He threw them a pen and paper, and the note they tossed back read: "I come from a plane that fell in the mountains . . ."
 
Sixteen of the original forty-five passengers on the F-227 survived its horrific crash. In the remote glacial wilderness, they camped in the plane's fuselage, where they faced freezing temperatures, life-threatening injuries, an avalanche, and imminent starvation. As their meager food supplies ran out, and after they heard on a patched-together radio that the search parties had been called off, it seemed like all hope was lost. To save their own lives, these men and women not only had to keep their faith, they had to make an impossible decision: Should they eat the flesh of their dead friends?
 
A remarkable story of endurance and determination, friendship and the human spirit, Alive is the dramatic bestselling account of one of the most harrowing quests for survival in modern times.
AMAZON LINK for Alive: The Story of the Andes Surviviors
Bolivia
Genre: WW2/Historical
Summary:
As we read our way around the world, we stop in Bolivia with this beautiful World War II book.
As a young girl growing up in Vienna in the 1930s, Orly has an idyllic childhood filled with music. Her father plays the viola in the Philharmonic, her mother is a well-regarded opera singer, her beloved and charismatic older brother holds the neighborhood in his thrall, and most of her eccentric and wonderful extended family live nearby. Only vaguely aware of Hitler's rise or how her Jewish heritage will define her family's identity, Orly spends her days immersed in play with her best friend and upstairs neighbor, Anneliese. Together they dream up vivid and elaborate worlds, where they can escape the growing tensions around them.
But in 1938, Orly's peaceful life is shattered when the Germans arrive. Her older brother flees Vienna first, and soon Orly, her father, and her mother procure refugee visas for La Paz, a city high up in the Bolivian Andes. Even as the number of Jewish refugees in the small community grows, her family is haunted by the music that can no longer be their livelihood, and by the family and friends they left behind. While Orly and her father find their footing in the mountains, Orly's mother grows even more distant, harboring a secret that could put their family at risk again. Years pass, the war ends, and Orly must decide: Is the love and adventure she has found in La Paz what defines home, or is the pull of her past in Europe–and the piece of her heart she left with Anneliese–too strong to ignore?
China
Genre: Classic Literature
Summary:
There were so many books to choose from for our Read Around the World Challenge stop in China. The Good Earth begins on Wang Lung's wedding day and follows the rise and fall of his fortunes.
The House of Hwang, a family of wealthy landowners, lives in the nearby town, where Wang Lung's future wife, O-Lan, lives as a slave. However, the House of Hwang slowly declines due to opium use, frequent spending, uncontrolled borrowing, and a general unwillingness to work.
Meanwhile, Wang Lung, through his own hard work and the skill and hard work of his wife, O-Lan, slowly earns enough money to buy land from the Hwang family, piece by piece.
O-Lan delivers three sons and three daughters; the first daughter becomes mentally handicapped as a result of severe malnutrition brought on by famine. Her father greatly pities her and calls her "Poor Fool," a name by which she is addressed throughout her life. O-Lan kills her second daughter at birth to spare her the misery of growing up in such hard times, and to give the remaining family a better chance to survive.
During the devastating famine and drought, the family must flee to a large city in the south to find work. Wang Lung's malevolent uncle offers to buy his possessions and land, but for significantly less than their value. The family sells everything except the land and the house. Wang Lung then faces the long journey south, contemplating how the family will survive walking when he discovers that the "firewagon" (the Chinese word for the newly built train) takes people south for a fee.
AMAZON LINK for The Good Earth
Egypt
Genre: Historical Fiction
Summary:
Told in Cleopatra's own voice, The Memoirs of Cleopatra is a mesmerizing tale of ambition, passion, and betrayal in the ancient Egyptian world, which begins when the twenty-year-old queen seeks out the most powerful man in the world, Julius Caesar, and does not end until, having survived the assassination of Caesar and the defeat of the second man she loves, Marc Antony, she plots her own death rather than be paraded in triumph through the streets of Rome.
AMAZON LINK for Memoirs of Cleopatra
Greece
Genre: Holiday Fiction
Summary:
Another stop as we Read Around the World is Greece. And, if you've always wanted to escape to Greece, you'll want to read The Greek Escape. But remember, before every new beginning, there must be an ending . . .
Running from heartbreak, Chloe Marston leaves her old life in London for a fresh start in New York. Working at a luxury concierge company, she makes other people's lives run perfectly, even if her own has ground to a halt. But a terrible accident forces her to step into a new role, up close and personal with the company's most esteemed and powerful clients. Charismatic Joe Lincoln is one of them and his every wish is her command, so when he asks her to find him a secluded holiday home in the Greek Islands, she sets about sourcing the perfect retreat.
But when Tom, her ex, unexpectedly shows up in Manhattan and the stability of her new life is thrown off-balance again, she jumps at the chance to help Joe inspect the holiday house; escaping to Greece will give her the time and space to decide where her future truly lies. Tom is the man she has loved for so long but he has hurt her before – can she give him another chance? And as she draws closer to Joe, does she even want to? As magnetic as he is mysterious, there's an undeniable chemistry between them that she can't resist.
But whatever her heart is telling her, she's in over her head – another client's wife has mysteriously disappeared and serious allegations about Joe threaten more than just her happiness. Who can she trust? And will Chloe uncover the truth in time?
AMAZON LINK for The Greek Escape
India
Genre: YA Fiction
Summary:
And, our next stop as we Read our way Around the World is India. But here, in the ancient Indian kingdom of Kasmira, stories don't begin with "once upon a time." 
Instead, Kasmiris start a woman's story with those who came before her: her parents, grandparents, ancestors. For fourteen-year-old Reya Kandhari, her story always starts the same: with the fabled line of Bookweavers, tracing centuries back to the lost Yogis—the mythical guardians of Kasmiri culture who created the world itself.
As a result, Reya's entire life has been shaped by words. Words of mystique and mythology. Words of magic that allow her father, the Bookweaver, to bring his stories to life. Words of power that make him the target of tyrants who will stop at nothing to destroy magic in Kasmira.
Living in disguise as a peasant in the fields, Reya's sole focus is protecting the Bookweaver's secret. But when her father is taken, Reya must flee deep into the jungle, alone with her best friend Nina and one ancient book.
Grappling with Reya's newfound magic, the two girls find themselves in the center of a war of liberation where magic reigns unchecked, and destiny takes a dark turn. As the stakes get higher, Reya realizes that her father's legacy contains more power than she ever imagined. For Reya Kandhari is more than just a fugitive—she is a symbol of revolution. And that makes her a threat.
In a tale of magic, Indian lore, and radical female friendship, Reya must pass the final test: the Bookweaver's daughter must weave her own destiny. The fate of Kasmira depends on it.
AMAZON LINK for The Bookweaver's Daughter
Kenya
Genre: Historical Fiction
Summary:
Kenya is our next stop in our Read Around the World Challenge. In Leopard at the Door, we immerse in the story of Rachel. After six years in England, Rachel has returned to Kenya and the farm where she spent her childhood, but the beloved home she'd longed for is much changed.
Her father's new companion—a strange, intolerant woman—has taken over the household. The political climate in the country grows more unsettled by the day and is approaching the boiling point. And looming over them all is the threat of the Mau Mau, a secret society intent on uniting the native Kenyans and overthrowing the whites.
As Rachel struggles to find her place in her home and her country, she initiates a covert relationship, one that will demand from her a gross act of betrayal. One man knows her secret, and he has made it clear how she can buy his silence. But she knows something of her own, something she has never told anyone. And her knowledge brings her power.
AMAZON LINK for Leopard at the Door
the Netherlands
Genre: Humor
Summary:
Our Netherlands stop as we Read Around the World comes with humor and charm.
Technically speaking, Hendrik Groen is….elderly. But at age 83 1/4, this feisty, indomitable curmudgeon has no plans to go out quietly.
Bored of weak tea and potted geraniums, exasperated by the indignities of aging, Hendrik has decided to rebel – on his own terms. He begins writing an exposé: secretly recording the antics of day-to-day life in his retirement home, where he refuses to take himself, or his fellow "inmates," too seriously.
With an eccentric group of friends, he founds the wickedly anarchic Old-But-Not-Dead Club. And he and his best friend, Evert, gleefully stir up trouble, enraging the home's humorless director and turning themselves into unlikely heroes. And when a sweet and sassy widow moves in next door, he polishes his shoes, grooms what's left of his hair, and determines to savor every ounce of joy in the time he has left, with hilarious and tender consequences.
AMAZON LINK for The Secret Diary of Hendrik Groen
Scotland
Genre: Romance
Summary:
Lissa, is a nurse in a gritty, hectic London neighborhood. Always terribly competent and good at keeping it all together, she's been suffering quietly with PTSD after helping to save the victim of a shocking crime. Her supervisor quietly arranges for Lissa to spend a few months doing a much less demanding job in the little town of Kirrinfeif in the Scottish Highlands, hoping that the change of scenery will help her heal. 
Lissa will be swapping places with Cormack, an Army veteran who's Kirrinfeif's easygoing nurse/paramedic/all-purpose medical man. Lissa's never experienced small-town life, and Cormack's never spent more than a day in a big city, but it seems like a swap that would do them both some good.
In London, the gentle Cormack is a fish out of the water; in Kirrinfief, the dynamic Lissa finds it hard to adjust to the quiet. But these two strangers are now in constant contact, taking over each other's patients, endlessly emailing about anything and everything. Lissa and Cormack discover a new depth of feeling…for their profession and for each other.
But what will happen when Lissa and Cormack finally meet…?
AMAZON LINK for 500 Miles from You
Tanzania
Genre: Mystery
Summary:
Journalist Alex Derksen's new assignment in Tanzania should be easy, but he soon finds himself on the wrong side of the news. It starts when he meets Ranna, a beautiful photographer with something to hide. Alex stopped believing in love a long time ago, yet here in the middle of East Africa, it's found him again.
Alex knows a thing or two about chaos—wherever he goes, it follows. When an IT billionaire washes up onshore after seasonal flooding, he finds himself at the center of an investigation with Ranna as the main suspect. It turns out she may have a good reason for hiding her past.
Wherever she goes, murder follows.
Alex should be used to these cat-and-mouse games, but this time it's different. Should he listen to his heart and help Ranna hide the bloody trail leading to her? Or should he use his head and run for his life?
Ukraine
Genre: Children/Historical (WWII)
Summary:
I am excited to include this historical children's book in my Read Around the World Challenge 2021. Lida thought she was safe. Her neighbors wearing the yellow star were all taken away, but Lida is not Jewish. She will be fine, won't she?
But she cannot escape the horrors of World War II.
Lida's parents are ripped away from her and she is separated from her beloved sister, Larissa. The Nazis take Lida to a brutal work camp, where she and other Ukrainian children are forced into backbreaking labor. Starving and terrified, Lida bonds with her fellow prisoners, but none of them know if they'll live to see tomorrow.
When Lida and her friends are assigned to make bombs for the German army, Lida cannot stand the thought of helping the enemy. Then she has an idea. What if she sabotaged the bombs… and the Nazis? Can she do so without getting caught?
And if she's freed, will she ever find her sister again?
AMAZON LINK for Making Bombs for Hitler
Yemen
Genre: Political Thriller
Summary:
As we continue our Read Around the World Challenge, our last stop is in Yemen. There has been so much political and civil unrest in Yemen that I wasn't sure if I wanted to include it this year. But, I decided to go ahead and offer up The Panther for this country and this year.
Anti-Terrorist Task Force agent John Corey and his wife, FBI agent Kate Mayfield, have been posted overseas to Sana'a, Yemen-one of the most dangerous places in the Middle East. While there, they will be working with a small team to track down one of the masterminds behind the USS Cole bombing: a high-ranking Al Qaeda operative known as The Panther.
Ruthless and elusive, he's wanted for multiple terrorist acts and murders-and the U.S. government is determined to bring him down, no matter the cost.
As latecomers to a deadly game, John and Kate don't know the rules, the players, or the score. What they do know is that there is more to their assignment than meets the eye-and that the hunters are about to become the hunted.
Join the Read Around the World Challenge?
If you want to read your way around the world with even more choices, grab a copy of the Read Around the World Challenge. Eighteen book and eighteen countries!
Other Articles you Might Enjoy
2020 Read Around the World Challenge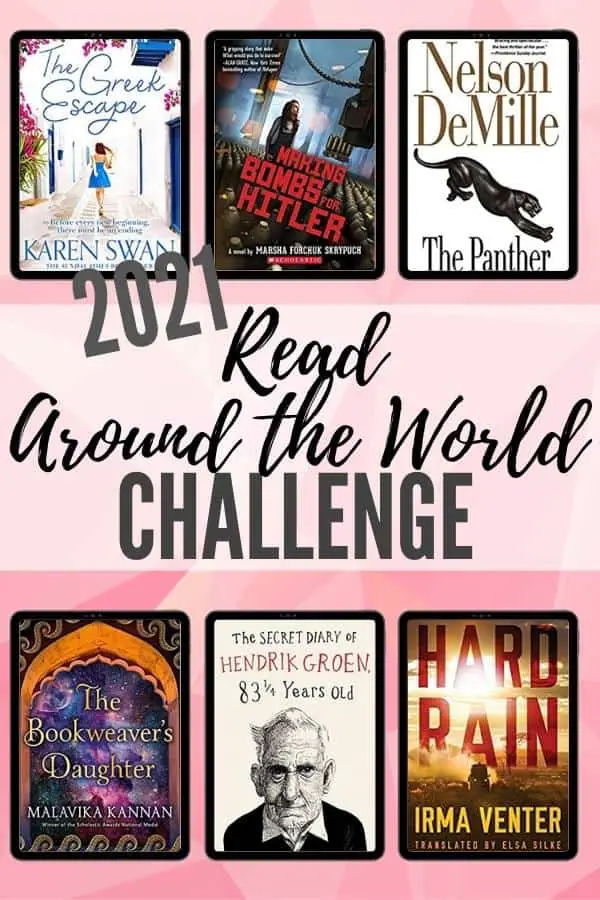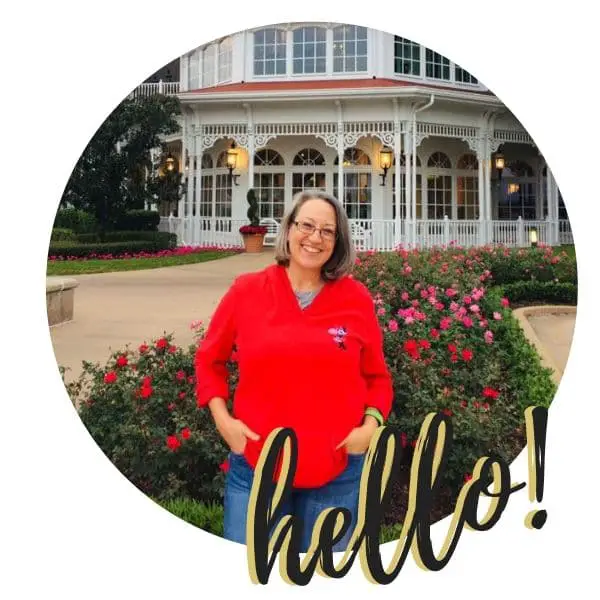 Becki is the author and founder of A Book Lover's Adventures. She has a degree in elementary education, has worked and volunteered in libraries for years, and spent several years in the travel industry. All of this has led to a love of books and travel. Becki loves to share her love by finding literary escapes to share!