8 HURRICANE Books ~ Help Your Kids Understand What Happens
With the all too real memory of Hurricane Harvey, Irma and Maria, explaining Hurricanes to children can be difficult.  I've put together a group of Hurricane Books for children of all ages.  While this certainly isn't a fun topic, it is a very real one!  I hope these hurricane books help your children understand a little more!
Picture Books
Here are a couple of hurricane books that are good to read with your young child.
During Hurricane Katrina, evacuating New Orleans residents were forced to leave their pets behind. Bobbi the dog was initially chained to keep her safe, but after her owners failed to return, she had to break free. For months, Bobbi wandered the city's ravaged streets-dragging her chain behind her-followed by her feline companion, Bob Cat. After months of hunger and struggle, the Two Bobbies were finally rescued by a construction worker helping to rebuild the city. When he brought them to a shelter, volunteers made an amazing discovery about the devoted friends-Bob Cat was actually blind! He had survived the aftermath of the storm by following the sound Bobbi's chain made as she dragged it along the ground.
At the shelter, the two bob-tailed friends refused to be parted, even for a moment. Could rescue workers find the Bobbies' owners? Or could they find a new home that would take them together? This remarkable true story of devotion and survival is a testament to the spirit that defined post-Katrina rescue missions, and is a perfect way to commemorate the this day in history.
Count on Ms. Frizzle to teach anything but an ordinary lesson on meteorology. Flying through the clouds in the Magic School Bus, Ms. Frizzle's class experiences a hurricane-and even a tornado-firsthand. During their thrilling ride through the sky, Arnold gets lost! Will the Friz be able to save the day this time?
So, if you're looking for hurricane facts for kids, The Magic School Bus is always a good place to start.
Through touching rhymes and vivid illustrations (and a heap of help from the letter H), H is for Harvey portrays the struggles and heartaches of those caught in Hurricane Harvey's rising waters. This engaging and memorable story shows how the plight of Harvey's victims brought out the best in Texans and in compassionate people everywhere.
Imagine sharing your name with a devastating hurricane. Seeing and hearing your name over and over in a scary, negative light, plastered on newspapers and across TV screens. . . . The constant commentary is enough to make a kid wonder if he is bad, too.
This is the story of a boy on a mission to find out if his mischievous ways may be to blame for sharing his name with a hurricane. He travels far and wide to find answers and meets some familiar faces along the way. What will he learn? Can he change his name? Does he really want to? With fun rhymes (who knew so many words rhymed with hurricane) and a touching message, this book reminds us that good things can come out of a bad situation like a hurricane—even when your name is the same.
Chapter Books
For independent readers, here's a few hurricane books that they can read either on their own or with you.
The horror of Hurricane Katrina is brought vividly to life in this fictional account of a boy, a dog, and the storm of the century.
Barry's family tries to evacuate before Hurricane Katrina hits their home in New Orleans. But when Barry's little sister gets terribly sick, they're forced to stay home and wait out the storm.
At first, Katrina doesn't seem to be as bad as predicted. But overnight the levees break, and Barry's world is literally torn apart. He's swept away by the floodwaters, away from his family. Can he survive the storm of the century — alone?
Zane Dupree is a charismatic 12-year-old boy of mixed race visiting a relative in New Orleans when Hurricane Katrina hits. Unexpectedly separated from all family, Zane and his dog experience the terror of Katrina's wind, rain, and horrific flooding. Facing death, they are rescued from an attic air vent by a kind, elderly musician and a scrappy young girl–both African American.
The chaos that ensues as storm water drowns the city, shelter and food vanish, and police contribute to a dangerous, frightening atmosphere, creates a page-turning tale that completely engrosses the reader.
Based on the facts of the worst hurricane disaster in U.S. history, Philbrick includes the lawlessness and lack of government support during the disaster as well as the generosity and courage of those who risked their lives and safety to help others. Here is an unforgettable novel of heroism in the face of truly challenging circumstances.
Chase Masters and his father are "storm runners," racing across the country in pursuit of hurricanes, tornadoes, and floods. Anywhere bad weather strikes, they are not far behind. Chase is learning more on the road than he ever would just sitting in a classroom. But when the hurricane of the century hits, he will be tested in ways he never could have imagined.
Non-Fiction Hurricane Books
Many kids prefer non-fiction books, so if you're looking for hurricane facts for kids, these two hurricane books are great ones.
The first is Two Bobbies by Kirby Larson.  
This book is also up in the Picture Books.  And, while it is a "story", it is a true story of these two animals.
The second hurricane book is Eyewitness: Hurricane & Tornado
Eyewitness: Hurricane & Tornado is a compelling guide to nature's most dangerous and destructive forces. Striking images, models and illustrations offer a unique view of catastrophic weather conditions allowing readers to see into the eye of a cyclone, witness hailstones the size of tennis balls, and learn how a gentle mountain stream can become a raging surge within a few minutes. Learn the techniques developed through the centuries to forecast weather, see a chicken that was stripped of its feathers by a tornado, and how human activity can cause weather patterns to change.
Tornado and Hurricane facts for kids who want to learn more.
Hurricane books to Help Your Kids
While this list certainly doesn't encompass all the hurricane books for kids that are out there, it is a good start with some quality books. Whether you prefer hurricane facts for kids or information wrapped up in a story, these books will help you explain hurricanes to your children.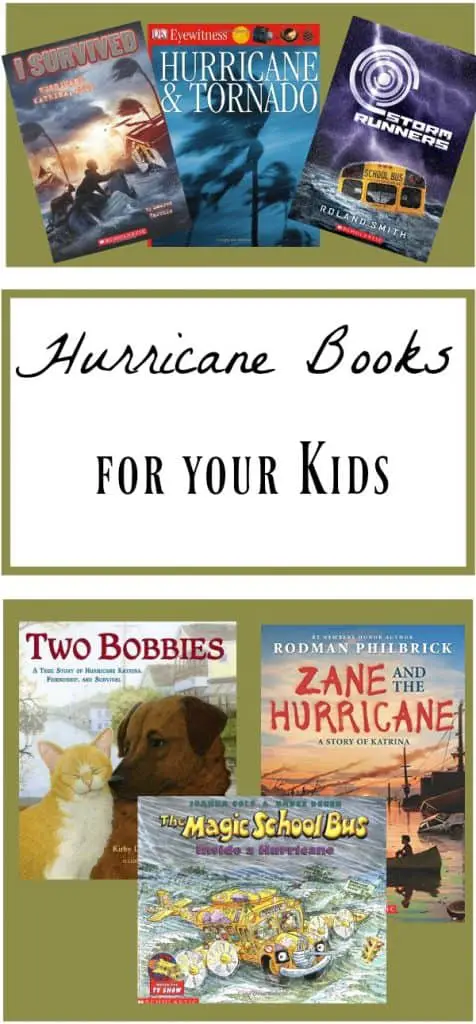 Please share if you know someone who could use this list!
Other Articles You Might Enjoy
My 4 Favorite Halloween Picture Books You Will Love
Just Right Book ~ Five Rules for Finding the Perfect Book!
Rereading Favorite Books ~ Comfort or a Waste of Time?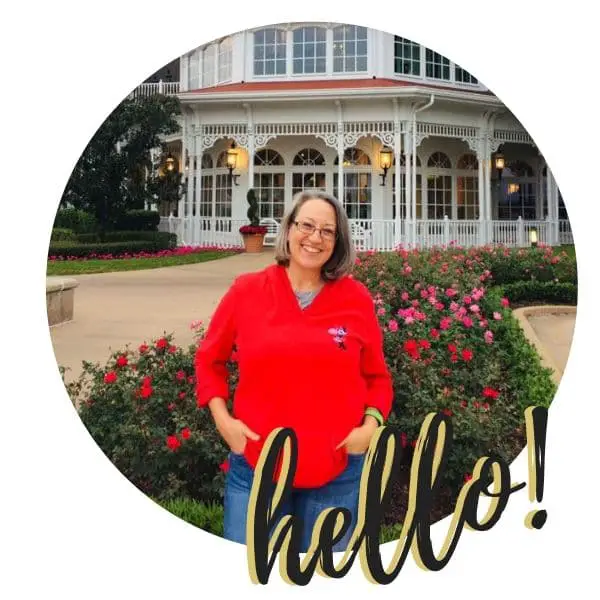 Becki is the author and founder of A Book Lover's Adventures. She has a degree in elementary education, has worked and volunteered in libraries for years, and spent several years in the travel industry. All of this has led to a love of books and travel. Becki loves to share her love by finding literary escapes to share!