A Day Trip to The Amana Colonies Iowa
I highly recommend a day trip to the Amana Colonies Iowa if you happen to be in Iowa, well Eastern Iowa anyway!  You will love this little slice of Germany right in the middle of the Iowa cornfields!
Gemuetlichkeit is defined as "a state of warmth and friendliness."  And, this is how the Amana Colonies describe who and what they are.  Dating back to 1855, the Amana Colonies offer a unique respite in the midst of our hectic lives.  For over 100 years, they have lived a communal lifestyle, sharing responsibilities and resources.  Hundreds of thousands of visitors come each year to be part of this welcoming communities, even if just for a day!
How to Get There
Driving to the Amana Colonies Iowa is pretty easy.  And, depending on where you are coming from in Iowa, you are within a 2 hour or less drive.  From Des Moines, Dubuque or Davenport it's about 1-1/2 hours drive.  And, from Iowa City or Cedar Rapids, it's only about 30 minutes.
Getting Around
Once in Amana, it is easy to walk around the village.
What to do
Shop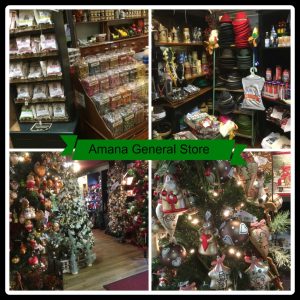 One of our favorite things to do when we go to the Amana Colonies in Iowa is to go to the General Store! Established back in communal days in 1857, the store's exterior and interior have remained virtually unchanged all these years. The original tin ceiling, wooden floor, and glass-topped display cases still remain. Throughout the store are charming reminders of the good old days, of a simpler time, of the past preserved. They just don't make stores like this anymore, and there sure aren't many of them left in existence! The store is truly a "museum" and an authentic general store in one.
This is a favorite stop!  Their Christmas shop is fabulous and fun to wander through.  Plus, there are lots of unique treasures to look through.  German items, Iowa foods, and crafts – such fun!
Amana's original furniture shop! Proudly handcrafting solid Walnut, Cherry, and Oak furniture, clocks, and gift items. Featuring traditional Amana designs alongside many new original designs. Custom work is welcome and encouraged…bring us your plans and let us bring them to life. Also featuring many locally made gift items.
The Amana Woolen Mill has had a colorful history, surviving fires, floods, and wind storms. But, through it all, the mill's attention to quality has remained steadfast.
When you own an Amana blanket, you can feel proud that it was made in the heartland of the USA and represents a legacy handed down for generations.
And, now the Amana Woolen Mill offers beautifully woven wool or cotton blankets. They are available in a variety of patterns, colors, and sizes. New for 2014/2015 are cotton bed blankets! Choose from Twin, Queen or King sized blankets for a special keepsake for yourself or maybe a treasured gift for those you love.
There are many more shops well worth checking out along the main street in Amana!  So go and wander around!
Outdoor Activities
The first Amana Colonies Gravel Bike Routes are ready for use. The routes each begin in Middle Amana, separating into Route A going to High Amana and Route B going to West Amana. While on the gravel routes, the riders will experience historical points of interest in Middle, High and West Amana.
The Kolonieweg, or Colony Way, is a 3.1-mile trail connecting the villages of Amana and Middle Amana. Most of the trail is paved, but a small portion is gravel. The trail offers scenic views of Lily Lake, the Millrace, pastures, farmland and the surrounding countryside. The trail is also home to numerous plants and animals.
Culture
The Amana Heritage Museum is comprised of three 19th Century buildings, set in spacious grounds. The Noé House, built in 1864, was originally a communal kitchen and later a doctor's residence. Exhibits in the Noé House trace the history and development of Amana, depict a church interior, and display the varied crafts and industries of the Inspirationists.
The Schoolhouse was built in 1870. It contains the Christmas Room, a Kinderschule, toys, dolls, handwork, carpet weaving, and a communal Amana school display. An audio visual presentation on Amana's history is shown regularly in the Schoolhouse auditorium.
These days, the original washhouse/woodshed, an integral part of communal Amana, houses wine-making and gardening displays.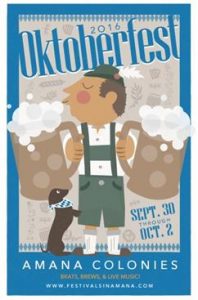 There are many festivals that go on in Amana Colonies throughout the year!  Of course, there is an Oktoberfest!  But, if you don't happen to be coming that weekend, no worries, there's plenty more fun throughout the year!
The Old Creamery is host to several theatre events throughout the year.  Currently, they have Grease, the Broadway smash that inspired the movie, and Miss Nelson Has a Field Day.  Check out their calendar and see what's going on!
Where to Eat
This is, without a doubt, one of our favorite stops in the Amana Colonies Iowa!  Our kids love their root beer and cream soda, while my husband and I always enjoy trying their craft beers!  They have a great beer garden and outdoor seating, or if the weather doesn't permit, sit indoors and watch how they brew your beer!
The Ox Yoke Inn® features traditional meals made from timeless Old World German and American recipes passed down from mother to daughter. Five generations of the Leichsenring family have worked at the Ox Yoke Inn serving hearty meals, freshly prepared with salads, vegetables, pota, oes and breads. This is "Family Style."
Oooh, make sure you don't miss this!  Delicious, homemade goodies include fudge, caramels, truffles, and lots of other delights!  You'll enjoy your stop in here 🙂

All in all, a day trip to the Amana Colonies in Iowa is a fun, unique and cultural day!  There is something for everyone here, so come on over and enjoy yourselves!
Other Articles You Might Enjoy
Kennedy Space Center from Orlando ~ An Epic & Amazing Day Trip
Visit Tarpon Springs ~ an Easy Day Trip from Orlando!
Elgin, TX ~ A Fabulous Day Trip from Austin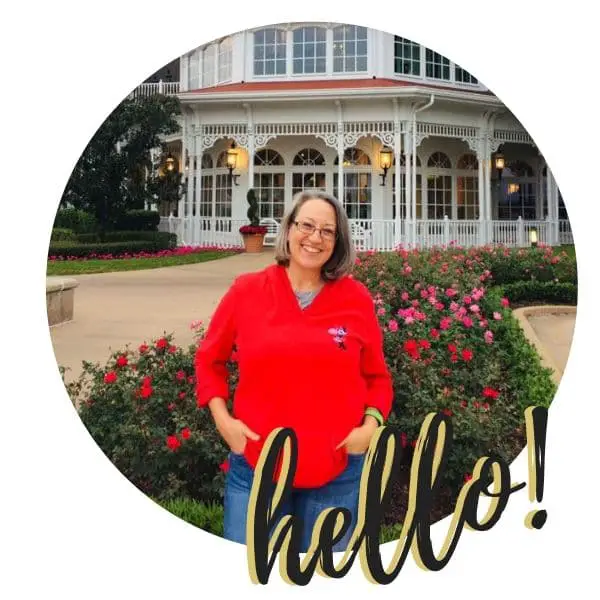 Becki is the author and founder of A Book Lover's Adventures. She has a degree in elementary education, has worked and volunteered in libraries for years, and spent several years in the travel industry. All of this has led to a love of books and travel. Becki loves to share her love by finding literary escapes to share!