Spotlight Toronto | The Best 15+ Things to do with Teens
Where can I take my kids in Toronto?
I don't know about you, but this is our battle cry every time we travel. Where can we take our kids? And now that we have teens, it seems like the resources for finding fun places aren't as plentiful.
So, if you happen to be heading to Toronto anytime in the near future, let me just say, there are a lot of fun things to do in Toronto with teens!
Family Fun in Toronto
Before any trip, I love reading about the area we'll be traveling to. So, if you're heading to Toronto, check out these books set in Canada before you go!
You might be wondering what is there to do in Toronto for families? There is plenty of family fun in Toronto regardless of how old your kids are! But, in this article, I'm going to focus on the best things to do with teens in Toronto.
Whether you're a family that loves being outdoors, wandering around museums, sports lovers or maybe adventure lovers, Toronto has it all.
So, if you're heading to Toronto with teens, let's get planning! And, as you'll see there are so many fun and unique things to do in Toronto.
Things to do in Toronto with teens
Toronto is a fun city! It really doesn't matter if you have young kids, older kids, or no kids, you will absolutely find so many cool things to do in Toronto.
But, I'm here to share with you fun things to do in Toronto with teenagers. Keeping teens entertained it a little tougher, I think than little kids! Click here for some tips on traveling with teens. But, I've got ya covered whether you're looking for adventure, arts & culture, or the beautiful outdoors!
Here's a couple of ideas to get you started off for a great trip to Toronto with your teens:
Take a double-decker bus tour (and sit up top)
Take the subway
See a Broadway show
Adventurous Things to do in Toronto with Teenagers
If you're looking for some adventurous things to do in Toronto with Teens, here ya go!
Address: 1 Canada's Wonderland Drive, Vaughan
Cost: $39 – 49/person
Canada's Wonderland is probably one of the most popular things to do in Toronto with Teens!
So, if you like a good amusement park, Canada's Wonderland should definitely be on your shortlist of things to do in Toronto!
If you love a good roller coaster, you'll want to check out the Yukon Striker! The world's fastest, longest and tallest dive coaster.
Pro Tip: Make sure you check their website before planning your day there and make sure they are open! Also, their Funday Bundle includes a park ticket, parking, and a meal. It's probably worth getting at least one of these bundles!
Address: 10818 Heart Lake Road, Brampton
3291 Stouffville Rd, Whitchurch-Stouffville
Cost: prices vary depending on activities
Ready for a different style of adventure? Check out Treetop Trekking's giant zip lines, their spectacular aerial courses up in the trees, the magical treehouse villages, and much more!
Ziplining and the aerial "tree" courses are popular with everyone! But, this is a fun, family-friendly thing to do in Toronto with teens!
Pro Tip: Make sure you check the website before you go! There are a few different locations, and each location has different activities. There are also age, height and weight requirements!
Address: 290 Bremner Blvd, Toronto
Cost: $195
While visiting the CN Tower is on most tourists' to-do list when visiting Toronto, participating in the Edge Walk is a completely different story though! This is definitely one of the more unique things to do in Toronto!
Most assuredly NOT for the faint of heart!
Groups of six visitors walk outside along the edge of the building while attached to an overhead safety rail. There are trained guides and everything is designed with safety first!
But, this will push your limits while taking in absolutely breathtaking views of Toronto and Lake Ontario.
If you've got both the funds and a super adventurous teen, this might just be the best thing to do in Toronto!
Pro Tip: There are age restrictions, so check the website before heading over there!
Address: 575 Centennial Park Blvd, Toronto
Cost: $6.50/lap
With the longest outdoor track in Toronto, this is a fun day for everyone!
There's nothing like racing around an outdoor track! It's good fun for everyone!
Pro Tip: Age and height restrictions, so check before you go. Also, prices are almost 50% off on Tuesdays and Thursdays. Also, check HomePage for open times. Only open when weather permits.
Address:  75 Carl Hall Rd Unit #9, North York
Cost: $25 – $63
While there's a different feel to outdoor racing, indoor racing isn't "weather permitting"!
You can sign up for a lap or for a race! Either way, the track is fun! And as I mentioned earlier, you don't have to worry about the weather!
Pro Tip: You can print off the waivers ahead of time and save some time when you arrive!
Address: 75 Consumers Dr, Building I, Whitby
Cost: Starting at $72
Wow! Indoor skydiving is a super adventurous thing to do in Toronto with teens! The rush of air and adrenaline – nothing quite like it!
And, the big bonus – at least in my book – no plane to jump out of, lol!
Pro Tip: You can get $10 off if you go on a weekday! Also, check Groupon before you go. Sometimes you can find a great deal!
Address: 43 Elm St #200, Toronto
Cost: Approx. $116/family of four
While there are several escape rooms around Toronto, this one seems a little more geared for families.
Our family enjoys a good escape room. You have to figure out how to work together and it's helpful if you have some "different" thinkers in the group. You need both logic and creativity to solve the puzzles within the timeframe.
Is your family up for this adventure?
Outdoor things to do in Toronto with Teens
Ferry to Toronto Islands
Address: The Jack Layton Ferry Terminal, 9 Queen's Quay West, Toronto
Cost: $8.19 or less per person
The 13 or so minute ferry ride to The Toronto Islands is a fun way to start any day! There is a lot to do on the islands and it will be easy to find fun things to do on the Toronto Islands with teens!
Here are a few ideas on how to spend your time on the islands:
Rent a canoe or kayak and check out the best view of Toronto's skyline!
Rent a bike – Since cars aren't allowed on the islands, biking is the way to go!
Centreville Amusement Park – If you've got younger siblings with you, then they will enjoy the amusement park! It's probably a bit "young" for your teens, but you never know!
Far Enough Farm – If you've got an animal lover in the family, head to Far Enough Farm and go pet a pot-bellied pig or maybe a giant Flemish Rabbit!
If it's a beautiful day, there's a good chance your teens will just want to hang out at the beach. You will have choices in where you go, but you might want to steer clear of the nude beach?!
Address: 288 Bremner Blvd, Toronto
Cost: $23-$33/person
While this is actually an indoor activity, you will feel like you're underwater when walking through the underwater tunnels. Be surrounded by sharks and rays and a vast assortment of fish!
This is a fun and interesting way to spend a day or afternoon, especially if the weather isn't great!
Check out their Shark Cam – live video of one of their tanks! https://www.ripleyaquariums.com/canada/shark-camera/
Pro Tip: Plan your schedule around when they feed the sharks! Also, if you're into yoga, you can participate in yoga in front of the Rainbow Reef. < more info >
If it' s a beautiful day in Toronto and you just can't bear to be indoors, head over to High Park to enjoy some downtime.
A lot of times, when we're on vacation, we will intentionally find a park to hang out in during a beautiful afternoon and bring some books, grab a snack and just hang out.
Not quite ready to just hang out? High Park has hiking trails, a lakefront, greenhouses, and even a zoo! So, if your teens aren't ready to just slouch on a blanket and listen to their phone, there's plenty to enjoy at High Park!
Pro Tip: If you plan on hanging out, bring a blanket and some snacks for an enjoyable time!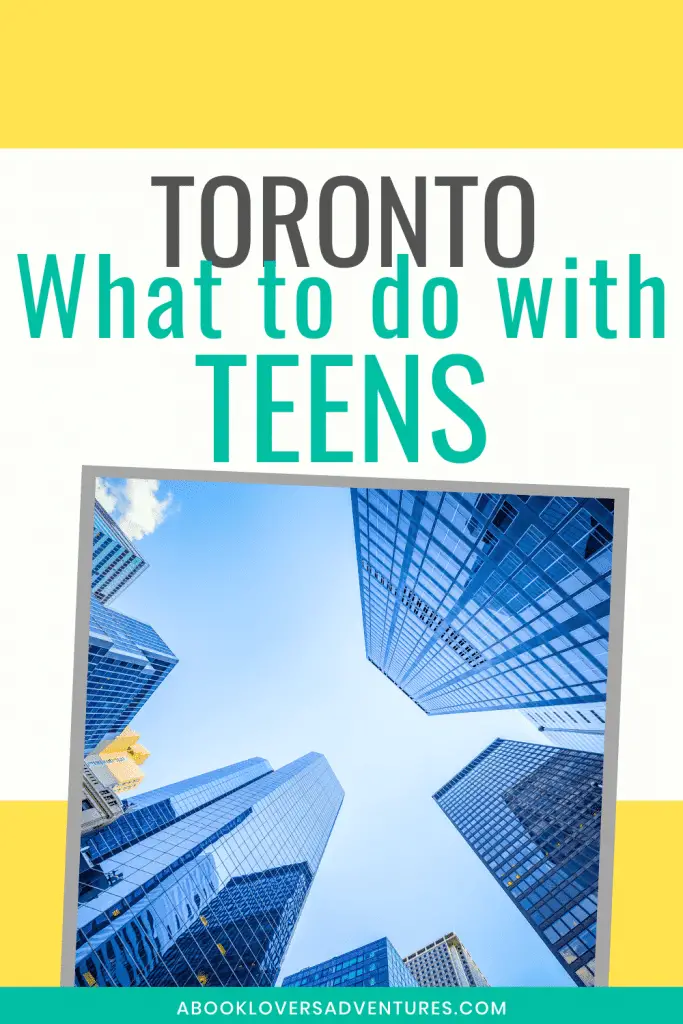 Arts & History Buffs in Toronto
Easily the most recognizable building in the Toronto skyline (if not all of Canada!). And, one of the most popular tourist things to do in Toronto with teens (and without!).
After 40 months of building, the CN Tower opened in 1976. I love that the building started out of practicality. They needed a building tall enough for their radio/tv signals to get around the city and over the other buildings.
If your kids are into science, architecture or just heights, this is one of those places you'll want to visit.
There are a few restaurants in the building, with 360 Restaurant being the most celebrated. They have the view of the city and a menu to match the view.
Pro Tip: If dining at 360 isn't in the budget, you can still taste their food! The website has some of their most famous recipes for you to try yourself! < more info here >
Museums can get old for kids of any age! But, we found this one to be really awesome!
One of the ways I've found to help get my kids engaged with going to museums is to have them check out the museum website and pick out one or two things they are interested in seeing.
We figure out where their exhibits are and plan our route there. We check out what's on the way, but make sure we see what they want to see early on.
A few ideas on what your teens might enjoy: the four totem poles, explore Tomb Mound of General Zu Dashou, the rare White Rhino display, or brave the Bat Cave that is home to bats, spiders, snakes and other creatures of the night.
Pro Tip: Check out a Friday Night Live at the museum for music, drinks and fun!
Graffiti Alley
If your teenagers are "into" graffiti or street art, then you'll probably want to head to Graffiti Alley.
You can check out this article by Trip Savvy for more information about Graffiti Alley. < MORE INFO >
Foodie in Toronto
Food Tour
Take a food tour around Toronto and get a sampling of all the eclectic tastes around the city!
This is one of the easiest ways to see and taste it all. There are several choices, from Kensington Market tour, neighborhood tours, and more.
So, figure out what you want to taste and enjoy!
Pow Wow Cafe's
Address: 213 Augusta Ave, Toronto
Check out the Ojibway tacos. Made with local ingredients, you can choose from some very inventive tacos to more traditional. Give them a try!
Address: 1112 Queen St W, Toronto
Poutine is a Canadian tradition. It would be a shame to come to Canada and not try this dish!
Poutine is a dish with fries, cheese curds and a cheesy gravy-type sauce. Lots of ooey-gooey goodness!
Poutini's House of Poutine has lots of choices for you, from traditional poutine to more creative choices.
Things for the Sports Fans in Toronto
Address: Brookfield Place, 30 Yonge Street, Toronto
Cost: $14-$20/per person
Being a Florida girl, hockey was never in my sphere growing up. It wasn't until I moved to Colorado as a young adult that I was introduced to the joys of hockey.
This is a museum, but it's also very interactive. So, your teenagers are sure to have a blast when visiting here!
Catch a Game
Depending on the time of year you visit Toronto, there are always sporting events to attend! So, if you're into baseball, basketball or hockey..make sure you check the calendar before you head to Toronto and catch a game while in town.
Toronto Blue Jays – If you're a baseball fan and visiting Toronto during the summer, try to catch a game!
Toronto FC – If soccer is your thing, then you'll want to check out Toronto's MLS team.
Toronto Raptors – If basketball is your game, then check out Toronto's NBA team if they're in town!
Toronto Argonauts – American football in Canada! Check out the Argonauts if you're in town!
Toronto Maple Leafs – Of course, hockey is a big deal in Toronto! If you're lucky and they're playing while in town, grab a ticket and catch a game!
Toronto Roller Derby – Catch all the action at a roller derby game!
Day Trip from Toronto
Niagara Falls
No trip to Toronto would be complete without a trip to Niagra Falls. It is easy enough to book a bus to Niagara Falls or be part of a tour group that goes down for the day.
If you would like to wander around on your own, you might want to check out this article from Family Travels on a Budget: Niagara Falls: A Family Itinerary.
Other articles you might enjoy
5 Tips For Traveling with Teens
10 Road Trip Tips to Make Your Trip Easier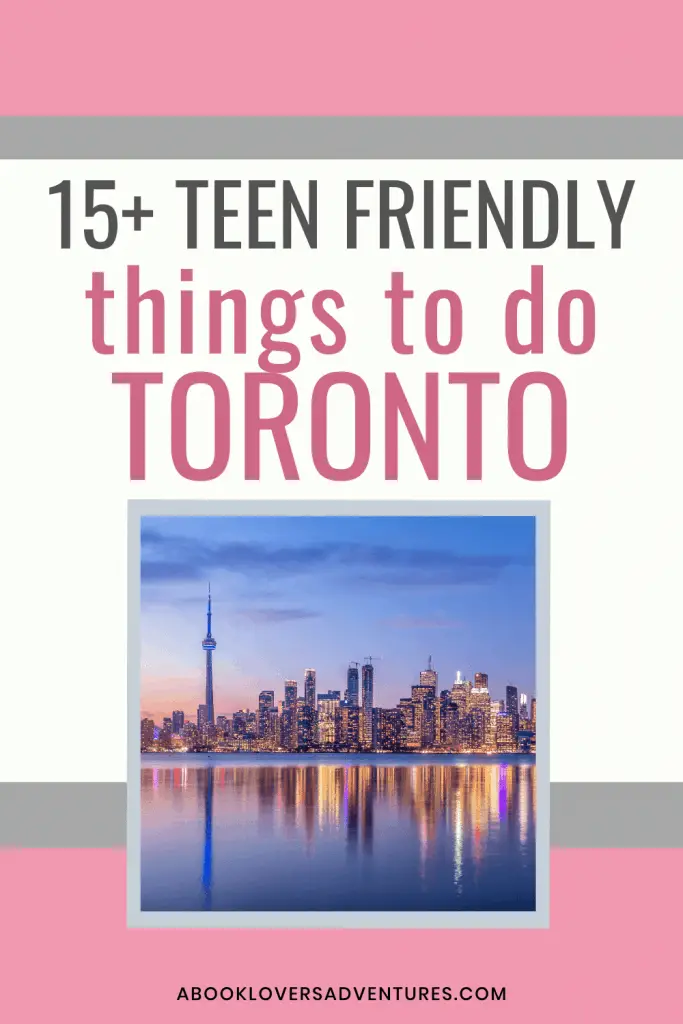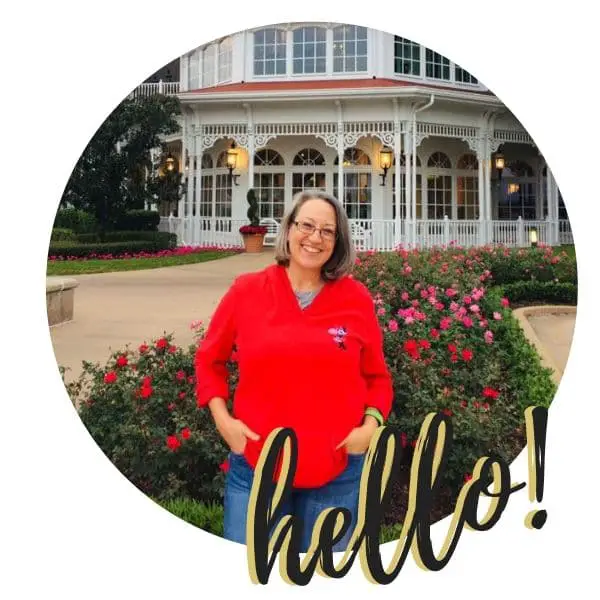 Becki is the author and founder of A Book Lover's Adventures. She has a degree in elementary education, has worked and volunteered in libraries for years, and spent several years in the travel industry. All of this has led to a love of books and travel. Becki loves to share her love by finding literary escapes to share!