Hilton Orlando Bonnet Creek ~ A Hotel Review
So, just to be clear, this is NOT a paid endorsement or an affiliate post.  I just really enjoyed my stay at the Hilton Orlando Bonnet Creek and wanted to share it with you!  All views and opinions are my own.
Overview
The Hilton Orlando Bonnet Creek is a beautiful property!  Located right down by Disney, it is conveniently located for anyone who would like to enjoy the Orlando Theme Park fun!
Check-In/Check-Out
Even though I was checking in for a conference, check-in was incredibly quick and efficient!  And, the same can be said for check-out.  Even though it should have been a really busy time for check-out, it was quick and easy!  Both employees that I got to deal with were friendly, helpful and efficient!
Parking for the Hilton Orlando Bonnet Creek is either pricey or inconvenient – depending on how you want to do it.  If you use the valet parking at the hotel, it is convenient, but about $35/night.  If you use the self-parking (on site), it runs about $27/night.  Or, if you don't mind having your car elsewhere, you can park by Disney Springs and take a shuttle to the hotel and it's free.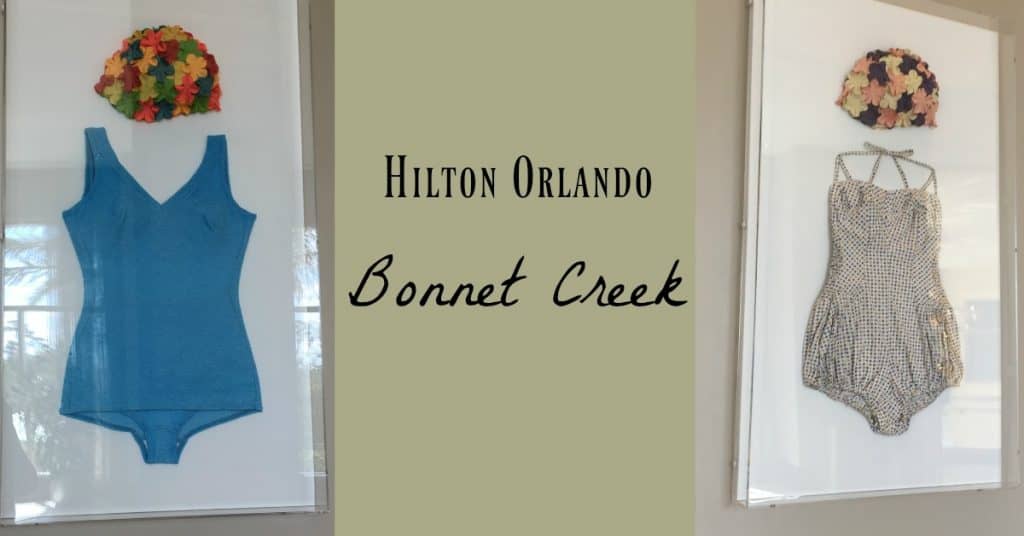 Room
Because my room was in the conference block, I had two beds in the room.  It was a nice sized room with a spacious bathroom and decent sized closet.  Now, I was in the room by myself, so it felt very big and spacious.  But, I'm sure if my husband and two teens were in there with me, I would have felt much more cramped in there!
The room was tastefully decorated, the bed was very comfortable and the view (looking out over the lazy river) was lovely!  I had a "Disney view", which seems to have a pretty wide leeway as to what qualifies for that?!  The first night I was in the room, I could just barely see the Disney fireworks out the side of the window.  So, I guess that qualifies as the Disney view, lol.
The room had a small fridge and a coffee maker in it, which was convenient.  There were also a couple of bottles of water, but they were $3/bottle!  So, bring your own water bottle and fill it up when you need to!
Staff
Every single employee that I came in contact with was extremely friendly and helpful!  From the young man valet parking my car, the young woman checking me in, and all the employees helping with the convention.
I noted several times that an employee would offer help if someone looked lost for like they needed a hand.  It seemed like it came very naturally to all of them!  That was really refreshing to see.


Amenities
The Hilton Orlando Bonnet Creek is attached to the Waldorf Astoria.  So as a guest at either hotel, the other hotel's amenities are open to you!  Both hotels have pools, bars, restaurants, workout rooms, and lovely grounds!  So, it's really nice to be able to walk back and forth and have everything available to you!
While I didn't have a lot of free time for enjoying the extras at the hotel, I did enjoy walking around in the park-like setting on my breaks and enjoying the pool view in my room.  I also enjoyed the screened porches that were tucked throughout the hotel.  There was one off the lobby and another down by the convention rooms.  They were always well used and enjoyed!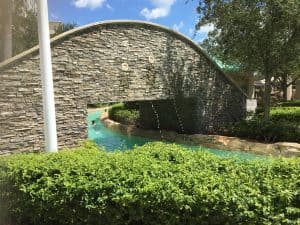 Food/Drink
I actually was able to try food from a variety of places during my stay.  Breakfast and lunch was included in the conference price.  So, two of my days there, those meals were included.  Breakfasts tended to be a beautiful selection of fruits and a large variety of carbs.  The fruit was fresh and tasty!
Lunches were actually very impressively good.  I was expecting "conference" food, and was pleasantly surprised by the variety available.  There were options available for vegetarians, vegans and gluten-free or dairy-free diets.  They also had yummy chicken for the carnivores in the group!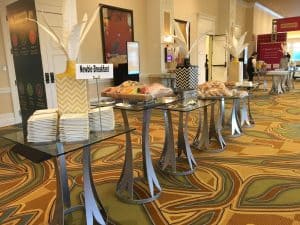 The first night I had room service and just had a bowl of corn chowder.  It was delicious and filling.  It also was not very expensive – about $8!  The second night, I dined over at the Waldorf in their restaurant Bull and Bear.  The salmon was very moist and delicious!  And, the creme brulee' – wow!!  It was fabulous!  That meal ran me about $70 (included an alcoholic beverage).  But, it was a lovely treat!  The third night I was poolside at the Waldorf and just had some "bar food."  The hummus and pita hit the spot!  I wasn't in the mood for a heavy meal, and this worked out great.  The price was about $11 for that meal.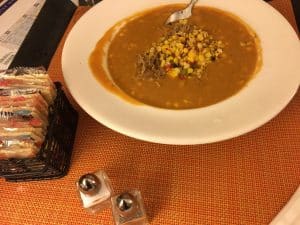 Extra Fun…
I noticed that the pools had planned activities for children.  The activities certainly looked like a fun way to spend the day at the pool!
While wondering around, I found this fabulous Ice Cream bar set up in the Waldorf Astoria!  It was a fun (and YUMMY) science experiment that I happened upon!!

Overall Impressions
Overall, I really enjoyed my stay at the Hilton Orlando Bonnet Creek (and Waldorf Astoria)!  If you and your family are headed to Orlando this summer, I recommend staying here!  There were a lot of families taking advantage of the hotel's location (near the theme parks).  But, they were also enjoying the pools and restaurants!
So, whether a family or a couple looking for a nice get-away, the Hotel Orlando Bonnet Creek would work very nicely for your vacation!

Other Articles You Might Enjoy
Orlando Vacation? 10 Books You Need to Read!
Top 7 Travel Lodging Options for Family Vacation!
5 Tips on Traveling with Teens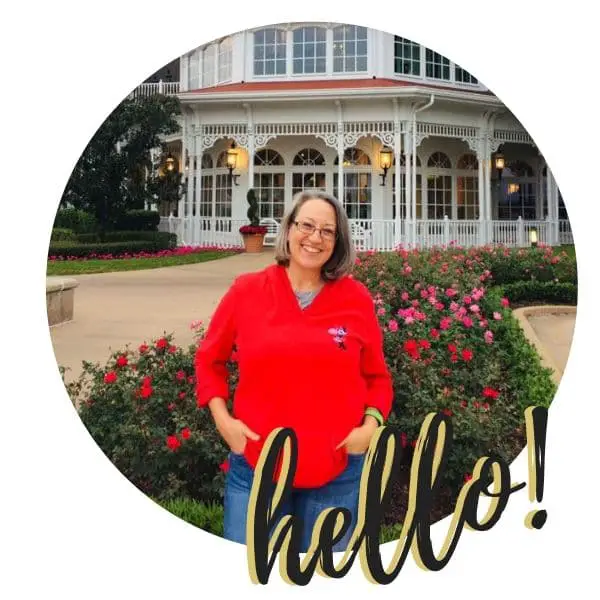 Becki is the author and founder of A Book Lover's Adventures. She has a degree in elementary education, has worked and volunteered in libraries for years, and spent several years in the travel industry. All of this has led to a love of books and travel. Becki loves to share her love by finding literary escapes to share!