20+ Fun Things to do in Melbourne, FL
Welcome to my Hometown Tourist Project!  Each week we will be treated to a new blogger giving us a tour of their hometown.  Throughout the year we will be going all over the country and even up into Canada! 
Today I am pleased to introduce you to Amy who blogs at Florida Travel Girl.  Amy's blog is all about exploring the unique parts of Florida.  But, today Amy is going to introduce us to her hometown of Melbourne and share with us some of her favorite things to do in Melbourne, FL!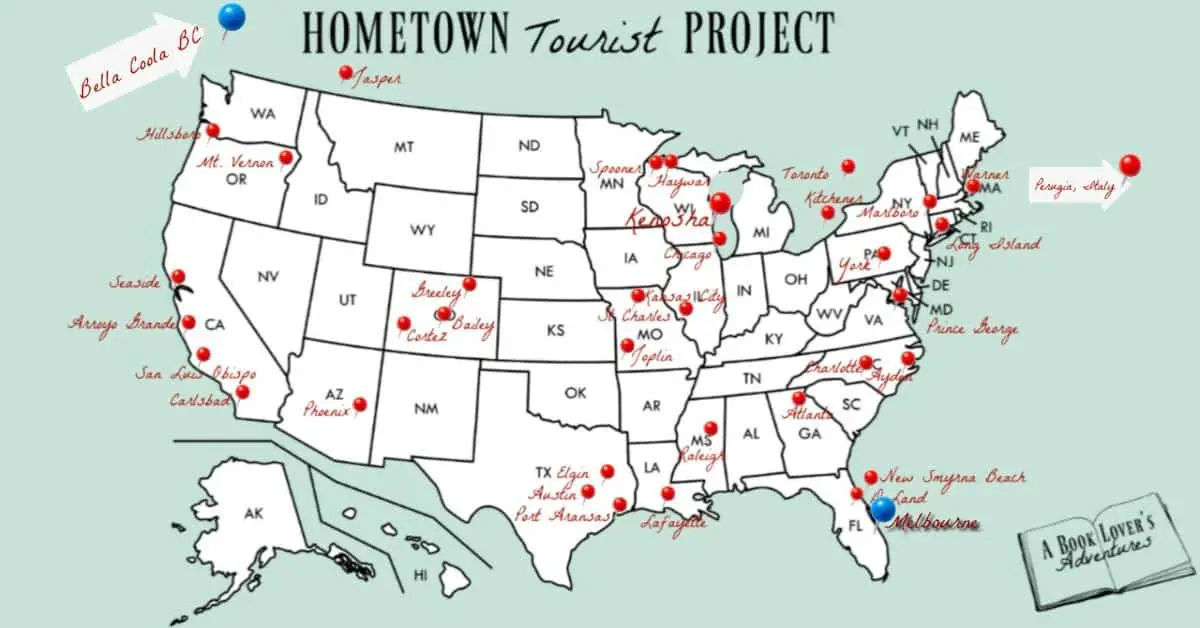 Hometown Tourist Project Week # 39 – Melbourne, Florida
By: Amy
Why I Love Living in Melbourne, FL
Hello everyone! This is Amy and I run the travel blog The Florida Travel Girl.
My blog mainly focuses on all the unique parts of Florida to explore, however as a travel lover I frequently highlight my own travels around the country and world as well. I am here to tell you all my favorite things to do in Melbourne, FL and why I love my hometown.
Though I grew up in New Hampshire, I have lived here for almost a decade, and Melbourne feels much more like my hometown.
I love the charming, beachy vibe of Melbourne, FL, as well as the convenience of having lots of great local shopping and dining. I wanted to share with you my favorite parts of Melbourne and I hope that you will one day get to experience this part of Florida!
Fun Things To Do in Melbourne, FL
Melbourne Beaches
First and foremost, Melbourne, Fl is a beach town, so visiting the beach is a must.
One of the reasons this is one of the favorite things to do in Melbourne, FL is that our beaches are definitely quieter places than other parts of Florida. And because of this, our beaches are some of the most pristine you will find on the east coast.
My favorite beach in Melbourne, FL is Spessard Holland because it tends to be the least populated and there's a food stand with some tasty treats if you get hungry.
Paradise Beach and Melbourne Beach are other good options with free parking. Whether you like lounging in the sand, surfing in the waves, or hunting for seashells, you will be happy at one of these beautiful beaches.
Brevard Zoo
Hitting the zoo is always a fun thing to do in Melbourne, Fl! I have been to many zoos in my life, but the Brevard Zoo is my favorite!
I like the Brevard Zoo even more so than the San Diego Zoo. This is mainly due to all the unique experiences they offer, but also in part to how connected to nature this zoo is compared to others. It is one of a kind in offering a kayaking tour past the giraffes in the African wildlife exhibits.
There is also a zip lining course, opportunities to meet rhinos and lemurs, and a kangaroo walkabout. I was thoroughly impressed with all the different exhibits and I think it's worth taking a trip to Melbourne for, regardless of your age.
Address: 8225 N Wickham Rd, Melbourne, FL 32940
Downtown Melbourne FL
If you're looking for fun things to do in Melbourne, Fl then this is for you! Downtown Melbourne is my go-to spot for everything from fine dining, to nightlife, to shopping. By day, this is a community gathering area with a weekend farmers market and tons of patios to eat lunch outside on.
At night, Downtown Melbourne, FL becomes the spot to go out with plenty of places for either a relaxing glass of wine or mixed drinks and dancing! There are also some cute shops to browse through including thrift shops with eclectic finds. It's a fun area where there's always something new going on!
SUP Eco Tours
Being on the water is why many come to Melbourne, FL, so if you're looking for water things to do in Melbourne, FL then this is for you!
When I'm in the mood to be active and feel closer to nature, I go paddleboarding! There are so many great waterways to paddleboard around here and I almost always encounter a dolphin or a manatee.
For first-timers, I highly recommend taking a SUP Eco Tour. I have gone on this tour a couple of times and the guides always find the coolest paddling spots.
One of the really cool things to do in Melbourne, FL is to take a Bioluminescence Paddling Tour at night and see the water glow in the dark, which is such a magical experience.
Address: 750 Old Florida Trail, Melbourne Beach, FL 32951
The Eau Gallie Arts District
One of my favorite things to do in Melbourne, FL is to head to the Eau Gaillie Arts District, or EGAD.  The Eau Gaillie Arts District is another downtown area of Melbourne that is dedicated to celebrating the arts.
I love bringing visitors here because there is so much to see just walking around the area. They recently commissioned over a dozen murals that colorfully adorn the local businesses.
In addition, there are multiple art galleries and furniture and thrift shops where there always seems to be something that catches your eye. Monthly events occur in the town square that ranges from beer festivals to a dog party to musical performance. I find it to be one of the most fun and lively parts of Melbourne.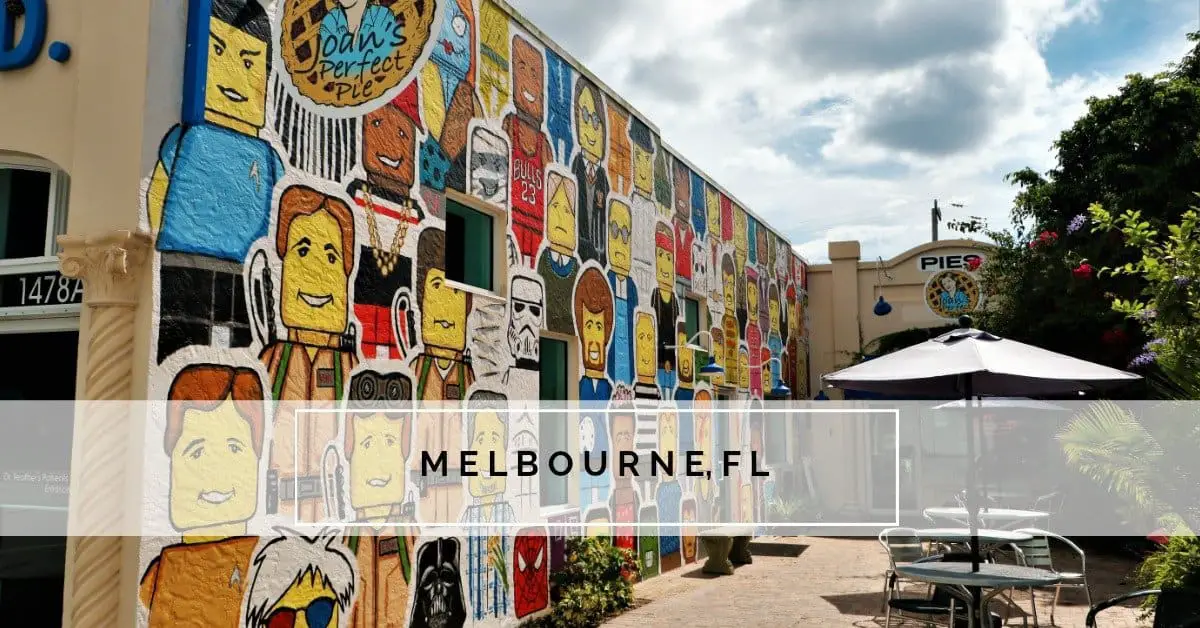 Museums
Melbourne, Fl has some really great museums. So, whether you're into history, gardens or art there's plenty to keep you busy here!
Historic Rossetter House Museum and Gardens
If you enjoy visiting and touring beautiful houses and gardens, you'll want to stop by Rossetter House Museum and Gardens. Included on this property are the 1908 James Wadsworth Rossetter House and gardens, 1901 William R. Roesch House, and the 1865 Houston Family Memorial Cemetery.
You can take a guided tour for only $8.00/person and it includes the Roesch House, the Rossetter House, the Rossetter gardens and garage, and the Houston family cemetery.
Address: 1320 Highland Avenue   Melbourne, FL 32935 (located in the Eau Gallie Arts District)

Liberty Bell Museum
The Liberty Bell Museum is really interesting and you will want to check it out. Especially if you have children or are interested in America's history.
This museum includes the Rotunda of American History, which highlights the important key points in American history. The Replica Liberty Bell, learn about the history of the Liberty Bell and see a life-size replica situated in the Rotunda. And lastly is Freedom Hall, a tribute to the men and women of the armed forces.
Address: 1601 Oak St, Melbourne, FL 32901
Foosaner Art Museum
While in the Eau Gallie Art District, you'll want to make time to spend some time at the Foosner Art Museum. "The Foosaner Art Museum is located along the Indian River in the Eau Gallie Arts District (EGAD). We are a gathering place, a catalyst for change, and a center of creativity. The Foosaner collects, displays, and interprets all aspects of the visual arts in ways that relate to the past, the present, and to the future."(1)
Address: 1463 Highland Ave, Melbourne, FL 32935
Planetarium & Observatory
Located on the Eastern Florida State College campus, the Planetarium & Observatory is a fun place to check out!
<UPDATE: The Planetarium is closed due to damage from Hurricane Irma and is still working on fixing the damage.>
Address:  Building 29, Eastern Florida State College, 1519 Clearlake Rd, Cocoa, FL 32922
Ted Moorhead House
"The Lagoon House serves as the welcome center for the Indian River Lagoon National Scenic Byway.
It's an exceptional venue for school field trips, workshops, meetings, and exploration as it houses several educational exhibits including a north Atlantic right whale display, a lagoon-species tank, a movie on the history of the lagoon, a 25-foot map of the entire lagoon, and a small library and gift shop.
Enjoy a stroll along the lagoon on our 100-foot boardwalk, where you can view dolphins, birds, manatees and other wildlife. On the south side of the Lagoon House, meander your way down a nature trail to the shore, where you can see one of our mangrove restoration projects in action." (2)
Address: 3275 Dixie Hwy NE, Palm Bay, FL 32901
Kennedy Space Center
Though technically not in Melbourne, the Kennedy Space Center is in nearby Cape Canaveral and is a must-visit. It is a part museum/part attraction that showcases the achievements made by NASA.
Here you can see a dozen rockets and the Space Shuttle Atlantis in person. You will also learn so much about the spectacular feat of space travel and the engineers and scientists who helped make it happen. I find this to be one of the most fun educational experiences I have seen and I think it will inspire anyone who visits.
Parks & Gardens
Sebastian Inlet State Park
The Sebastian Inlet S.P has it all! Not only is it a great place for surfers, but it is also great for collecting seashells, sea turtles nest here during the season and fishing from the jetties. There is also a campground and two museums!
Address: 9700 S Hwy A1A, Melbourne Beach, FL 32951
Wickham Park
Wickham Park is a county park that has a campground, a disc golf course, and other recreational opportunities.
Address:  2500 Parkway Dr, Melbourne, FL 32935
Viera Wetlands
If you're into bird watching, you'll want to come to Viera Wetlands. This marshy area is accessible by car or hiking path.
Address: 10001 N Wickham Rd, Melbourne, FL 32940
Erna Nixon Park
Erna Nixon Park is almost 54 acres with walking paths through 3 different ecosystems. There is a 3000-ft elevated boardwalk, making this an easily accessible walking area.
Address: 1200 Evans Rd, Melbourne, FL 32904
Manatee Cove Park
A nice park to bring your kayaks to. Natural Florida, wildlife, kayaking, and a playground are all here.
Address: 4905 N Tropical Trail, Merritt Island, FL 32953
Family Fun
Treetop Trek Aerial Adventures
If you're looking for different and adventurous things to do in Melbourne, Fl, look no further! Fun for all ages in the family! There are ziplines along with many other elements for you to explore!
Address: 8225 N Wickham Rd suite b, Melbourne, FL 32940
Andretti Thrill Park
Named after the racecar driver, Andretti Thrill Park is a huge amusement park with go-kart tracks, ropes course, working train, laser tag & mini-golf. Make sure you check Groupon before you go!
Address:  3960 S Babcock St, Melbourne, FL 32901
Tank America
One of the more unique things to do in Melbourne, Fl is Tank America!
If you've always wanted to drive a tank, well here's your chance! Head over to Tank America and try your hand at it. You can also participate in a game of laser tag while you are there! Make sure you check out their hours before you go. They aren't open every day!
Address: 9150 Ellis Rd, Melbourne, FL 32904

Local Breweries
In the past five years, a dozen breweries have opened in this area and each one has some interesting features.
When I visit, I love grabbing a flight so I can try multiple flavors of beer. Intracoastal Brewing is the most popular and they have an awesome grassy patio for hanging out and listening to live music.
Hell 'n Blazes is another good option for a group of people because they have a big game room with shuffleboard and darts.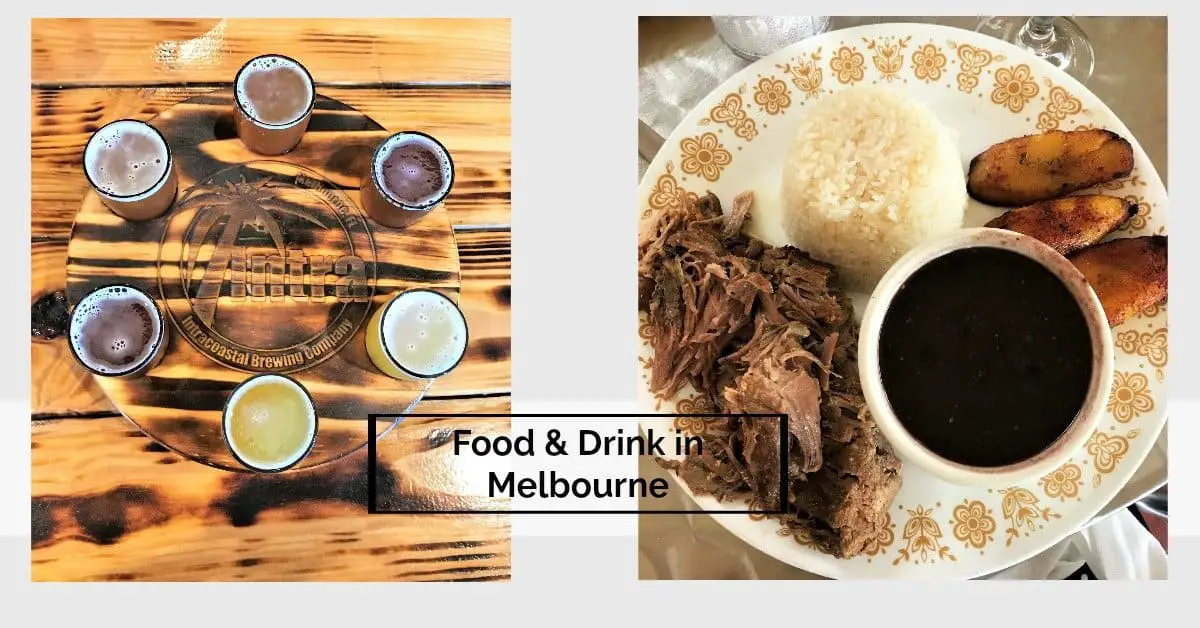 Food and Dining
Of course, eating is almost always on people's list of favorite things to do in Melbourne! So, if you are looking for somewhere to eat in Melbourne, there are options for all sorts of cuisines.
I have detailed my top ten favorites in a blog post on my website, so you can check that out if you want a full review. I've highlighted these ten and a few other favorites below.
Come Visit Melbourne
As you can see, there are so many great things to do in Melbourne FL. And it is just as much as a tourist spot as anywhere else in the state.
If you are visiting Orlando, Daytona Beach or West Palm Beach, Melbourne is less than an hour and a half away. So, visiting a couple of these spots makes for a perfect day trip.
However, I have been here for eight years and still haven't seen it all, so it can definitely justify its own trip!
More About The Florida Travel Girl
If you would like to learn more about the Space Coast, where Melbourne is located, check out TheFloridaTravelGirl.com where I frequently feature reviews and travel tips for the area.
If you rather find out more things to do all across the state, sign up for my email list and I will send you a free 101 Things to do in Florida checklist.
Other Articles You Might Enjoy
The 10 Best Melbourne Restaurants
Kennedy Space Center from Orlando ~ An Epic & Amazing Day Trip
Blue Springs ~ The Beautiful & Real Florida You Need to See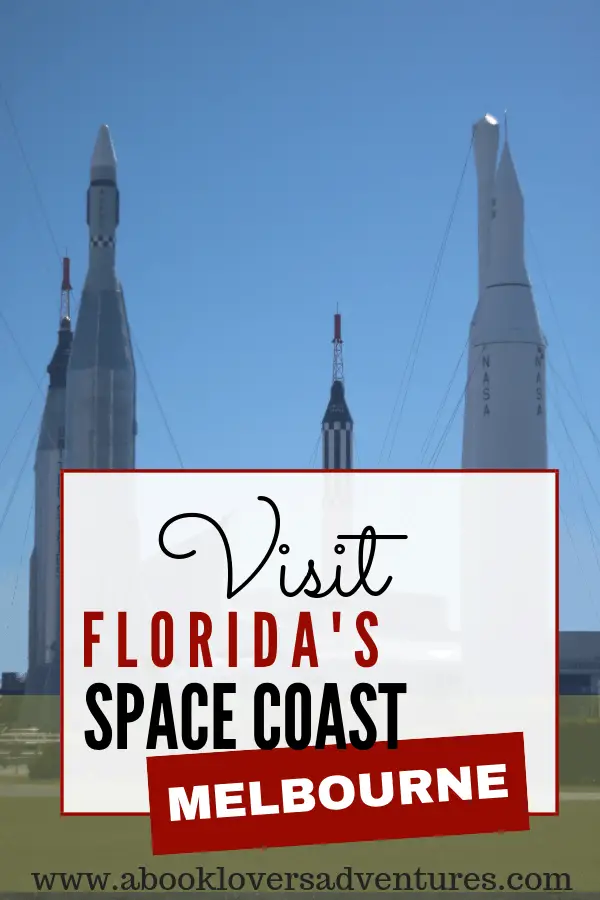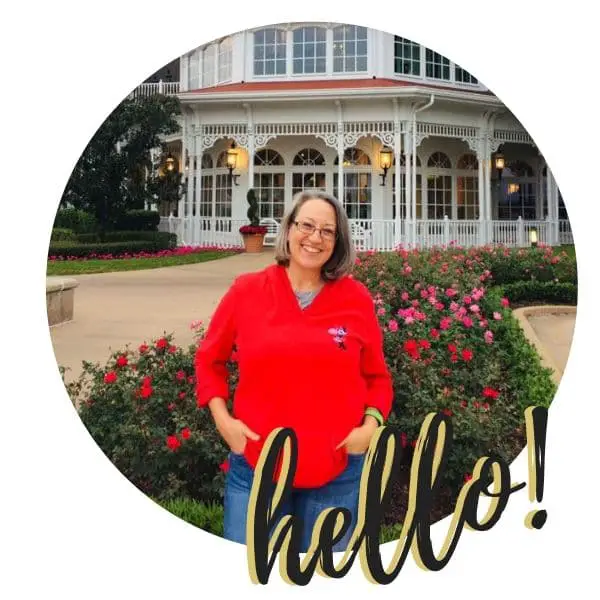 Becki is the author and founder of A Book Lover's Adventures. She has a degree in elementary education, has worked and volunteered in libraries for years, and spent several years in the travel industry. All of this has led to a love of books and travel. Becki loves to share her love by finding literary escapes to share!