Fantastic Ayden, NC ~ What You Need to know
Hometown Tourist Project Week # 10 – Ayden, North Carolina
Welcome to my Hometown Tourist Project!  Each week we will be treated to a new blogger giving us a tour of their hometown.  Throughout the year we will be going all over the country and even up into Canada!  Today I am pleased to introduce you to Tammy Whitten who blogs at Women Managing Stress.  Tammy's blog is all about teaching women to manage stress and feel like their selves again!  But, today Tammy is going to introduce us to her hometown – Ayden, NC.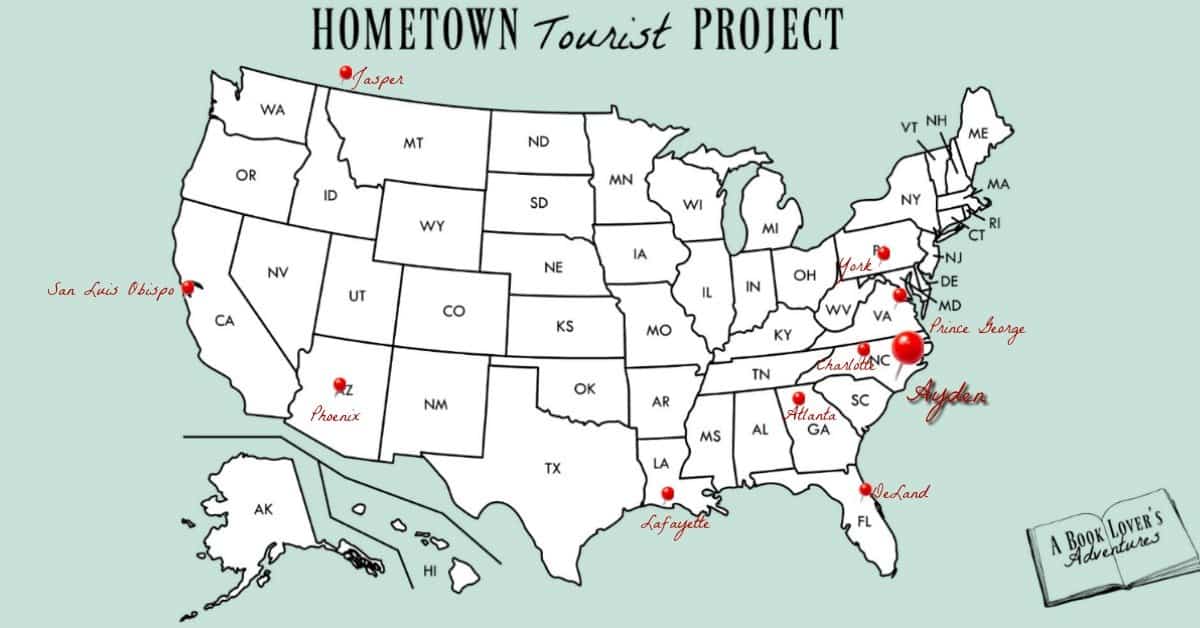 Eat Your Way Through Ayden, NC
By: Tammy Whitten
As a Southern girl, there are some passions that are bred into my being: animals, the outdoors, and of course, food. When I moved to Ayden, NC twelve years ago, I knew nothing about this place except that it was home to Collard Festival, and I wasn't sure how long I was going to be here.
My past experience with this town was driving through on my way somewhere else, usually coming from or going to the beach. But over the years, I have discovered quite a few hidden treasures here (and yes, most involve food).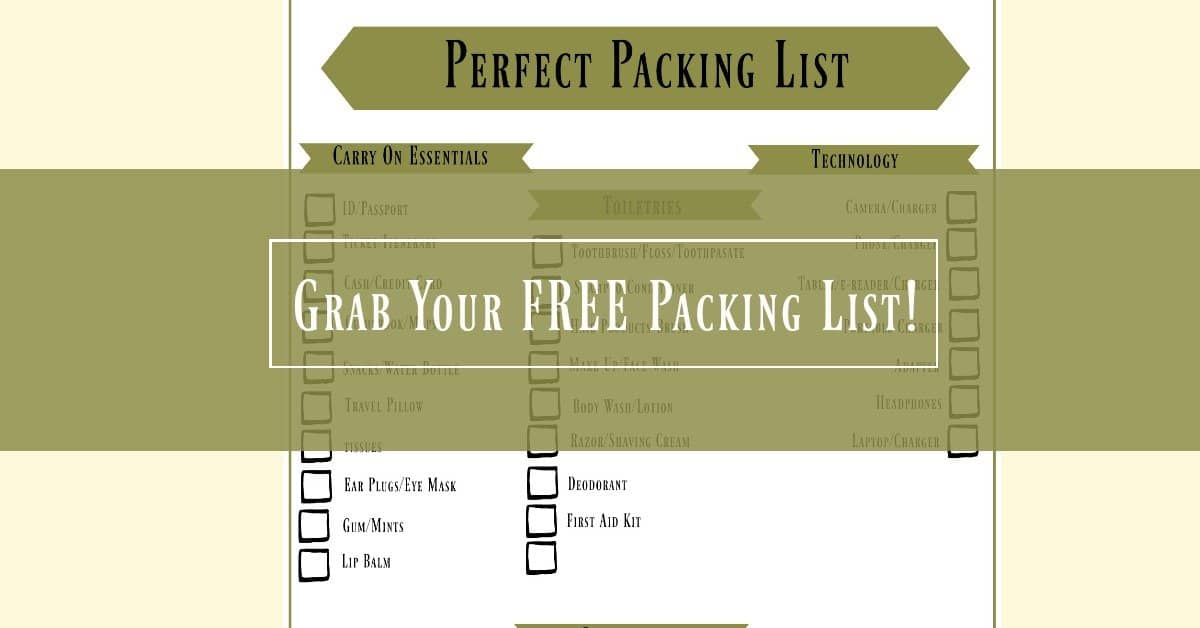 Discover how Delicious Ayden, NC tastes!
Between 7-9am, you may be able to snag one of the giant cheese biscuits found only in the Piggly Wiggly deli. The size of two fists put together, you can make two meals out of them. Each one has at least one cup of cheese. Seriously.
Once that coveted tray of biscuits sells out, you will just have to "settle" for Bojangles. This Southern treasure isn't unique to Ayden. You'll find these all over North Carolina, though you should avoid cheese biscuits west of I-95 since they merely put a slice of American cheese inside.
Across the street is the one and only Edwards Pharmacy. Not only can you get fishing tackle, essential oils, a box of chocolates, and prescription medications all in one place, but you'll also find an old-fashioned soda shop. Known for their chicken salad (get their cold plate for a taste of goodness with homemade pimento cheese), they serve breakfast, lunch, and an early dinner. Or, just go straight for the fresh-pressed orange-ades and hand-made milkshakes.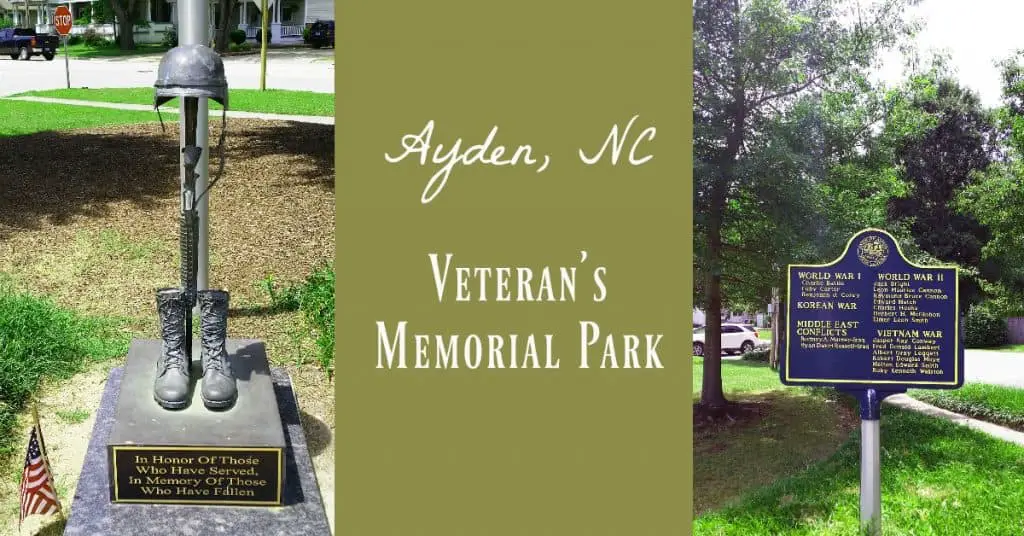 Veteran's Memorial Park
There are a few other things to do in Ayden.  So, before you get to the two world-famous BBQ places, you'll pass the Veteran's Memorial Park. With horseshoe pits, tennis courts, and covered picnic areas, you can stretch your legs while the kids play on the brand-new inclusive playground. Whether you have someone in the car who is 1 or 101, the equipment here can include the whole family, no matter what their age or ability. It's a beauty.
The newest addition to the park is the Little Free Library. Dedicated on Veteran's Day, it's always stocked full of books for children and adults. Be fast- the books are always changing!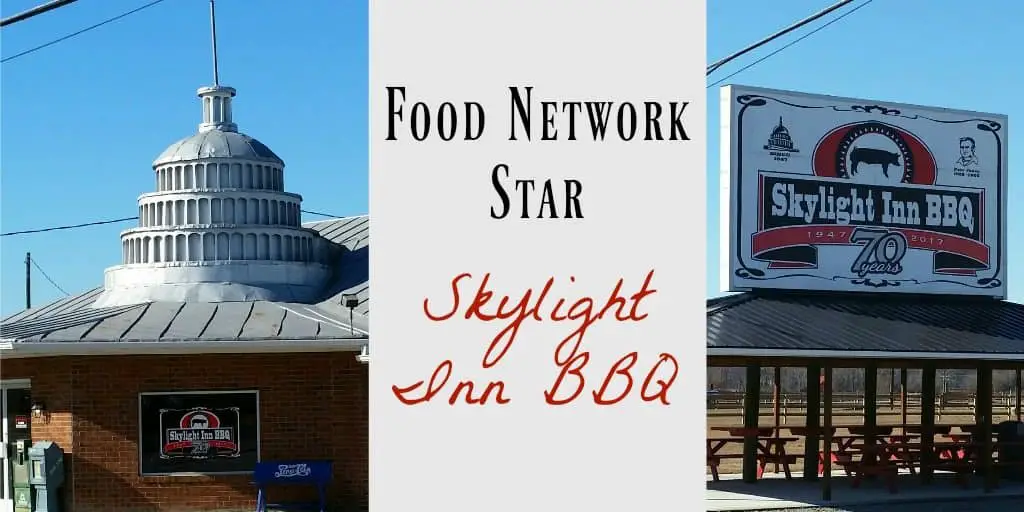 World Famous BBQ in Ayden, NC
So, while eastern North Carolina is known for its unique vinegar-based BBQ sauce, Ayden, NC is home to the best of the best. Both Bum's Restaura  nt & Catering and the Skylight Inn (also known as Pete Jones' to the locals) cook all of their meats over a wood-stoked fire. Bum's opens at 4:30am to feed the farmers before they go in the fields.  And, they close at 7pm (yes, this is an early town all the way around).
At breakfast, you'll find the usual: biscuits, gravy, grits, eggs, bacon, and for the true country soul, pigs' feet and brains. This true Southerner will never taste those last two, unless I am blind when the nursing home serves them to me.
If you have ever craved a plate full of home grown veggies, Bum's will load you up with cabbage, sweet potatoes, butter beans, slaw, boiled potatoes, pastry, green beans, collards (the local favorite) and whatever else they put in their garden that year.
Bum's is also known for their sweet potato muffins, corn sticks, and the piece de resistance: from-scratch banana pudding. Each bowl of goodness is filled with homemade custard and topped with meringue.
In the summer, you'll find freshly caught fish specials.  And during the winter, steaming bowls of fish stew to warm you through and through.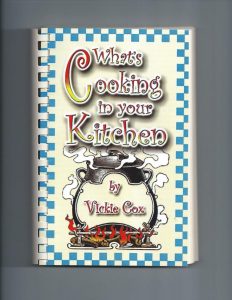 And, a Food Network Star
When you pass by a building topped with a replica of the U.S. Capital Building, you will know you have arrived at Skylight Inn. This BBQ capital has been featured on Food Network too many times to count, and offers a simple menu: more wood-cooked BBQ (pork, of course), slaw, corn bread, and tea. You can have your BBQ on a bun or heaped on your plate. On Thursdays, Fridays, and Saturdays, you can find wood-cooked BBQ chicken. And you can always grab a bag of pork skins or a slice of homemade cake.
Right next door, you'll find The Collard Shack. Serving up delicious garden goodness, you'll find the best veggies anywhere right here. You'll love the homemade jams and hot sauces.  You can take home some of the best tasting treats to put on your table.  Strike up a friendly conversation with them- they'll tell you all of the cooking secrets.
Or, take those secrets with you in co-owner  Vicki Cox's signature cookbook, What's Cooking in Your Kitchen. You'll find all of the recipes your grandma used to make.  There's simple directions to help you create homemade pimento cheese, southern biscuits, Brunswick stew, or fruit cobbler.
Before you hit the road again, swing by Random Sampler. Nestled between two local bakeries, Pequino Mexico Lindo and Gwendy's Goodies (around the corner), you'll find an array of rare and used books to take with you on your travels.
Festival & Parades
Should you happen to drive through Ayden, NC during the week after Labor Day, you're just in time for the Collard Festival. Running over 40 years, this fall festival has rides, 5K runs, horseshoe matches, collard eating contests, bands, dancing,  all of your favorite fair foods, and the parade!
People come from all over the state for the Collard Festival parade. Sometimes we like to stand on the sidelines and throw Mardi Gras beads to those who are in the parade. Bonus points if you run out to the car and personally place the beads on the King and Queen of the local nursing home.
And should you come through in the weeks before Christmas, join in the nighttime Christmas parade. From the homes decorated along the parade route, to the holiday lights decking out each float in the line-up, and the snow machines (it is the South), it's a magical evening for the whole family.
Yes, Ayden knows how to do parades.
And how to eat.
So if you're ever in this neck of the woods, be sure to stop and fill up your belly with loads of Southern goodness. You won't regret it!
Tammy Whitten learned her love of food from her grandfather, who ate everything that didn't eat him first. Traveling with him along his sales route as a little girl, she gleaned an appreciation for all of the special things you can find inside tiny Southern towns. Currently, Tammy is the mother to two food-obsessed corgis she rescued.
Tammy blogs at Women Managing Stress, where she uses her knowledge as a licensed mental health professional to help her readers find sweet and simple ways to live life to its fullest. Here's a few things you'll find on her website:
Tools to decrease stress & anxiety
Tips on Home & Family
Humor & Happiness
Online & On-Demand Classes & Programs
Any introverts out there?  Tammy has some FREE conversation starters just for you!  You can click here or on the image below!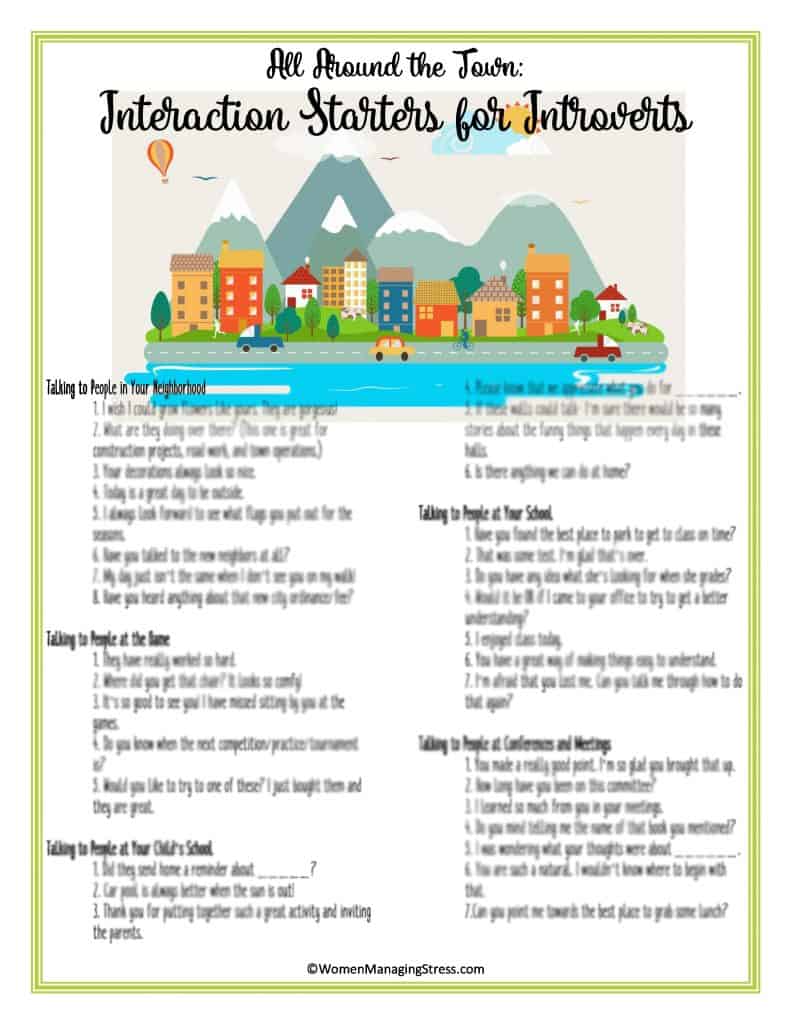 Ways to Keep in Touch with Tammy:
Other Articles You Might Enjoy
Hometown Tourist Project series
How to Love your Town Again – by Women Managing Stress
A Book Lover in Indianapolis ~ What you Need to Know
Top 7 Travel Lodging Options for Family Vacation!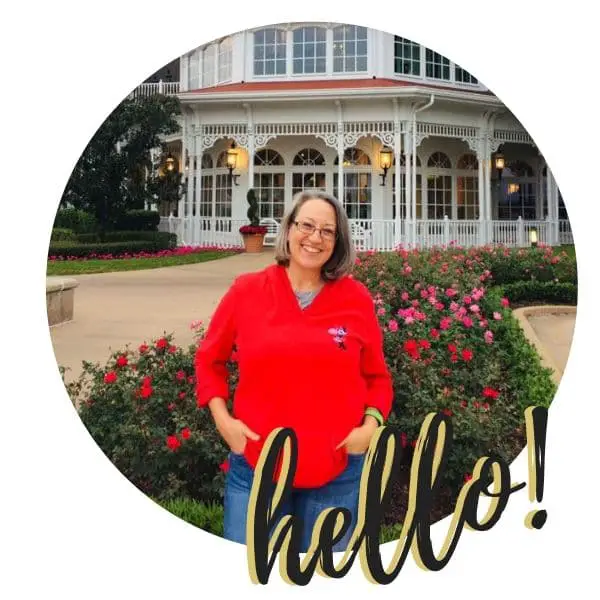 Becki is the author and founder of A Book Lover's Adventures. She has a degree in elementary education, has worked and volunteered in libraries for years, and spent several years in the travel industry. All of this has led to a love of books and travel. Becki loves to share her love by finding literary escapes to share!