How to Get the Most from Your Day Trip to Gibraltar
If you happen to be in the Andalusian region of Spain, the southern coastal area, a day trip to Gibraltar might be a fun, interesting option for you!  For us, it was a day trip at the end of our stay in Spain.  We really enjoyed hearing English again after having heard Spanish for a week and a half.  My brain was hurting trying to translate everything – especially since I'm not very good at Spanish!
How to Get to Gibraltar
When we started planning our trip, my biggest question was how to get from Malaga to Gibraltar?!
The easiest way to get to Gibraltar is by bus or rail, but there is also an airport.  We were staying in Marbella, so we just hopped on a bus and were there within an hour and an easy walk across the border.  The bus line goes all along the southern coast making it easy to get from one place to another! Once you get to the Gibraltar stop, you just walk across the street and into Gibraltar. You'll go through customs and then you're on your way to an awesome day in Gibraltar!
If you are coming from Seville, the train system can get you here easily!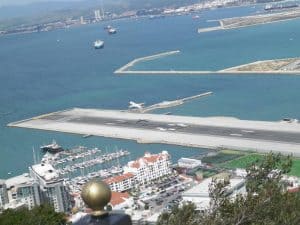 Interesting Facts About Gibraltar
The population is about 30,000 and is very multi-racial!
Gibraltar uses both the British Sterling Pound and Bank Notes printed in Gibraltar as their currency!
The Rock has been under British rule since the early 1700s.
Gibraltar is one of the richest countries in the world and has a great education system.
There are the same Red Phone Booths that you see in London!
The elevation of the Rock of Gibraltar is 1398 feet!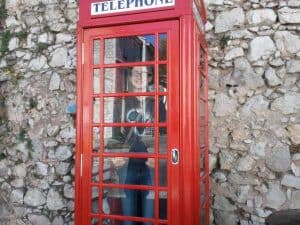 Enjoying Your Day Trip
Once you get into Gibraltar, the question becomes what is there to do in Gibraltar?
Gibraltar is really interesting in that there is something for everyone!  It's easy to fill up your Day Trip in Gibraltar!  So, whether your a history buff, an animal lover, a shopper, or a foodie…Gibraltar has got you covered!
History Buffs
St. Michaels Cave
St. Michael's Cave is a network of limestone caves located within the Upper Rock Nature Preserve.  It was prepared as an emergency hospital during World War 2 but was never used.  You can take a tour through the cave and learn history.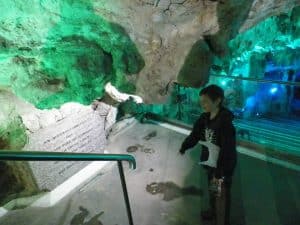 Currently, it is used as a very unique auditorium venue for ballets and dramas.  If your timing is right, this would be an amazing place to see a show!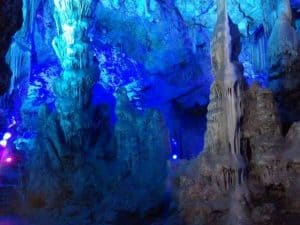 Great Siege Tunnels
"The labyrinth known as The Great Siege Tunnels is said the be the most impressive defense system devised by man." (1)  The Great Siege ended in 1783 and the defeated general commented that the tunnel system was "worthy of the Romans!"  During World War 2 an additional 33 miles of tunnels were added.  A tour can bring you to the tunnels where you can go on a self-guided tour through the tunnels.  A small fraction of the labyrinth is open to the public, but is it very well laid out and definitely worth the walkthrough!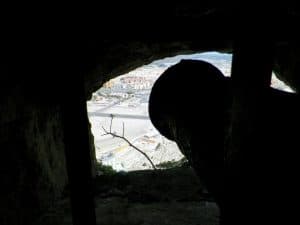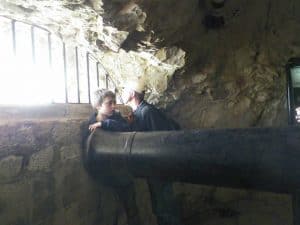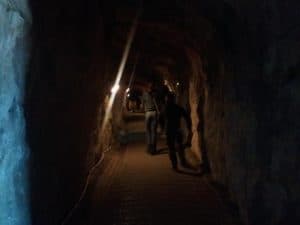 Moorish Castle
Dating back to the 11th century, this castle tells of the long-lasting war between Muslims and Christians in this area.  The Castle originally dominated the area and took up quite a bit more land than it does today.  If you can fit in a visit to the Moorish Castle on your day trip to Gibraltar, it would be a very interesting stop.  Whether you go or not, you can see it from up on the Rock.  It is here that the British flag is flown from!
Animal Lovers
Bird lovers, in particular, will appreciate and enjoy a trip to the Upper Rock Nature Preserve.  To get to the Upper Rock Nature Preserve, you have to go with a tour guide.  During the Spring and Fall, visitors can see thousands of migrating birds taking a rest on their journey.
The Barbary Macaques (monkeys) are very popular on the Rock!  You will find these monkeys all along the ride up the Gibraltar Rock.  There is a common misconception that they are tame (because they are so used to tourists), but be warned – they are wild animals!  And, they are sneaky little things.  They will make off with your purse or bag if you don't keep a hand on them!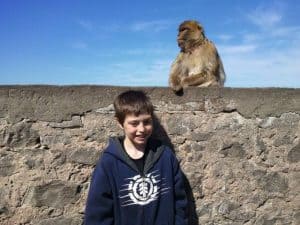 Because of the Mediterranean climate, you can potentially see dolphins and whales around the Rock.  There are tours you can take to see the dolphin in the Mediterranean if you desire.
Shoppers
If you want to enjoy shopping during your Day Trip to Gibraltar, there are plenty of shops for you.  With a mix of high end and touristy destinations, there is something to fit all needs and budgets!  We had a great time wandering in and out of the small, unique local shops!
Foodies
You definitely will want to plan on a meal during your day trip to Gibraltar.  There are so many food choices!  If you want Italian or Indian – it's here!  If you want fast food or fish and chips – it's here!  Whether you have a high budget or low budget, you can eat very well in Gibraltar!  We went for the traditional British pub and enjoyed a pint with our lunch.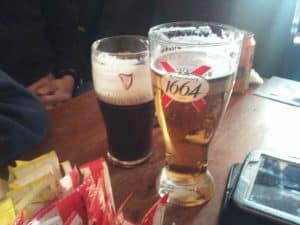 Here's a link to all the restaurants on Gibraltar.
A Fun Day Trip!
Even though we'd seen comments on Trip Advisor saying it wasn't worth going to Gibraltar, we found it to be a fantastic place to visit!  The history here goes back to the 7th century and is very interesting.  Even our children were very engaged during this day trip.  While in Gibraltar, I highly recommend taking one of the tours up the Rock.  We did not go to the top, but that would be a lot of fun!  The views, even from our stop, were incredible!  To be able to see Africa and Spain (and Gibraltar) in one sweeping view is pretty awesome.  If you have the chance, I recommend going!
Links You Might Enjoy
10 Absolutely Favorite Things You'll Love About Seville
Cadiz ~ A Surprising Day Trip to Cadiz from Seville, Spain
Sharing is Caring!  So, please share this post with your friends on Social Media!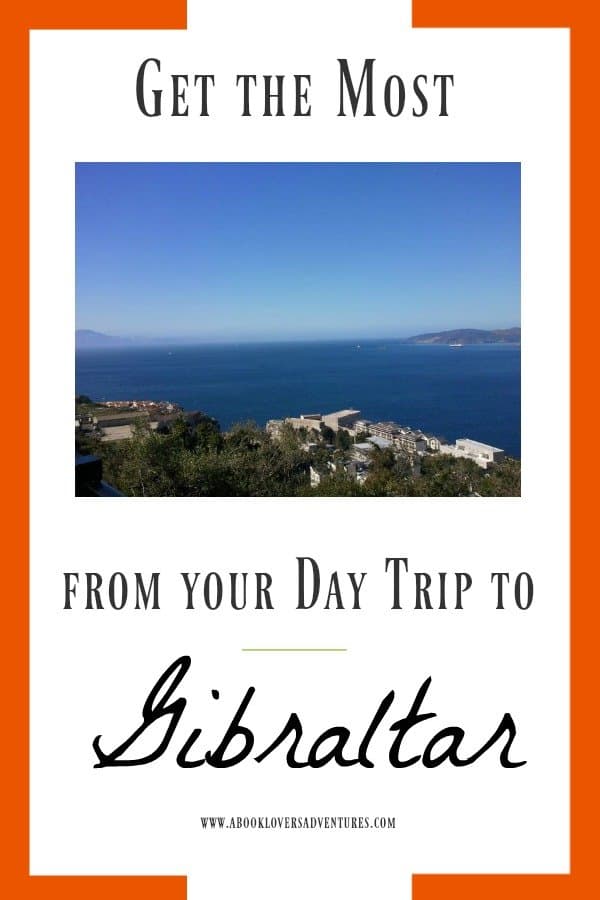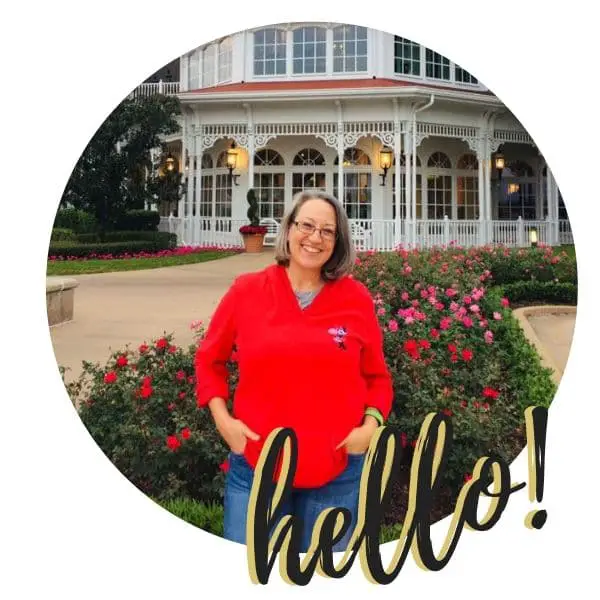 Becki is the author and founder of A Book Lover's Adventures. She has a degree in elementary education, has worked and volunteered in libraries for years, and spent several years in the travel industry. All of this has led to a love of books and travel. Becki loves to share her love by finding literary escapes to share!