Signs of You by Emily France – Book Review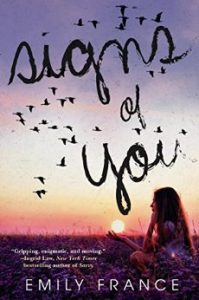 Here is my book review for Signs of You by Emily France.  In this debut YA novel by Emily France, we find four friends, bound by the common link of grief.  Riley, Jay, Noah, and Katie are struggling to get through high school.  They are dealing with their grief as best they can, and helping each other through.  But, then things change.
Here's the first line of the book:
She's been dead two years when I see her in the grocery store.
Wow!  Ms. France has figured out how to hook us from the first line!  The friends have to work together to figure out why all of a sudden they are seeing dead people.  And, what does a Jesuit relic that Jay's father found have to do with it?
This book delves into the spiritual, it's a mystery, and it touches on first love and teen relationships.  All in all, I felt like it was a good story.  The mystery was interesting and I enjoyed the mix a fact and fiction surrounding Saint Ignatius.
France delves into a lot of different relational issues teens deal with.   There's the typical outcast versus "cool" kids.  There are the parental units versus teenagers.  But, there's also loyalty, humor, and a unique bond that only those who have experienced similar trauma can understand.  Delving deeper into the characters helped make them fuller.
All in all, I feel like this is a good YA book.  If you like a good mystery/thriller, you should definitely try this one out!
About the Author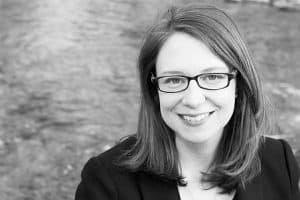 Emily France
From her website:
I'm a YA author whose debut novel, SIGNS OF YOU, will be out on July 19. This is absolutely my greatest dream come true. When I was five, I told my parents I would be a writer. Of course, I also told them that Elvis was alive and that unicorns were real. At least I got one out of three?
My path to becoming a writer has been, um, circuitous—to say the least. After graduating from Brown University, I've had jobs that range from a ranch hand on a Wyoming dude ranch to a corporate attorney in a large Chicago law firm. But always, always—I wanted to be a writer.
Ms. France has a new book coming…but, you'll have to wait a little while:
Coming summer of 2018…
Emily's next YA mystery
ZEN AND GONE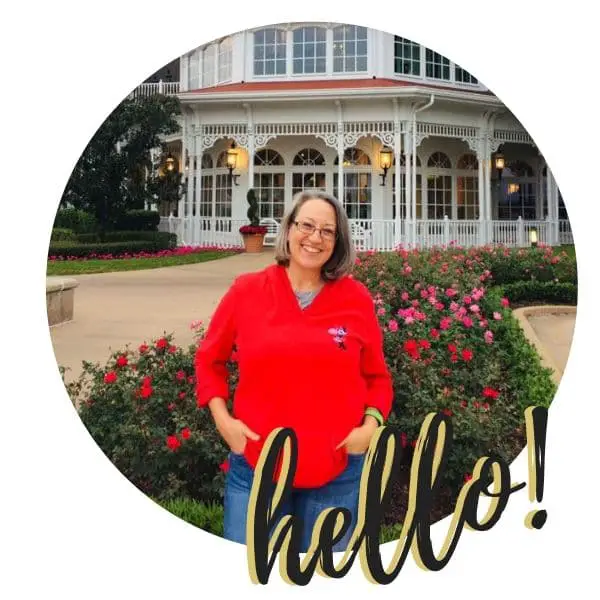 Becki is the author and founder of A Book Lover's Adventures. She has a degree in elementary education, has worked and volunteered in libraries for years, and spent several years in the travel industry. All of this has led to a love of books and travel. Becki loves to share her love by finding literary escapes to share!