5 Really Good Books for Teenage Girls ~ Book Recommendations
I did something I've not done before last night.  I asked both of my teens to recommend some books for you all!  I'm not sure why I hadn't done it before, because it has been really interesting. Here is the link to the books my teen boy recommended.  My daughter is 16, very well read, and not particularly mainstream with her books.  So, if you are a fan of Twilight or some other "typical" teen books, these might not be books you would normally choose!  But, she gave me 5 really good books for teenage girls to read!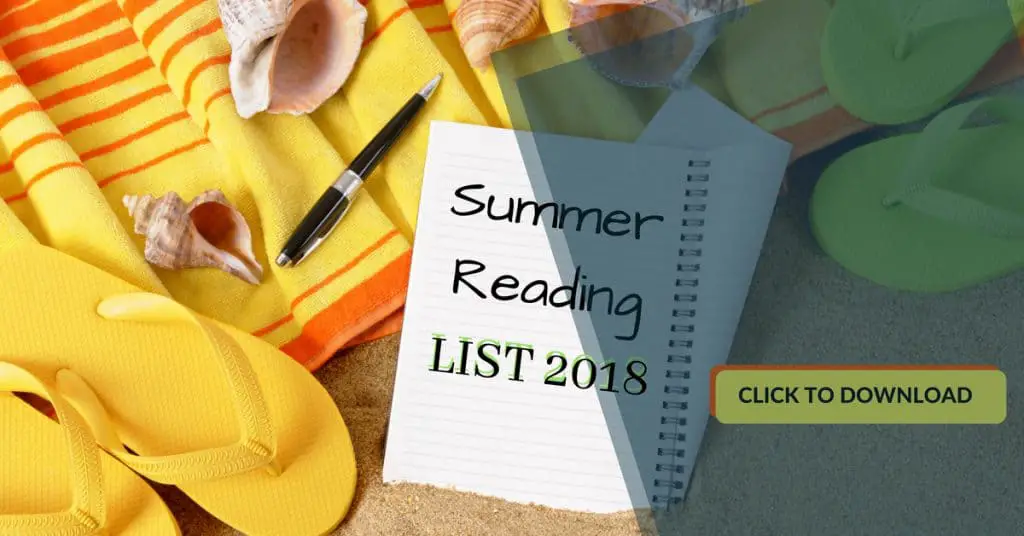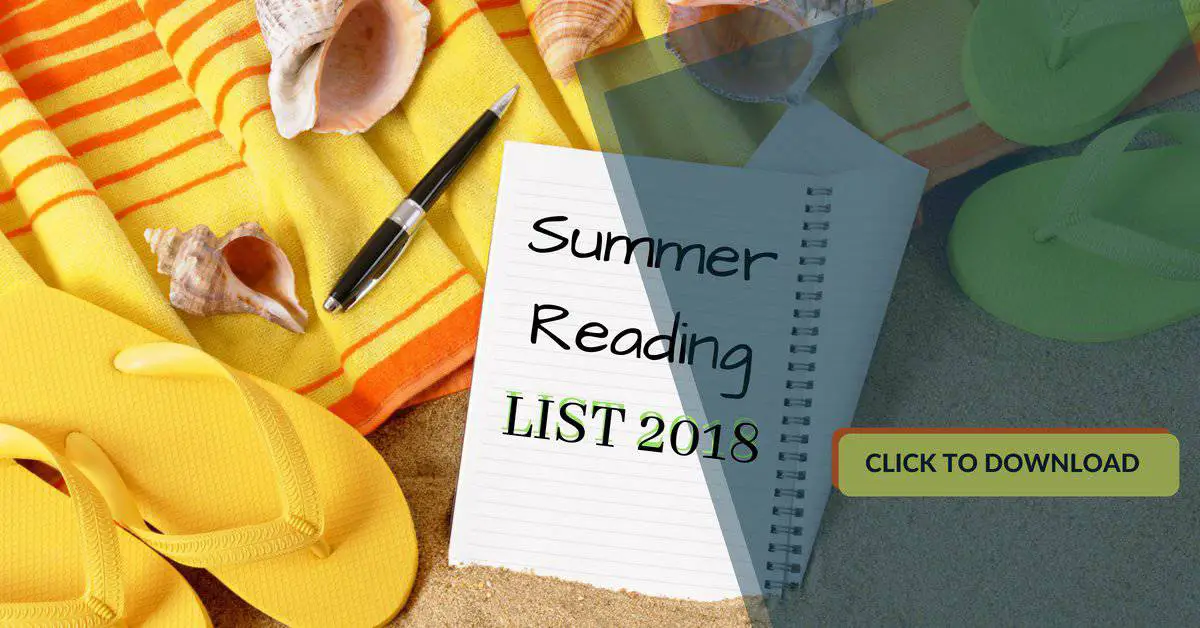 So, here they are:
** This article contains affiliate links for your convenience! If you make a purchase through one of these links, I will be minimally compensated at no additional cost to you! **
The Heist
The Heist by Janet Evanovich and Lee Goldberg
Summary:
FBI Special Agent Kate O'Hare is known for her fierce dedication and discipline on the job, chasing down the world's most wanted criminals and putting them behind bars. Her boss thinks she is tenacious and ambitious; her friends think she is tough, stubborn, and maybe even a bit obsessed. And while Kate has made quite a name for herself for the past five years the only name she's cared about is Nicolas Fox—an international crook she wants in more ways than one.
Audacious, handsome, and dangerously charming, Nicolas Fox is a natural con man, notorious for running elaborate scams on very high-profile people. At first he did it for the money. Now he does it for the thrill. He knows that the FBI has been hot on his trail—particularly Kate O'Hare, who has been watching his every move. For Nick, there's no greater rush than being pursued by a beautiful woman . . . even one who aims to lock him up. But just when it seems that Nicolas Fox has been captured for good, he pulls off his greatest con of all: He convinces the FBI to offer him a job, working side by side with Special Agent Kate O'Hare.
Problem is, teaming up to stop a corrupt investment banker who's hiding on a private island in Indonesia is going to test O'Hare's patience and Fox's skill. Not to mention the skills of their ragtag team made up of flamboyant actors, wanted wheelmen, and Kate's dad. High-speed chases, pirates, and Toblerone bars are all in a day's work . . . if O'Hare and Fox don't kill each other first.
Why She Recommends it:
While this series is probably not geared to teens, it is a good fit.  It is funny, not predicable and the first book in a great series.  The chemistry between the two main characters is evident, but doesn't get too steamy!  So, thank you Janet Evanovich for some good books for teenage girls to read!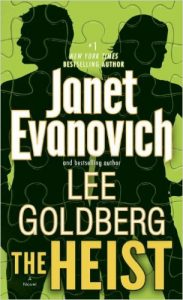 Half the Sky
Half the Sky by Nicholas D. Kristof and Sheryl WuDunn
Summary:
From two of our most fiercely moral voices, a passionate call to arms against our era's most pervasive human rights violation: the oppression of women and girls in the developing world.
With Pulitzer Prize winners Nicholas D. Kristof and Sheryl WuDunn as our guides, we undertake an odyssey through Africa and Asia to meet the extraordinary women struggling there, among them a Cambodian teenager sold into sex slavery and an Ethiopian woman who suffered devastating injuries in childbirth. Drawing on the breadth of their combined reporting experience, Kristof and WuDunn depict our world with anger, sadness, clarity, and, ultimately, hope.
They show how a little help can transform the lives of women and girls abroad. That Cambodian girl eventually escaped from her brothel and, with assistance from an aid group, built a thriving retail business that supports her family. The Ethiopian woman had her injuries repaired and in time became a surgeon. A Zimbabwean mother of five, counseled to return to school, earned her doctorate and became an expert on AIDS.
Through these stories, Kristof and WuDunn help us see that the key to economic progress lies in unleashing women's potential. They make clear how so many people have helped to do just that, and how we can each do our part. Throughout much of the world, the greatest unexploited economic resource is the female half of the population. Countries such as China have prospered precisely because they emancipated women and brought them into the formal economy. Unleashing that process globally is not only the right thing to do; it's also the best strategy for fighting poverty.
Deeply felt, pragmatic, and inspirational, Half the Sky is essential reading for every global citizen.
Why She Recommends It:
This book first came to my daughter's attention through the bi-monthly reading recommendation by Emma Watson's Feminist book club.  This book opened my daughter's eyes about brutality on women around the world.  This is not an easy read, but it will change your perspective and perhaps your life!  If you'd like your teen to become more globally-minded, this book is a good option!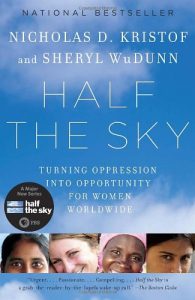 The Testing
The Testing by Joelle Charbonneau
Summary:
It's graduation day for sixteen-year-old Malencia Vale, and the entire Five Lakes Colony (the former Great Lakes) is celebrating. All Cia can think about—hope for—is whether she'll be chosen for The Testing, a United Commonwealth program that selects the best and brightest new graduates to become possible leaders of the slowly revitalizing post-war civilization. When Cia is chosen, her father finally tells her about his own nightmarish half-memories of The Testing. Armed with his dire warnings ("Cia, trust no one"), she bravely heads off to Tosu City, far away from friends and family, perhaps forever. Danger, romance—and sheer terror—await.
Why She Recommends It:
If you enjoyed the Hunger Games, you will enjoy this series.  While the story has the same "feel" as the Hunger Games, it is it's own story – which makes it worth reading!
Me and Earl and the Dying Girl
Me and Earl and the Dying Girl by Jesse Andrews
Summary:
It is a universally acknowledged truth that high school sucks. But on the first day of his senior year, Greg Gaines thinks he's figured it out. The answer to the basic existential question: How is it possible to exist in a place that sucks so bad? His strategy: remain at the periphery at all times. Keep an insanely low profile. Make mediocre films with the one person who is even sort of his friend, Earl.
This plan works for exactly eight hours. Then Greg's mom forces him to become friends with a girl who has cancer. This brings about the destruction of Greg's entire life.
Fiercely funny, honest, heart-breaking—this is an unforgettable novel from a bright talent, now also a film that critics are calling "a touchstone for its generation" and "an instant classic."
Why She Recommends It:
While this book is funny, it is also brutally honest about cancer.  It doesn't try to lighten or pretty it up for it's teen audience.  And, it is not a "silly teen romance novel."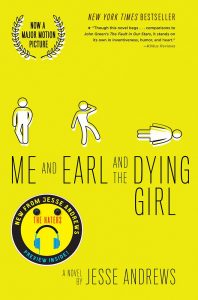 The Girl with the Wrong Name
The Girl with the Wrong Name by Barnabas Miller
Summary:
Ever since The Night in Question left her with a hideous scar and no memory of what happened, Theo Lane has been hiding.  An aspiring filmmaker, she uses a hidden button cam to keep the world at bay. She spends the entire summer in a Manhattan café, secretly documenting random "subjects."
Once school starts, Theo finds her best friend has morphed into a flirtatious, short-skirt-clad stranger. Everyone ignores the scar. As if that will make it go away. The café remains her lunchtime refuge.
Her most interesting subject is the Lost Boy, a stranger who comes in every day at the same time. When she finally gets up the courage to talk to him she discovers why: the Lost Boy, Andy, is waiting for someone who said she'd meet him there . . . four days ago. Intoxicated by Andy's love for this mystery girl, Theo agrees to help him find her, and her unhealthy obsession pulls her into a perilous, mind-bending journey. But is it really Andy's world she's investigating? Or is it her own?
Why She Recommends It:
While this book is not a mainstream teen read, it is a really good book for your teen girl to read!  It takes the reader through all the emotions.   Oddly, it is creepy and uplifting at the same time!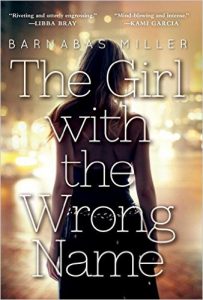 Good Books for Teenage Girls
So what do you think of our list of Good Books for Teenage Girls?  Anything in this list that calls to you or your teen girl?  What good books would you recommend for my daughter to read?  She's always looking for new books!  Put your recommendations to her in the comments 🙂
Sharing is Caring!  Please share this article with your friends 🙂
Other Articles You Might Enjoy
What I'm Reading June Edition ~ Book Reviews & Recommendations
Book Review ~ The Day the World Came to Town by Jim DeFede
Books to Movies 2018 ~ What You'll Want to Read Now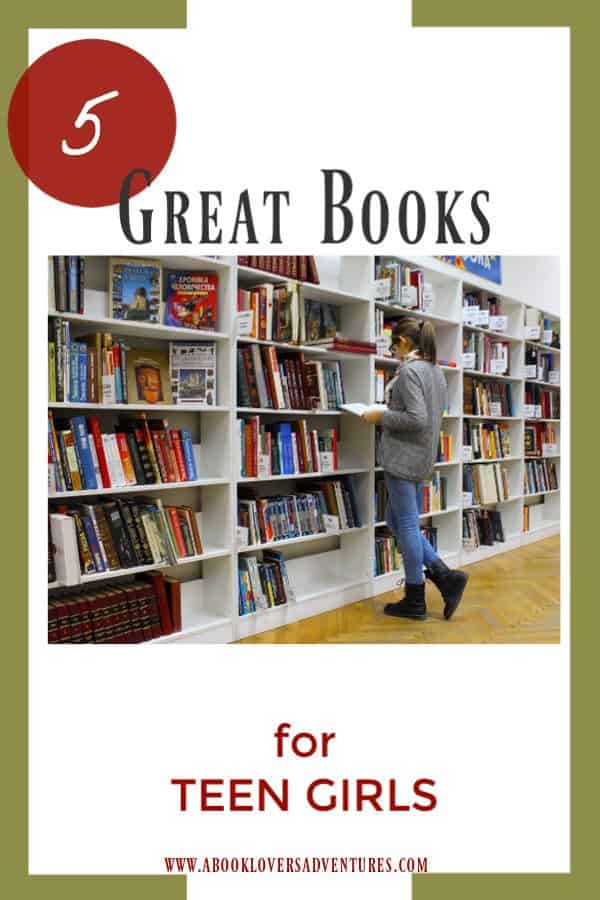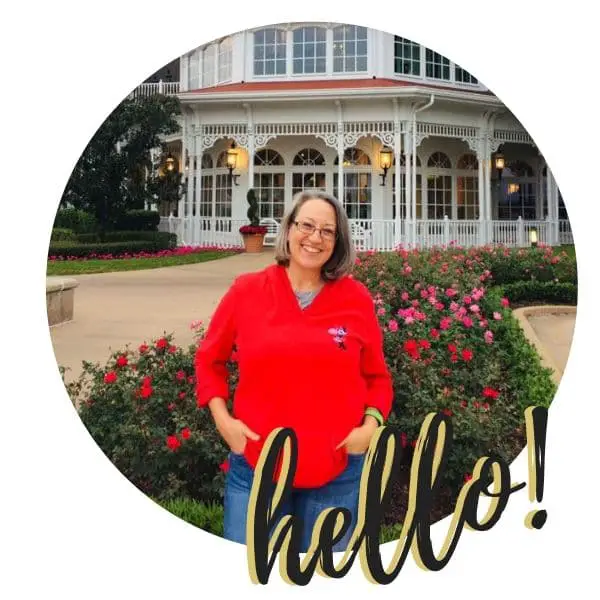 Becki is the author and founder of A Book Lover's Adventures. She has a degree in elementary education, has worked and volunteered in libraries for years, and spent several years in the travel industry. All of this has led to a love of books and travel. Becki loves to share her love by finding literary escapes to share!