What to do in Indianapolis with Teens ~ Our Favorites
Do you have a teenager?  Do you enjoy traveling with your teens?  Lately, I've heard a lot of parents say that they hate traveling with their teens because they don't want to do anything. Ok, hate may be a little strong.  But, I have heard a lot of parents complain about traveling with their teenage kids!  This past week I had the opportunity to spend the weekend in Indianapolis with my teenage daughter. And, I'm here to tell you, Indianapolis with teens is fabulous! So, here's what to do in Indianapolis with teens!
I'd like to say thank you to Nate at Visit Indy and my friend Lindsay at Let Me Give You Some Advice for their help on what to see and do in Indianapolis! They were super helpful and made our time in the city a lot of fun!
So, if you happen to be going to Indianapolis with teens, here are a few things that you will all enjoy doing!
Our Favorite Things to Do
Because we were in Indianapolis for such a short time, we definitely didn't get to do all that we would like to do.  But, that just means that we'll need to go back at some point to finish it all up!
So, here's what to do in Indianapolis and what our thoughts are on them!
Newfields is a huge museum! We got through maybe 1/4 of it and ran out of time.  There are four floors of artwork to explore!  We only saw about 1/2 of the second floor.  But, in our perusing we saw Rembrandt, Monet, Picasso, O'Keefe and many more well know artists along with many we didn't recognize but that were well worth our time.
One part we didn't get to explore at all is their outdoor gardens.  It was a cold and rainy day when we were there, so if you happen to go on a nice day make sure you check out their gardens!
If you go: You'll want to check out the Picasso exhibit and the New York City Graffiti from the 70's & 80's!
This was a really fun stop! Along with being the foremost percussion museum in the country, this is just a fun place to visit! As you wander through you'll have the opportunity to try out all kinds of percussion instruments – from a traditional drum set to timpani, xylophones to bongos, cymbals to chimes!  But, along with the interactive piece to this museum, you can also see a lot of historically important percussion pieces.
The Rhythm Discovery Center is becoming a top go-to for parties!  And, not just kids parties!  They are hosting wedding receptions, work gatherings, and much more!  So, if you're local, keep them in mind for your next get-together!
If you go:  Make sure you go into one of the soundproof rooms and play one of the drum sets in there!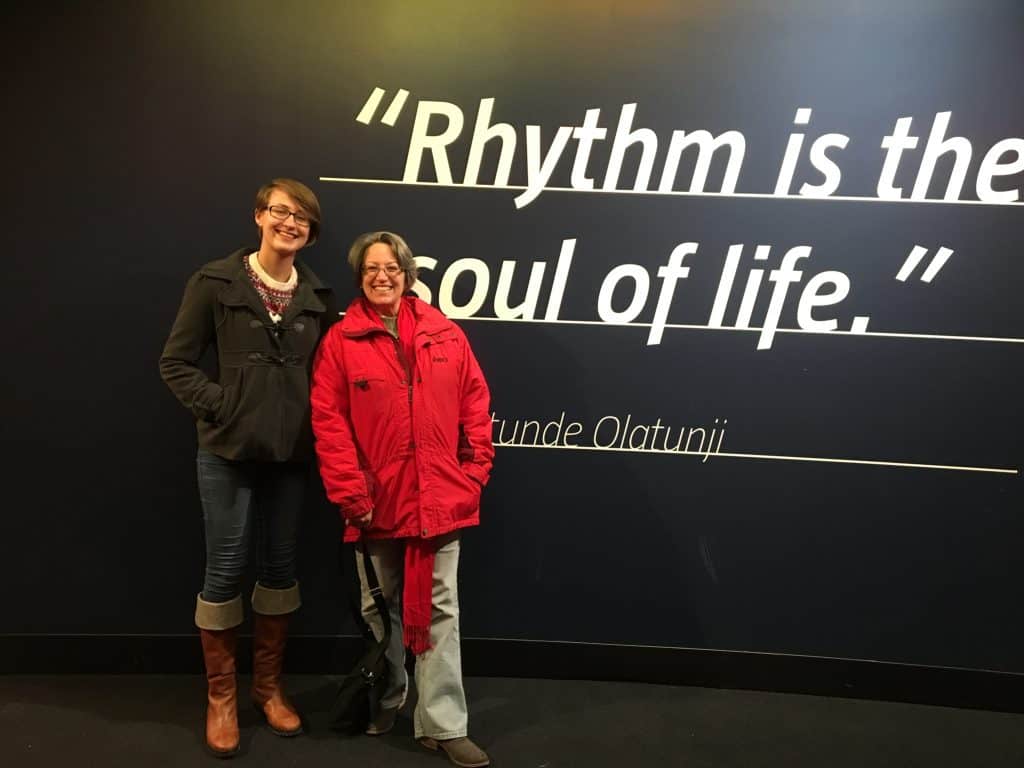 The theater is right on the famous Monument Circle which is fun to see and walk around.  This was one of our favorite things we did in Indy!  The tickets were inexpensive ($10 for students and $15 and up for adults for our concert).
The theater is beautiful!  The orchestra was magnificent to listen to, and the conductor is a young man from Poland who is fun to watch!  There are lots of restaurants in the area and a couple of parking garages within a block, so parking and eating won't be a problem!
If you go: Check the calendar and see what's going on before you get there!  We went on a Saturday night and there was a wide variety of ages and dress in attendance.  So, if you don't bring a "fancy" outfit, don't worry about it.  Put on a pair of jeans and a nice shirt and have a great night at the theater!  And, if you happen to get there early, you might catch an interview with one of the orchestra members!
I know, a cemetery seems like a creepy place to visit.  We happened to pass by it each day and decided to look into it.  Crown Hill is the fourth largest cemetery in the United States.  And, beyond being huge, it's beautiful!
There are several "notable persons" buried at Crown Hill.  You will find persons from the Civil and Revolutionary Wars, Politicians, Athletes, Authors, and many more.  Here are a few that we found of interest:
James Baskett (1904-1948) black actor best known for his role of Uncle Remus in the Song of the South by Disney.
John Dillinger (1903-1934) notorious bank robber from the 1920's.
President Benjamin Harrison (1833-1901) the 23rd President of the United States.
Dr. Richard J. Gatling (1818-1903) inventor of the Gatling gun.
Bernard Vonnegut (1855-1908) grandfather of Kurt Vonnegut, and architect of several buildings in the Indianapolis area.
Edward "Cannonball" Baker (1882-1960) drove in first Indy 500, first winner at Speedway.
If you go: If you are interested in going, they have tours.  But, if you want to go on your own, you can find the section that each person is buried in and then check the online map to figure out where to go.  Get your game plan figured out ahead of time because the cemetery is too large to just wander around!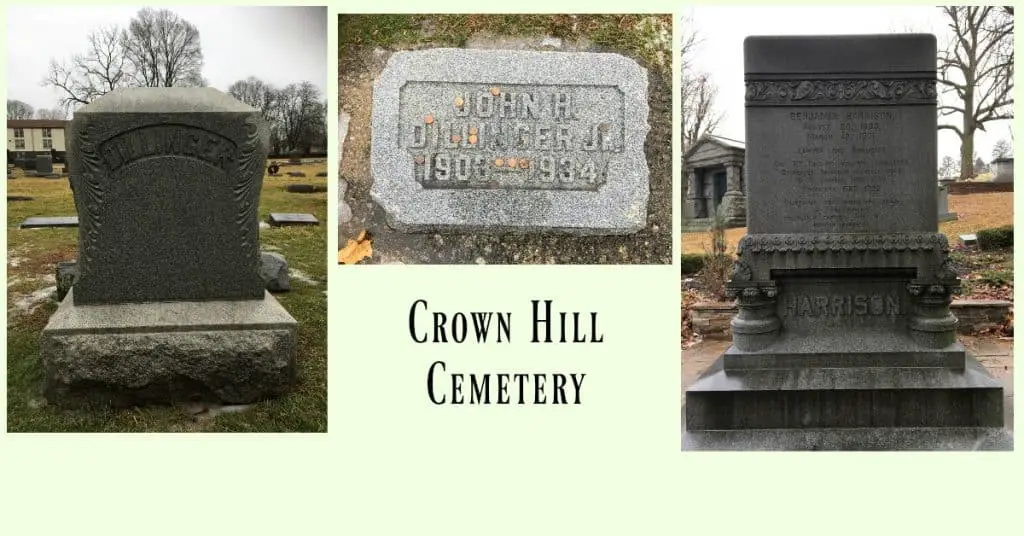 Other Things to See & Do in Indianapolis
If you have more time to fill and are still wondering what to do in Indianapolis, these are the other things we'd like to do in Indy.  We didn't have time to get these in this trip but will plan on them for our next stop through.
Eiteljorg Museum (American Indians and Western Art)
Showcasing the Native American and Western America art experience, the Eiteljorg is a really interesting and different museum.  Check out their calendar and see what they've got going on during your visit.  There is an outdoor garden and sculpture garden that you'll want to check out if the weather is nice!
Race fan rejoice!!  This is definitely YOUR museum.  You can get a tour of the track, wander around the museum and view the 36,000 square feet of photos, race memorabilia, cars and more!
For all the college sports fans out there, the NCAA Hall of Champions is your place to visit!  The Hall of Champions boasts two-levels of interactive exhibits to engage visitors and create a true-to-life understanding of what it takes to make the grade. On the first level, all 24 NCAA sports are represented and include a novice to historian trivial challenge, current team rankings, video highlights, and artifacts donated from colleges around the nation. Play, on the second level, is a fully interactive area to compete virtually and hands-on through sports simulators, a 1930s retro gymnasium, ski simulator and more.
Spend some time exploring underneath the city!  Built in the late 1800's, these ruins are rarely open to the public. But, if you happen to be going to Indy and want to take a tour, you'll need to make sure you get your tickets ahead of time.  There are only 13 dates available for all of 2018! They begin in May and go through October.
Shopping
If shopping is something you and your teen are interested in, you can find some great shopping along Mass Ave or in Fountain Square. They both are close to downtown and offer great restaurants and local shops.  Or, you can go north of the city to the Fashion Mall at Keystone at the Crossing.  It is a big fancy mall, but is nice to wander around!
Tips for Traveling with Teens
Let them be involved in the choices!
Plan some chill time!
Feed them often!
Have fun!!
What to do in Indianapolis with Teens
As you can see, there's a lot to do in Indy to do!  So, the key to having fun in Indianapolis with teens is to figure out what everyone will enjoy doing!  Whether sports fan, music fans, history or art fans or you're just looking for things that are a little different, Indianapolis has got you covered.  Let everyone pick one thing they want to do, and then do each of them!
Other Articles & Resources You Might Enjoy
5 Tips For Traveling with Teens
Fun Family Vacations with Teens (by LaBoy Joy)
Top 7 Travel Lodging Options for Family Vacation!
A Mom's Guide to Popular Family Attractions in Indianapolis (by Let Me Give You Some Advice)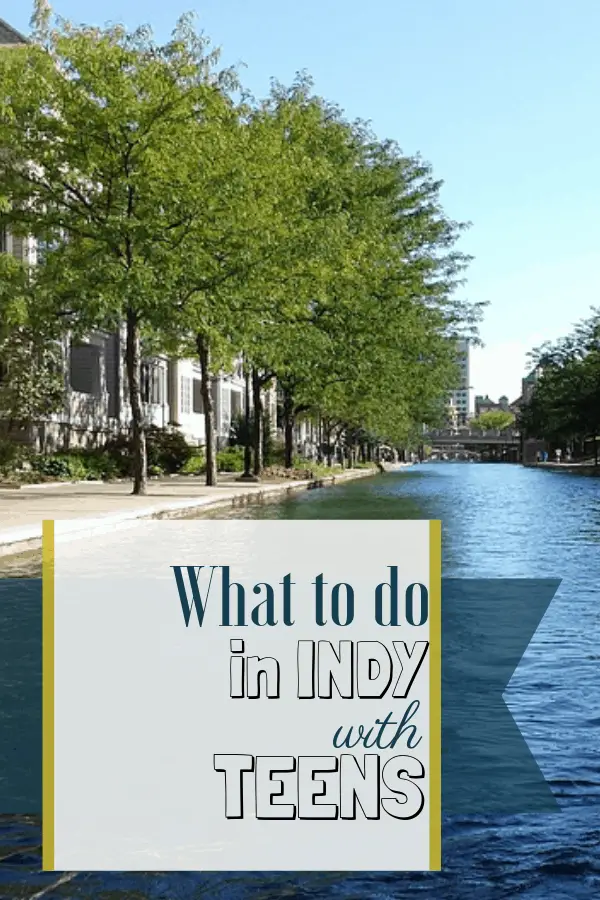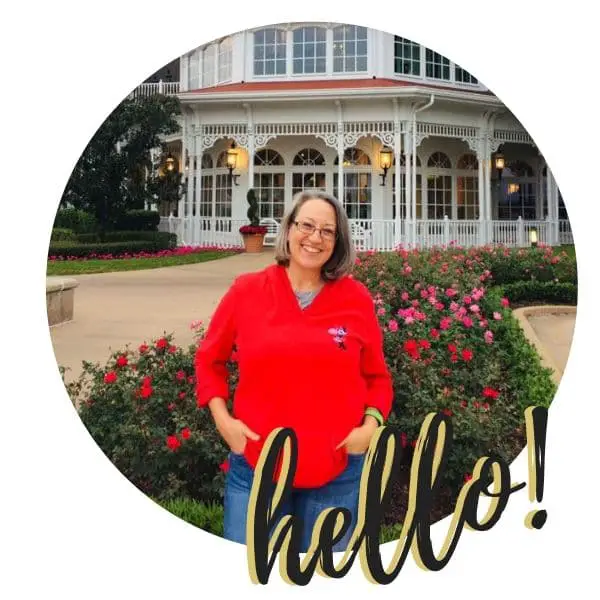 Becki is the author and founder of A Book Lover's Adventures. She has a degree in elementary education, has worked and volunteered in libraries for years, and spent several years in the travel industry. All of this has led to a love of books and travel. Becki loves to share her love by finding literary escapes to share!