Feature Author Mari Mancusi
I am so excited to be a Featured Blogger at the Coastal Magic Convention 2022. Today I want to introduce you to Feature Author Mari Mancusi, who will also be at the Coastal Magic Convention.
Coastal Magic is a casual reader weekend, right on Daytona Beach, "the world's most famous beach".  We'd love for you to join us for interesting discussions, fun meet & greets with your favorite authors and lots of ways to interact with fellow book lovers and storytellers!
If you would like to register for the Coastal Magic Convention or learn more about it, you can find that information here.
Over the next few months, I will be introducing you to some of the Featured Authors that you have the opportunity to meet if you come to the Convention in Daytona Beach in February 2022.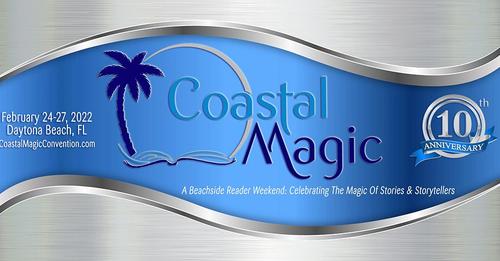 Related Posts
The Coastal Magic Convention 2022 is Back
Melonie Johnson – Featured Author at Coastal Magic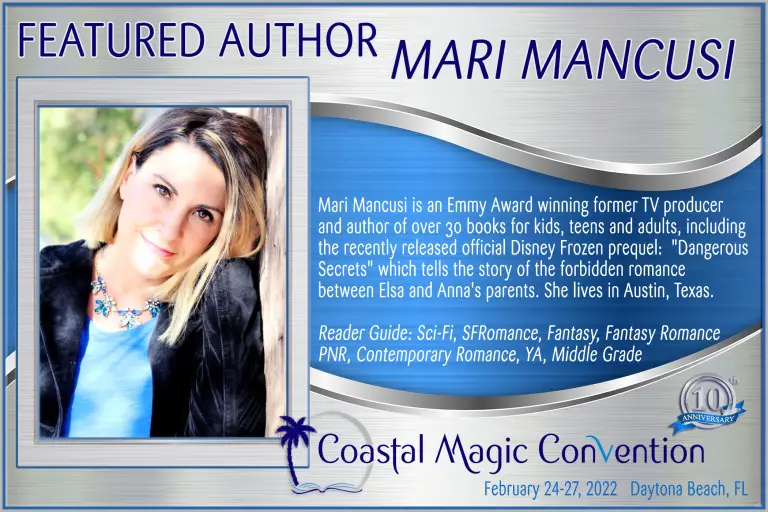 Feature Author Mari Mancusi
Today I'd like to introduce you to Featured Author Mari Mancusi. Mari writes YA and kids' books that are fun and engaging! It was fun to chat with her about how she got into writing.
Author Interview with Mari Mancusi
Becki: So you started out as a TV producer, right? And then how did you get into writing?

Mari Mancusi: Well, I was writing on the side for years when I was producing TV news. And one of the reasons I like to tell people is, TV news can be really grim at times, and certainly you don't get to control the ending. And so it was nice after having these really hard stories that I would have to cover, they can be really demoralizing and just heavy on you.
And so to go home and to be able to write books that are funny and that you can have a happily ever after the everything does come right and justice is served at the end. It really is is kind of a palate cleanser from TV news. So I was like, oh, wow, that's why I was so attracted to doing that while I was working in TV. And then eventually I got to do it full time, which is great.
Becki: That's so awesome. And so were you always in YA and kids' books?
Mari Mancusi : I started in adult romance. I wrote for Dorchester for a lot of years. I did more funny chick-lit style romances at first. I did a lot of time travels, but like again, in that first person, funny chick-lit, but also romance genre.
And then I did some sci-fi for them as well, like a zombie romance and not romance was not between two zombies, but a romance in the zombie apocalypse. And then one that was a futuristic kind of matrix-style romance.
But I actually stumbled into YA on accident. Dorchester at the time was starting a YA line and they were like, Hey, have you ever thought about writing for it? You have a good voice for it. And I was like, oh, that means they think I'm immature, lol.
But I thought I would try it and I really enjoyed it. I really enjoyed the reader feedback. It was fun to have the teenagers who were so excited about the worlds I had created and everything. It wasn't just like, pick up a book and read it and put it down. It's like they wanted to live in this world. And they would like to roleplay the characters and it was just really fun.
Becki: So how did you get into kids' books?
Mari Mancusi : The YA market has grown up a lot and has gotten a lot heavier, much bigger subjects more appropriate for older teens. My voice tends to be more younger teen and tween. And so it made sense to go down into kids' books instead of up into the new YA market. There's a lot opportunity in middle grade that wasn't in YA which got really saturated.
And so I tried the YA book that I didn't sell, I turned it into a middle-grade book. And that's how I sold it. So I was like, okay, maybe this is what works for me. And so I kind of went from there.
Becki: So how did you get into the Disney connection?
Mari Mancusi : So I sort of stumbled into it because I had a book called The Camelot Code. Then they said, we're looking for stories about mythologies, different mythologies. And I was like, well, it's English mythology – the King Arthur story. My agent wasn't sure if it was what they were looking for, but we decided to send them the book and see what happens.
This book had this tumultuous history, and I thought it would never get sold. It was like 12 years since I first came up with the concept. And then, the editor at Disney wrote back and said, Oh, I love this book, as much as I loved it the first time around. Turns out she was with one of the original publishers that had dumped the book and she remembered it years later.
So she published that book and its sequel and then bought another two books. Once I was over there, they knew I was such a Disney fan they recommended me to the Disney press side. So they just asked me to write the Frozen book. I didn't have to audition or anything.
Becki: Where do you get your inspiration?
Mari Mancusi : I would say everything that comes into my life, you know, kind of gets mashed up in my brain and like, spits out another way.
Books
These are some of Feature Author Mari Mancusi's books:
The Camelot Code
Summary:
When young Arthur of Camelot accidentally time-travels to the 21st century and Googles himself, he discovers the not-so-happily ever after in store for him once he pulls the sword from the stone. Yes, he'll go from squire to sovereign basically overnight, but he'll also lose the love of his life to his best friend and eventually die in battle. What's a once-and-future king to do? Easy: stay in the future, where he'll actually have a future–and join the football team instead.
Now, with the help of the great wizard Merlin, modern-day gamer-geeks Sophie and Stu find themselves in a race against time to get that sword pulled from the stone and the stubborn soon-to-be-king Arthur back to the past where he belongs.
Dragon Ops
Summary:
One wrong move, and it's game over.
Welcome to Dragon Ops, the world's first augmented-reality video-game theme park. Set on a once-deserted island, our three beta players—classic gamer geek Ian; his adventure-seeking sister, Lily; and their too-cool-for-gaming cousin, Derek—have been lucky enough to score an invite to play before the fully immersive experience opens to the public.
But once inside, they find themselves trapped in a game taken over by a rogue AI dragon called Atreus, and suddenly the stakes go beyond the virtual world. With no cheat codes, guidebooks, save points, or do-overs, they'll need all their cunning and video-game hacks to beat the game . . . and survive in real life.
Frozen II: Dangerous Secrets
Summary:
Sixteen-year-old Iduna harbors a dark secret. On the surface, she is an Arendellian village girl, an aspiring inventor, and the best friend of Prince Agnarr, but she is also secretly Northuldra.
Ever since the day the forest fell, Arendellians have despised and distrusted Northuldra with a vengeance. No matter that the Northuldra—along with some of Arendelle's own—have been trapped in the Enchanted Forest behind an impenetrable wall of mist since the day of the battle.
Iduna doesn't know why the mist refuses to part, or why it descended to begin with. The only clear thing is that she must keep her identity from everyone, even Agnarr. Her life depends on it.
Fortunately for her, Agnarr doesn't know that Iduna is the Northuldra girl he saw seemingly flying on a gust of wind all those years ago, the day of the celebration turned disaster. The day Agnarr lost his father, the king. The day Agnarr himself almost died.
What Agnarr does know is that Iduna is a true ally in the face of his royal responsibilities and the expectations of an overbearing council and a well-meaning regent who will rule in Agnarr's place until he turns twenty-one and assumes the Arendellian throne.
As Iduna and Agnarr grow ever closer, however, friendship is no longer enough. If only falling for each other didn't mean risking their futures: Iduna's as a hidden-in-plain-sight citizen of Arendelle, and Agnarr's as imminent king.
But for a chance at true love, the risk might be worth taking
Boys That Bite: Blood Coven Vampire series
Summary:
Sunny MacDonald doesn't know what to expect when she's dragged to Club Fang by her twin sister Rayne. But when the devastatingly handsome vampire Magnus mistakes her for her goth-loving twin and bites her on the neck, she realizes his fangs are all too real…and all too deadly.
Now Sunny and Magnus find themselves in a race against time to find a way to reverse the transformation before Sunny becomes a vampire forever. Something she definitely doesn't want—even if does mean spending eternity with a certain brooding boy who bites…
About the Author
Mari Mancusi is a former Emmy award winning TV producer and author of more than two dozen sci-fi/fantasy books for kids, teens and adults. Her bestselling series have been chosen as featured selections in the Scholastic Book Fairs and clubs and have been selected by the American Library Association as "Quick Picks for Reluctant Readers" and "Popular Paperbacks."
In addition to writing, Mari is an avid cosplayer, horror aficionado, and MMORPG gamer. She lives in Austin, Texas with her husband and their young daughter.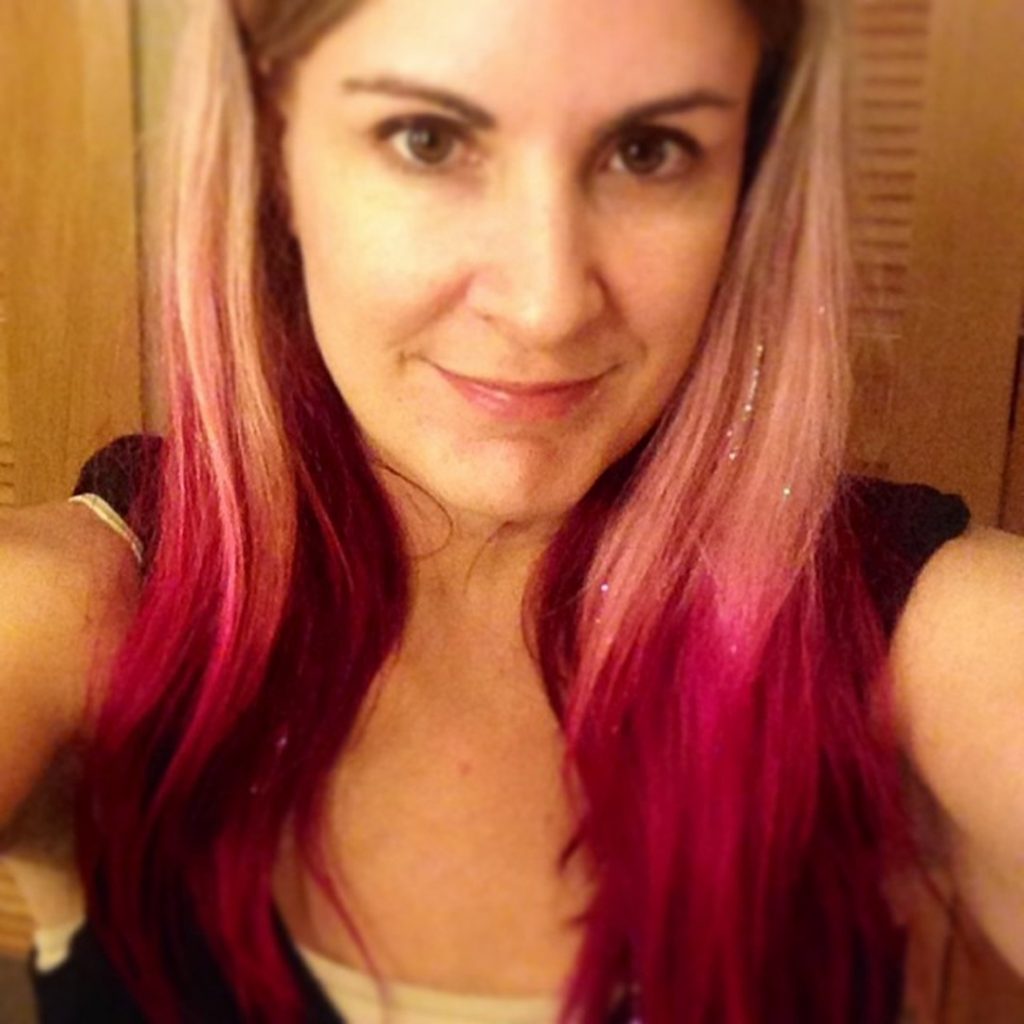 Keep in touch with Mari Mancusi
Website – http://www.marimancusi.com/
Instagram – @marimancusi
Other Articles You Might Enjoy
26 Books set in another country you'll absolutely want to read
24 Books Set in Florida That will make you want to Visit!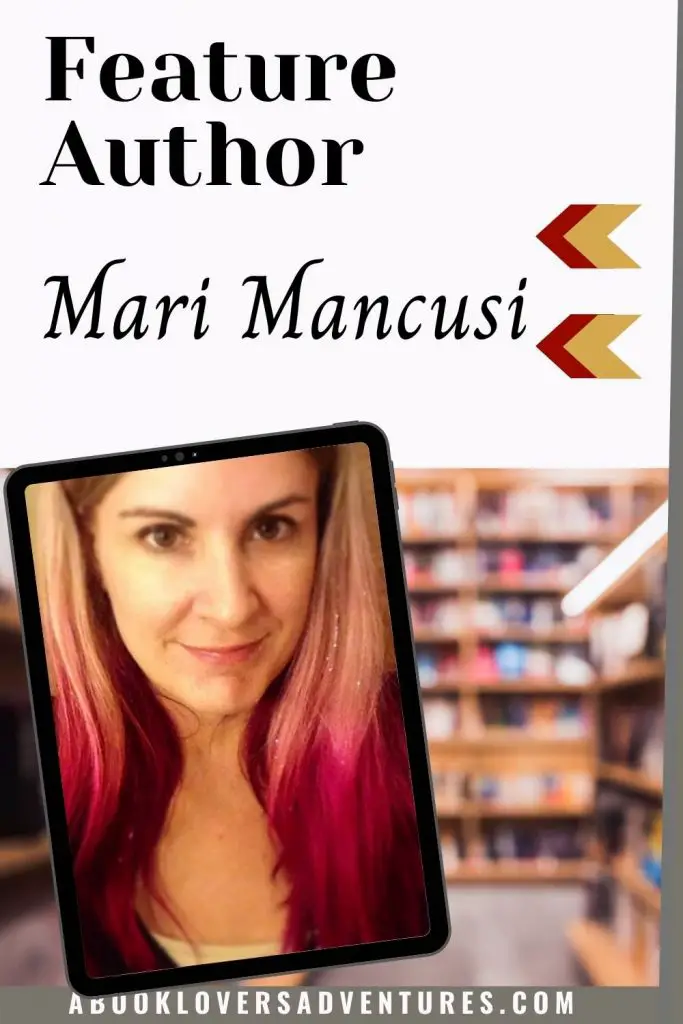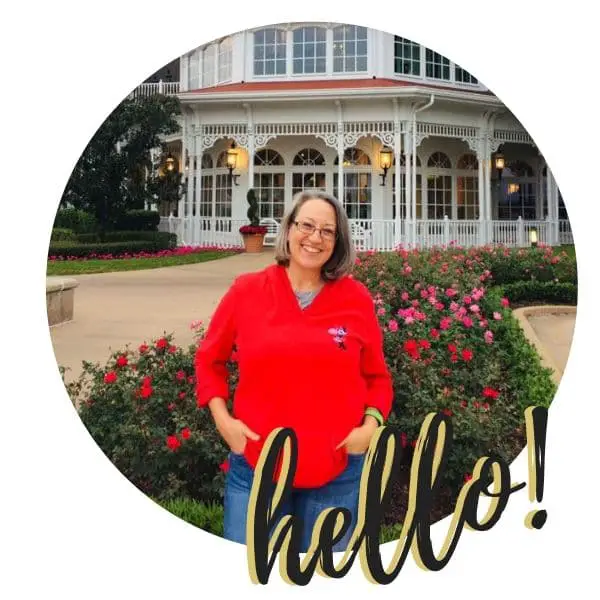 Becki is the author and founder of A Book Lover's Adventures. She has a degree in elementary education, has worked and volunteered in libraries for years, and spent several years in the travel industry. All of this has led to a love of books and travel. Becki loves to share her love by finding literary escapes to share!