New Books Coming Soon….September
September's New Books
Every month, publishers unveil hundreds of new books!  For book nerds like me, it's kinda like Christmas, haha!  But, keeping up with what's coming out is hard!  That's what I'm here for!  I've culled through the long list of books coming out this month, and as a result, have come up with a list of my favorite new books coming out in September.  Let me tell you, there are some fantastic books coming out this month!  A few new ones and some exciting sequels.  Hopefully, you'll find something that you think your kid(s) will love!
Here ya go…
Elementary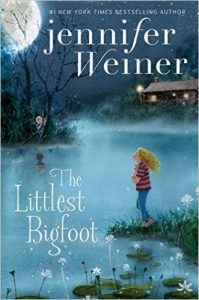 The Littlest Bigfoot by Jennifer Weiner                    due out 9/13
Alice Mayfair, twelve years old, slips through the world unseen and unnoticed. Ignored by her family and shipped off to her eighth boarding school, Alice would like a friend. And when she rescues Millie Maximus from drowning in a lake one day, she finds one.
But Millie is a Bigfoot, part of a clan who dwells deep in the woods. Most Bigfoots believe that people—NoFurs, as they call them—are dangerous, yet Millie is fascinated with the No-Fur world. She is convinced that humans will appreciate all the things about her that her Bigfoot tribe does not: her fearless nature, her lovely singing voice, and her desire to be a star.
Alice swears to protect Millie's secret. But a league of Bigfoot hunters is on their trail, led by a lonely kid named Jeremy. And in order to survive, Alice and Millie have to put their trust in each other—and have faith in themselves—above all else
Good for:  3-5 grades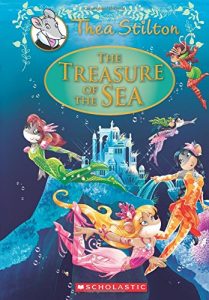 The Treasure of the Sea by Thea Stilton     due out 9/27
Thea Stilton and the Thea Sisters are needed to help Aquamarina, the magical land of the ocean! The enchanted Music of the Sea has stopped playing, and no one knows why. If it doesn't return soon, the realm will perish!
The mouselets and their friend Will Mystery travel to the underwater world to find the magical music. On their mission, they swim through dangerous waters, encounter strange and fantastical creatures, and even reveal an ancient mystery. It's a mousetastic aquatic adventure!
Good for:  2-5 Grades
Upper Elementary/Middle School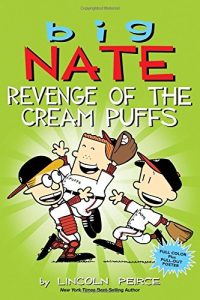 Big Nate: Revenge of the Cream Puffs by Lincoln Peirce     due out 9/6
It's one, two, three strikes, you're out, as the Cream Puffs seek sweet revenge!
Here come the Cream Puffs!  Nate and his baseball team, saddled with the most embarrassing moniker in Little League history, want to show the world they're not just a bunch of cupcakes. But it won't be easy. Their opponents mock them. The local sports section misprints Nate's name—THREE TIMES. And now, on the day of the big game, illness and injuries have the team facing a crushing defeat . . . unless the unlikeliest Cream Puff of all can come in from the bullpen and save the day.
Good for:  3-5 Grades/ Middle School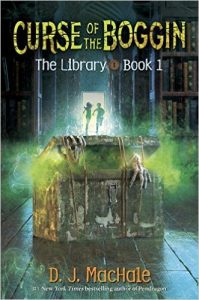 Curse of the Boggin: The Library  by D.J. MacHale      due out 9/6
There's a place beyond this world, beyond the land of the living, where ghosts go to write their unfinished stories—stories that ended too soon. It's a place for unexplained phenomena: mysteries that have never been solved, spirits that have never been laid to rest. And there's only one way in or out.
It's called the Library, and you can get there with a special key. But beware! Don't start a story you can't finish. Because in this library, the stories you can't finish just might finish you.
Good for:  3-5 Grades/ Middle School
Middle/High School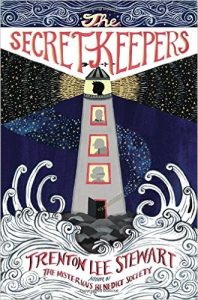 The Secret Keepers by Trenton Lee Stewart      due out 9/27
A magical watch, A string of secrets, A race against time
When Reuben discovers an extraordinary antique watch, he soon learns it has a secret power and his life takes an intriguing turn. At first he is thrilled with his new treasure, but as one secret leads to another, Reuben finds himself torn between his innately honest nature and the lure to be a hero.
Now he is on a dangerous adventure–full of curious characters, treacherous traps, and hairsbreadth escapes–as he races to solve the mystery before it is too late. Even with fearless Penny, mighty Jack, and the wise Mrs. Genevieve on his side, can Reuben outwit and outmaneuver the sly villain called The Smoke and his devious defenders the Directions and save the city from a terrible fate?
In this ingeniously crafted novel, acclaimed New York Times bestselling author Trenton Lee Stewart invites readers to join the adventure, decipher the clues, and ask themselves the question: Is knowing a secret a gift or a curse?
Good for:  Middle School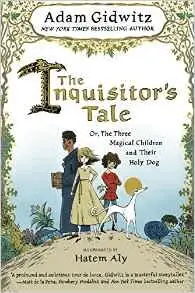 The Inquisitor's Tale by Adam Gidwitz      due out 9/27
1242. On a dark night, travelers from across France cross paths at an inn and begin to tell stories of three children: William, an oblate on a mission from his monastery; Jacob, a Jewish boy who has fled his burning village; and Jeanne, a peasant girl who hides her prophetic visions. They are accompanied by Jeanne's loyal greyhound, Gwenforte . . . recently brought back from the dead.
As the narrator collects their tales, the story of these three unlikely allies begins to come together.
Their adventures take them on a chase through France to escape prejudice and persecution and save precious and holy texts from being burned. They're taken captive by knights, sit alongside a king, and save the land from a farting dragon. And as their quest drives them forward to a final showdown at Mont Saint-Michel, all will come to question if these children can perform the miracles of saints.
Good for:  Middle School
Middle School/High School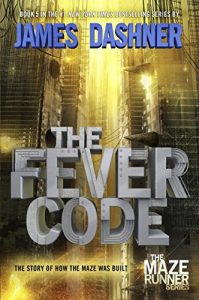 Maze Runner #5: The Fever Code by James Dashner     due out 9/27
A prequel to the worldwide Maze Runner phenomenon, The Fever Code is the book that holds all the answers. How did WICKED find the Gladers? Who are Group B? And what side are Thomas and Teresa really on? Lies will be exposed. Secrets will be uncovered. Loyalties will be proven. Fans will never see the truth coming. Before there was the Maze, there was The Fever Code.
Good for:  Middle School/ High School
Hopefully, you have found something you think your kids will like!  Each month you will find a new list of new books coming out, so if you didn't find anything here, just hang on….there's more coming!
Wishing You Happy Reading & Great Adventures!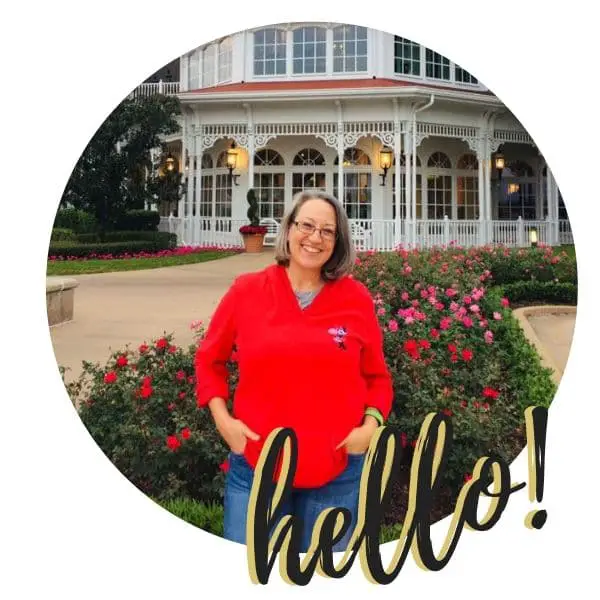 Becki is the author and founder of A Book Lover's Adventures. She has a degree in elementary education, has worked and volunteered in libraries for years, and spent several years in the travel industry. All of this has led to a love of books and travel. Becki loves to share her love by finding literary escapes to share!