10 Healthy Snacks for Teens ~ Quick & Easy & Yummy!
Do healthy snacks for teens seem like an oxymoron?  While I'm sure it's better for us to not snack between meals, I have noticed that my teens don't seem to buy into that theory!  If you've got teens then you know they are starving when they get home from school (and pretty much any other time)! We've been working on coming up with healthy options of what they can snack on after school and on weekend. I don't want them to come home and fill up on junk food and then not be hungry for dinner.  So our compromise has been to come up with healthy snacks they will love and I won't mind them eating.  That was the beginning of our search for healthy snacks for teens.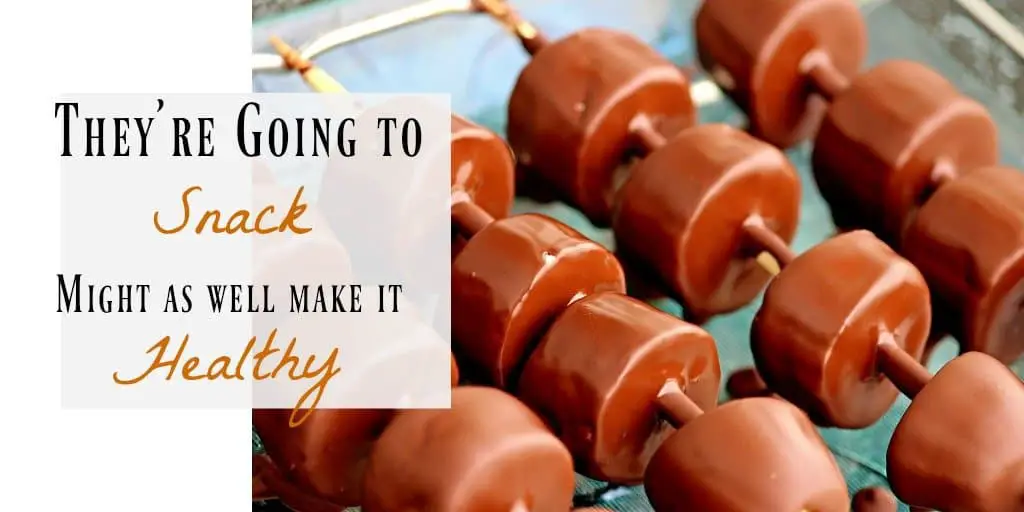 So, here's a list of our favorite healthy snacks for teens (or anyone, I suppose).
1. Roasted Chick Peas
This is such an easy healthy snack for teens, though it does take a little planning.  You have to soak the beans overnight, but the rest is pretty darn easy! And, chick peas are all kinds of healthy!  All you need are dry garbanzo beans and whatever you want on them. Here's a recipe on Pinterest you'll love!
2. Popcorn
Nope, you can't use microwave popcorn.  There are all kinds of yuck in those!!  But, put a little oil in a pan, cover the bottom with kernels and cover.  It's super easy!!  But, don't. walk. away!!  You can top your popcorn with all kinds of things – cheese, chocolate, salt, butter…be creative here!
3. Hummus Dip
This is a family favorite!  And, hummus is really easy to make and only takes about a minute!  Seriously!!  It's garbanzo beans (I use canned), olive oil, salt, tahini paste, and I throw in some cayenne – because I like it with a little kick.  Serve with pita or veggies.
4. Fruit
I've noticed in our house, if I have fruit around (and in sight) it gets eaten.  But, I have to have it on the counter (apples, bananas, oranges, plums, peaches, grapes) or cut up (melon, strawberries).
5. Quesadillas
These are another easy and versatile snack option.  You just need tortillas, cheese and whatever else you want in your quesadilla.  Good filling options – leftovers!!  Any leftover meat, veggies, spinach, seafood…pretty much anything is good here.
6. Oatmeal Energy Balls
These have been my favorite lately!  I found this recipe on Pinterest.  You can switch it up to make it your own easily!
7. Smoothies
We use almond milk as our base, but you can use regular milk or even water. Add some fruit, maybe a little protein (peanut butter or protein powder), and we usually add some green (spinach or kale).  Quick, easy, yummy and super healthy!
8.  Trail Mix
This one you can pretty much make however you want.  We've used pretzels, nuts, seeds, m & m's, Chex cereal, Kix cereal, or whatever else you want.  I usually make a big batch and then put into small baggies for the week.
9.  Veggies & dip
For the veggies, we like carrots, celery, and cauliflower.  For the dip we usually use a ranch dressing or honey mustard dressing.
10. Frozen banana dipped in chocolate
I like to cut the banana up in small, bite-sized pieces and dip them in melted chocolate.  Then, you just place them on pan with wax paper and put in the freezer.  Once they are frozen, you can transfer them to a smaller container (if they last that long).
Healthy Snacks for Teens
So, these are our favorite healthy snacks for teens! They are all easy, healthy and yummy!  And, your teens can easily make them all themselves!
What are your favorite healthy snacks for teens?  I'd love to hear!!  We are always on the hunt for new ideas and options.  Just let me know in the comments.


Other Articles You Might Enjoy
5 Tips For Traveling with Teens
Indianapolis with Teens ~ What You Need to See & Do
Entertaining Teens ~ And Loving It!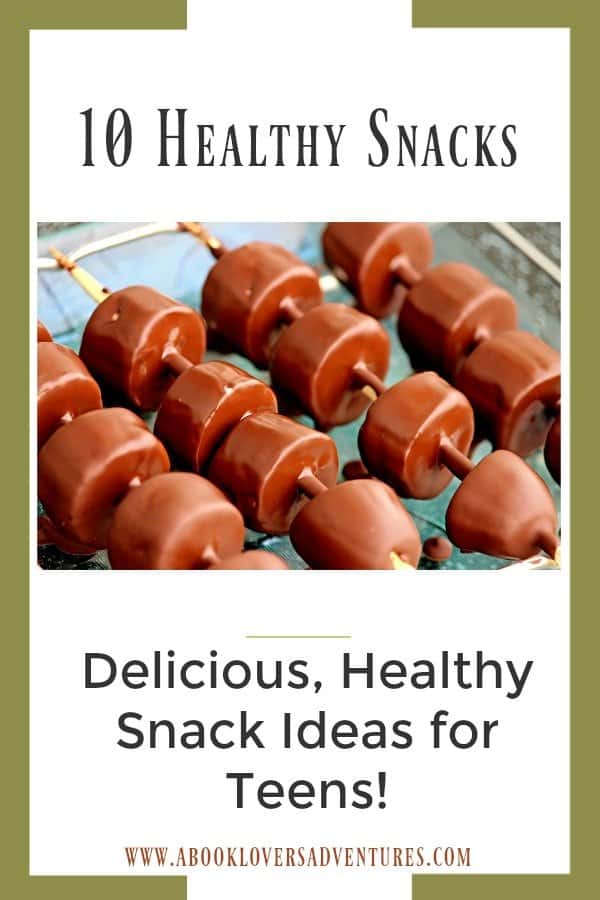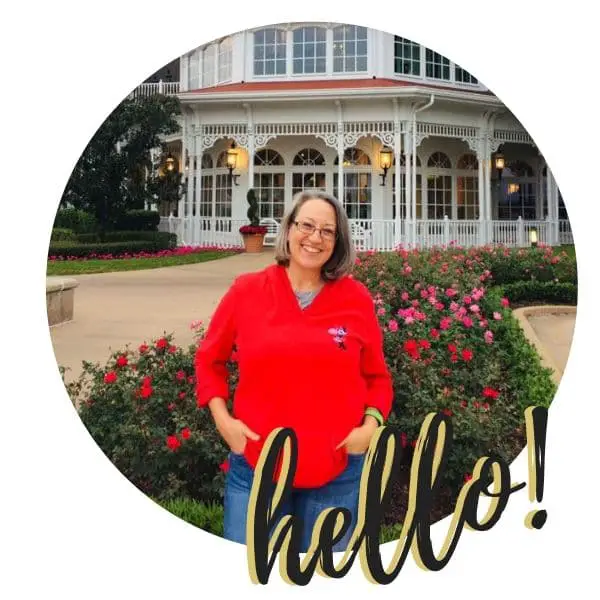 Becki is the author and founder of A Book Lover's Adventures. She has a degree in elementary education, has worked and volunteered in libraries for years, and spent several years in the travel industry. All of this has led to a love of books and travel. Becki loves to share her love by finding literary escapes to share!