Learning to be Flexible on Vacation
My Year of Adventure ~ Week # 30
For the year of 2017, I have challenged myself to a Year of Adventure!  For me, that means living life to its fullest and enjoying the small moments as much as the big moments!  This past week has been filled with all kinds of moments!  This past week, all those moments were spent hanging on Gulf Coast vacation with my family!  And, I learned a few lessons about being flexible on vacation and maybe rollin' with Plan B!
Gulf Coast Vacation
We realized, as we headed across the Florida to hang in Longboat Key, that it had been years since we'd vacationed on the west coast of Florida.  Our kids (who are now teens) were toddlers the last time we were there.  One of the things we loved about the Gulf Coast was playing in the beautiful water with the kids.
We vacation on beaches a lot!  So, my kids pretty much know how to "do" beaches.  Every other year, for pretty much their whole lives, we have gone on a beach vacation.  But, it's always been on the east coast.  The Atlantic Ocean.
So, when we got to the beach later that day, I realized why we loved a Gulf Coast vacation so much when our kids were little.  There are NO WAVES on the Gulf Coast!  Maybe it's an anomaly that only happens on the few times that we happen to be there, but holy moly!  My kids (who, as I said, are now teens) were not impressed, lol!
Being Flexible on Vacation
Once we figured out that body surfing and boogie boarding were definitely not going to be part of our week, we realized we were going to have to be flexible on vacation and figure out our Plan B for the beach.  As we wandered through the beach shop a few blocks from our rental house, we noticed a lot of masks and snorkels and blow up rafts.  We figured this must be what folks do on the west coast of Florida do at the beach.  So, we rolled with it!
Then, we returned to the beach armed with our newly purchased masks, snorkel and rafts.  I have to say, this being flexible on vacation thing opened up a really different world for us – an incredible underwater world.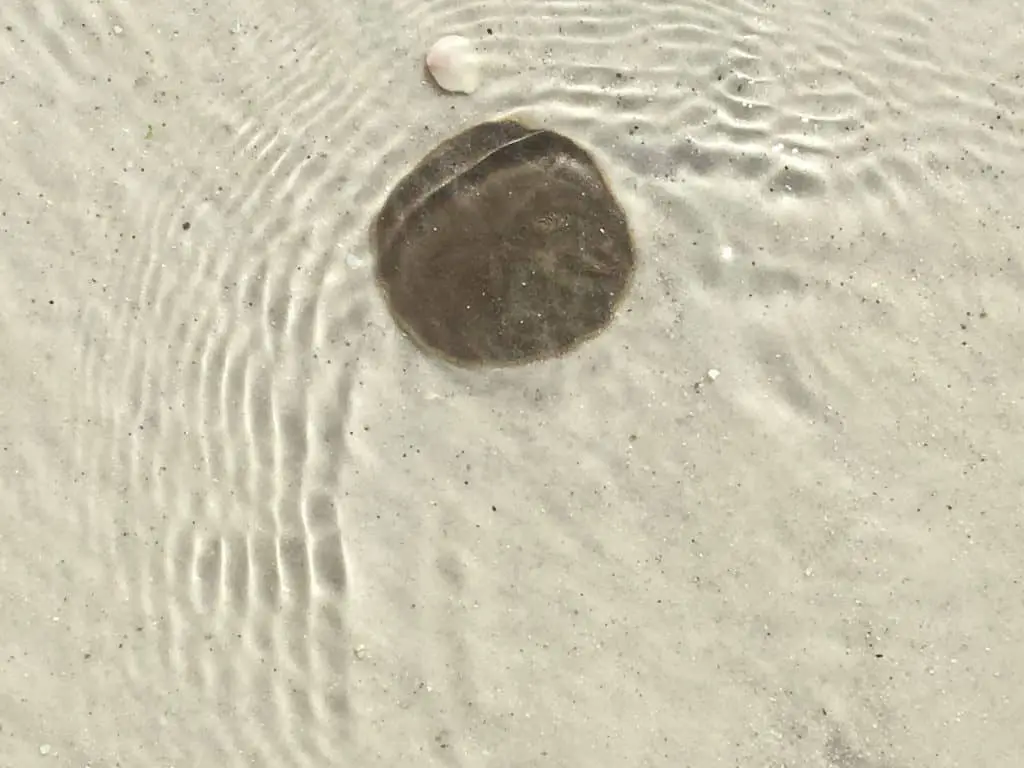 Making Memories
We realized, that because the water in the Gulf Coast is so calm, it makes for great visibility under water.  My son found a lot of sand dollars (all alive), which was really cool.  I had never seen a sand dollar alive before, so I found them fascinating!  We also saw a lot of fish swimming around and lots of shells on the ocean floor.  And, since I really enjoy finding shells, this wound up being a really awesome way to go shelling!
My Jaws Moment
One really memorable moment during vacation happened while I was on shore reading and my husband and kids were playing in the water.  Now, a little background on me and my beach fears.  I was in 5th grade when Jaws came out.  I was probably in either middle school or high school when I saw it.  I'm sure you can see where this is going… Jaws made a huge impression on me and my young mind.  And honestly, I haven't really swam in the ocean since.  I will sometimes play in the water close to shore.  But, I rarely go very far into the water.  So, when I am at the beach, I tend to spend a lot of my time looking for fins.  Not an impressive way to spend one's time, but there you go!
So, I'm on the beach reading, family's in the water playing.  I look up from my book and see a fin.  I jump out of my seat and run to the shore.  In the split second from seeing the fin, my heart was pounding and all kinds of thoughts ran through my head.  But, very quickly, I saw a bunch of other fins and it became obvious very quickly that it was dolphins jumping around.  I pointed to my husband and kids to look behind them and they enjoyed a really incredible moment of being surrounded by dolphins!  And, because I had jumped up so quickly, I had my book in my hand and not my camera 🙁
My son was watching all of this from below.  He had the goggles on, and got a completely different perspective of this unique moment.  Apparently there was a large school of fish swimming around, and the dolphin were feeding!  What a unique moment and opportunity!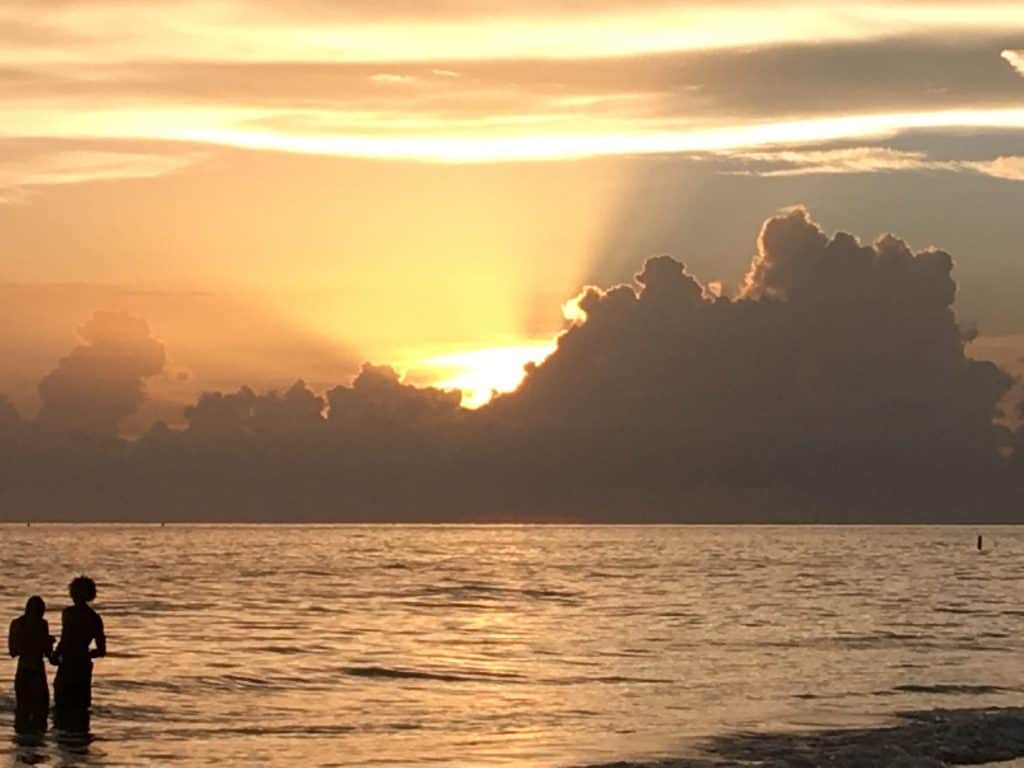 Lessons Learned
While I certainly am not an expert on rolling with the punches or being flexible on vacation.  I do however recognize that when I do roll with it, life seems to go a bit smoother.  And, a good chunk of time it will offer up a really great "reward" for my flexibility.
So, my lesson that will continue to struggle with is to try to be more flexible on vacation!  Be more open to Plan B, and just see what will come of it.  Sometimes those Plan B's are way more exciting and interesting than the original.
Other Articles You Might Enjoy
5 Tips For Traveling with Teens
My Surprising Day as a Hometown Tourist ~ DeLand, Florida
How to Survive Hurricane Season While on Vacation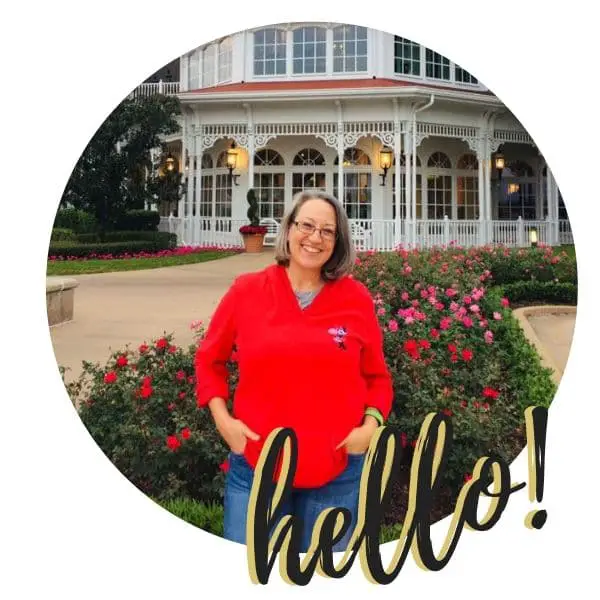 Becki is the author and founder of A Book Lover's Adventures. She has a degree in elementary education, has worked and volunteered in libraries for years, and spent several years in the travel industry. All of this has led to a love of books and travel. Becki loves to share her love by finding literary escapes to share!