The Treasure of My Strawberry Picking Adventure
My Year of Adventure #4
This year I've chosen to have a Year of Adventures!  Each week I will be highlighting one of my adventures from the past week to share with you, and hopefully encourage you to have and share your own adventures!  Before I get into my Strawberry Picking adventure… I'd like to share a little bit of my "why."
My "why"
Why I decided to have My Year of Adventure.  Blogging is a part-time gig for me.  Most of the time, very part time!  I started it about 6 months ago as a creative outlet after having made the decision to not go back to work.  My work was in an elementary school library, which I loved.  But, family comes first, always, so the decision was made to not go back to work in September.  The reason for my not going back to work was (and is) two-fold.  My children are getting older, 13 and 16.  And is always the case, my time with them is limited because their schedules are so busy.   So, it is important to me to share their lives when and where I can.
My other reason for stepping away is my mom.   Mom is 80-years old, legally blind and has dementia.  Some days are better than others, both for her eyes and her dementia.  But, as with my children, I know my time with her is limited.
So, my "why" is to enjoy both my children and my mom for as long as I have them.  It's so easy to get into a boring routine in life, and I'm fighting that one adventure at a time,  and am determined to enjoy it as much as possible with the people I love the most.
My Adventures with Mom
So, for that reason, my mom is my partner in a lot of my adventures.  It is a challenge some days to find things that mom can still do.  Little by little, all that she used to be able to do has been taken away from her.  So, I when I look for adventures that will include her, I try to find things that will be fun for her and hopefully engage her.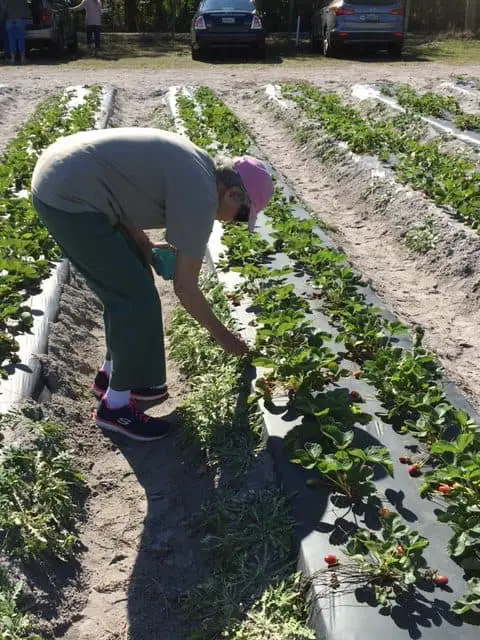 Strawberry Picking
I decided one particularly beautiful day that we should go strawberry picking.  But,   I wasn't sure how strawberry picking would go.  I wasn't sure if mom would be able to participate, or if she would enjoy it.  But, it worked out really well!  She was thrilled to be able to find and pick the strawberries!  Granted, some of what she was picking were the green ones, but I wasn't going to point that out to her! 🙂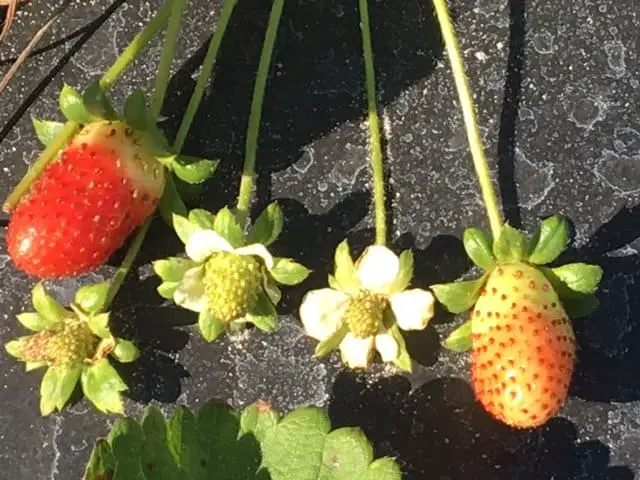 She did an awesome job and we had a really lovely morning!  The weather was beautiful, there were lots of young families out enjoying the day with us.  So, it was fun to hear the little kids enjoying the process of finding the big, red strawberries!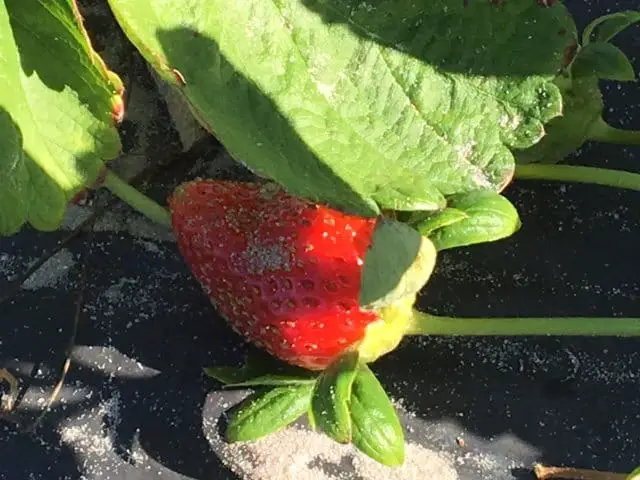 Part of my decision to challenge myself to My Year of Adventure was to get back, if possible, some of the childlike wonder that one loses as they "grow-up."  My mom has that child-like wonder a lot of the time.  She is able to thoroughly enjoy the small, simple pleasures in life.  And, being around her as often as I am, I can only hope that some of that will wear off on me.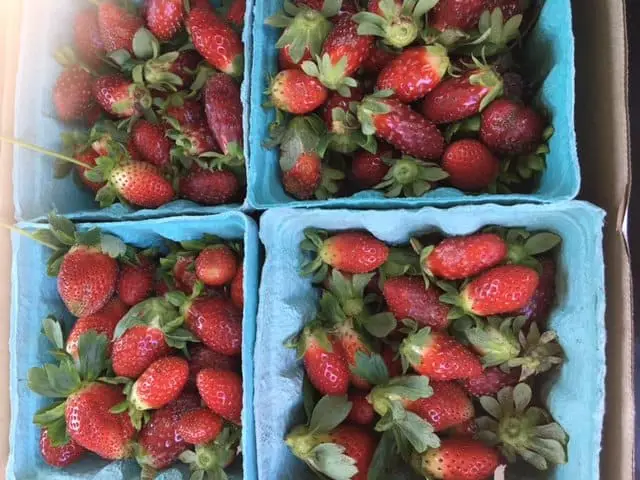 The spoils of our day wound up being four baskets full of strawberries!  We were quite impressed with ourselves, haha!
And, to top off our delight, my son used some of the strawberries to make his grandma's favorite dessert – ice cream!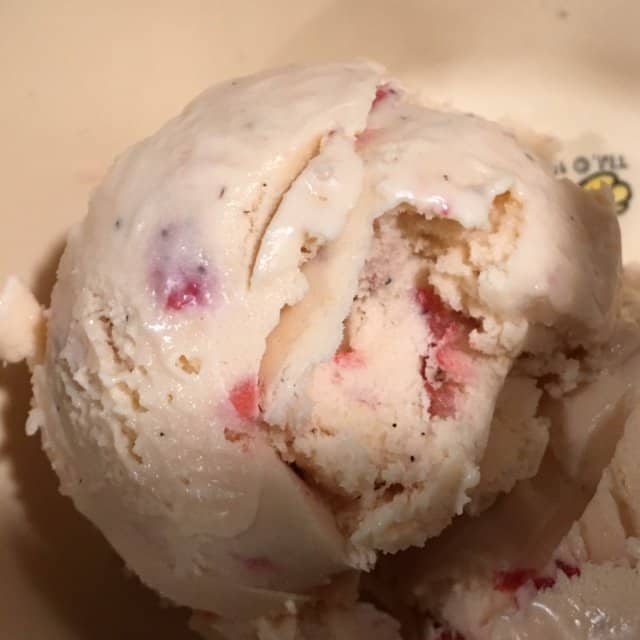 Lessons Learned
Life is too short to not enjoy all the small moments!
Adventures are better when shared
Money is important to make ~ but, it's even more important to make memories!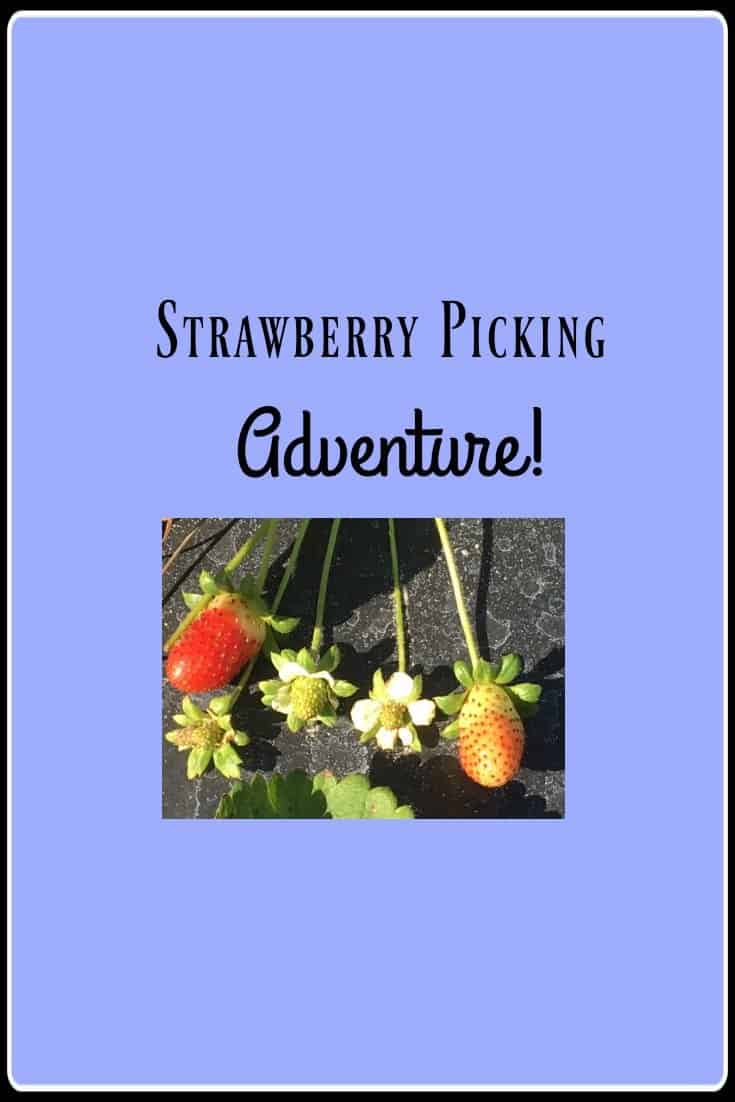 Other Articles You Might Enjoy
Top 5 Most Popular Adventures from My Year of Adventure
5 Tips for Surviving Life's Hard Seasons
My Surprising Day as a Hometown Tourist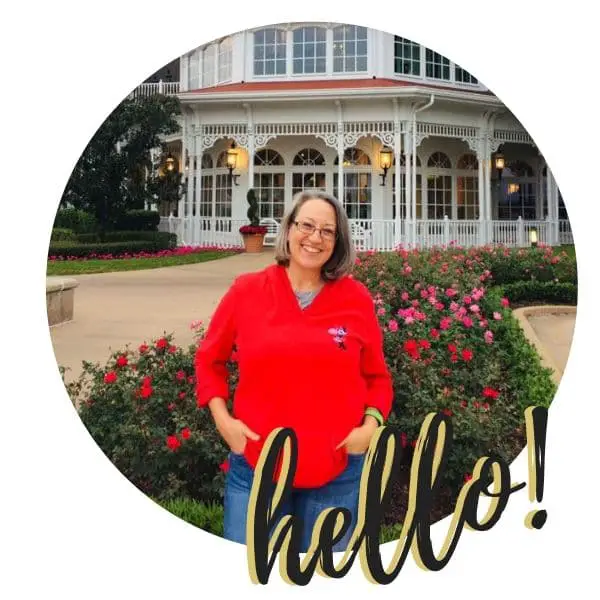 Becki is the author and founder of A Book Lover's Adventures. She has a degree in elementary education, has worked and volunteered in libraries for years, and spent several years in the travel industry. All of this has led to a love of books and travel. Becki loves to share her love by finding literary escapes to share!