Leaving a Legacy – 3 Beautiful Lessons & Lifetime of Love
For the year of 2017, I have chosen to have a Year of Adventure!  For me, that means finding adventure in the everyday.  Sometimes my adventures take me to exciting and new places, but mostly they are the small things in life.  Things that could easily be overlooked if one is not looking!  This week I was faced with the idea of leaving a legacy! And, for our family, what leaving a legacy means!
Leaving a Legacy
According to Dictionary.com, legacy is defined as:  anything handed down from the past, as from an ancestor or predecessor.
I read a Huffington Post article that said, "The idea of leaving a legacy is the need or the desire to be remembered for what you have contributed to the world. In some cases, that contribution can be so special that the universe is unalterably changed."(1)
As I have come to realize, leaving a legacy doesn't have to involve millions of dollars or a hospital wing.  This past week, this notion of leaving a legacy was brought to life for me via Facebook.  In a very personal and close to home kinda way!  My sister put out a call on Facebook looking for anyone who had a rug made by my mom.
A Legacy of Rag Rugs
Let me give you a little background…
My mom used to make rugs out of old sheets.  Sheets were easily accessible, inexpensive and easy to find a variety of colors.  She, I think, originally made them for practical reasons.  We needed rugs in our house, these were very durable and would stand up to lots of kids running around on them, so it made sense.
In later years, mom made them because it was something she could do.  Something both creative and practical, both of which appeals to her.  And, making her rugs became a kind of therapy for mom after dad died.  A few years later, as dementia began stealing abilities from mom, she found she was still able to make her rugs.  Her rug making became an incredible gift, because it was one of the very few things she was still able to manage by herself.
Mom's Mission
She has always thought of her rugs as a mission.  She would always have a stack of them at her house, and when she thought someone should have one she would let them choose the one they wanted.   Sometimes people would want to buy them, but mom insisted that it was a gift because she wanted to do this for them.  She very much enjoyed being able to share this gift with others.
When the dreaded day came that dementia stole the ability from mom to continue making her rugs, we wanted to help her find a proper home for all her supplies.  And, in the wonderful and mysterious way that God works, the perfect solution presented itself.  Our church does a mission trip to Nicaragua each summer and they were looking for an activity to do with the women's ministry they were organizing.  The rugs and rug supplies seemed to be the perfect answer.  Mom has always been very pleased with this solution.  She loves the idea of women continuing her work of making the rugs!
So, back to today.  In the call put out on Facebook, we've been finding where some of mom's rugs have landed.  While quite a few are local (here in Central Florida), some have made their way across the globe!
Where Mom's Legacy Has Reached
Here's a few of the places mom's rugs have landed…
Central Florida
A lot of mom's rugs have landed in Central Florida, since this is where she has lived for the past 40+ years.  So, there are rugs in Astor, DeLand, DeLeon Springs,  Sarasota, Debary, Fort Myers, Lake Helen and probably a few other places that I've missed!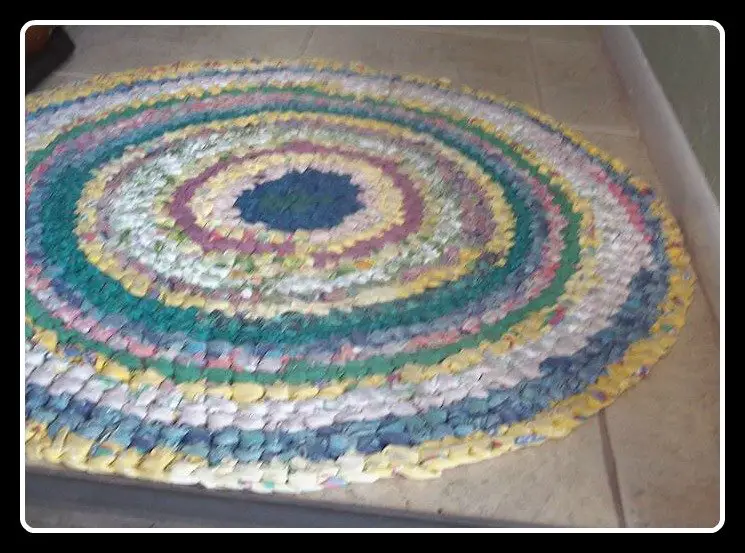 Around the Country
But, as people tend to move around, the rugs have also widened their reach.  We've also found rugs in Georgia, Montana, Iowa, Alaska, and Texas.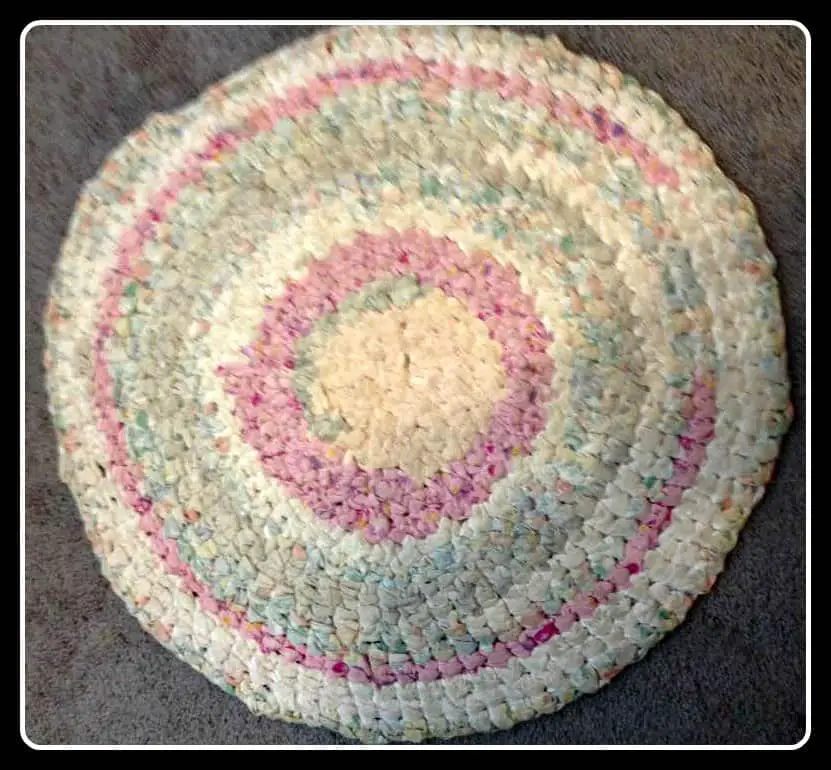 Around the World
There are even rugs in Afghanistan and New Zealand!
[clickToTweet tweet="RT Appreciated ~ Leave a Beautiful Legacy! Find out how! #legacy #leavingalegacy #abookloversadventures" quote="Leave a Beautiful Legacy with Love and a Rug!" theme="style1″]
The Passing of the Torch
So last summer, mom's supplies and knowledge of how to make the rugs made their way to Nicaragua.  One of the women from our church took the time to learn how to make the rugs and passed that information on to the women they met in Nicaragua.  Here's a couple of the many rugs made down there.  They continue to be both creative and practical!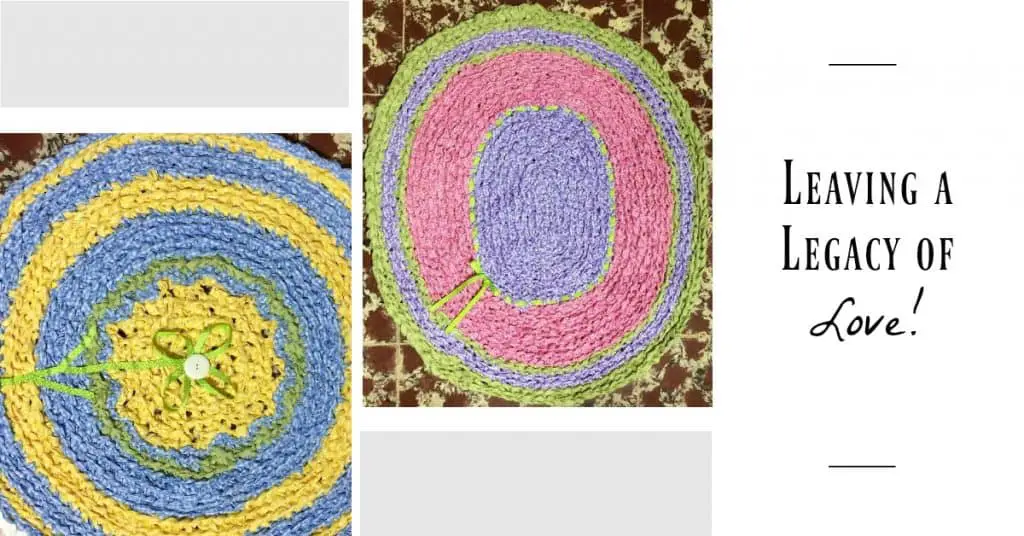 Lessons Learned
Mom's rugs have been a part of my life for as long as I can remember.  My aunt mentioned recently that mom learned how to make these rugs at the knee of her grandma.  So, the legacy goes back even further!  I doubt very much that my mom as ever given much thought about leaving a legacy.  And, while she has been very frugal throughout her life and has tried to be careful about planning for the future, her Legacy ~ as I see it ~ is so much more than anything left in a will!  We've been blessed with a legacy of love and rugs that will forever remind us of mom.
Since we are still blessed with having mom around, this summer she and I are going to embark on a new/old journey together.  We are going to try our hand at making a rug together.  It should be interesting because mom doesn't remember how to make it any longer and I have never made one.  Not real sure what we'll wind up with, but it will be made with love!
Leaving a legacy is more about love than stuff!

The stories we've heard from some of the recipients of mom's rugs are what living a good life is about!  When I read mom all the stories that people posted on Facebook, she was just astounded that so many people had her rugs and treasured them!

Passing down traditions!

I'm disappointed that I never thought to take the time to learn the art of rug making from mom while she was still making them.  After all, I was always a crafty one!  I enjoy creating and being creative, but I guess making rugs never appealed to me.  But, I'm really looking forward to making one with her now and maybe one day will be able to pass it down in my family.

New Adventures together!

Finding meaningful things to do with mom is a challenge some days.  She very much enjoys when she can share in the adventures that I write about.  She works hard to remember to follow up with me and ask about them.  But, this adventure that we are going into together is somehow different.  It's very meaningful to both of us.  She is excited to try making a rug again, and I am excited to be part of something bigger with her and for her.
Who would have thought that a lowly rag rug could have so much love wrapped up in it!  Look around you and see what legacy you are leaving.  Make it something beautiful and something made with love!


Remember, sharing is caring!
So, if you enjoyed this article, please share with your friends on Social Media!
[social_warfare]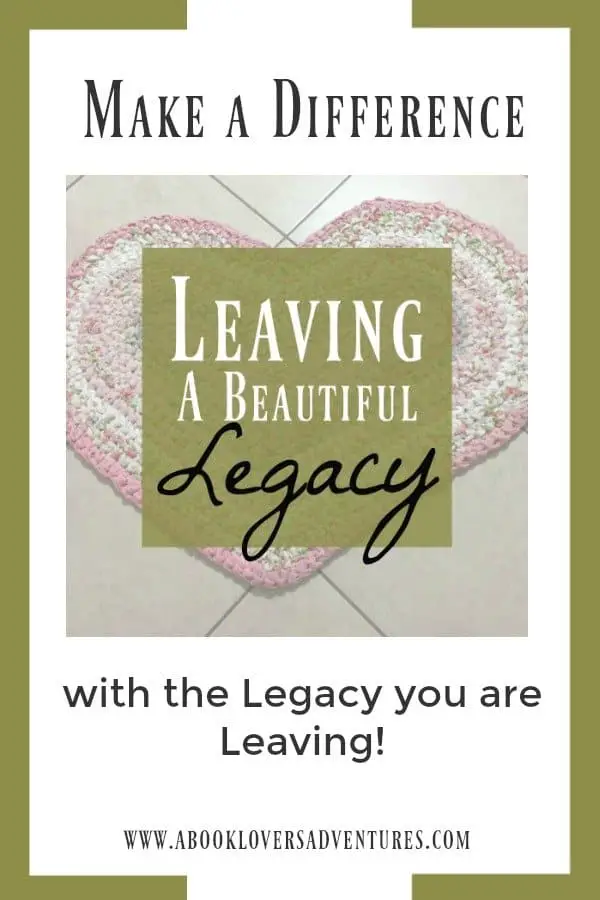 Other Articles You Might Enjoy
How to Find Adventure in a Hard Season of Life
Family History ~ The Fascinating and Eye-Opening Truth
Letter writing ~ How to Give the Beautiful Gift of Words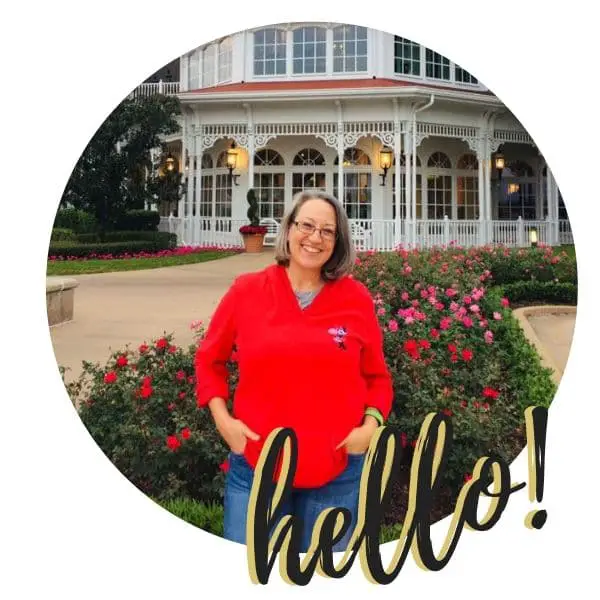 Becki is the author and founder of A Book Lover's Adventures. She has a degree in elementary education, has worked and volunteered in libraries for years, and spent several years in the travel industry. All of this has led to a love of books and travel. Becki loves to share her love by finding literary escapes to share!