This page contains affiliate links. If you make a purchase through one of these links, I will be minimally compensated at no charge to you!
Genre: Self-Help/Health
3.5 stars
This is a huge book filled with recipes, facts, figures and way, way too much information.  It is the complete guide to a high-fat diet that is supposed to work miracles.  It did for my husband—Grr.  Yes, he lost 21 pounds in three weeks and I lost one (yes, I said one lousy) pound in the same amount of time.  He tried to tell me that my pants looked looser, but I am not buying it.
The books gives so much information that you find yourself swimming in what is a macro, a good fat, a bad fat, an acceptable protein and a not allowed vegetable.  He simply did the Atkins thing with more butter.  I tried to figure it out with the book, which certainly tells you anything you could ever want to know about KETO, and was still confused.
My suggestion is to join online groups and they can guide you on how to understand the book.
Genre: Psycological Thriller
4 stars
Another fiction novel about mothers, daughters and small-town politics and gossips.  There is a fire in the cafeteria when Rose McKenna was volunteering.  She rushes the children outside and then realizes her daughter Melly is locked in the nearby girl's bathroom.  Rose is able to save Melly but is later accused of not getting one of the little girls to safety.  To make matters worse, the little girl who did not get out safely just happened to be a bully to Melly.
Soon, the community has taken sides and a television reporter has decided to make an example of Rose.  Rose's husband is a lawyer, but works only in corporate law and so is not much help with the trouble at home.
Rose turns out to be a formidable "Mama Bear" and takes on the town.  The novel is well written and the characters realistic and believable.  I think you will enjoy it.
Genre: Contemporary Fiction
3.5 stars
This novel was a Readers Club Selection.  I found it interesting as far as fiction goes, but there were some places where the story lagged, dragged and sagged.
The story is a chilling drama of a family of four-Mom, Dad and two young girls.  The parents are separated and Ted, the father, hopes to reconcile.
He has taken the girls on a hunting and camping trip and brings the gun in the house when they return.  A few harsh words are exchanged and all of a sudden the gun goes off and the mother, Ann, is killed.  The rest of the book is taken up with trying to solve the mystery if it was a deliberate act or an accident.
Secrets are revealed, lies are told and many layers of turmoil is revealed in trying to get to the truth.
It is a quick read and didn't take up too much space in my mind, so I will give it 3.5 stars. But I don't think I will be searching for more of her books.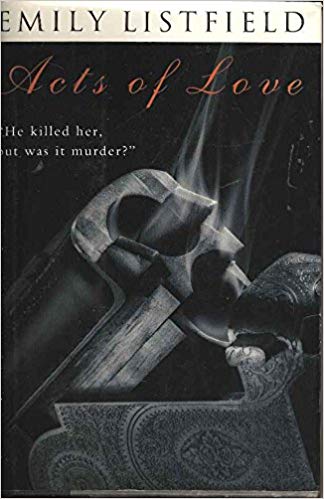 Genre: Spiritual
5 stars! I love the quote Echo opens the book with by Albert Einstein "The intuitive mind is a sacred gift and the rational mind is a faithful servant.  We have created a society that honors the servant and has forgotten the gift."
As a spiritual seeker, I enjoy finding (or being guided to) various books that speak to my soul.  Echo uses this book to tell the remarkable story of her discovery of her psychic abilities, then tells the truly fascinating story of the views of other worlds she has been given.
She helps those of us who are listening to the still small voice to understand a deeper level of a spiritual life.  It is good to learn and relearn spiritual truths from others who have gone before us.  A valuable and small, easy to read and highlight book.
Genre: Spiritual
5 stars! I picked this book up at the University Women's Annual Book Store and was glad I did.  I had always been curious about the various Archangels and how to access their power.  I recognize that not everyone will believe or even be interested in learning about angels.  However, I have had a number of spiritual experiences since being a young child so I knew there was plenty of unseen help around there for us.
I found her study of the different countries and cultures and their own angels fascinating.  It was also fun to learn about historical references that I come across in other books and readings and to find out their origins.
There is a special section on invocations for specific needs and issues and that is also interesting.
Doreen Virtue is a spiritual doctor of psychology who works with the angelic realm in her writings and workshops.  She is one of my favorite Hay House authors.
If you enjoy reading spiritual books, you will certainly enjoy "Archangels & Ascended Masters"
Poetry
Carol Lynn Pearson is My Favorite Poet In The World
I have loved reading Carol Lynn Pearson for forty years.  I always feel she is writing just to and for me and that others just happen to also enjoy her work.
While spiritual in tone, never preachy or sanctimonious in writings, she touches the heart of the reader.   My favorite in all the wonderful sharing is called "The Day-Old Child"–
My day-old child lay in my arms.
With my lips against his ear
I whispered strong, "How I wish–
I wish that you could hear;
"I've a hundred wonderful things to say
(A tiny cough and a nod),
Hurry, hurry, hurry and grow
So I can tell you about God."
My day-old baby's mouth was still
And my words only tickled his ear.
But a kind of a light passed through his eyes,
And I saw this thought appear:
"How I wish I had a voice and words:
I've a hundred things to say.
Before I forget I'd tell you of God–
I left him yesterday."
Now you can begin to see the strength and power her words have on those who are lucky enough to read her works.
Non-Fiction: Self-Help
The Healing Power of Pets—Harnessing the amazing ability of pets to make and keep people happy and healthy

If you are a Pet Parent, then you already know how happy your pets make you.  You love them as if they are members of the family, and they are.  Our dogs Rosie and Focus (don't ask) are fed better food than we eat, talked to as if they were able to talk back and loved to no end.

Dr. Marty Becker has the unique opportunity to share as the Good Morning America's veterinary correspondent.  He is also a well-respected speaker and workshop leader at many of the leading pet conferences.

In this particular book of The Healing Power of pets, he blends stories and anecdotes with science about the value of having and loving pets.

My favorite section is chapter two called "Untying the Knot of a Troubled Childhood."  Dr. Becker shares the impact animals had on the community of Columbine after the horrible school shootings. It was amazing to see children who could not be comforted or cured of the PTSD, be able to connect again with an animal, either their own or one brought in by the counselors.  He also writes about the deeply disturbed behavioral teens who all of a sudden connect with farm animals.  There the horses, pigs, cows, dogs and other animals provide the unconditional love that many of the students have never received or given.  The students are not allowed to harm or damage any animal in any way.  They are allowed and encouraged to nurture an animal with a counselor present until the staff is sure there will be no abuse.

You will enjoy this book, even if you are not now currently a Pet Parent.  It will help you remember and reflect on the many animals that have been in your life, directly or indirectly.  It may even encourage you to get a new dog or cat or fish.  You never know, this may be the health secret you have been waiting to find.
Non-Fiction: Self-Help
 author of The Intention Experiment
The tagline is Harnessing the Miraculous Energies of a Small Group to Heal Others, Your Life, and the World.
A book by Lynne McTaggart is always one you want to read with a highlighter and a pen in your hand.  There is always so much to think through and re-visit.  So much to remind you of what you already know.  And, so much to nudge your soul to move to higher spaces and places.

This book was recommended by the leader of my Miracle Manifesting Circle and I can readily see why.  It has helped me to see the "Power of the Eight" and the joy of a committed circle of supporters.

If you are thinking of starting or joining a MasterMind, please take the time to read this book.  You will be grateful you choose to structure it in a powerful way.

Excellent writer and thought leader in the world.
Jodi Picoult has long been one of my favorite writers.  She writes about such deeply emotional and traumatic things that I can't always finish them in one setting.  She is the author of My Sister's Keeper  which many of you may remember the book and movie about a family who has another child in order to use her blood and organs to keep their oldest daughter alive.  This book is no less riveting.
This book is all about forgiveness.  Forgiveness of one's self and forgiveness of another's atrocities.  An old man chooses Sage Singer, a baker and introvert who has been scarred in a car accident, to befriend him at a grief support group.  He finds that she has Jewish heritage and wants to confess his sins and be forgiven by her.  The more he shares with her, the angrier and more non forgiving she feels.

While the story line is harsh, it also provides a different look at the thought process of those young German men who choose (or were lead) to follow Hitler.  The narrative helped me to see how one could be converted bit by bit into betraying your values and standards as well as your friends.  I am grateful that this is also basically a love story.  It is a love story of Sage and Leo who find companionship and love in a strange partnership.  It is a love story of Sage and her grandmother. And it is a love story between Sage and Mary DeAngelis or the former Sister Mary Robert who has opened a shrine in Westerbrook, New Hampshire.  As part of the shrine she and Sage run a bakery called "Our Daily Bread."
If you enjoy great writing that is backed by accurate historical and documented research, you will love reading Jodi Picot's 

The Story Teller.
Contemporary Fiction
 Five stars on Amazon 

Nineteen Minutes is an excellent book and I much prefer the new cover. Jodi Picoult always has the ability to keep the reader guessing and usually guessing wrong. I really love how her stories have such a surprising ending.

This one is about a school shooting which is becoming every parent's nightmare. There is a pecking order on the playground starting in pre-school and continues through college. One of the ways a kid knows where he is on the pecking order is where he sits in the cafeteria. If you want to know how your kid is doing ask him to draw out the cafeteria and show where the jocks, nerds, intelligent and popular kids congregate.

This story is about parents who try so hard to be best friends with their kids and can never quite get into the mind of a teenager. Like most parents of teenagers, we are never sure whether it is just a "stage" or "hormones" or they need to see a therapist.

I do like the new covers Jodi Picoult is putting on her books.
Psychological Thriller
Even though this is an older book, 2015, by Little ,Brown and Company, I do not think it is worth buying for full price.  If you can get it at a yard sale, as I did, then it may be worth a couple of hours time.  It is billed as a thriller, but I have my doubts about how thrilling this is.  It was not to me.