As you may know, and if you don't let me tell you, I'm a huge Harry Potter fan!  Like most, I've read the books and watched the movies.  And, living in Central Florida, we've been to the Wizarding World of Harry Potter several times.  Heck, we even had the opportunity to visit the Warner Bros. Studios in London. 
Ok, let me just say right off the bat – this is not a sponsored advertisement or anything like that!  So, that being said and NOT being an exercise person (don't judge!) I have to share with you my fabulous find!  The Harry Potter Running Club …actually, it's the Potterhead Running Club, but around here we call it the Harry Potter Running Club lol.
Potterhead Running Club
Ladies and gentlemen, I introduce you to The Potterhead Running Club (a virtual running club)!  Ok, in my case "running" might or might not be a little exaggerated!  But, let me tell you – I finished a Half-Marathon!  Ok, I walked it and it took me 3 days, but…I did it!
So here's a little bit about the Hogwarts Running Club:
From their website:
Why I Love the Potterhead Running Club
Why I Love the Potterhead Running Club, or PHRC?! My kids love Harry Potter as much as I do.  My daughter maybe even a little more?! 
So, when I asked them to walk 13.1 miles with me over three days, they said yes to a Harry Potter virtual run!  Versus the no I would get if I ask them to walk around the neighborhood with me. 
Even my husband, who is a runner, joined us for the half-marathon walk!
We not only got some great exercise but some fun quality family time outdoors!  We purposely chose some pretty trails in our area to make the trek a bit more enjoyable (and shady).  Let me tell you, thirteen miles is a lotta talking!
Along with family time and exercise, the Potterhead Running Club is a charitable organization that donates to some very worthy causes! 
Find a Harry Potter Virtual Run to Join
So, if you'd like to join a Harry Potter virtual run just head over to Potterhead Running Club now.
On their homepage you will find what the latest run is that you can join in on.
Register
Basically, it's easy!  Just pop over to the Potterhead Running Club website here and register for the event! Currently, the pricing for a run is $27.
By signing up for a Harry Potter virtual run you get:
a bib (a name/number to put on your shirt, if you so choose)
an official race medal (which are completely awesome),
and bragging rights because you did some sort of physical activity! 
For an extra donation, you may get a t-shirt that goes along with the race.  Kind of a fun conversation starter!
And, since it's a charitable organization – you get a tax write-off along with your exercise!
Basically, it's a really fun excuse to get more HP paraphernalia, lol!  And, as a result, I happen to get some exercise.  Which is great!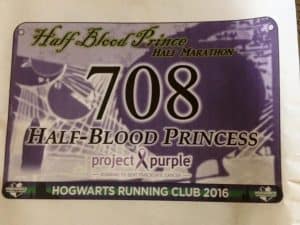 Run Your Race
The beauty of a Harry Potter virtual run (or any virtual run for that matter), is that you can run/walk the race whenever and wherever you want. You run or walk your Harry Potter virtual run on one day or split it up over the course of more than one day like we did.
After you've run your race, just log in to Potterhead Running Club and submit your results.
Get your Medal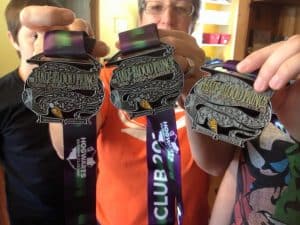 So, if you happen to be a Harry Potter fan, or a runner, or both – go check out the Potterhead Running Club!  They are doing good work!  And join me in (virtually) running for a great cause!
And, if for some strange reason you haven't read the Harry Potter series yet, DO IT!  Hopefully you'll love them as much as we do!
Other Articles You Might Enjoy
Harry Potter Vacation in the US
Harry Potter Books in Order – All 20!
Harry Potter Feast – Make it Magical!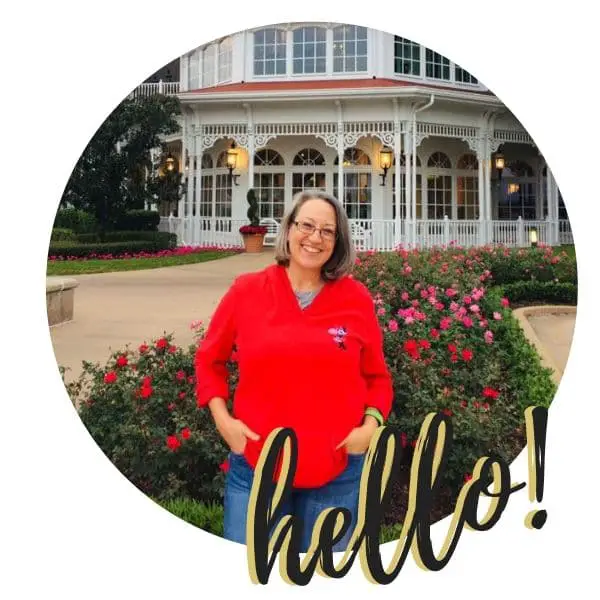 Becki is the author and founder of A Book Lover's Adventures. She has a degree in elementary education, has worked and volunteered in libraries for years, and spent several years in the travel industry. All of this has led to a love of books and travel. Becki loves to share her love by finding literary escapes to share!