How to Give the Gift that Keeps on Giving
For 2017, I have challenged myself to a Year of Adventure!  For me, that means not waiting for life's mountain top moments, but expecting an adventure everyday.  This week I had the opportunity to experience one of my favorite books, Harry Potter, in a whole new way.  I realized we had the gift that keeps on giving !!
** This article does contain some affiliate links for your convenience! If you make a purchase through one, I will be minimally compensated at NO extra expense to you. **
Give the Gift that Keeps on Giving
Let me explain, a few years ago we went away from a Christmas filled with gifts to a more experiential type of Christmas.  So, this past Christmas, for our Family Gift we chose to do tickets to a local Performing Arts Theater.  And let me tell you, this has definitely been the gift that keeps on giving!
We each got to choose one show from their calendar of events for our part of the gift.  So, in the end, we all got to experience four different shows together.  The first show was in January, and we got to see Dancing with the Stars Live!  This past weekend we got to go to the theater for my show!
Harry Potter Experience
So, let me give you a little background on myself (and my family).  We are big Harry Potter fans!  It started with the books, then moved on to the movies, then onto Universal Studios' Wizarding World, and then to London for the Warner Brothers Studio Tour.  So, suffice it to say, we are Harry Potter nerds!  Big time!
I chose for my show the Harry Potter and the Sorcerer's Stone ~ In Concert!!  It was the first movie of the series, shown on a 40-foot screen, with the Orlando Philharmonic playing the soundtrack along with the movie.  When I saw that this was coming to Orlando, I bought the tickets and then asked my family if they wanted to go, lol!  Guess I had it a little backwards…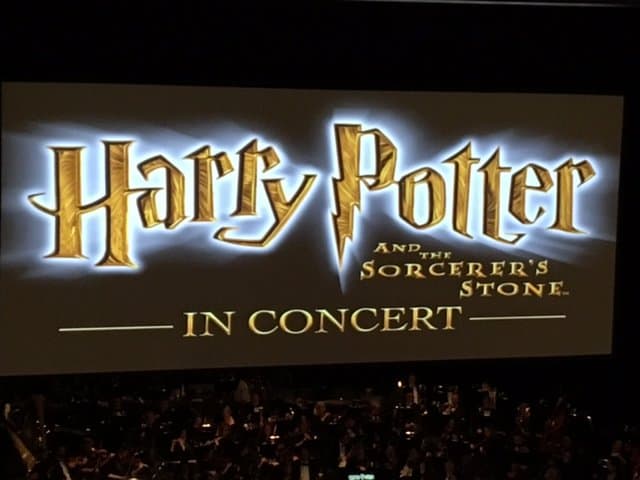 Justin Freer, President of CineConcerts and Producer/Conductor of The Harry Potter Film Concert Series explains, "The Harry Potter film series is one of those once-in-a-lifetime cultural phenomena that continues to delight millions of fans around the world. It is with great pleasure that we introduce for the first time ever an opportunity to experience the award-winning music scores played live by a symphony orchestra, all while the beloved film is simultaneously projected onto the big screen. It will be an unforgettable event." (1)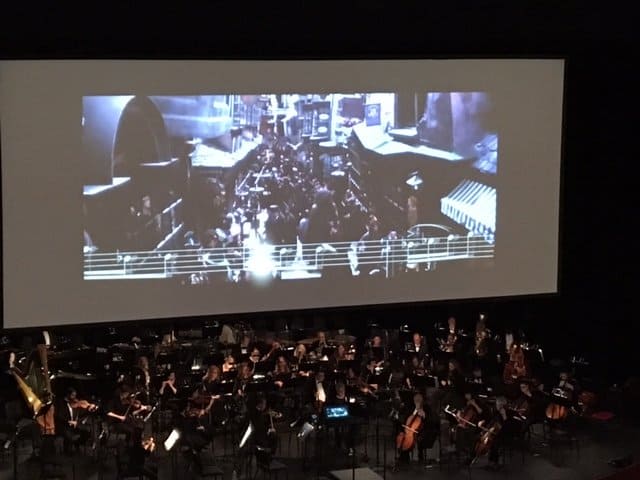 I'm sure it was an incredible undertaking to make this happen.  Prior to the show, they played a video showing some of how it all came together.  Getting the timing of the music in sync with the movie must have been an incredible task!  And, to have it live – which means NO MISTAKES!!
Since both of my kids are band kids, it was interesting to check out what instruments were in the Philharmonic.  My daughter noticed that there were 3 bassoons (her instrument), my son plays oboe, but we weren't sure if we actually saw any, there was a harp, lots of strings, not a lot of brass.  But, it all worked beautifully together!
The Movie
Right before the movie/concert started, the conductor, Justin Freer, chatted with the audience a little.  He acknowledged that typically in a concert he would not encourage noise, applause throughout, or cheering/booing.  But, for this experience, he wanted us to be involved with it!  He encouraged us to cheer for the characters we liked, boo the ones we don't.  Cheer for our Hogwarts house.  Basically, he wanted us to be part of the experience, not just by-standers!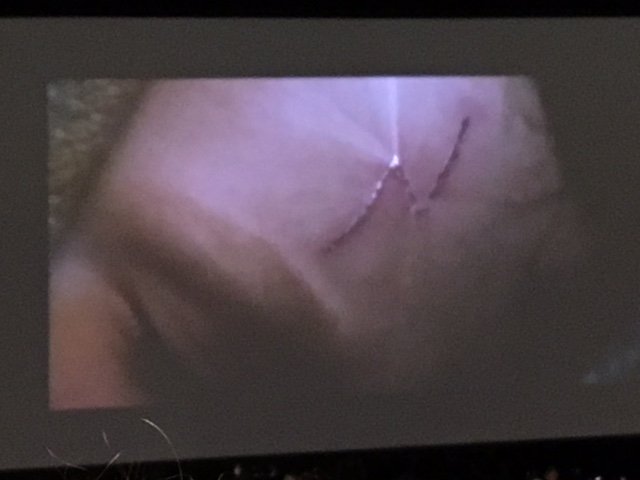 So, when the movie started, it was welcomed with enthusiasm!
Choosing a Gift that Keeps on Giving
For us, being able to go to these concerts and shows together has been a really wonderful family experience! We finished up the last of the shows from this gift in October of 2017, so it truly was a gift that keeps on giving for us!  The shows that we saw were all different and unique to the chooser, but they were all a fabulous experience and made for some pretty great family memories!
Crafting Your Own Experiences
So, now it's your turn.  Here's a few tips on giving a gift that keeps on giving!
If it's a "family gift" like ours was, make sure everyone has a say in the gift! You want it to be special for everyone.
Giving experiences is so much more special and personal! Here's my article about that.
Some "gift that keeps on giving" gift ideas:

tickets to ______ (whatever is special to your family: sports, concerts, comedy shows, theme park)
monthly date with each other (doesn't have to be expensive!)
take lessons together (for whatever you would like to learn)
make a garden together and reap the benefits throughout the year
You get the idea! There's lots of ways to craft this to make it work for your family or your situation! The point is to find a way to spend time together and make special memories. So, how you do it will be as special as who the gift is for!
Other Articles You Might Enjoy
10 Picture Perfect Reasons to Visit WB Studio London
6 Reasons it's Important to Have Family Fun
Letter writing ~ How to Give the Beautiful Gift of Words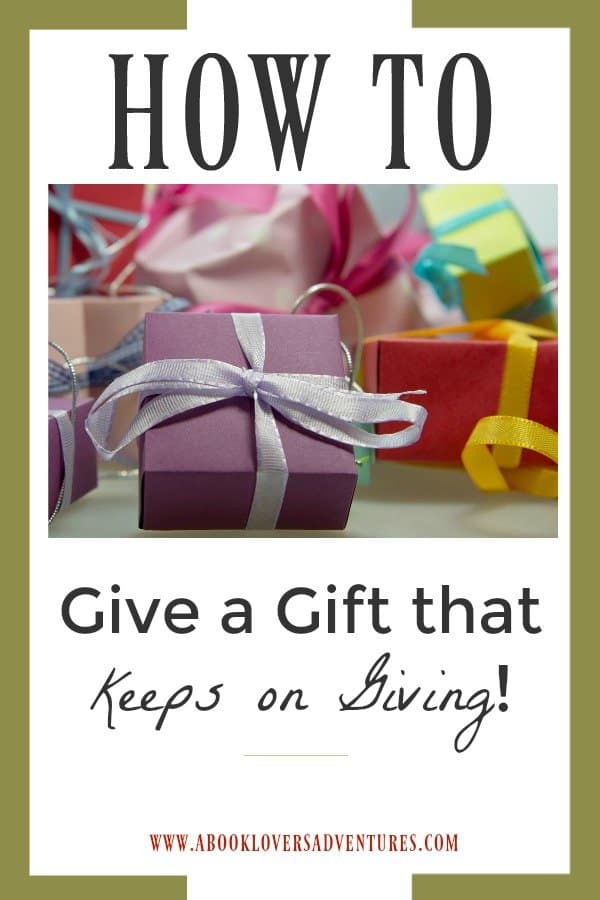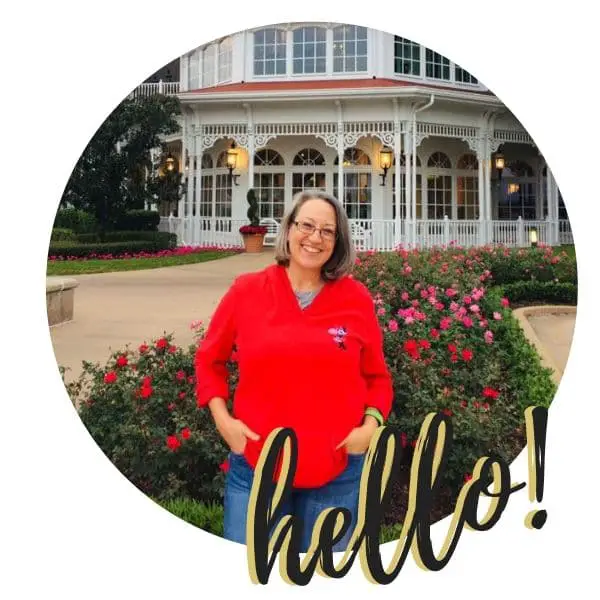 Becki is the author and founder of A Book Lover's Adventures. She has a degree in elementary education, has worked and volunteered in libraries for years, and spent several years in the travel industry. All of this has led to a love of books and travel. Becki loves to share her love by finding literary escapes to share!