My 5 Best Tips That Will Make End of School Year Easier
My Year of Adventure ~ Week # 22
This year I have challenged myself to a Year of Adventure!  It's hard to believe we're already 22 weeks into 2017!  This week, like a lot of other households in America, we had the "adventure" of the end of the school year chaos!  Every year, it feels the same ~ crazy!  So, this end of the school year, I tried it a little differently.
Staying Sane in the End of the School Year Crush!
It seems like as my kids get older, the pace of life gets faster!  It feels like the last several weeks of the school year are just insane.  And, that's just from my perspective.  I can't imagine how crazy it is for my kids!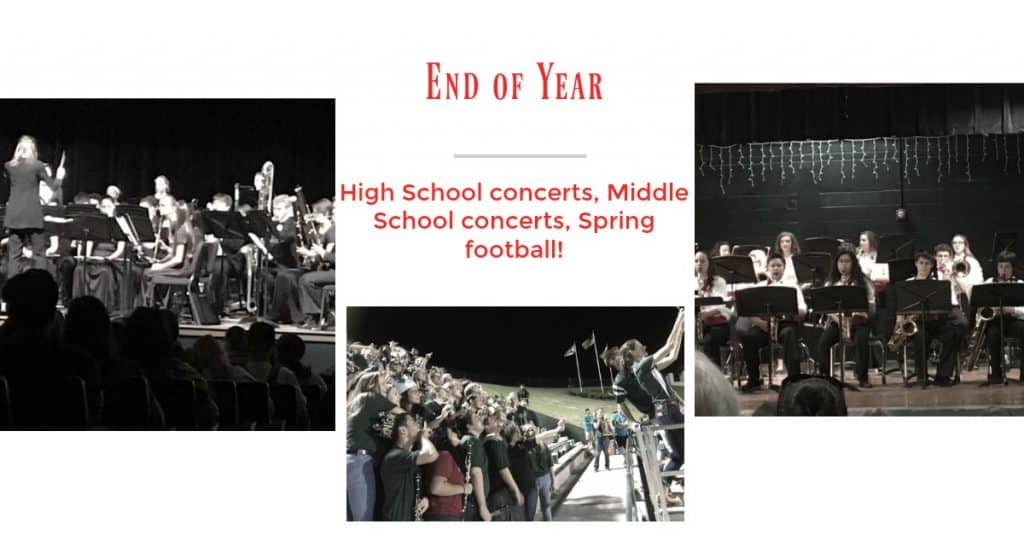 Here's a taste of what's been going on over here the past few weeks:
Fencing 2x a week with my 14-year old son
Band rehearsal for both kids at two different schools
Band parent meetings (2)
High School band concert
Middle school band concert
Mission team meeting (for my 16-year old daughter)
Spring scrimmage football game
Field trip (high school) to Epcot
High School band Rookie Camp (both kids)
8th grade "graduation"
End of Term exams
AP Exams
IB Exams
SAT prep class
I'm sure I've forgotten a few things…
And, on top of all of my kids stuff, I have all of my stuff…
I'm sure your schedule is probably somewhat similar in it's busy-ness.
So, how do we stay sane in the midst of chaos?  That, my friends, is the challenge!  I'm here to tell you I'm am still trying to figure it out.  I'm guessing that by the time I do, my kids will be out of the house.  But, I thought I would start the conversation and maybe add on to it each year as we learn new tricks for staying sane.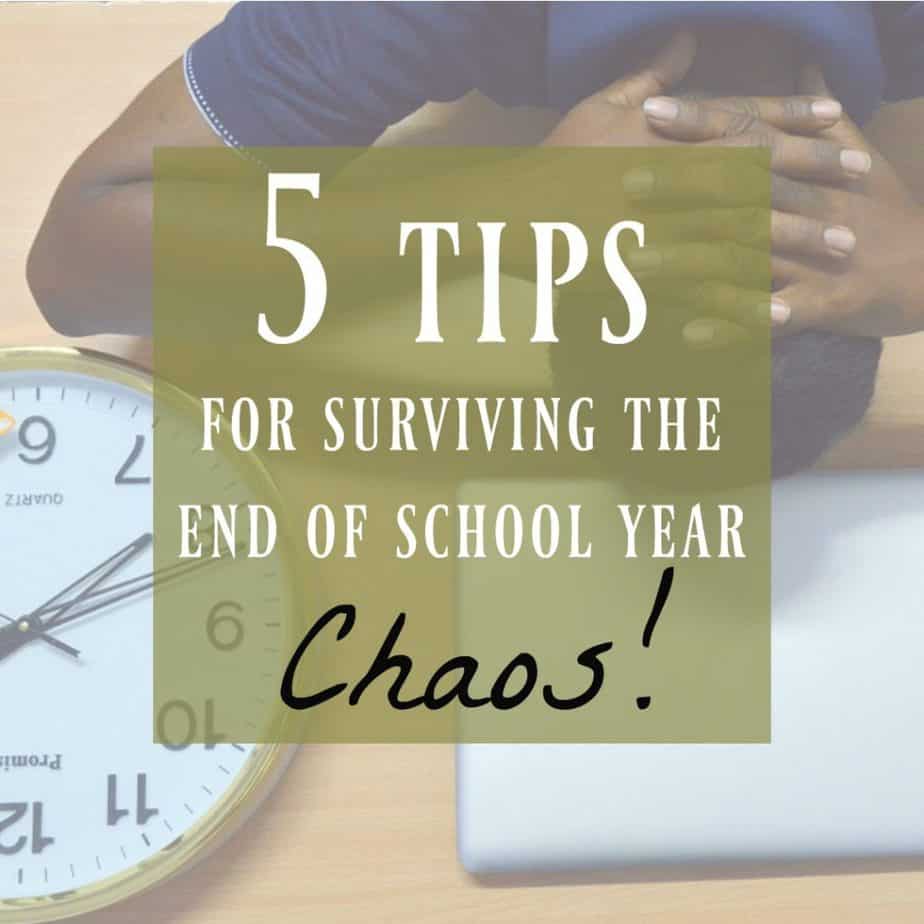 My 5 Best Tips
So, here's what I've learned this year!
Keep you Schedule/Calendar Up-to Date!

It's important to know what everyone is doing.  Have regular "family meetings" or calendar checks with everyone to make sure the calendar reflects what's actually coming up.  You definitely want to minimize the surprises!

Just Say NO!

You will probably have to make choices.  Don't feel bad about it.  Making your kids say no to some of the invitations that come along may be necessary.  They'll get over it!  Be realistic about your capabilities and you kids' capabilities.

Get Good Sleep!

This is for both you and your kids!  Make sure everyone is getting their sleep each night.  It goes a long way to keeping everyone healthy.  You don't want to get sick in the midst of all that is going on.  And, your kids definitely don't want to miss important things going on at school!

Drink Lots of Water!

I know, this seems weird!  It's kind of my go to answer for almost everything.  If anything is wrong – drink more water, lol!  But seriously, dehydration is a serious problem.  I've heard of a couple of different people that wound up in the hospital this month from dehydration.  So, along with sleep, water will help keep you and your kids going!

Ask for Help!

Don't feel like you have to do it all!!  Ask for help and offer help.  We're all going a little crazy this time of year, so maybe if we help each other it won't be quite so bad!
[clickToTweet tweet="5 Tips to Take care of Yourself and Avoid End of the School Year Stress! #schoolsout #stress #chaos" quote="Take Care of Yourself to Avoid End of the School Year Stress!"]
In the End…
In the end, we all have to muddle through the end of the school year the best we can.  But, hopefully these five tips can help make the end of the school year chaos a little less hectic!  Remember to take care of yourself and your kids.  Get the sleep you need and drink plenty of water!  You don't want anyone getting sick!  Say no and ask for help when you need it!  And, don't be afraid to say no to the things that just don't work for the calendar!  Don't try to do it all!!  And, most importantly, keep the calendar up-to-date!  It's really important to know what you've got going on with everyone.  You don't have the time for surprises!!
The end of the school year is hectic, but it can also be a lot of fun.  Enjoy the activities that you have said yes to.  By saying no to others activities, you are able to be present and enjoy the moments that you've said yes to!  Savor these moments, mama!  Our kids are growing up quickly!!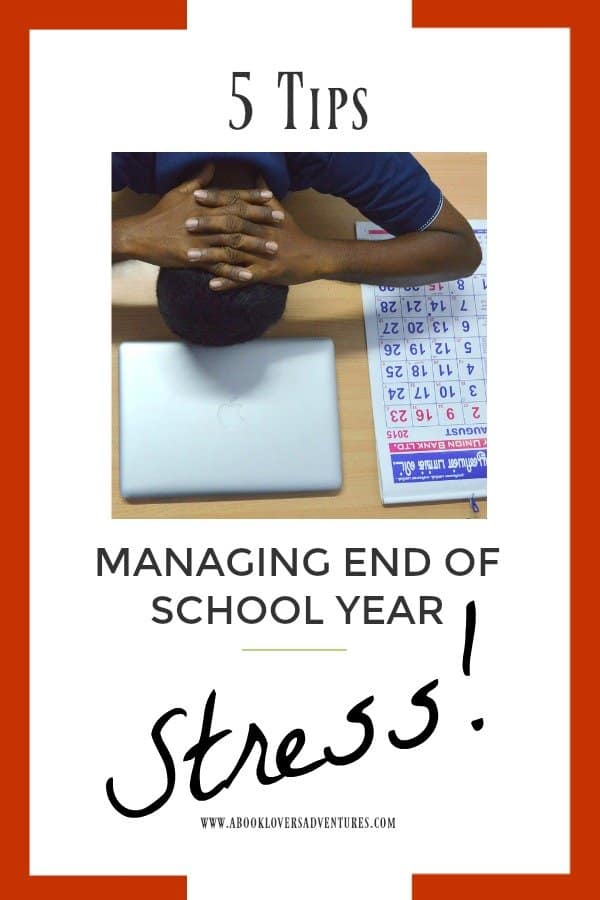 Thanks for your time!  I'd love if you'd share this article with your friends on Social Media!
Other Articles You Might Enjoy
5 Tips on Traveling with Teens
How to Find Adventure in a Hard Season of Life
Remember to Relax and Enjoy the Simple Things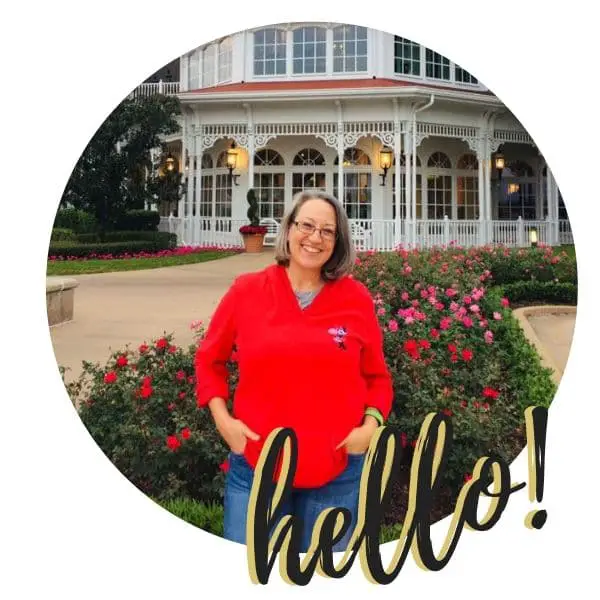 Becki is the author and founder of A Book Lover's Adventures. She has a degree in elementary education, has worked and volunteered in libraries for years, and spent several years in the travel industry. All of this has led to a love of books and travel. Becki loves to share her love by finding literary escapes to share!