Bookstores & Vacation – OBX style!
Have you ever visited a bookstore or library while on vacation?
Being the book nerds that we are, we tend to visit bookstores and libraries anywhere that we are!  It's always fun to see all the different ways of showing off books, and what different stores highlight.
While on vacation in the Outer Banks of North Carolina we visited a few bookstores.  Here's what we found!

Books to be Red, Ocracoke, NC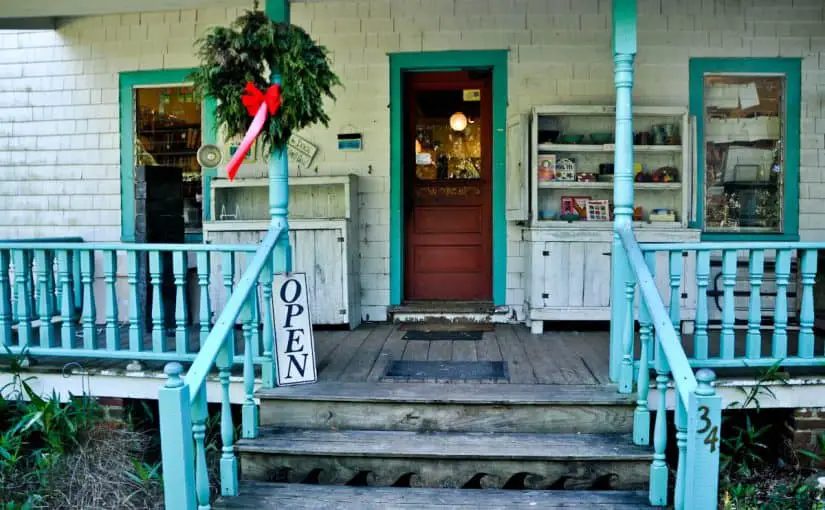 On a day-trip over to Ocracoke, we found the fabulous bookstore, Books to be Red.  And, what a fabulous find!  If you've never been to Ocracoke, it's a small beach town with a small, but fun downtown area.  There are lots of little shops to wander around in.   Books to be Red is an eclectic little bookstore that has some beautiful jewelry, some funky pottery, and lots of fabulous books!
The selection was really impressive for the size of their shop, and it was fun to just wander around.  My daughter enjoyed their YA section and found about 5 books she couldn't live without!  One of the things I really enjoyed was the recommended reading signs throughout the shop.  Here are some of their recommended books:
The Perks of Being a Wallflower by Stephen Chbosky,  A Separate Peace by John Knowles,  and Al Capone Does my Shirts by Gennifer Choldenko
The owner, Leslie, was very knowledgeable, accommodating, and  nice!  Our car had broken down on the ferry over to Okracoke, and she offered to help us that evening if our car didn't start back up.  Thankfully our car started and all was well, but it was a great visit and left us with warm memories and several great new books to be read!  I highly recommend stopping in, saying hi to Leslie and then head over to Howard's Pub for dinner and a drink!
Cape Hatteras Lighthouse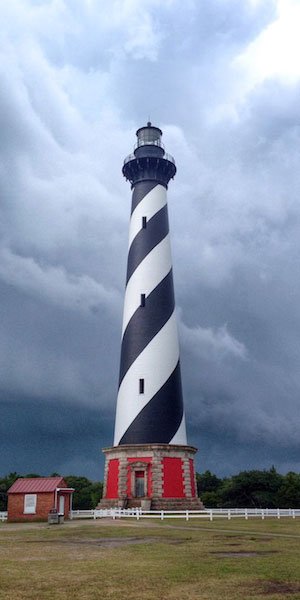 Our next stop was the Cape Hatteras Lighthouse which is part of the National Park Service.   If you are a history buff, this makes for a really interesting day-trip.  It is well worth going on the tour and looking around the park.  Originally built in 1794, this lighthouse "protects one of the most hazardous sections of the Atlantic Coast."  If you are not feint of heart, I recommend climbing the stairs (all 257 of them) to the top and look out over the island!
And well, because I am faint of heart, I found the bookstore!  On the day that we were there, Kevin McCabe, an author from the area happened to be there.  It was fun to be able to talk with him and look at his books!  Also in there little shop is a great selection of books about a lighthouse, shipwrecks off the Atlantic coast, and books about the Outer Banks.  I bought two of his books: My Rainy Day Cat (a beautiful picture book with lots of hidden animals throughout the illustrations), and 25 Secrets Revealed, A Culinary Tour (a cookbook with some yummy sounding recipes).
Buxton Village Books, Buxton, NC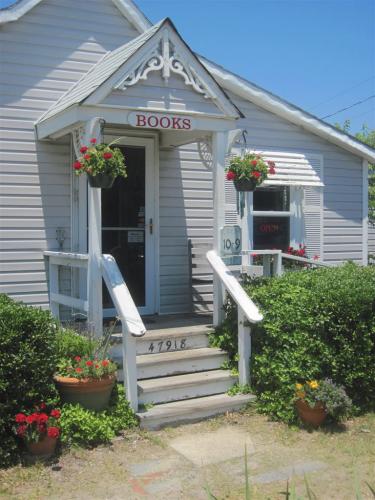 Our last bookstore for this trip was Buxton Village Books.  This shop has been around since 1974, and what an awesome bookstore!  They have such a great selection of books about the Outer Banks and books by local authors which are all displayed right as you walk in the door.  You can't help but wander over and check them out!
The YA section and the children's section were impressive (again, my daughter walked out with several books).  We enjoyed their great selection of books set in the Outer Banks highlighted.  Here's a few of them:
Pirates Don't Change Diapers by Melinda Long and David Shannon, Nights in Rodanthe by Nicolas Sparks and The Kinnakeeter by Charles T. Williams, II
They are very active with local authors, lots of book signings and promotion.  Their website is equally impressive – check it out!
More Information on the Outer Banks
One of my favorite blogs, Family Travels on a Budget, has a great three-part series on planning a trip to the Outer Banks!  Check it out here
And, here is the official website of the Outer Banks….enjoy!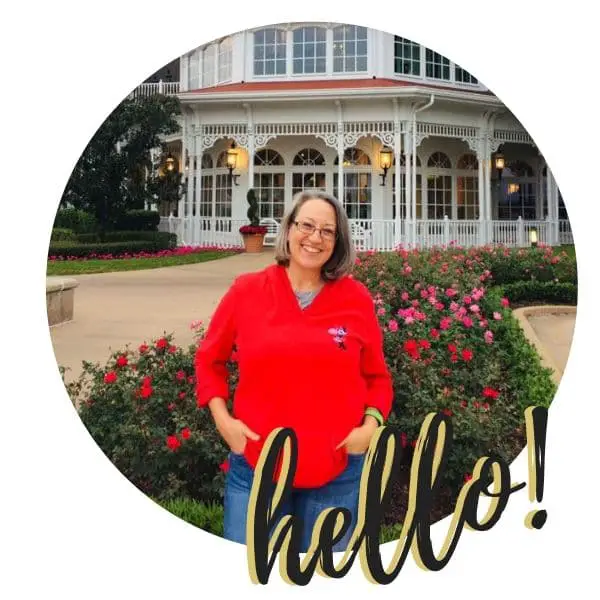 Becki is the author and founder of A Book Lover's Adventures. She has a degree in elementary education, has worked and volunteered in libraries for years, and spent several years in the travel industry. All of this has led to a love of books and travel. Becki loves to share her love by finding literary escapes to share!