11 Great Books Set in the Outer Banks
While I know that we typically think of heading to the beach as a summer thing. And beach reads – again, typically thought of as a summer thing.
But, we are visiting the Outer Banks this Fall in the Literary Escape Society. Both our Book of the Month and our Companion Book are set on the coast of North Carolina.
So, if you are ready to head to the coast this Fall, you'll want to check out this list of books set in the Outer Banks.
No time to read this post? Take a listen to my podcast
Books Set in the Outer Banks
So, here they are. My list of books set in the Outer Banks of North Carolina. Obviously, this list is not complete. So, let me know if you have a book set in the Outer Banks that you think I should include here.
Genre: Women's Fiction
Summary:
Sometimes, when you need a change in your life, the tide just happens to pull you in the right direction…
Ellis, Julia, and Dorie. Best friends since Catholic grade school, they now find themselves, in their mid-thirties, at the crossroads of life and love. Ellis, recently fired from a job she gave everything to, is rudderless and now beginning to question the choices she's made over the past decade of her life. Julia–whose caustic wit covers up her wounds–has a man who loves her and is offering her the world, but she can't hide from how deeply insecure she feels about her looks, her brains, her life. And Dorie has just been shockingly betrayed by the man she loved and trusted the most in the world…though this is just the tip of the iceberg of her problems and secrets. A month in North Carolina's Outer Banks is just what they each of them needs.
Ty Bazemore is their landlord, though he's hanging on to the rambling old beach house by a thin thread. After an inauspicious first meeting with Ellis, the two find themselves disturbingly attracted to one another, even as Ty is about to lose everything he's ever cared about.
Maryn Shackleford is a stranger and a woman on the run. Maryn needs just a few things in life: no questions, a good hiding place, and a new identity. Ellis, Julia, and Dorie can provide what Maryn wants; can they also provide what she needs?
CLICK HERE for more info about this book
Genre: Women's Fiction
Summary:
In the uncertain '60s, four young women came together as sorority sisters on a Southern campus: elegant Kate; sensitive, sensible Cecie; sexy, vibrant and richer-than-sin Ginger; and poor, hopeless, brilliant Fig.
At Nag's Head, North Carolina, over the course of two idyllic spring breaks, their bonds of friendship were strengthened into something rare and powerfully binding. Now, thirty years later, they are returning to the isolated strip of barrier islands, hoping to recapture what has been lost—the love, the enthusiasm, the passion—and to finally understand what pulled them apart and cast them adrift.
CLICK HERE for more info about this book
Genre: Historical Mystery
Summary:
If you're looking for a historical fiction book set in the Outer Banks, you'll want to check out The Outer Banks House by Diann Ducharme.
In 1868, on the barren shores of post-war Outer Banks North Carolina, the once wealthy Sinclair family moves for the summer to one of the first cottages on the ocean side of the resort village of Nags Head. Seventeen-year-old Abigail is beautiful, book-smart, but sheltered by her plantation life and hemmed-in by her emotionally distant family.
To make good use of time, she is encouraged by her family to teach her father's fishing guide, the good-natured but penniless Benjamin Whimble, how to read and write. And in a twist of fate unforeseen by anyone around them, there on the porch of the cottage, the two come to love each other deeply, and to understand each other in a way that no one else does.
 
But when, against everything he claims to represent, Ben becomes entangled in Abby's father's Ku Klux Klan work, the terrible tragedy and surprising revelations that one hot Outer Banks night brings forth threaten to tear them apart forever.
CLICK HERE for more info about this book
Genre: Contemporary Fiction/Mystery
Summary:
Christy Petrino hadn't planned on a vacation on Ocracoke Island, but when she learns her fiancé and boss, suave Michael DePalma, is a "made man" and the Philadelphia law firm where she works is a front for the mob, she breaks her engagement and quits her job. But no one walks away from the DePalma family business so easily….Only if she delivers a locked briefcase to a motel on Ocracoke Island will she — and her mother and sisters — be free.
But after clandestinely making her drop-off late at night, Christy suspects she is being followed on the moonlit beach — and unwittingly runs into a new kind of terror. Now a witness at the center of a homicide investigation, Christy learns the police are hunting a serial killer they refer to as the "Beachcomber" because beautiful young women — women who in fact resemble her — have disappeared recently while vacationing at nearby beach communities. Christy doesn't know whom to fear more — a serial killer who believes she might be able to identify him, or the DePalma family, whose tentacles she can't seem to escape.
Only when she's with Luke Rand, her big surfer-dude next-door neighbor, does she feel safe. But with Luke's asking so many questions about her ex-fiancé and his showing up almost too conveniently whenever danger strikes, she can't help but wonder if his interest in her is due to more than sexual attraction. Can she trust this handsome stranger to help her survive a hot and deadly summer?
CLICK HERE for more info about this book
Genre: Cozy Mystery
Summary:
Cozy mysteries are one of my favorite genres. And, I had to include this one on my list of books set in the Outer Banks since it's set in the Bodie Island Lighthouse.
For ten years Lucy has enjoyed her job poring over rare tomes of literature for the Harvard Library, but she has not enjoyed the demands of her family's social whorl or her sort-of-engagement to the staid son of her father's law partner. But when her ten-year relationship implodes, Lucy realizes that the plot of her life is in need of a serious rewrite.
 
Calling on her aunt Ellen, Lucy hopes that a little fun in the Outer Banks sun—and some confections from her cousin Josie's bakery—will help clear her head. But her retreat quickly turns into an unexpected opportunity when Aunt Ellen gets her involved in the lighthouse library tucked away on Bodie Island.
 
Lucy is thrilled to land a librarian job in her favorite place in the world. But when a priceless first edition Jane Austen novel is stolen and the chair of the library board is murdered, Lucy suddenly finds herself ensnared in a real-life mystery—and she's not so sure there's going to be a happy ending….
CLICK HERE for more info about this book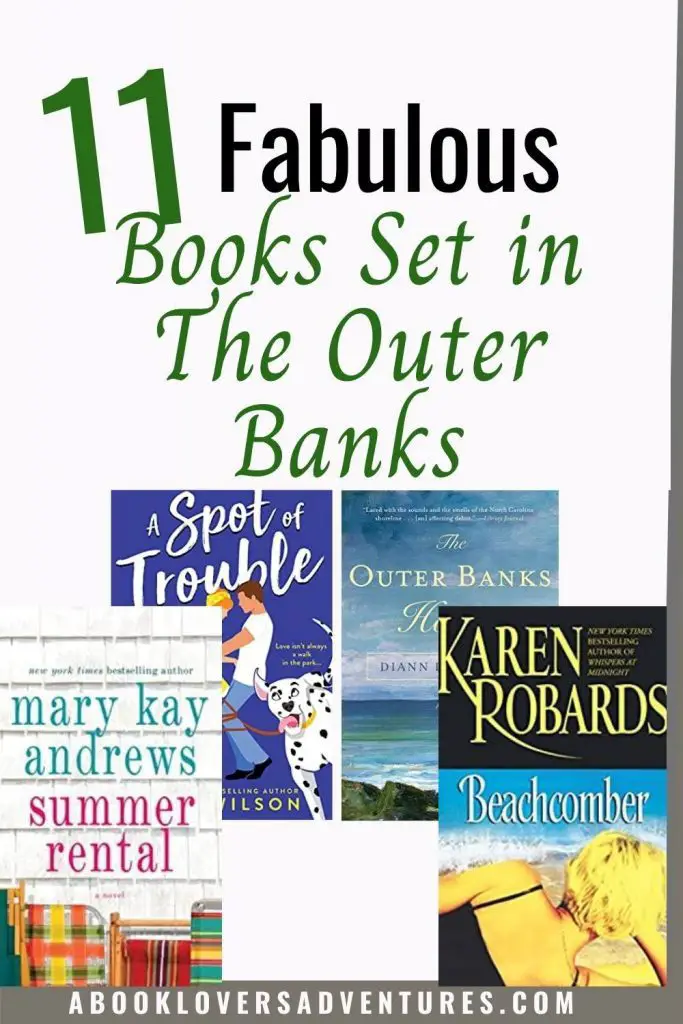 Genre: Contemporary Fiction
Summary:
This book, as the title suggests, is set on Rodanthe on the Outer Banks of North Carolina.
Adrienne Willis is 45 and has been divorced for three years, abandoned by her husband for a younger woman. The trials of raising her teenage children and caring for her sick father have worn her down, but at the request of a friend and in hopes of respite, she's gone to the coastal village of Rodanthe in North Carolina to tend the local inn for the weekend. With a major storm brewing, the time away doesn't look promising…until a guest named Paul Flanner arrives.
At 54, Paul is a successful surgeon, but in the previous six months, his life has unraveled into something he doesn't recognize. Estranged from his son and recently divorced, he's sold his practice and his home and has journeyed to this isolated town in hopes of closing a painful chapter in his past.
Adrienne and Paul come together as the storm brews over Rodanthe, but what begins between them over the weekend will resonate throughout the rest of their lives, intertwining past and future, love and loss.
CLICK HERE for more info about this book
Genre: Christian Fiction
Summary:
For this list of books set in the Outer Banks, I've tried to hit a variety of locations along the barrier islands. This book is located on Hatteras Island, down at the bottom end of Highway 12.
When Iola Anne Poole, an old-timer on Hatteras Island, passes away in her bed at ninety-one, the struggling young mother in her rental cottage, Tandi Jo Reese, finds herself charged with the task of cleaning out Iola's rambling Victorian house.
Running from a messy, dangerous past, Tandi never expects to find more than a temporary hiding place within Iola's walls, but everything changes with the discovery of eighty-one carefully decorated prayer boxes, one for each year, spanning from Iola's youth to her last days.
Hidden in the boxes is the story of a lifetime, written on random bits of paper–the hopes and wishes, fears and thoughts of an unassuming but complex woman passing through the seasons of an extraordinary, unsung life filled with journeys of faith, observations on love, and one final lesson that could change everything for Tandi.
CLICK HERE for more info about this book
Genre: Psychological Fiction
Summary:
On the outskirts of North Carolina's Outer Banks sits the Paradise, an apartment complex where renters never stay long enough to call the place "home"—and neighbors are seldom neighborly. It's ideal for Sara Lennox, who moved there to escape a complicated past—and even her name—and rebuild a new life for herself under the radar. But Sara cannot help but notice the family next door, especially twelve-year-old Cassie and five-year-old Boon. She hears rumors and whispers of a recent tragedy slowly tearing them apart.
 
When a raging storm threatens then slams the coastal community, Sara makes a quick, bold decision: Rescue Cassie and Boon from the storm and their broken home—without telling a soul. But this seemingly noble act is not without consequences. Some lethal.
CLICK HERE for more info about this book
Genre: Adventure/Mystery
Summary:
All Bert wanted was sun, sea and isolation, so she volunteered as a summer caretaker on an uninhabited barrier island.  What she got was overly helpful park rangers and fishermen, an island leaking artifacts and colonial history from its salt marshes–and bodies, both old and new.  One welcome interruption was Hunter O'Hagan, Park ranger. Like Scheherazade of old, the younger man spins out the legend of Jerushia O'Hagan, a sea-born woman and distant relative whose spirit still guides sailors in trouble.  Bert is fascinated as she too, was born at sea.
Then a hurricane threatens.  Evacuation attempts by the park and Hunter are foiled by strange fogs and bizarre setbacks.  Is a killer stalking the island, or is it the ghost of a long-dead woman?  Bert discovers the answers as she fights for her life amidst the rapidly rising wind and water. 
CLICK HERE for more info about this book
Genre:
Summary:
It had been seventeen years since Tara Martin had been to Ocracoke, North Carolina. It was easy to remember how long it had been; it was the last vacation she had taken with her father. They had spent two glorious weeks at her grandmother's cottage that July. After her father drowned that fall, the thought of being on a tiny strip of sand in the Atlantic terrified her, and she never set foot on Ocracoke again. Until today.
Within hours of arriving, Tara discovers puzzling clues from her grandmother's life. With each new clue more confusing than the last, she's left wondering how well she really knew the woman who raised her. Despite her promise to stay the entire summer, her plans are to leave Ocracoke as soon as her grandmother's cottage was ready to sell. Then she meets Larry Taylor, a handsome local contractor, who came to Ocracoke a few years before to escape his own demons and found life on the isolated island a soothing balm to his fractured soul.
Finally at peace, Larry patiently pursues a reluctant Tara. Plagued by insecurities and self-doubt, Tara slowly allows Larry into the recesses of her heart, second-guessing and questioning his motives, as well as her own, every step of the way – but it's the unraveling of the mysteries surrounding her grandmother that leave her heart reeling.
CLICK HERE for more info about this book
Genre: Romantic Comedy
Summary:
While this book may or may not be set in the Outer Banks, it is set on the North Carolina Coast. And, since it's a fun book, I wanted to include it on this list.
Get ready to laugh out loud with this hilarious romantic comedy featuring:
A grumpy firefighter who thinks his way is the only way
A bubbly cupcake vendor who thinks her pup can do no wrong
Adorable Dalmatians who swap places—and the chaos that ensues
An opposites-attract romance that'll warm your heart
Violet March and Sam Nash are as different as night and day and have been enemies ever since Violet accused Sam of dognapping her beloved Dalmatian. Sam knows that would never happen—his well-trained fire safety demonstration dog never steps out of line, whereas Violet's problematic pooch has never met a command she didn't ignore completely, much like her bubbly owner. So when Sprinkles and Cinder accidentally switch places during the annual police vs. fire department softball tournament, Violet is thrilled by her dog's sudden perfect behavior, while stubborn-yet-charming Sam is horrified to find that his dog no longer listens.
But when they eventually realize and switch the dogs back, Sam and Violet are shocked to find that not everything is as simple as it seems. And a little puppy love might be just the thing they've been missing…
CLICK HERE for more info about this book
Ready to Escape to the Outer Banks
I don't know about you, but I'm ready to escape to the Outer Banks now!
After going through this list of books set in the Outer Banks, I'm already planning my literary escape. Care to join me?
Other article you might enjoy
11 Books Set in Paris You'll Love
24 fabulous books set in Venice you need to read now
24 Books Set in Florida That will make you want to Visit!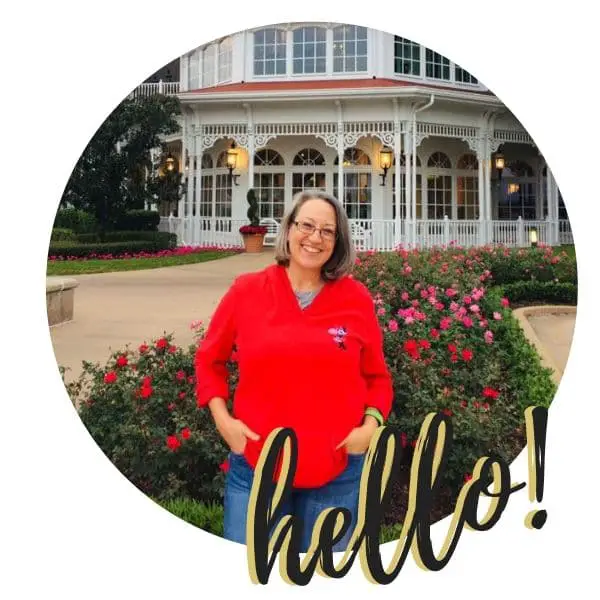 Becki is the author and founder of A Book Lover's Adventures. She has a degree in elementary education, has worked and volunteered in libraries for years, and spent several years in the travel industry. All of this has led to a love of books and travel. Becki loves to share her love by finding literary escapes to share!